Grand Pied is a modest Bigfoot. This is no slobbering sasquatch lumbering out of the forest, but the warm, fuzzy embrace of the not-exactly-classic 1987 family film "Harry and the Hendersons." You might need to supply your own association. The name of this Tower Grove South restaurant is a joke interrupted in its setup.
Tony Collida opened Grand Pied last summer in the storefront on Morganford Road previously occupied by Seed Sprout Spoon, though you might remember the space best as the former home of the late Local Harvest Cafe. While Grand Pied marks Collida's debut as a restaurateur, he has worked in numerous St. Louis kitchens. His family runs the Picadilly at Manhattan — his great-grandfather founded the beloved restaurant, one of the area's oldest — and Collida himself has cooked at Duff's; with his mentor, the chef Chris Lee (Mélange, Cafe Ventana, Sanctuaria); and at Civil Life Brewing Co.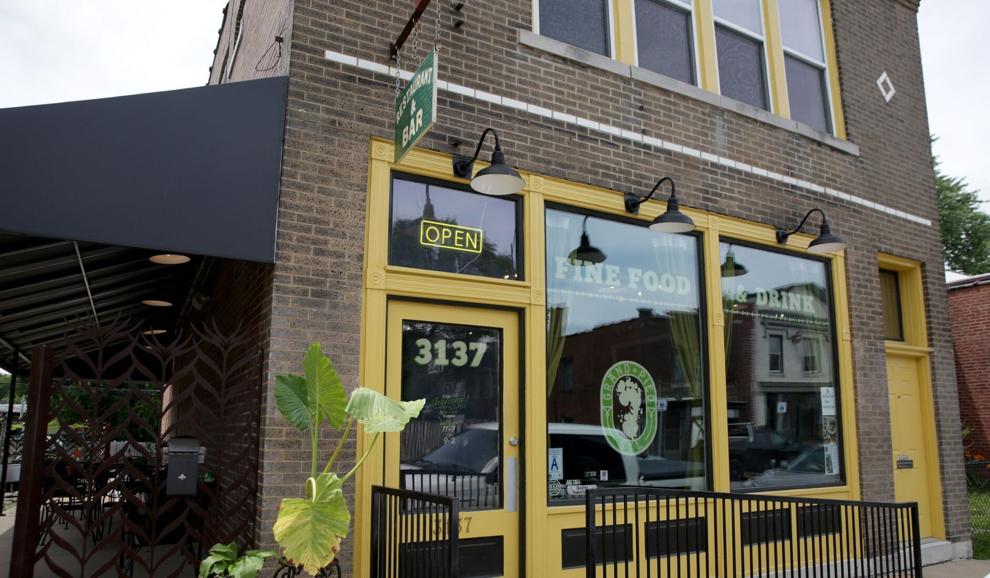 Grand Pied opened as half of a two-in-one venue. It shared the space with Chatawa, a bar operated by the writer and former Tik Tock Tavern co-owner Thomas Crone. Crone named Chatawa after a town in Mississippi. Collida and his partner (both professionally and personally), Jaimee Stang, learned this town claims its own Bigfoot-like creature. This inspired the restaurant's name in French, a nod to Stang's Cajun uncle.
Chatawa closed at the end of October, however, after only two months and change. In announcing the closure, Crone said he couldn't realize his vision of bringing to St. Louis products from New Orleans and the Interstate 55 pathway between the two cities. It left Grand Pied alone in the storefront, without a liquor license, which it still has not obtained. (For now, the restaurant encourages customers to BYOB, noting Local Harvest Grocery across the street as one possible source.)
In the current style-of-necessity, Grand Pied is a bare-bones operation led by Collida in the kitchen and Stang in the front of the house. You order at the table using a QR-code menu. The single dining room seats about two dozen, and while this isn't a large space, it doesn't feel cramped. Additional seating is available on a patio to one side of the building.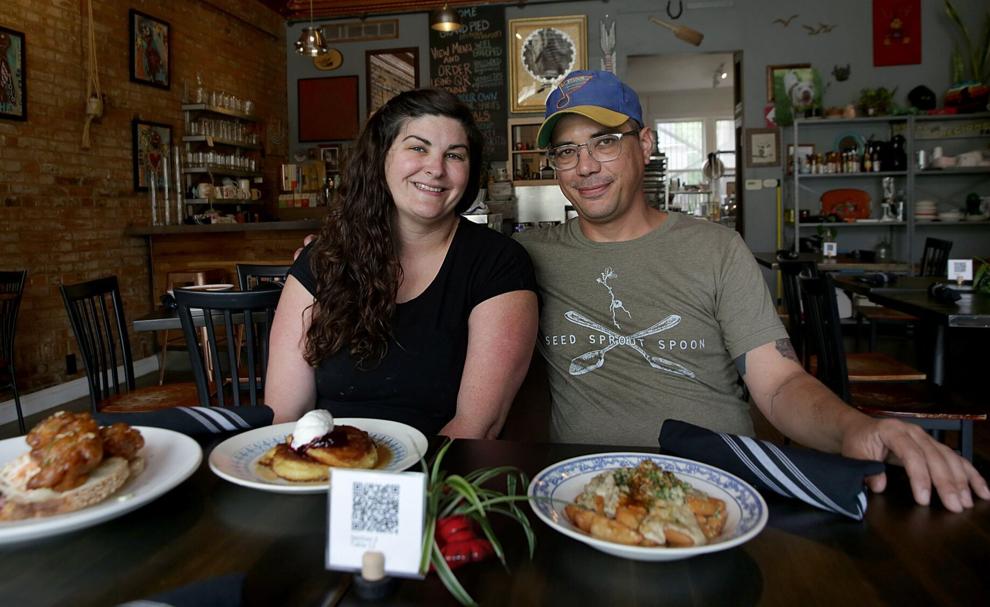 Grand Pied's menu has continued to evolve over its first year. Just this week, as this review is published, the restaurant's hours have adjusted to allow for a longer dinner service, and Collida plans to add more dinner-specific dishes and specials.
The cooking here fits into the broad category of comfort food, but the menu is eclectic enough — and Collida's kitchen skills are impressive enough — that Grand Pied distinguishes itself in such a crowded field. This is a restaurant where you might not only feel the familiar temptation to order breakfast for dinner, but also to make, say, a plate of smoked pork ribs the star of your brunch. More than a few barbecue restaurants could take a note from the proper texture of these meaty, smoky ribs, and Collida contrasts these heavier flavors with a light touch of tangy sauce.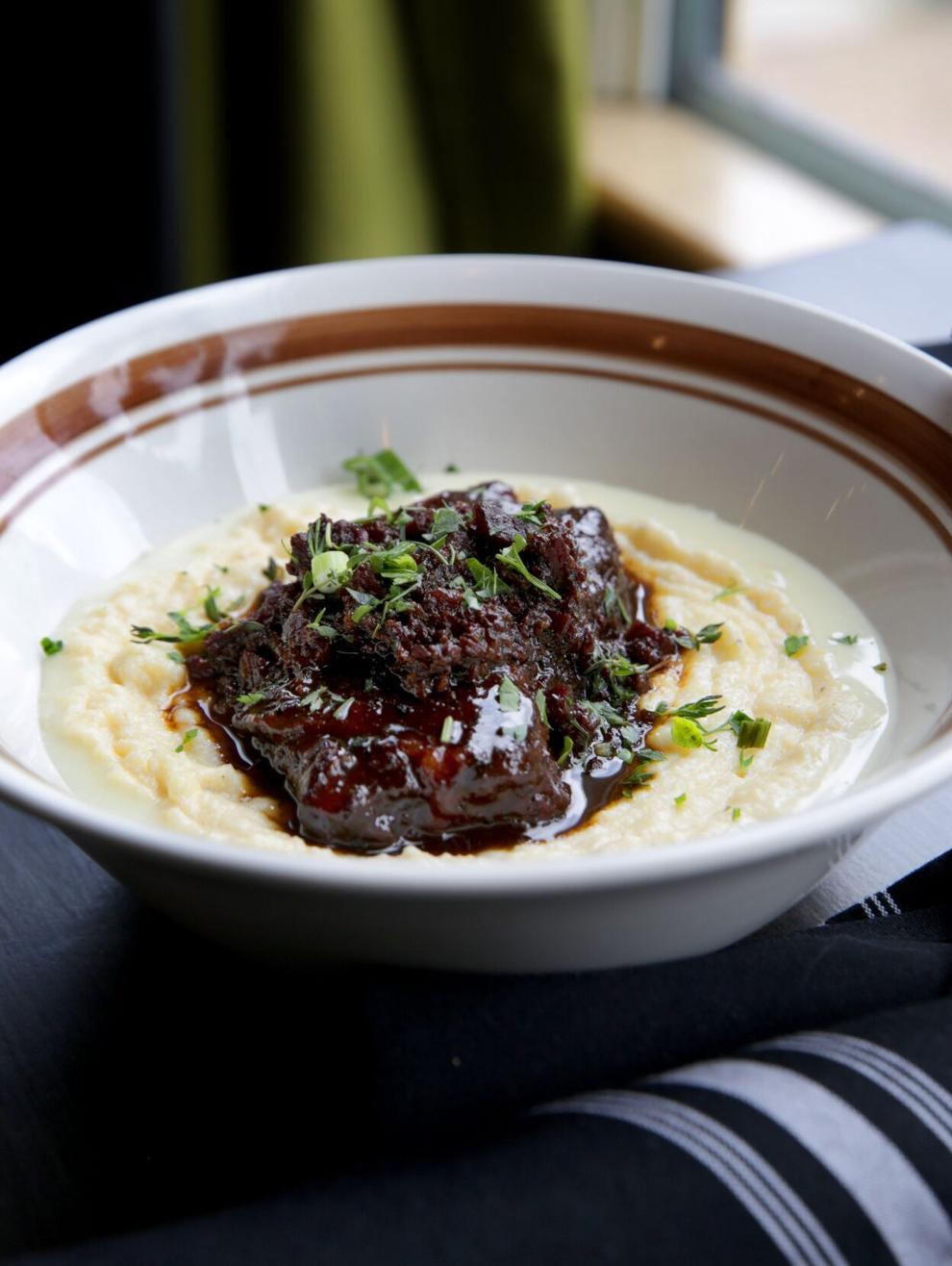 The smoker also dispatches a compact pork steak. I feel like there is an implied asterisk when you call this cut "tender," but the pork steak here really does yield to the side of your fork, and the meat folds naturally into its accompanying grits with white-cheddar queso and debris gravy.
I don't mean to paint Grand Pied as a barbecue restaurant in brunch's clothing. I do mean to suggest any curious wandering hogs keep their distance. Collida excels at pork dishes, from the ribs and pork steak to more obvious breakfast fare: slices of ham in a thin, bracing red-eye gravy; a clever breakfast po'boy with andouille and scrambled eggs; housemade sausage, its seasoning profile of white pepper and allspice honed by Collida, in the creamy gravy that tops an order of baby beignets.
These miniature fritters nod to the New Orleans inspiration of the original Grand Pied-Chatawa combination. Crisp, airy and buttery, they make a fine bed for the aforementioned sausage gravy and — to make the plate even more of a meal, if you like — a couple of sunny-side-up eggs. (You can also order the baby beignets by themselves tossed with cinnamon sugar and jam for dipping, or naked with white-cheddar queso and marmalade for dipping.)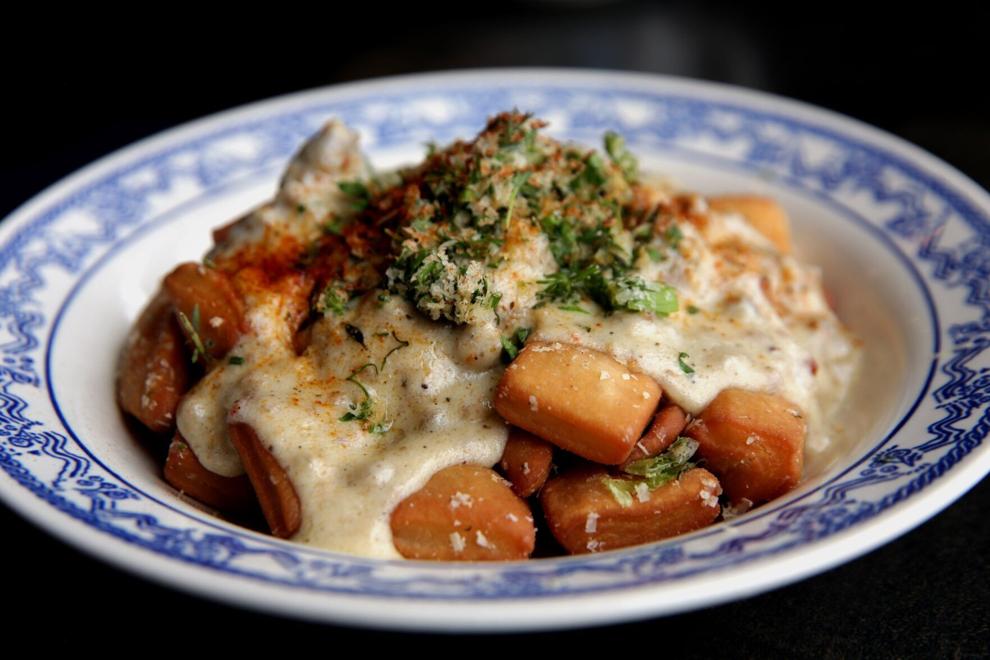 The baby beignets might be Grand Pied's signature dish if they didn't share the menu with the restaurant's buttermilk pancakes. These are like no other pancakes I've eaten in town, puffy rather than spread thin and flat, with a lovely, eggy, almost soufflé-like texture. Collida has been using this recipe at restaurants for years, he told me in a phone interview. The source is "The Joy of Cooking."
"I mean, the real difference is people mix their batter till it's fully incorporated, and that's just the mistake right there," he said. "You just barely fold it together."
Also: Fry those pancakes in "plenty" of olive oil and butter.
Collida serves the pancakes with syrup, whipped cream and a seasonal jam, blueberry on my visits. The dish is fresh and light — remarkably so, for pancakes — until the moment you realize you can't possibly finish the plate. Grand Pied treads softly but leaves a big footprint behind.
Where Grand Pied, 3137 Morganford Road • More info whipped • Menu Comfort food and breakfast fare • Hours Breakfast and lunch, 9 a.m.-2 p.m. Thursday-Sunday, dinner 5-9 p.m. Thursday-Saturday (Closed Monday-Wednesday)