When viewed from the proper angle, Busch Stadium is like a map of the world.
Italy is represented by Italian beef sandwiches, pizza and meatballs. Eastern Asia, by stir fry. Belgium, the country that gave us french fries, has multiple toeholds on every concourse.
And Germany — which can more or less be credited with creating the hot dog, the hamburger and lager beer — is scattered across the entire stadium.
But when viewed with a clearer eye, the edible items sold at the stadium all come from one happy and magical place: The Land of Ballpark Food.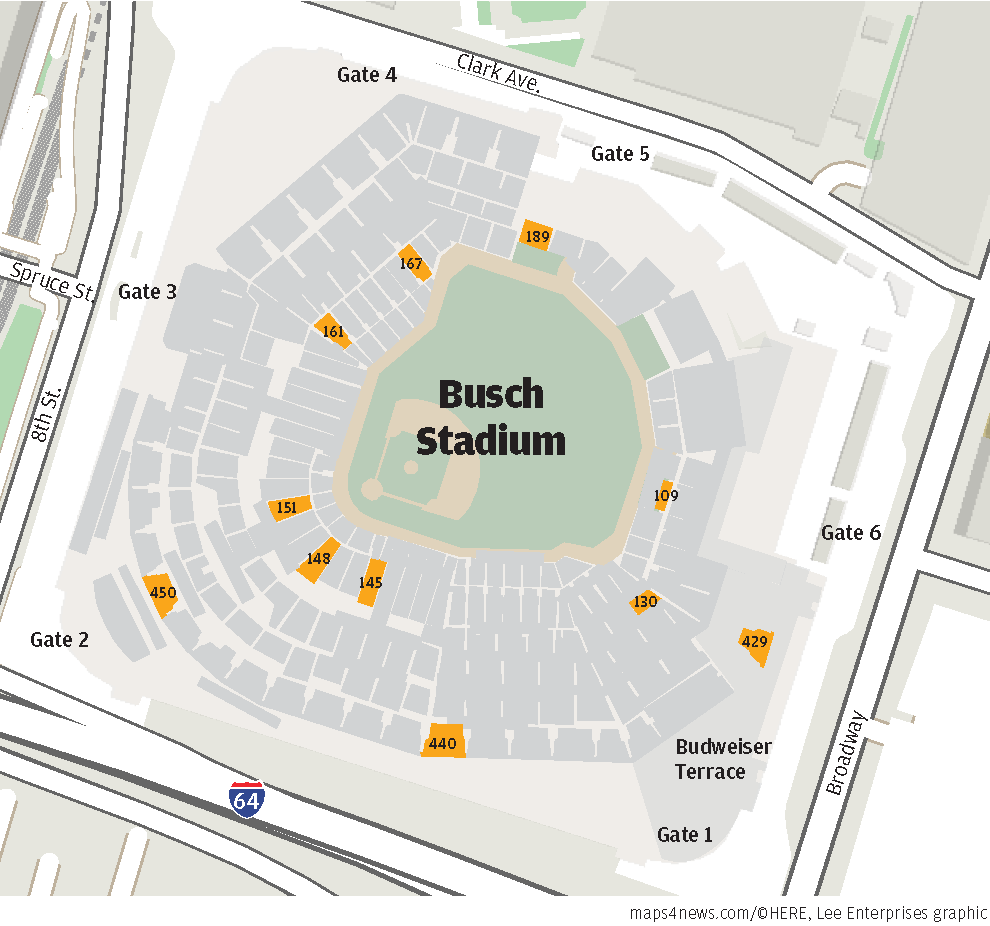 Busch Stadium's full directory of food and drinks
This is not ordinary dining. With some exceptions, it is not what you are likely to serve at your own house. This is high-calorie food that, by design, tastes best when consumed at a baseball field on a warm summer's night, a cool beer by your side and the Cardinals comfortably ahead.
On a recent beautiful evening, with a steady wind blowing to left field, I set out to eat my way across Busch Stadium. The goal was to find the best, or at least the most unexpected, food the ballpark has to offer.
But first, the ground rules: I stayed away from the traditional favorites — no hamburgers, no hot dogs, no pretzels. Not even nachos, which are sold in greater quantities at Busch than anywhere else in the country. Instead, I looked for foods that were relatively new to the stadium, or are at least unusual enough that you don't immediately think of them when you think about ballpark food.
Here is what I found. And by "found," I mean "ate."
Nonna's Italian Beef sandwich
$12 • Sections 151, 189 and 440
Taking the place of the Philly cheesesteak from past years, this hoagie-style sandwich is made from thinly sliced (it almost seems ground), well-done roast beef topped with melted provolone on a deliciously rich, eggy bun from Fazio's Bakery.
The sandwiches are premade, at least they are at the Top of the Fifth stand at Section 189, so they can't be as wet as the famous Italian beef sandwich you would find in Chicago. But the cheese adds a creaminess that is more than helpful, and you can dress up the sandwich with roasted red and green peppers.
Bring your own salt. You'll need it.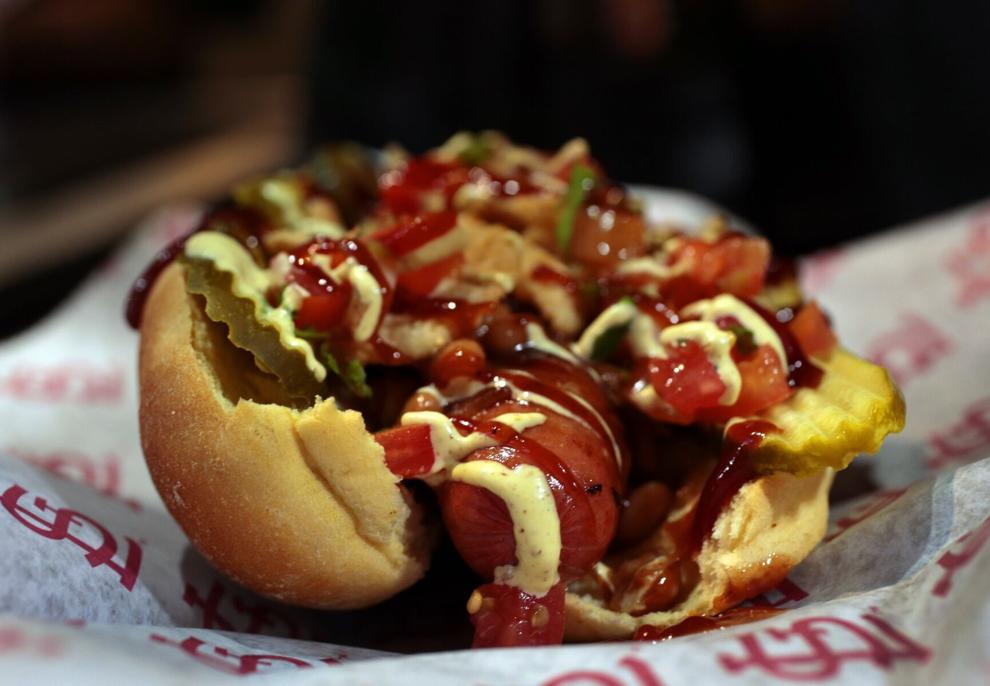 Bacon-wrapped hot dog
$9.50 • Section 167
Yes, it's pork bits wrapped in pork belly, but the bacon is salty and smoky and crunchy, and it is divine.
This bacon-wrapped hot dog, from All About the Bacon, is haute ballpark cuisine, perhaps the finest example of pig-based calorie packing to be found at or near a field of dreams. That it is needlessly fattening only adds to its allure; it is the kind of food you would only indulge in at a baseball game.
I ate mine while watching people work out on treadmills in the windows of a fitness center across the street. Suckers.
Island freeze
$16.50 • Section 161
Think of a slushy, and add alcohol. New this year are these frozen cocktails that are supposed to come in four flavors, but the night I was there, only two were available — Blue Hawaiian and Piña Colada.
I had a Blue Hawaiian, which is flavored with coconut, rum, Blue Curaçao, and a sweet and sour mix. You dispense your own from the soft-serve machines; combine the flavors if you choose for a colorful mix.
"It's a craft project as well as a drink," said the cashier.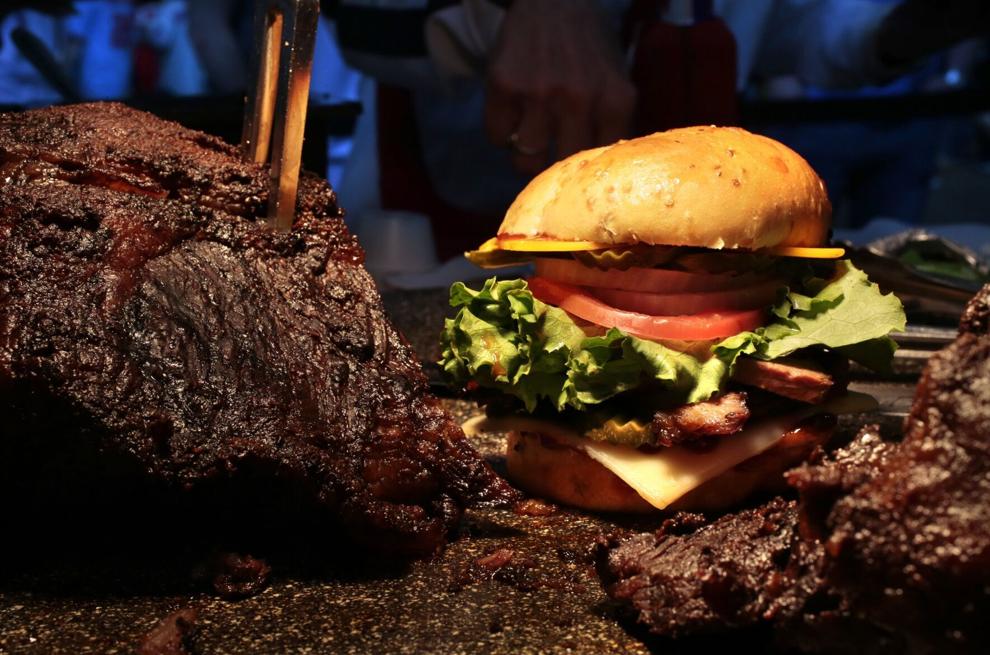 Brisket sandwich
$15.50 • Sections 148 and 109
Thick, hand-carved slices of mesquite-smoked beef brisket are piled high on a bun. You can slather on barbecue sauce (highly recommended) or horseradish sauce (I didn't try it because I was so happy with the barbecue sauce), along with thin slices of pickle (also recommended), lettuce, tomato and slices of cheese (at this point, who needs the extra 50 calories from cheese?).
This would be an excellent sandwich even away from a ballpark; it would be notable even at a barbecue restaurant. It satisfies mankind's primal need for hunks of smoky meat.
Both the Redbird Carvery (Section 148) and Broadway BBQ (Section 109) also offer roasted turkey sandwiches and pulled pork. They looked good enough, but to my eyes the very best turkey is not the equal of even the most indifferent brisket.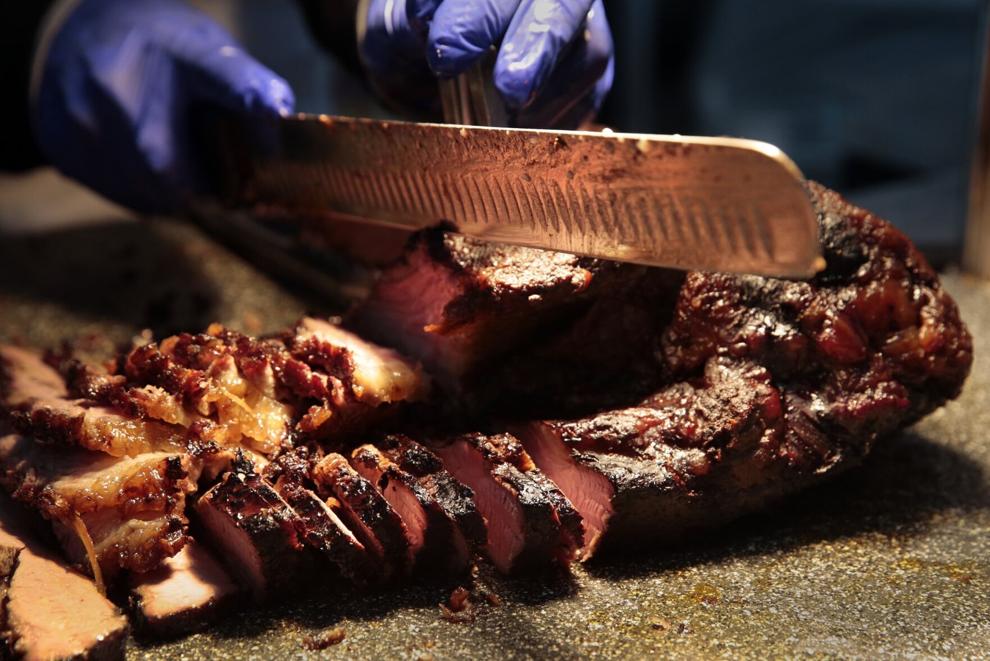 Killer pastrami sandwich
$13.50 • Section 148
Kohn's Kosher Deli, which supplies the pastrami, corned beef and kosher knockwurst at this always-busy kiosk, has a stellar reputation. People I know in other cities who keep kosher make a point of stopping in at Kohn's whenever they are in town to pick up vacuum-sealed packages of pastrami and corned beef.
But something is lost in translation when it comes to Busch Stadium. There are few foods I enjoy more than pastrami on rye, unless it is corned beef on rye, but I have never been to the stadium's kosher kiosk that I have not walked away disappointed.
This time was no different. The meat was a little tough, to be honest, and the bread quickly became soggy. The pastrami was salty, as it should be, but it offered little other flavor. I have actually had worse pastrami sandwiches there, and I have not had better.
I love the idea of a pastrami sandwich at a ballgame, but so far it is only the idea that I love.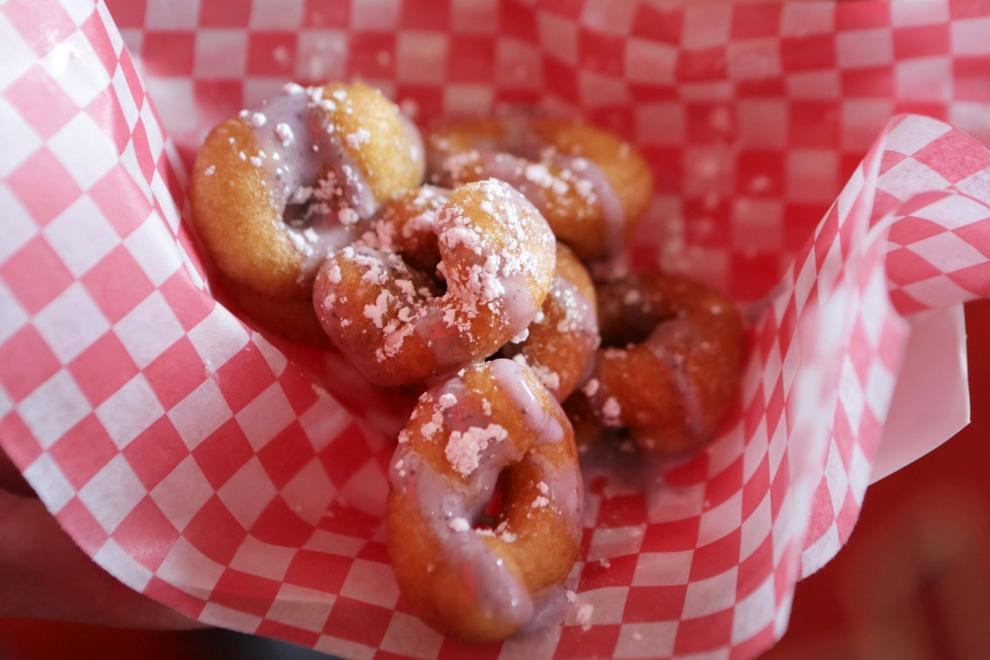 Dinger's Donuts
$6.75 • Section 145
There is something consistently fascinating about a doughnut machine at work. A funnel pumps out just the right amount of dough. The rings of dough in the boiling oil look like apples floating down a stream. Halfway down, they are flipped, and they continue cooking for the rest of the journey.
If you have ever read the classic children's book "Homer Price," you know the attraction.
The cake doughnuts at Dinger's Donuts are small, but you get 15 of them to a tray. That's a lot of doughnut — be sure to share them with others, or tell at least tell everyone that you are.
You can choose a vanilla or a chocolate glaze, or both, or you could add cinnamon sugar or sprinkles. And like Krispy Kreme, they are best when they are hot out of the oil.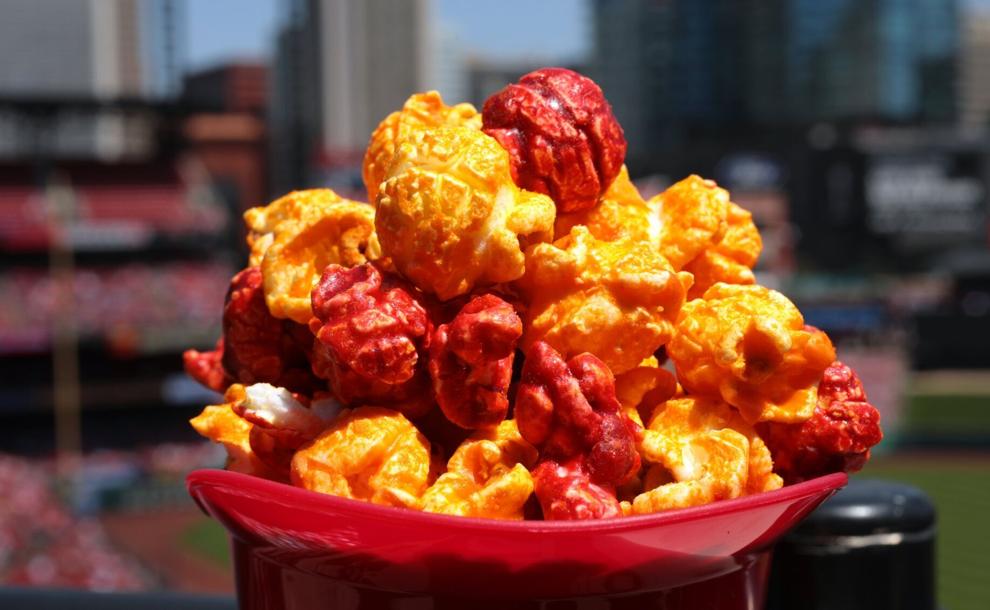 Gourmet popcorn
$6.50 • Sections 130 and 450
Pop Pop Hurray!, the charming flavored-popcorn shop in Ferguson, now has a presence at Busch Stadium.
You can get cheddar cheese-flavored popcorn, kettle corn or something they call red caramel, though it tasted more like strawberry. At any rate, it's red — Cardinals red.
I tried the red caramel. It was pleasant and not overpowering, just the right delightful snack to get you through a few long, tough innings.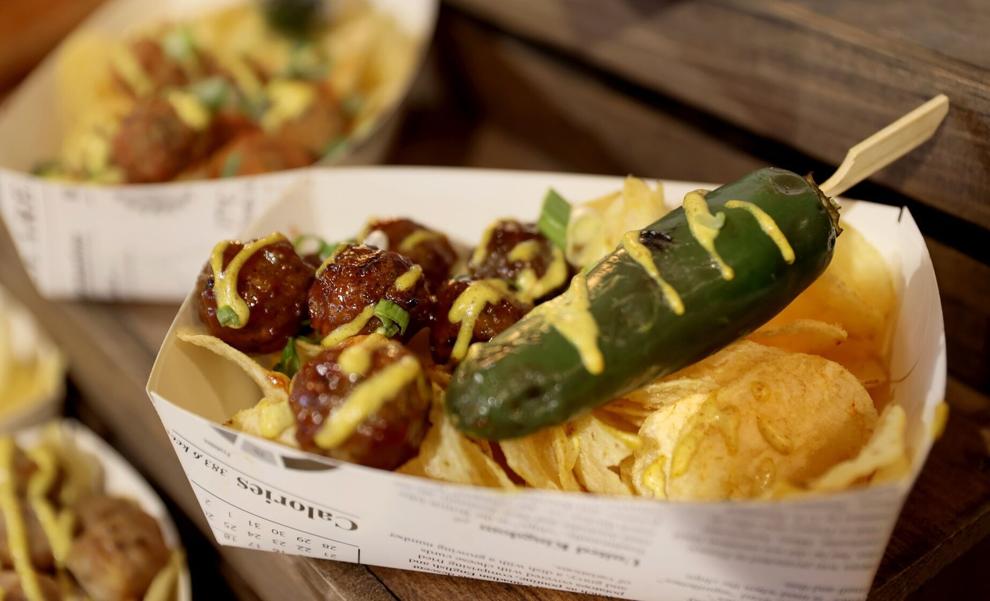 Grilled meatballs
$10 • Section 429
According to the menu, these are "tossed in traditional marinara sauce or sweet and tangy BBQ," but I wouldn't know. There were none the day I was there. They weren't sold out; the stand just didn't have any.