Getting hungry during a Cards game at Busch Stadium, but don't know where to start to find what you're craving? As the baseball season starts ramping up, our guide will ensure that you won't go hungry. Enjoy nachos, pastrami sandwiches, doughnuts, tacos and more while you cheer on the Cardinals.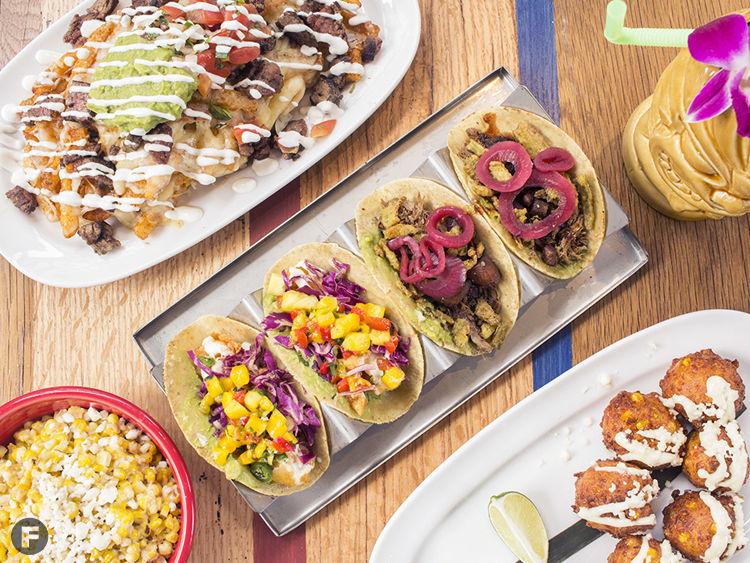 What's New for 2023
Located right behind home plate you'll find a new addition to Busch Stadium's food offerings: Mission Taco Joint. It offers exclusive dishes like the "Hot Corner" chicken taco and the regular taco along with fan-favorites like the street corn, mango shrimp taco and vegan soft taco. 
Mission Taco Joint, Section 150
Shaquille O'Neal's Big Chicken
The famous former basketball player's chicken concept also recently opened a new location within Busch Stadium. Shaquille O'Neal's Big Chicken offers plenty of classic chicken sandwiches for you to enjoy during the game, but look out for a special "314" menu item made in collaboration with local doughnut shop Vincent Van Doughnut. 
Shaquille O'Neal's Big Chicken, Sections 135 and 358
Freddy's Frozen Custard & Steakburgers
Head to the right field's Budweiser Terrace to find Freddy's Frozen Custard & Steakburgers' new location. Order double steakburgers (with or without bacon), shoestring fries and cheese curds. Fans will have to wait on the chain's famed frozen custard – it won't be offered at the stadium in the near future.  
Freddy's Frozen Custard & Steakburgers, Section 432
Sometimes you want classic baseball game fare, and years ago, that's all most stadiums had to choose from. Fast forward to 2023, and peanuts and crackerjacks aren't all that you can find to eat in Busch Stadium. If you're craving fried rice or noodles to-go, look for the two Asian Action Station stands. Choose veggies or add pork or beef to your entrée.
Asian Action Station, Section 136 and Redbird Club Section 243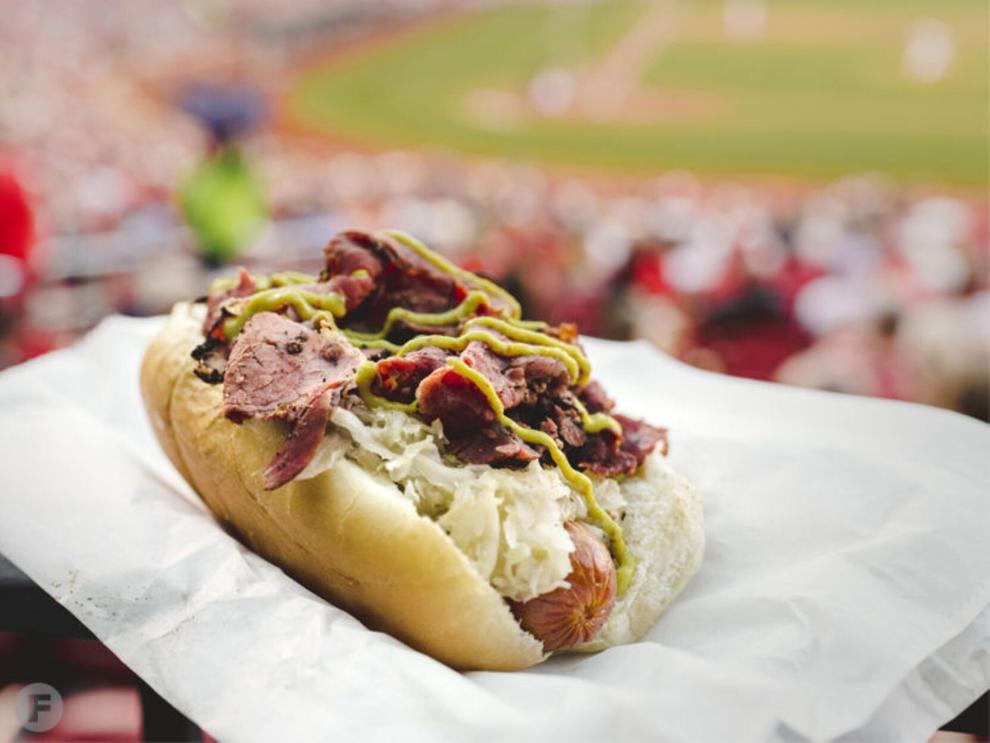 Old Favorites 
If red meat is on your mind, you'll find something a little more filling in section 147. The Kohn's corned beef sandwich is piled as high as the nosebleed section and comes with a side salad. This hidden gem also offers a German knockwurst and pastrami dog or sandwich, plus domestic beer.
All the ballpark classics can be found at the Bowtie Grill in section 271. Grab the kids hometown favorites like hot dogs, cotton candy, popcorn, peanuts and soda when you visit. Parents can find all their favorite adult beverages as well.
Bowtie Grill, Section 271
Don't leave the stadium without a taste of classic St. Louis barbecue at Broadway BBQ. This eatery focuses on house-smoked meats like turkey, brisket and pork served on a bun alongside crispy chips. 
Broadway BBQ, Section 109
We all know in St. Louis that Budweiser is the king of beers, and in Busch Stadium, the Budweiser Burger Bar is the king of burgers. Head up to section 432 to grab a classic burger or barbecue bacon burger for a 4-ounce patty with cheese and all the toppings. You can also find a jumbo deluxe hot dog and, of course, all the domestics, including Bud Light Hard Sodas.
Budweiser Burger Bar, Section 432
For a great selection of beers on tap, hit Double Play Tap & Grill. You can also find lime Margaritas for those hot summer days. Grab some chicken tenders or the nacho platter to snack on. The platter comes with cheddar cheese, pico de gallo, pickled jalepeños, Cotija cheese, sour cream and green onions, all served over fresh corn tortilla chips.
Double Play Tap & Grill, Sections 135 and 358
Craving something on the sweeter side? Dinger's Donuts offer enough homemade sugary goodness to give you the boost you need to make it to the ninth inning. Make it a family affair by upgrading to the helmet serving of 25 doughnuts.
Dinger's Donuts, Section 145
Some days when you come jersey-clad to a stadium, all you want is a hot dog and nachos. Dizzy's Diner is the place you can find those classics, alongside your favorite domestic beers. Find them in sections 139, 161 and 446. Don't miss the nachos supreme, and pick up your peanuts to snack on later while you're there.
Dizzy's Diner, Sections 139, 161 and 446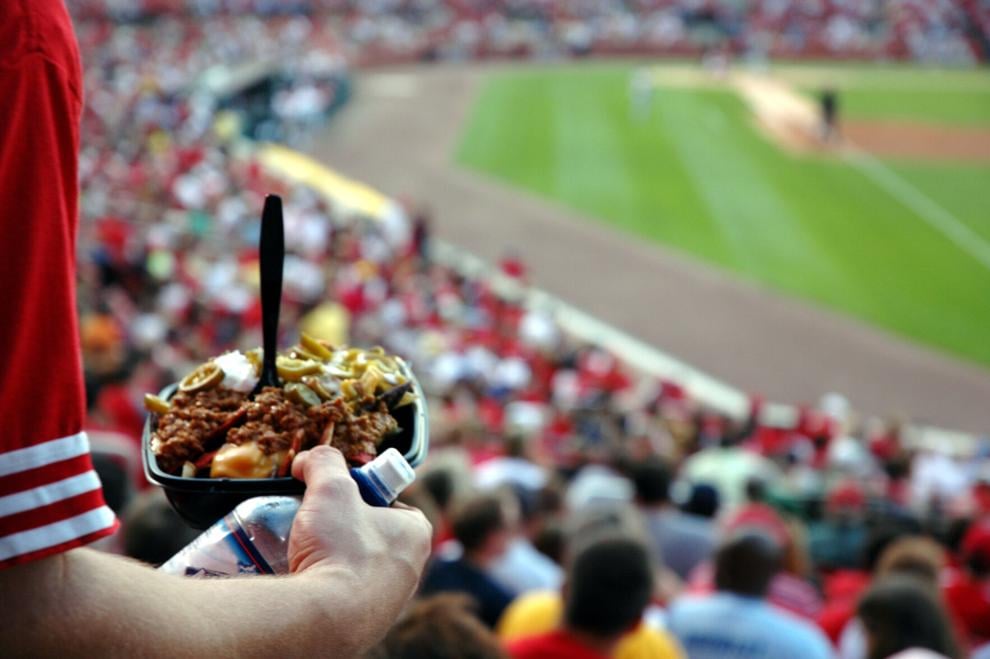 Have a hankering for nachos but want them made to your taste? Find one of the four El Birdos Nachos stands for a home plate box. The signature nachos come smothered in cheese. Then, top them yourself at the Nacho Bar, with choices of diced onions, black olives, sour cream, salsa, pepperoncinis, jalapeños, beef and smoked, pulled pork. You can find fountain sodas, beer and water to wash it all down.
El Birdos Nachos, Sections 131, 152, 251 and 452
With five locations throughout Busch Stadium, you'll be hard-pressed to miss Gashouse Grill for your next beer or bratwurst. Its offerings of burgers, chicken tenders and french fries should cover all your ballpark cravings. Plus, you can find alcoholic seltzers and coffee – whatever your palette preference is for those late night games.
Gashouse Grill, Section 132, 146, 150, 154 and 233
Don't miss Nona's Italian Beef for an elevated take on a sandwich. Enjoy a hoagie stuffed with freshly grilled beef, peppers and onions, all smothered in melted provolone cheese. You can find this hearty sandwich in sections 151 and 440.
Nona's Italian Beef, Sections 151 and 440
If the game is running late, a more substantial meal might be called for. If you're tired of snacks, head to the Redbird Carvery for a Carvery Sandwich Plate. Choose from an assortment of fresh-carved meats served on a sandwich bun with a side of coleslaw, salad and housemade chips. Grab a Bud Light or soda to wash it down.
Redbird Carvery, Section 148
Many of us associate ball games with hot dogs, but if you don't want just any old hot dog, head over to Topp Dog in section 132. There, you can choose from jumbo sausages, brats and Italian sausages. Make it your own with a buffet of grilled onions, julienne peppers, sauerkraut, nacho cheese, pico de gallo, shredded pepper jack, diced raw onions, coleslaw, pickles and giardiniera.