Look, you don't need a restaurant critic to tell you Simply Delicious is as generic as restaurant names get. At the actual Simply Delicious, which the chef Brandi Artis opened in August downtown, it's also a misnomer. The food is indeed generally delicious. To its credit, very little of what I ate here is simple.
Consider Simply Delicious' Bad and Boujee, a cheeseburger with toppings both typical — lettuce, tomato, red onion — and not. The "not" is sauteed shrimp. In the wildest midnight fridge raid of my fantasies I have never considered putting shrimp on top of a burger. Then again, pairing a steak with a side of shrimp or a lobster tail is a classic combination. Why not replicate it in handheld form?
The combination might not be for everyone. And Simply Delicious also serves a more straightforward cheeseburger, the HBIC. But if you don't object on principle, you just might notice how the small, buttery shrimp lift the already juicy patty (medium-thick and, in my order, a perfect medium-rare) to an even higher plane of lusciousness. You might also notice shrimp isn't the Bad and Boujee's only bougie touch. The lettuce is a spring mix, the tomato a ripe, vivid yellow slice of an heirloom variety.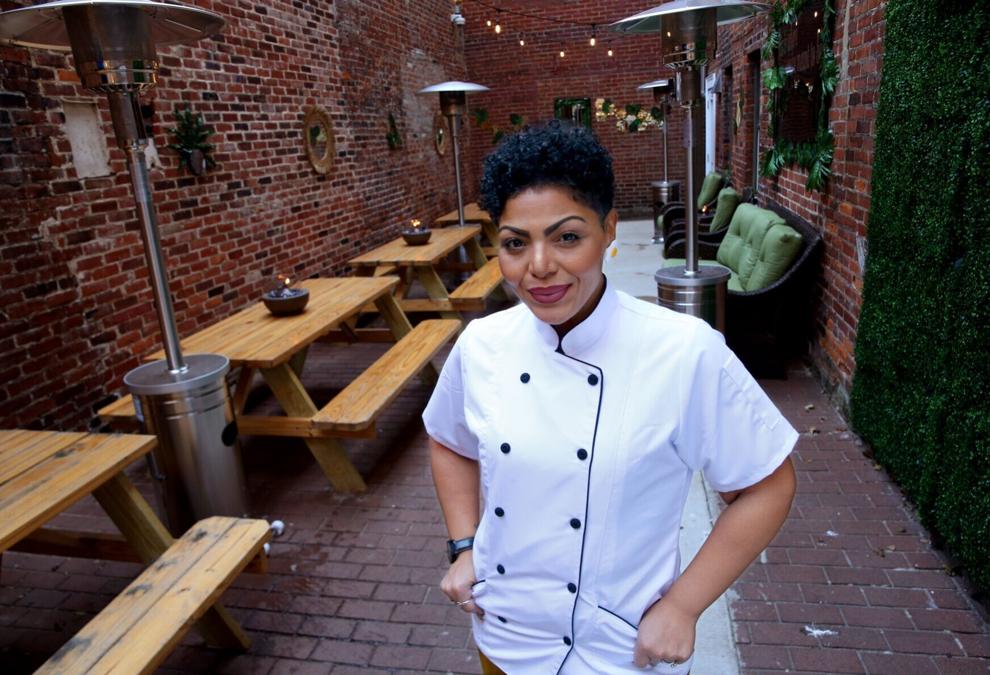 What brings the whole burger together — what makes the shrimp work as something more than a texture — is a tangy, moderately spicy remoulade sauce. I knew this sauce already from the other restaurant Artis and her wife, Brittany Artis, debuted in 2022: 4 Hens Creole Kitchen, which in January joined the Food Hall at City Foundry lineup. (A native of Kansas City, Artis moved to St. Louis from Chicago, where she had run a culinary business that included catering and pop-ups featuring street tacos.)
Simply Delicious takes a much broader approach to its menu than 4 Hens does. Still, in addition to that remoulade, fans of 4 Hens will recognize the exuberance of Artis' cooking. Her take on the inevitable fried chicken sandwich doesn't shy away from its name: It's Hot, Honey. But rather than just drizzling hot honey over the chicken, she also adds a generous slathering of 4 Hens' VooDoo Queen sauce. The result is a potent, smoky heat with a teasing sweetness that doesn't try to copy the blunt cayenne punch of Nashville-style hot chicken.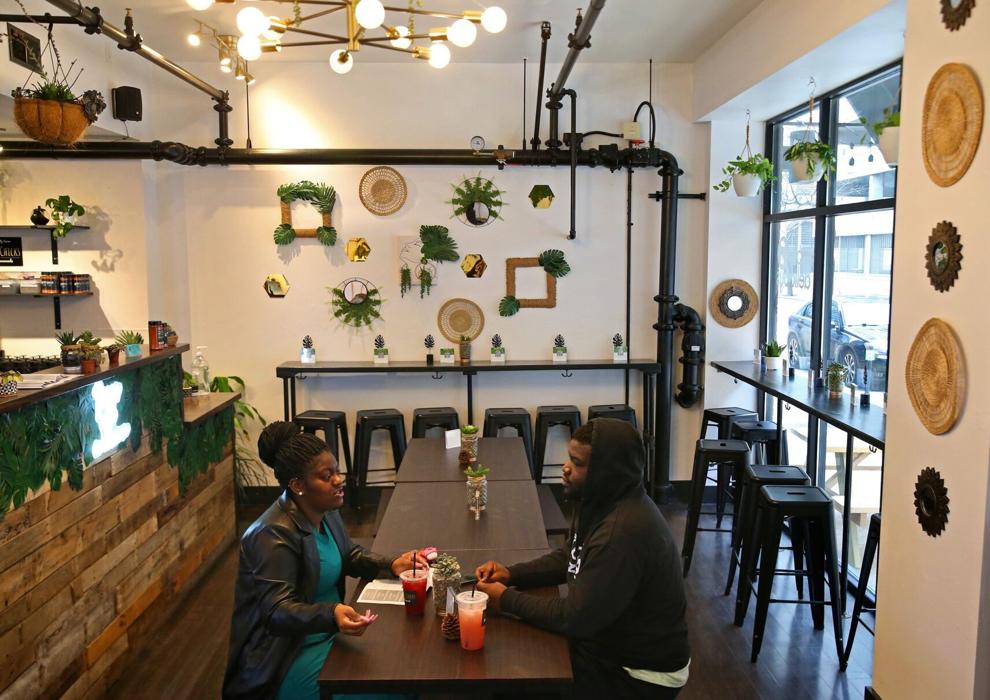 Artis opened Simply Delicious in the former home of Good Buddy's Tasty Soups & Sandwiches on Pine Street just east of North Tucker Boulevard. The dining room is small and shares its space with what looks like the counter where you place your order. In fact, you seat yourself and scan a QR code to access the menu and order your food. The ambience is casual, but I wouldn't confuse Simply Delicious with fast-casual dining.
The Bad and Boujee and HBIC burgers and the fried chicken sandwich are listed on the menu among the Nooners — ostensibly lunch dishes, though Simply Delicious' full menu is available from breakfast through lunch. This is very good news for those of us who can't get ourselves together before most restaurants' breakfast services have ended but who can't resist something called the Croffle, a creation as striking in its own way as a burger topped with shrimp.
In the proud tradition of the croissant-doughnut Cronut, the Croffle is a croissant cooked in a waffle iron. The result looks like a waffle and eats … kind of like a croissant? You get that flaky crackle on the surface and between layers, but by design the waffle iron compacts it into something denser, even sticky.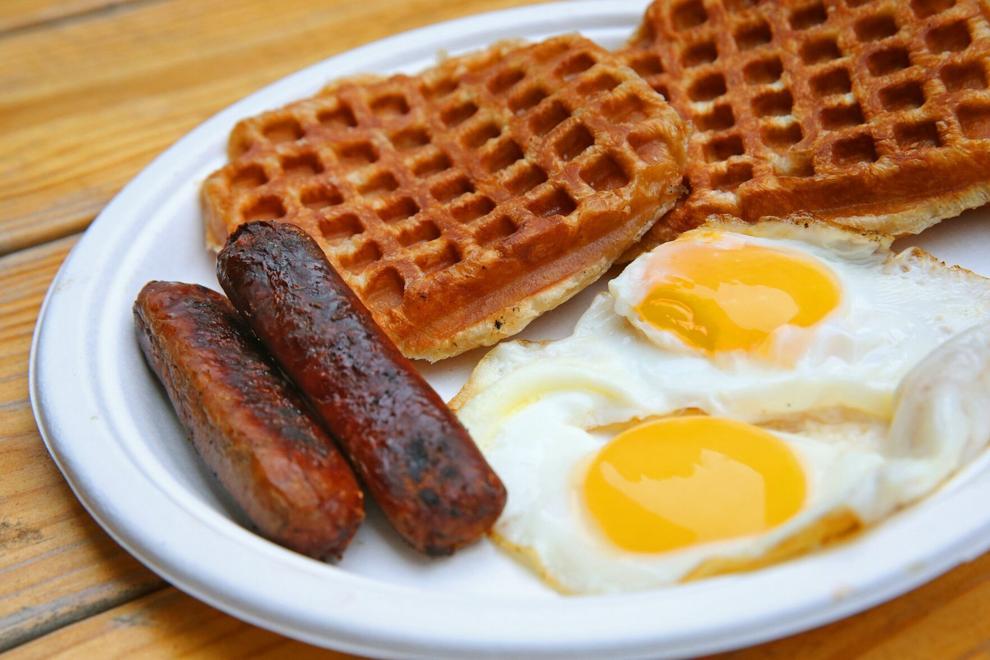 Like the shrimp-topped burger, it works but needs friends to blossom. Like a true waffle, fried chicken is the Croffle's ideal partner: two Creole-spiced strips with a drizzle of hot honey. Also like a waffle, as my son's kid's meal proved, a generous pour of maple syrup and side of bacon and eggs also makes the Croffle sing.
You might suppose from the name and the example of the Bad and Boujee burger that the Bougie Breakfast Sammy is no mere bacon-egg McMuffin you can one-hand while driving to work. A plate inside Simply Delicious can barely contain the two wide slices of bread that sandwich two eggs, four slices of bacon, some heirloom tomato slices, brie and a fig jam. The jam and tomato nudge the richness, but this is the one dish I tried that teetered on the verge of Too Much — until I added hot sauce.
If the breakfast sandwich's side of crisp breakfast potatoes is too straightforward for you, upgrade to the papas bravas. Artis dresses these with a bright chimichurri, feta, cilantro and crème fraiche. These are also available among a group of dishes called Middle of the Road, which you can interpret as sides (fried Brussels sprouts with goat cheese, balsamic and almonds) or starters (chicken strips or fried goat cheese) or something else besides.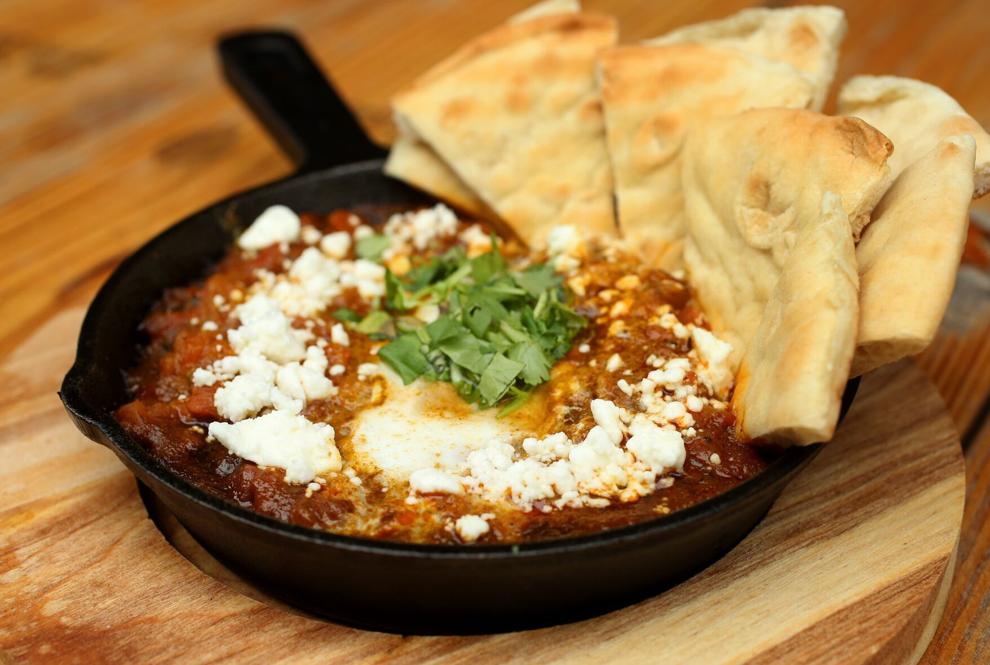 I said very little I ate at Simply Delicious was simple. You should note the outlier, from the breakfast menu: salmon croquettes, hand-pattied with just enough slack that you can appreciate the salmon as you would the individual pieces of jumbo-lump meat in a fine crab cake.
Artis' skill across multiple cuisines would be remarkable in any chef, let alone one who has introduced herself to St. Louis with two restaurants in one year. Also notable is Artis' decision to open Simply Delicious downtown at a time when it is all too easy to find naysayers of the city center. Alongside another standout debut of the past two years, Tamara Landeiro's Havana's Cuisine a few blocks north on Washington Avenue, Simply Delicious offers the sort of appealing, personal cooking that can help ignite downtown's latent energy.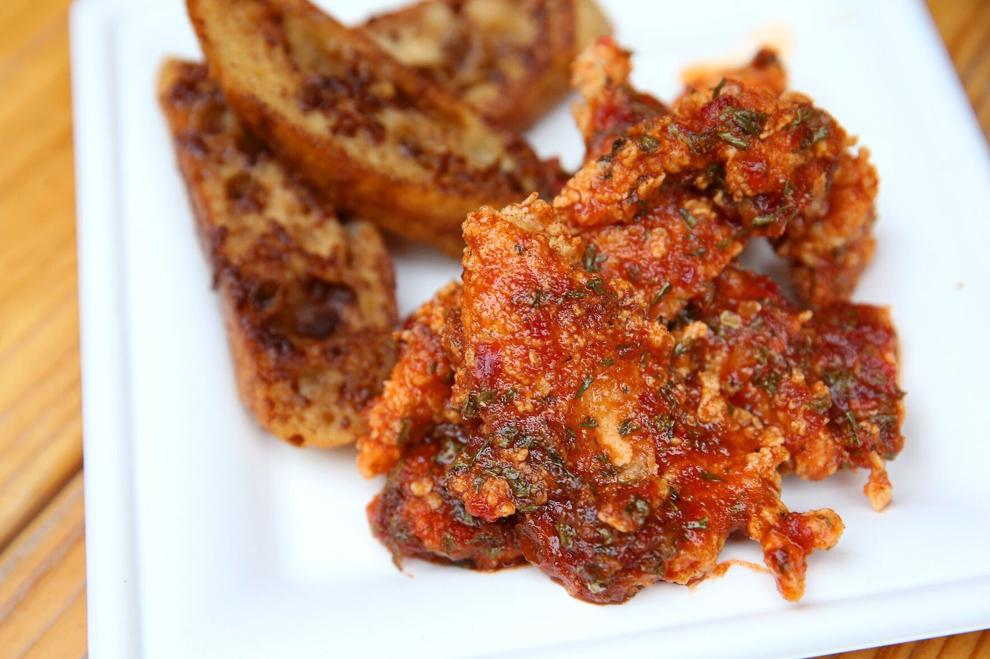 Where Simply Delicious, 1115 Pine Street • More info 314-802-7287; simplydeliciousstl.com • Menu Breakfast and lunch fare • Hours 8 a.m.-3 p.m. Monday-Friday, 8 a.m.-4 p.m. Saturday-Sunday