On the Sunday afternoon after Thanksgiving, the front room of Kreis' Steakhouse & Bar murmured rather than buzzed. The servers in their signature burgundy dinner jackets with black lapels discussed the early NFL games — the Jags had beaten the Ravens on a gusty 2-point conversion — while the TVs above the bar played the Rams-Chiefs tilt on mute. By my count, there were three diners: a couple in one corner and myself at the bar.
This wasn't surprising. The beloved Frontenac restaurant had opened for the day 30 minutes ago. I'd arrived at 4 p.m. only because my family's jigsaw-puzzle schedule demanded an early-bird meal.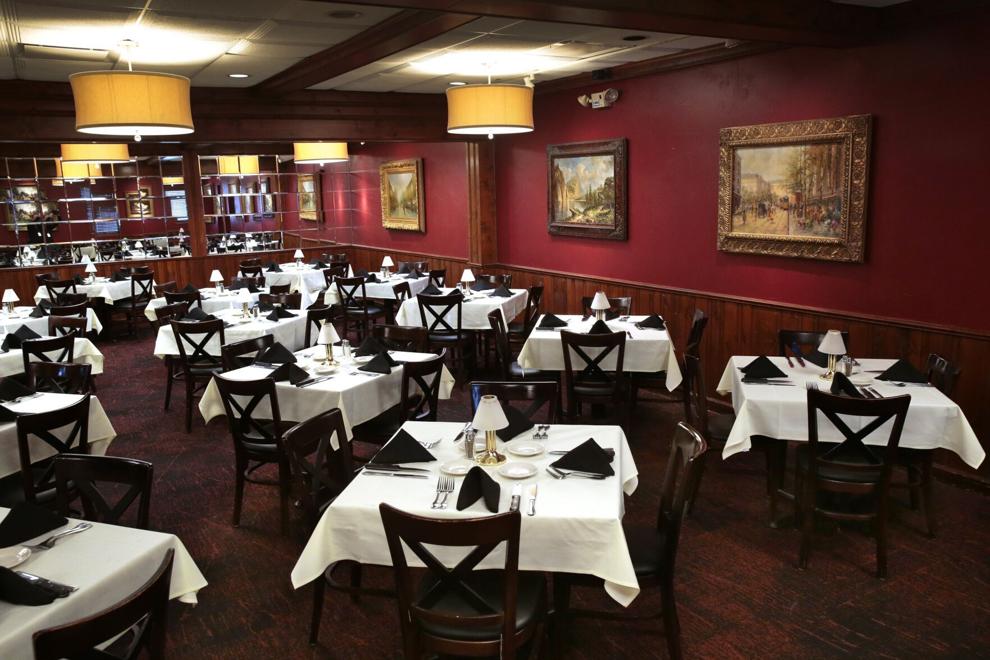 In the quiet, though, I couldn't help but notice how busy Kreis' phone was — impressively so during these groggy final hours of a holiday weekend. The maître d' efficiently fielded reservation requests both routine and festive, a table for two next Saturday and a table for 14 on the eve of Christmas Eve. A caller didn't remember the time of a reservation that evening. It was 6 p.m., the maître d' said and confirmed the caller was celebrating an anniversary.
Inertia alone might sustain a restaurant as storied as Kreis'. Inertia and rosy-hearted slabs of the signature prime rib. The Kreis family founded the restaurant in 1948, but for the past four decades, Kreis' legacy has belonged to the Tompras family. Brothers Byron and Tyke took over the restaurant in 1983. They were succeeded in 1991 by Byron's son, George, and daughter, Renee Bogdanos. George died last year. Bogdanos continues to operate Kreis' with her son, Nick Bogdanos.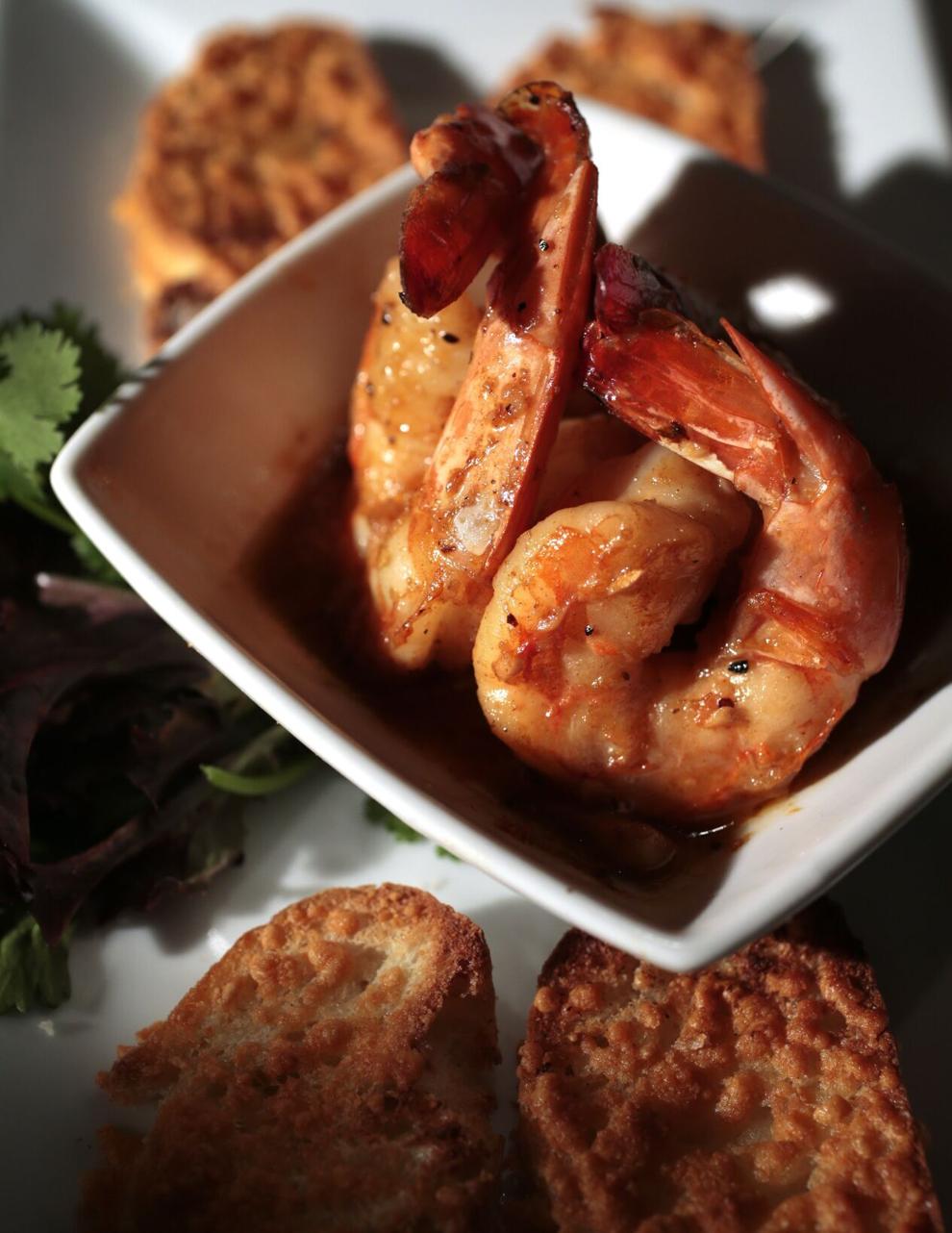 Instinctive nostalgia is as much a part of St. Louis dining culture as Provel and pork steaks. Inertia lurks in the shadow nostalgia throws. Maybe because of the pandemic, maybe because I spend more time immersed in our restaurant scene than any sane person would, I've noticed even stronger nostalgic vibes than usual lately.
It led me to undertake this project, visiting three St. Louis institutions I've never before reviewed or honored in my annual STL 100 or another best-restaurant list: Kreis', Kemoll's Chop House in Maryland Heights and Paul Manno's Restaurant in Chesterfield.
I begin at Kreis' not only because it was the clear standout among these three restaurants. I could point to my dinner on that Thanksgiving-weekend Sunday, the third of my three visits, as a reason to dine there, and it didn't include the legendary prime rib.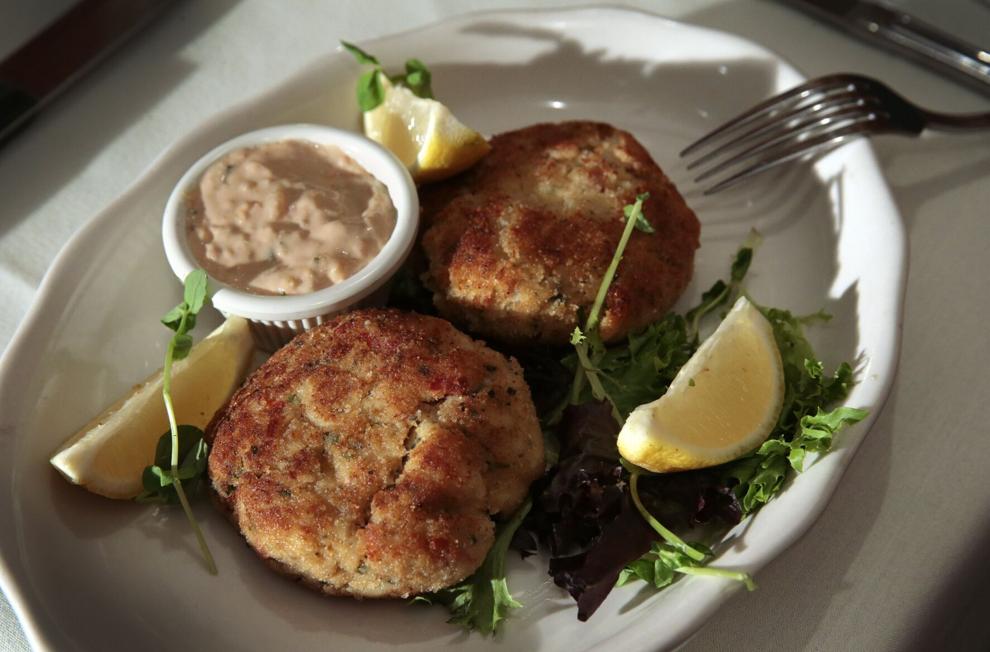 My appetizer was the Sisyphus' boulder of this Baltimore-born restaurant critic's career: a crab cake. At Kreis', the kitchen uses jumbo-lump meat and pan-fries the cake until it develops a thin, golden-brown crust, a promising start. This crust gave way with a barely audible crackle to the miracle of sweet crab meat, only somewhat creamy from binders. (Spoiler alert: I will return to the issue of creamy crab cakes.)
I followed this with a 16-ounce strip steak, USDA prime Black Angus grilled medium-rare, with a side of steak fries. Another of the stones I roll uphill: an upscale steakhouse opting for crosshatch grilling, which can't approximate the comprehensive Malliard-reaction crust high-temperature broiling or searing in a cast-iron pan can develop. Kreis' keeps its intersecting grill marks very close together, though, creating as savory a crust as the crosshatch technique can, the perfect counterpoint to the meat's corn-fed, mineral-tinged juices.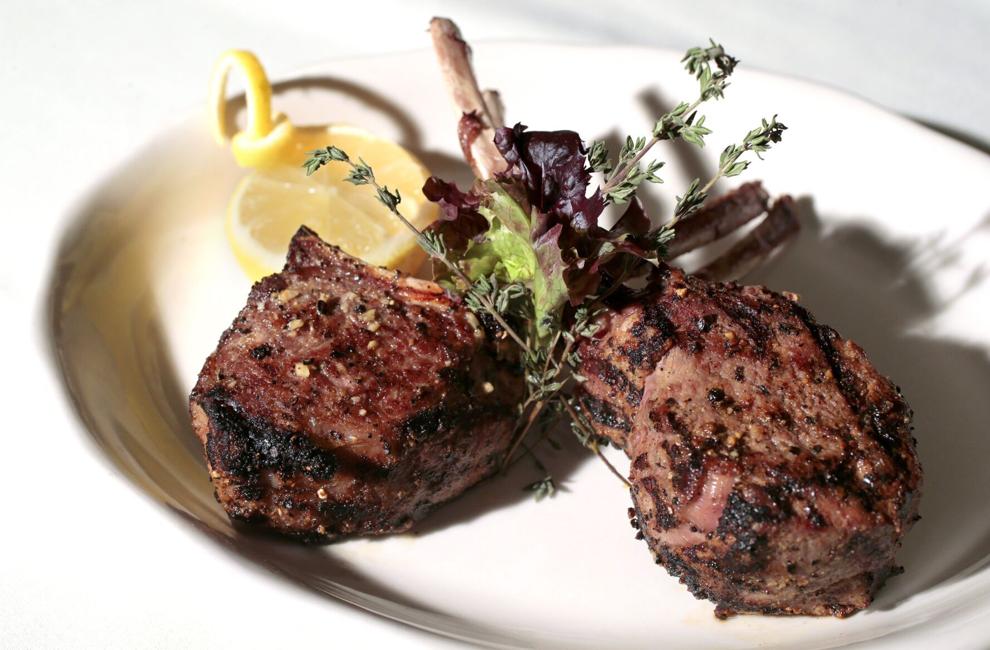 Finessing the details fights inertia. Steak fries are rarely ranked among the best fries, but those served with my dinner yielded with a satisfying crunch to an interior starchy enough to soak up the steak's juices but not so starchy they didn't still register as fries. Oysters Rockefeller, an appetizer special on another visit, gilded rather than clouded plump, briny oysters with the classic trio of butter, herbs and breadcrumbs.
If a strip steak can't tempt you away from Kreis' prime rib, have you considered the lamb chops? These were the best I've eaten in St. Louis, with a peppery note to the crust that flickers like heat lightning through the deeply grassy meat. In the oldest of old-school touches I encountered working on this project, the kitchen serves the chops with a little crock of mint jelly. The chops don't need the mint accent, but applied judiciously, it adds a fun, herbaceous bite
Inevitably, though, Kreis' is synonymous with prime rib. Even the smallest cut, the boneless Queen, is a tremendous piece of meat, blushing red through and through, lined with luscious rendered fat and dabbed if you like (you should) with zippy, creamy horseradish sauce. Is it inertia when you don't change what works? Not when the quality of your signature dish and the totality of your experience, in that sweet spot of friendly and formal, cuts the path forward for other St. Louis fine-dining institutions.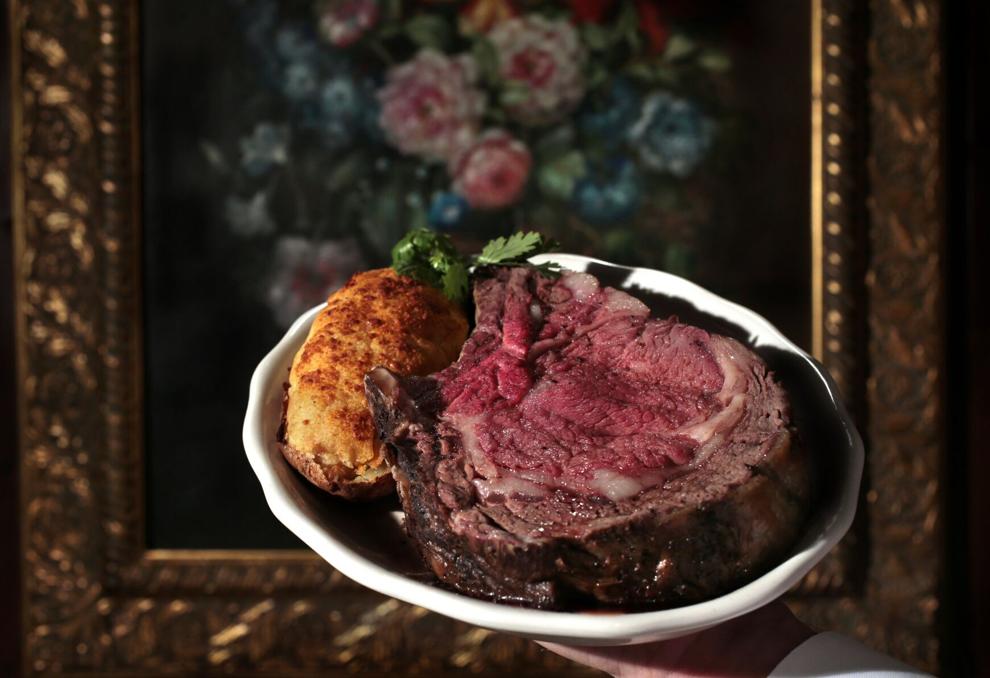 Where Kreis' Steakhouse & Bar, 535 South Lindbergh Boulevard, Frontenac • More info 314-993-0735; kreissteakhouse.com • Menu Prime rib, steaks, chops and seafood • Hours Dinner daily
Kemoll's Chop House
Of the three restaurants featured in this project, Kemoll's Chop House is both the oldest and the most recently and dramatically transformed. Joe and Dora Kemoll — the latter known simply as Mrs. Kemoll in the restaurant's lore, some of her recipes still in use today — opened their original storefront in 1927 on North Grand Boulevard. In 1990, the fine-dining institution relocated downtown to the towering One Metropolitan Building, in which it would eventually ascend to a dining room with a view on the 40th floor.
Not quite four years ago, current owner Mark Cusumano, grandson of the Kemolls, moved the restaurant into the former Dierdorf & Hart's address in Westport Plaza in Maryland Heights. You enter this newest version of Kemoll's through the spacious bar area, which also includes dining tables and, on one of my visits, a keyboardist crooning Christmas tunes. To one side is the main dining room, a generically upscale space that mainly serves to obscure any hint of Westport Plaza.
The overall ambience suggests a four-star hotel in the mid-1990s that is beginning to go to seed. These probably aren't the nostalgic vibes Kemoll's seeks, but the space is also the least of the restaurant's problems.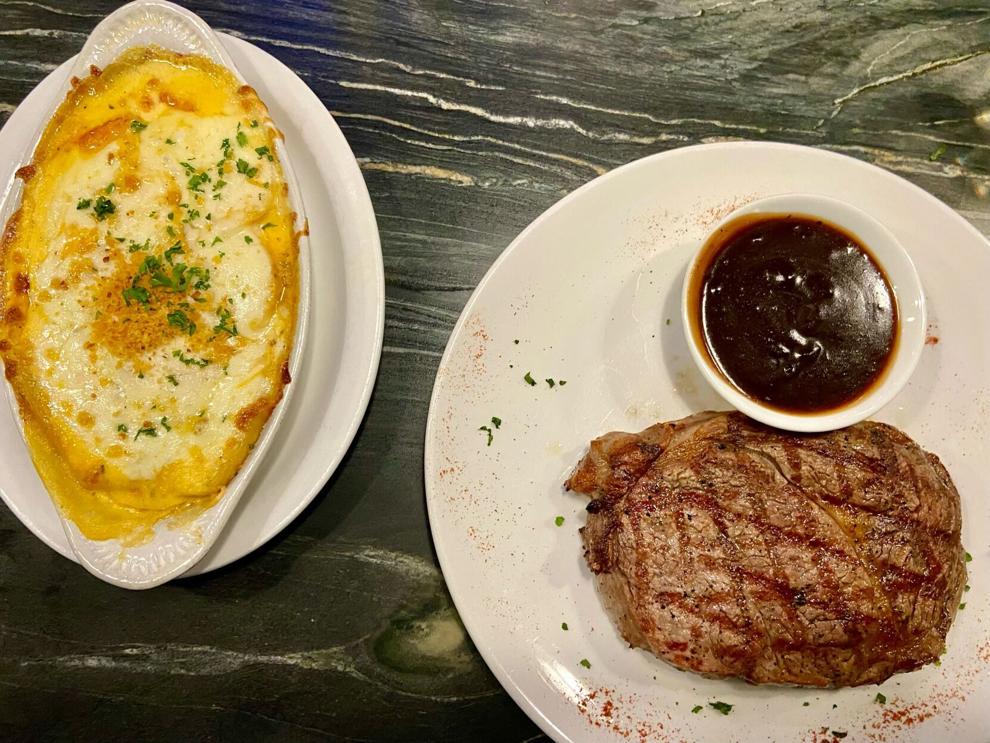 As its full current name suggests, Kemoll's now splits the difference between steakhouse and Italian restaurant. The 16-ounce, center-cut rib-eye I ordered on my first visit was the best main course I ate here, juicy and a precise medium-rare, but even this raised issues. The steak's $75 price tag demands more attention than the perfunctory crosshatch grilling that left so much potential flavor unrealized.
Granted, that $75 includes a salad, a couple of slices of the house garlic-cheese bread and a side dish. I actually paid $4 extra for one of the "premium" sides: excellent, exceptionally cheesy potatoes au gratin. I suppose when you're dropping $75 on a steak, another three bucks hardly matter, but even in these inflation-crazed times, the small upcharge struck me as petty.
You can't help but think about the cost of a meal at Kemoll's. The restaurant makes its case in volume — fairly, in the case of its appetizers, which are portioned for two. The flying saucer-shaped toasted ravioli are lightly breaded; they scan as actual pasta that happens to have been fried rather than one more bit of fried food. On the side for dipping is a small crock of Mrs. Kemoll's strikingly sweet meat sauce. As an accent to the T-ravs, at least, that sweetness isn't cloying.
In contrast to the toasted ravioli's lighter touch, the crab cakes led with a thick, crunchy crust of panko breadcrumbs. This crust only highlighted how disarmingly soft and wet each cake's interior was. There are three cakes to an order, and their combined crabbiness could hardly match my own.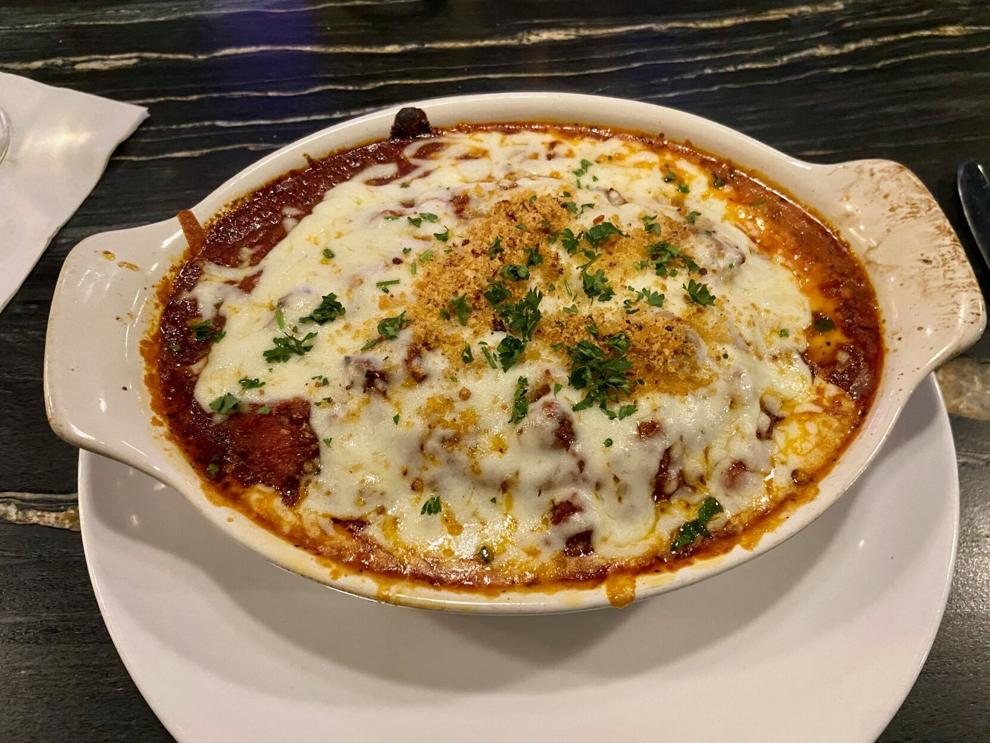 Kemoll's saved its greatest abundance and disappointments for its Italian main courses. The thin cutlet in my order of veal Parmigiana covered nearly the entirety of its plate, and this was smothered to its edges in melted cheese. The breading had turned mushy under all that cheese, however, and the veal was chewy. My side dish of creamed spinach casserole — another $4 premium! — was hot on the surface, room temperature underneath.
The lasagna here could easily feed two, maybe even three, with ample leftovers. If you bothered to bring them home. My lasagna combined and intensified the flaws of the veal Parmigiana and spinach casserole. Its five different cheeses and overcooked noodles had melded into a bland glop — though not bland enough to mediate the meat sauce's sweetness — that ranged in temperature from molten on the surface to cool shading toward cold at the bottom of the dish.
Even worse than a restaurant that has succumbed to inertia is one that doesn't even bother to go through the motions.
Where Kemoll's Chop House, 323 Westport Plaza, Maryland Heights • More info 314-421-0555; kemolls.com • Menu Steaks, chops and Italian fare • Hours Dinner Tuesday-Saturday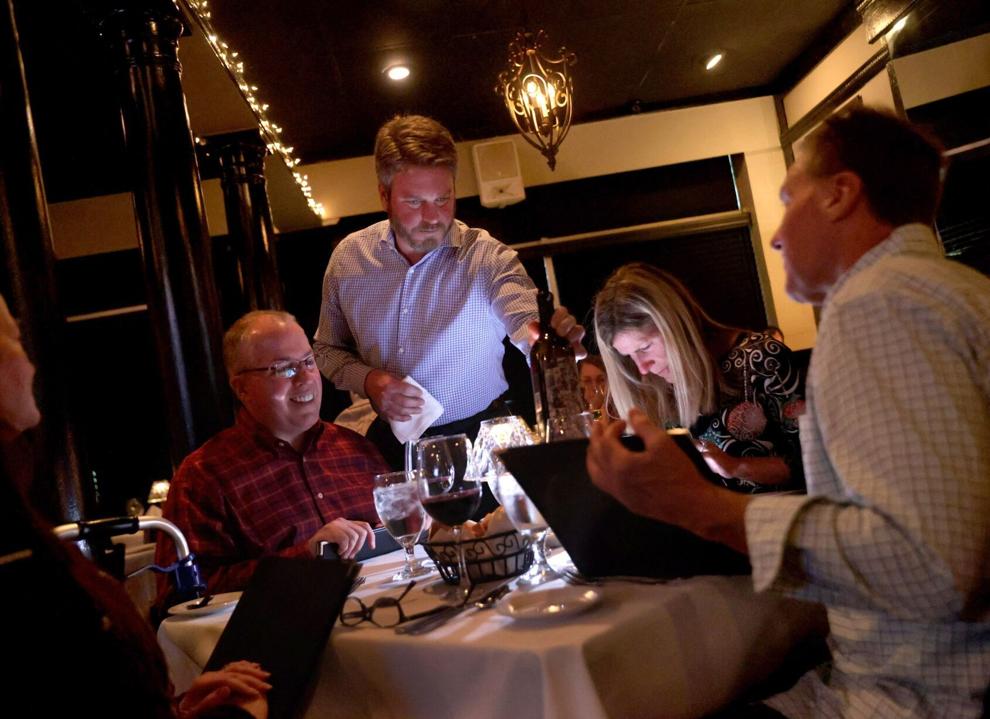 Paul Manno's Restaurant
You will see Frank Sinatra's mug on the walls of Paul Manno's Restaurant, and you will hear Ol' Blue Eyes' baritone on Paul Manno's sound system — more than once, probably — and if you, like me, aren't a devoted regular of this Italian restaurant that occupies a shopping-plaza storefront in Chesterfield as nonchalantly as the chairman of the board wielded a cigarette, well, this all might seem a little too on the nose.
I understand it now, though. Paul Manno's gets Sinatra. This restaurant swings. It moves. Servers thread carts through the packed dining room and hit their marks for tableside service, finishing plates with a tableside flourish. The restaurant is too busy for the carts to linger showily. This isn't theater. This is just how Paul Manno's is, and when you're caught up in its rhythm, you think it's how every restaurant should be.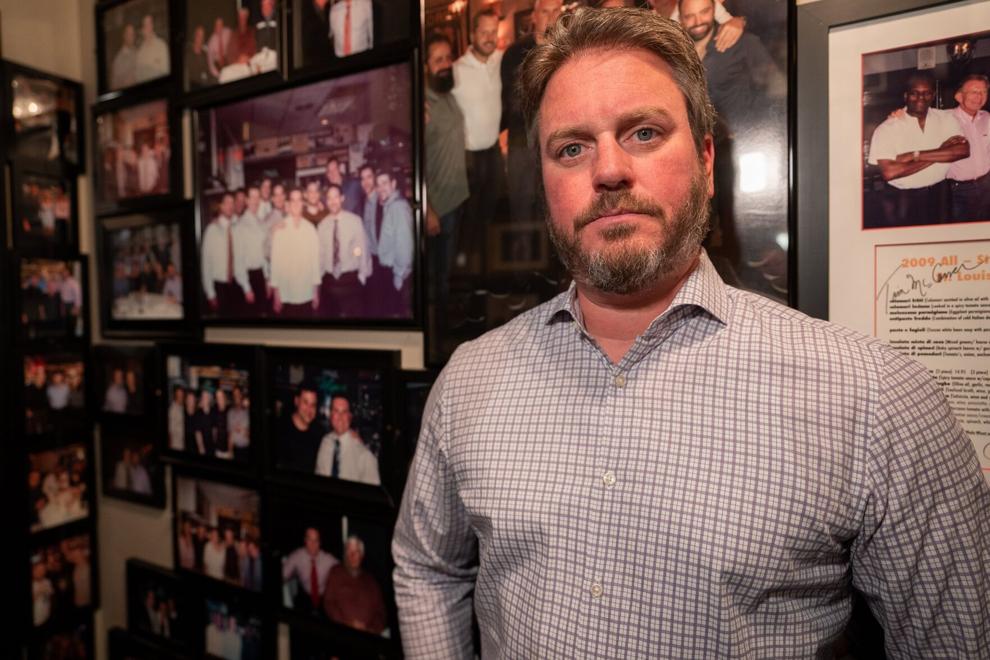 Sometimes the person rolling that cart to your table is Paul Manno Jr., who now leads the restaurant his parents, Paul and Concetta Manno, founded in 1995. Manno hustles from the dining room to the kitchen and back again. He stops to check on tables and chat with returning diners.
There are more than a few of these. By reputation, Paul Manno's is one of the most difficult reservations in St. Louis. The restaurant doesn't use OpenTable, Resy or another online booking service. You must actually pick up the phone and call.
(For one visit, I chanced walking into Paul Manno's alone on the later side on a Tuesday without a reservation and did manage to score what looked to be the only empty table. I don't recommend this.)
And while I haven't kept official count since I first published my STL 100 in 2015, Paul Manno's is without doubt the restaurant whose absence from the list has generated the most messages from readers. Clearly, even without this project as an impetus, I needed to eat here.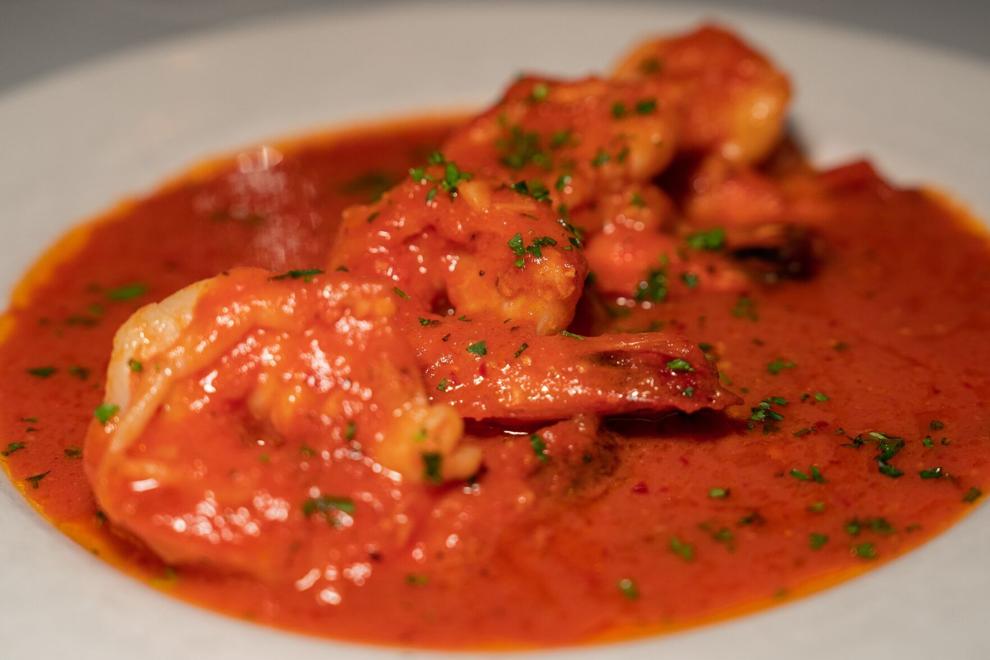 My first dinner suggested that 50 million Sinatra fans could be, if not wrong, then at least overstating their case. My appetizer of shrimp diavolo (also available as a main course) delivered two plump shrimp in a rustic tomato sauce rounded out with fish stock. This tasted more of garlic than the promised red-pepper heat, but it didn't cloak the shrimp's naturally mild flavor, either. Here you see an issue of translation over time: as the variety of cuisines and chiles available in the United States has expanded over the past few decades, "spicy" can create a different expectation from diner to diner.
More obviously flawed was my main course, vitello Milanese, a trio of veal cutlets pounded exceptionally thin, breaded and fried served with nothing more than Parmigiano-Reggiano and a lemon wedge. The veal would have needed nothing more than the cheese and a squeeze of lemon juice had the kitchen not pounded the meat so fiercely that it transcended tenderness and turned as floppy as a dishcloth.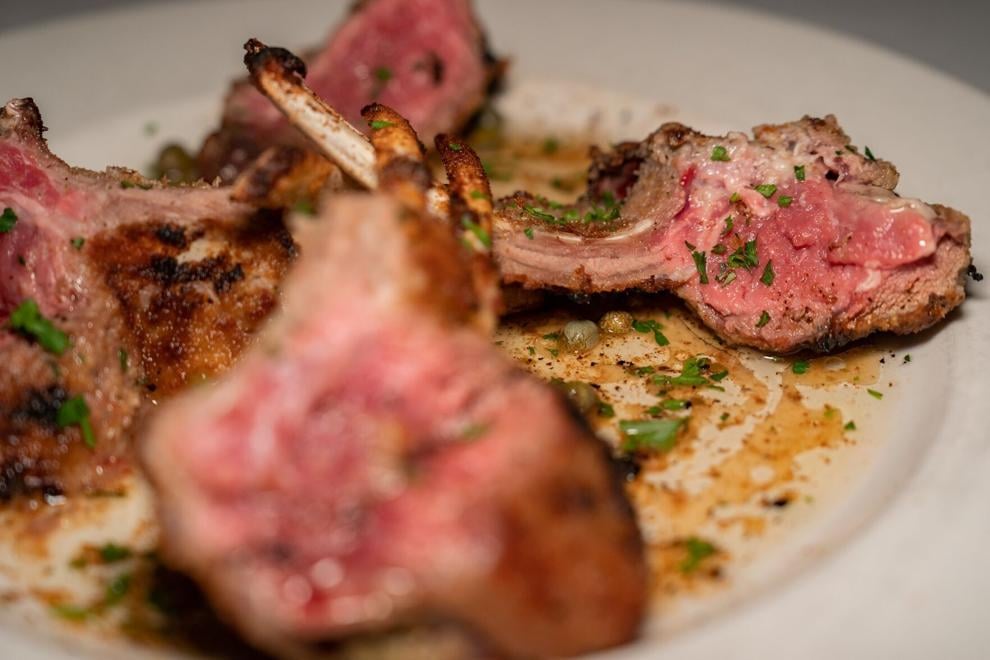 Thankfully, that veal dish didn't prove typical of my return dinners, and Paul Manno's would even showcase what it could do with the meat: a special that capped a thick bone-in chop with fontina cheese and served it in a pool of its own jus. The key to this veal was a masterful, deeply browned crust that amped up the veal's beefiness without overwhelming its more delicate flavor. If the restaurant's "famous" lamb chops don't boast as otherworldly a crust as Kreis', its verdant pops of oregano and caper berries energize each bite.
Given what has happened to food costs since the pandemic hit, Paul Manno's prices, though by no means inexpensive, provide real value. An appetizer of lobster ravioli packs actual lobster meat and flavor into its two raviolo and gilds these with a silky, sherry-splashed cream sauce. I ordered the spaghettini alla Amatriciana as a half-sized appetizer portion, and even this would have sated me as a main course thanks to its ample al dente pasta with the warming spice of salsiccia and (in contrast to the shrimp diavolo) a more pronounced red-pepper bite.
If Kreis' nails the old-school chop house model, with superb versions of the prime rib and oysters Rockefeller most of us wouldn't bother to try at home, I think Paul Manno's fulfills a more subtle but still vital role. This isn't necessarily the greatest old-school Italian restaurant, but it is the elegant but not stuffy dinner party to which you know you can return.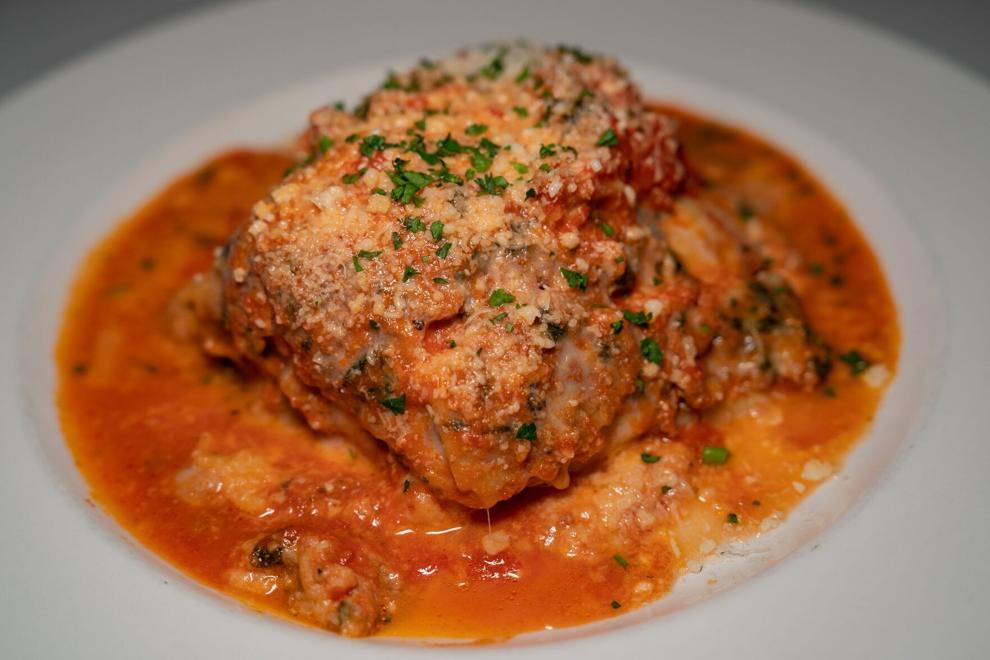 Where Paul Manno's Restaurant, 75 Forum Shopping Center, Chesterfield • More info 314-878-1274; paulmannos.com • Menu Elegant Italian fare • Hours Dinner Monday-Saturday (closed Sunday)