By Ian Froeb | Post-Dispatch restaurant critic

A new restaurant is lucky to boast one must-try dish. I don't just mean the best thing on its menu — any new restaurant has one of those, even if only by least-bad default — but the dish no one else in town does as well or at all. This dish compels the attendance of enthusiastic eaters and might lead casually curious diners to expand their tried-and-true circuit.
Sando Shack, which opened in November along Morganford Road's commercial corridor in Tower Grove South, can already claim two such dishes. With a few tweaks to another item and some demand from customers (or from this critic at least) to make a recent special permanent, the restaurant could double that number.
Sando Shack owners Amy Guo and Dan Jensen moved to St. Louis in 2020 from Seattle, where the Chesterfield native Guo had worked in corporate marketing while Jensen had managed a food hall. The married couple relocated here to open Hello Poke as one of the inaugural restaurants at the Food Hall at City Foundry. In late 2020, with the Food Hall's debut behind schedule, they launched Sando Shack as a food truck featuring Japanese chicken katsu sandwiches.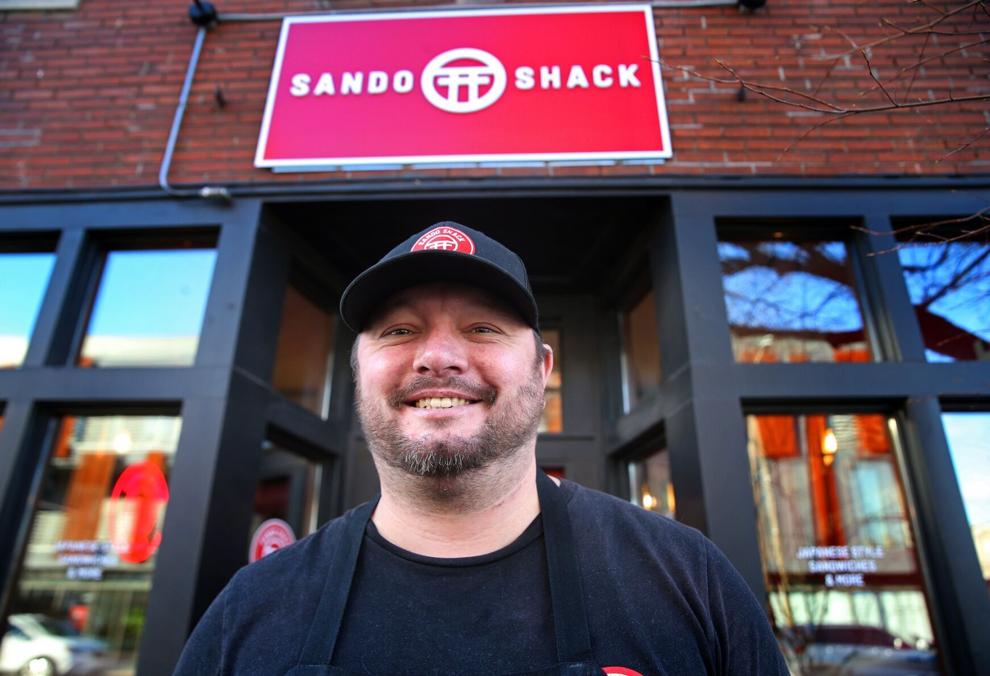 The name has proven apt. The brick-and-mortar Sando Shack occupies the narrow storefront next to the soccer-crazed Amsterdam Tavern. (The space was previously the home of the burger restaurant the Dam.) While the Amsterdam Tavern offers a sort of dining room by proxy, not to mention an expansive patio out back, Sando Shack itself provides only limited counter seating. This is a takeout-focused operation.
Even packed inside a to-go box — or maybe especially so — the restaurant's signature chicken katsu sandwich is photogenic if you arrange its two halves side by side, cut sides up: twin ribbons of juicy, deep-fried chicken thigh in a thin, golden-brown panko crust, topped with purple-white cabbage slaw and bracketed between slices of toasted, buttered bread.
The chicken katsu sandwich is one of Sando Shack's two must-try dishes, but it does require further clarification. There are two versions, regular and sweet-and-spicy. The former adds a savory-sweet katsu sauce, the latter a chile sauce in the Goldilocks zone of not too sweet, not too fiery. I preferred the sweet-and-spicy variation, but each is reason enough to visit here.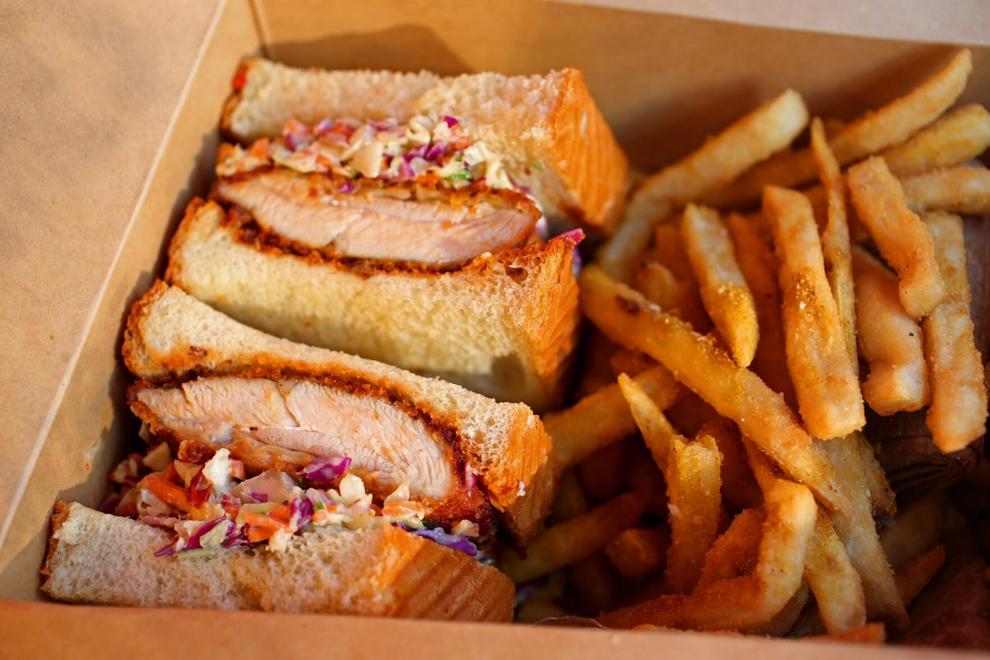 Neither is Sando Shack's best fried chicken sandwich. That honor goes instead to the chicken kaarage sando, served uncut on a toasted brioche bun. This begins with a chicken thigh brined in soy sauce and sake with ginger and garlic. The kitchen dredges the thigh in potato starch before deep-frying, which yields a gnarly, crunchy crust that is still remarkably light, letting the brine's nuances shine through in the meat. The chicken is garnished with a tomato slice, the house cabbage slaw and two brilliant accents: a tart, tangy yuzu aioli and the occasional piquant pop of pickled Fresno chiles.
This chicken kaarage sando belongs in any discussion of the area's best fried chicken sandwiches. Crucially, in that crowded field, it stands wholly apart.
At this point, we have already covered half of Sando Shack's main menu. There is also a pork tonkatsu sandwich, also panko-breaded and dressed like the regular chicken katsu sando. The pork loin is tender and juicy, though not as tender, juicy or flavorful as its chicken counterparts. A sandwich with a fried portobello mushroom cap provides a vegetarian option.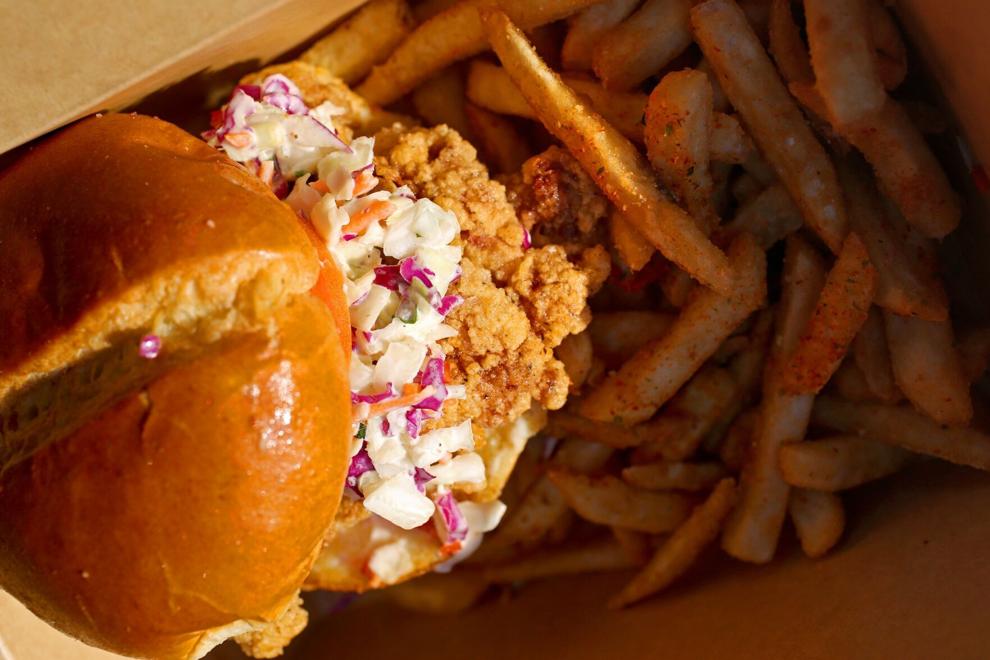 Maybe the highest praise I can offer Sando Shack's chicken sandwiches is that I haven't mentioned the restaurant's katsu burger until now. This is exactly what you would expect from that name: a deep-fried, panko-encrusted beef patty. The sandwich splits the difference between the chicken katsu's preparation (cabbage slaw, katsu sauce) and a cheeseburger (slice of cheddar, red onion, tomato, brioche bun).
The katsu burger is neither as overwhelming nor as gimmicky as it might sound. Essentially, it's a burger with extra crunch, not unlike one of those maximalist burgers that throws a whole fried onion ring on top. And I like the concept of the crunchy panko shell giving way to a juicy, medium-thick patty, but my burger had been fried to a well-done temperature that sapped a lot of its energy. With a slight adjustment to its preparation, this could rival those chicken sandos.
Each sandwich comes with fries, which are seasoned with your choice of sea salt, moderately spicy togarashi or a warming, lightly sweet curry powder. You can also order these a la carte, which alongside teriyaki pork "wings" complete Sando Shack's brief menu.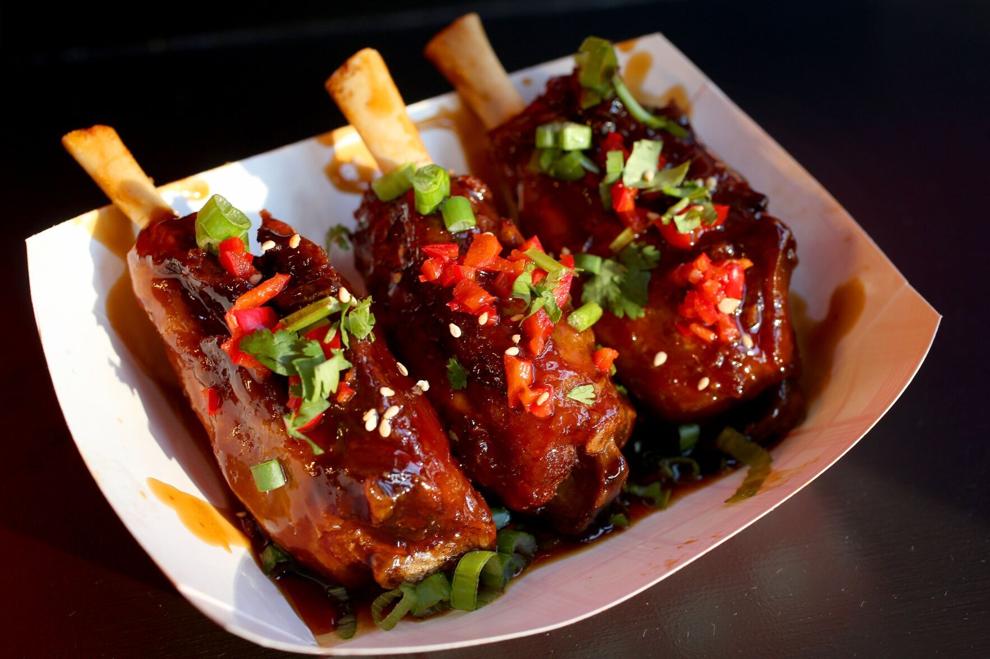 As compelling as this compact selection is, keep an eye out for specials. On one visit, an employee offered those of us dining inside a sample of the newest special, gyoza wings. The wing's flat is deboned and stuffed with a gyoza-style blend of ground pork and cabbage. The wing is then coated in potato starch and deep-fried twice. Rather than some clumsy Frankenstein's monster, the dish seamlessly conveys the pleasures of both gyoza and wing.
I made sure to order these gyoza wings on my next visit — just, you know, to confirm my initial impression. If the wings do end up on the regular menu, I would have no choice but to return frequently in the interests of quality control.
Where Sando Shack, 3173 Morganford Road • More info 314-449-1011; instagram.com/sandoshackstl • Menu Chicken katsu and other Japanese-style sandwiches • Hours Lunch and dinner Tuesday-Sunday (closed Monday)