We should begin with the biscuits, right? They claim headliner status in the restaurant's name, Honey Bee's Biscuits + Good Eats. They tower over Honey Bee's social media, thick, golden-brown and honey-glazed. When split in half to cradle a sausage patty, egg and cheese, they are more skyscraper than breakfast sandwich. Since June 2020, the biscuits' popularity has allowed married owners Meredith and Michael Shadwick to expand Honey Bee's from a stall in the Kirkwood Farmers Market to both a food trailer and a catering truck to, in November, a brick-and-mortar storefront in downtown Kirkwood.
"Which came first, the biscuits or the gravy?" might not be as fundamental a question as the chicken-or-the-egg conundrum, but at Honey Bee's at least there is a definitive answer. Gravy has long been one of Michael's favorite dishes to make, a recipe he learned from his sister and has tweaked to become his own.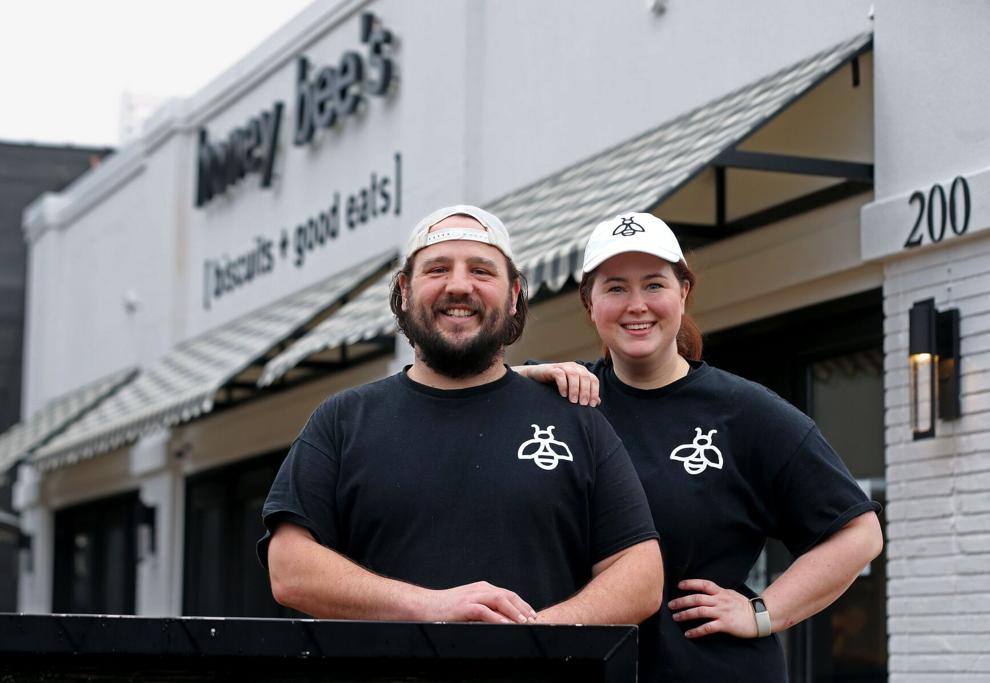 Honey Bee's signature sausage gravy doesn't look so different slathered over one of the restaurant's biscuits: a snowy field speckled with black pepper. The nuances accumulate, though. Its small pieces of sausage aside, the gravy is exceptionally smooth, lacking the residual pastiness of something whipped together. And while sausage is the potent leading flavor, the gravy also carries a verdant and lingering note of fresh thyme and rosemary. That herbal accent is a touch more prominent in Honey Bee's vegetarian gravy, but aside from the obvious absence of sausage, this is impressively similar in taste and body to the standard version.
Honey Bee's is the Shadwicks' first food venture, and Michael himself entered the restaurant industry only at the very beginning of 2020 after jobs in a few other fields.
When he was struggling to figure out what he really wanted to do, Meredith encouraged him to pursue his love of cooking. He took jobs at Imo's Pizza and Winslow's Table.
Then the pandemic hit, and with restaurants shutting down or pivoting, jobs in the industry were suddenly scarce. How could he continue pursuing his passion? Well, Meredith knew he already made the best gravy she had ever eaten. They would work together to develop the natural accompaniment, biscuits.
Those biscuits are square rather than round, a nod to Michael's brief time at Imo's. They are substantial enough to hold their shape under a blanket of gravy or support Honey Bee's breakfast sandwich, but they retain the yielding flakiness of a proper biscuit. Even without gravy or the sausage-egg-cheese sandwich trifecta, they are worth a visit to the new storefront.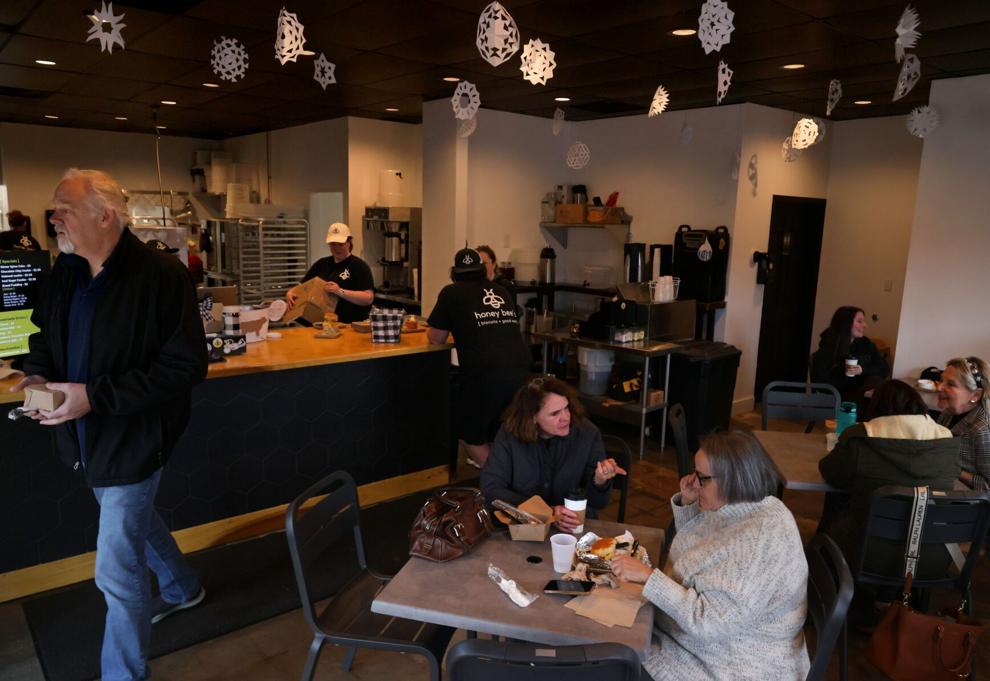 The brick-and-mortar Honey Bee's occupies the former Club Taco space at the corner of North Kirkwood Road and East Jefferson Avenue. Much of the interior is dedicated to the kitchen. The dining tables are packed together just inside the entrance. Weather permitting, the "dine-in" feature is the restaurant's spacious front patio. Weather not permitting, be polite to your fellow biscuit-and-gravy aficionados and don't dawdle at your table.
You order at the counter from the brief menu, which includes biscuits by themselves, with the sausage or vegetarian gravy or as a breakfast sandwich with egg and cheese or egg, sausage and cheese. (On my final visit last week, Honey Bee's had just added a new egg salad option.) The plump, peppery pork sausage is the one food item the Shadwicks and their team don't make in-house. They do make their other sausage option, chicken (or sometimes turkey) chorizo. Roasted ancho and guajillo chiles imbue this chorizo with a fierce, smoky heat.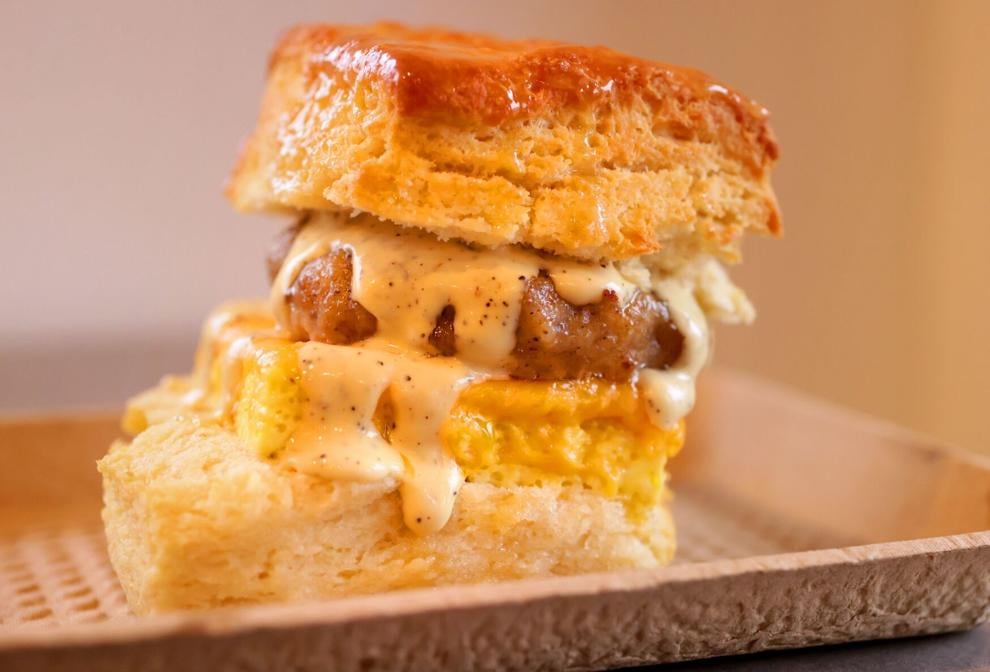 One of the menu's flavored "creamy" coffees or milks would provide an ideal antidote for the chorizo's spice. I muddled through, happy but a little flushed, with a cup of black coffee.
Will Honey Bee's indulge your dream of combining its biscuits and gravy with one of its biscuit sandwiches? Friend, this is already on the menu as the Hive, with your choice of sandwich and either gravy. You can even add such a-la-carte toppings as chopped green onion and crumbled Red Hot Riplets.
This is a fork-and-knife sandwich — and even with utensils, it remains a challenge to eat in its to-go packaging. From the impressive initial presentation to the last crumb of gravy-coated biscuit, it is wholly Honey Bee's own, a new St. Louis classic.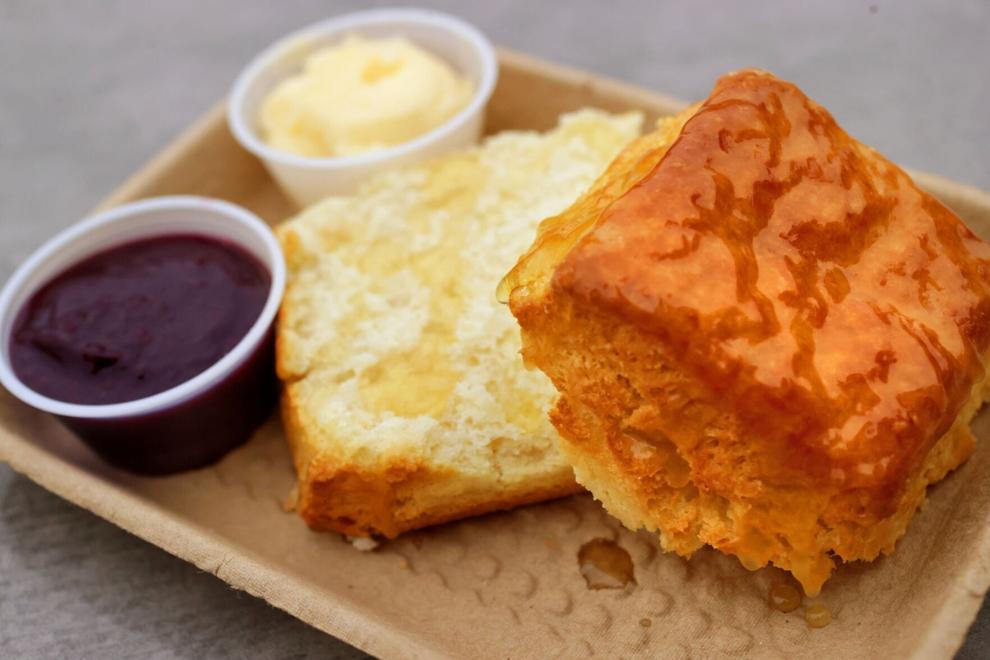 Where Honey Bee's Biscuits + Good Eats, 200 North Kirkwood Road, Kirkwood • More info 314-650-0762; honeybeesbg.com • Menu Biscuits, biscuits and gravy and breakfast sandwiches • Hours 8 a.m.-1 p.m. Thursday-Sunday (closed Monday-Wednesday)