Rock Star Tacos might strike you as an unlikely object lesson for most, if not all, restaurants. This Hill establishment is wholly its own creation, with Mexican- and Cuban-inspired fare and a rock 'n' roll theme, led by veteran chef Wil Pelly, who knows how to cook and how to rock. (He has worked in numerous St. Louis kitchens and played in many different bands.) If you tried to replicate Rock Star Tacos' formula, you would fail as spectacularly as Spinal Tap's Stonehenge prop.
You absolutely couldn't improve on Rock Star Tacos' rock puns. The menu includes the Number of the Beef, Jaco al Pastor, Amy Swinehouse and Shrimp Bizkit tacos and not one but two cheese-curd rimshots, Curd Eye Blind and Poutina Turner, among other gems.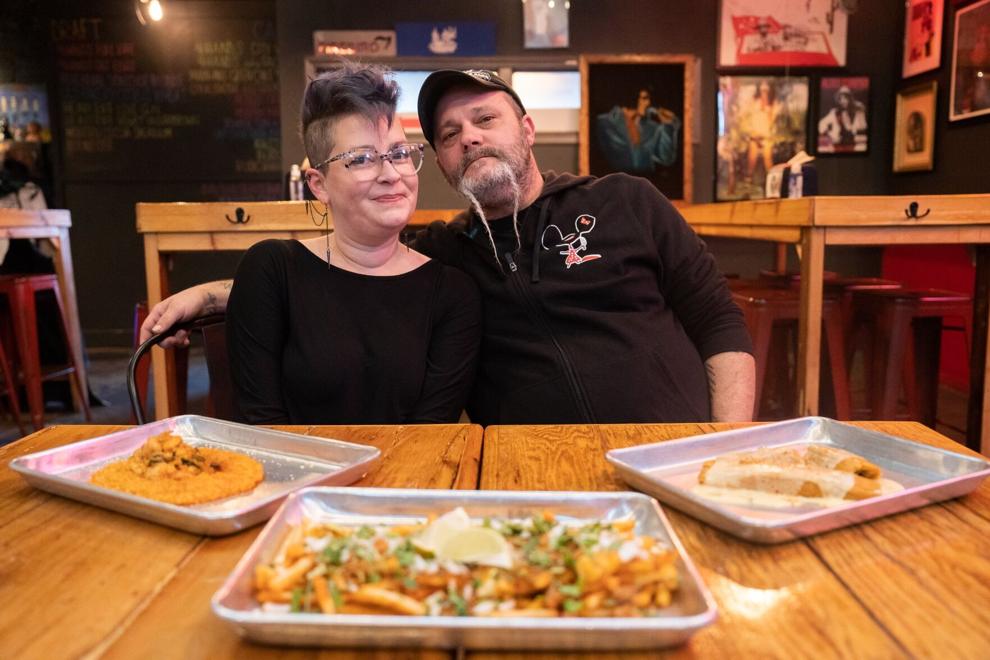 So there's one object lesson from Rock Star Tacos: Do your own thing proudly and well. That isn't the lesson I meant, though. Dining here is just effortlessly enjoyable. The vibe is laid-back, as much neighborhood bar as restaurant. Almost as soon as you sit down, you are both put at ease and introduced to Rock Stars Tacos' inimitable style with a complimentary serving of fresh, buttery popcorn sprinkled with the house seasoning, a chile-forward blend called Rock Star Dust.
You can buy a bottle of Rock Star Dust at some area grocery stores, and Rock Star Tacos has been building its brand, for lack of a better word, for more than three years now. Pelly and bandmate Matt Arana opened the restaurant in 2019 as a walk-up window in St. Charles' New Town community. (That location has since closed.) In late 2021, Pelly and his partner in business and life, Rebecca Schaaf, opened Rock Star Tacos at its current home inside Gaslight Studio STL's building, just west of where the Hill meets South Kingshighway.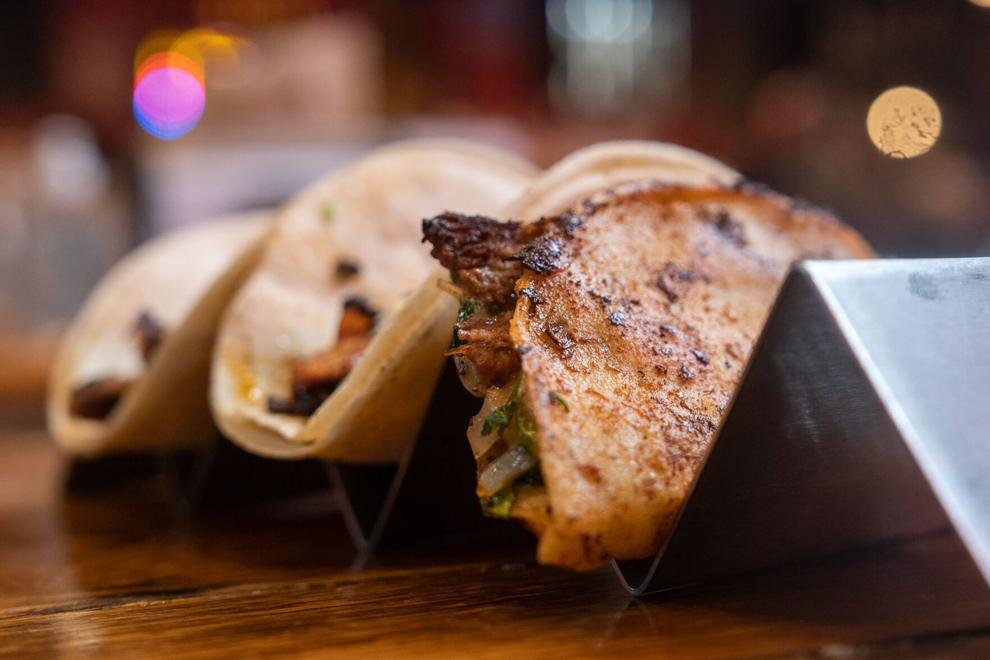 Pelly has cooked at a diverse array of local restaurants — Sancturia, Nudo House and the late Libertine, among them — which has afforded him the chops to deliver a standout version of the now ubiquitous quesabirria, luscious braised beef folded with gooey cheese inside a toasted corn tortilla alongside a little cup of warmly spiced, chile-charged consommé.
His experience has also given him the confidence to cut loose now and then. The appetizer called Down on the Korner delivers three crisp egg rolls filled with a molten blend of beef birria and the restaurant's Mexican-style street corn. A dip in green-chile queso cools the egg rolls' temperature slightly, if not their spice. The aforementioned Poutina Turner, another starter, tops a generous portion of Rock Star Dust-ed fries with cheddar cheese curds, a chorizo gravy, cilantro and onion, with lime wedges to squeeze. The curds are impressive in size and squeak, but as with traditional poutine, the gravy is what sells the dish, the prickly chorizo further brightened by a few squeezes of fresh lime juice.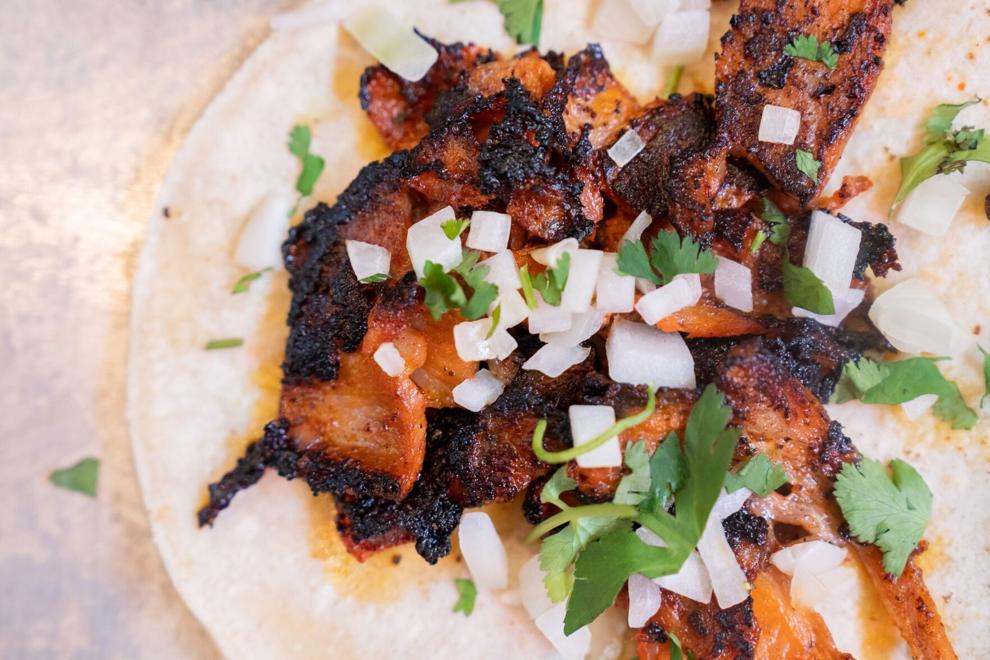 The selection of tacos also bounces from traditional to playful. The Jaco Al Pastor is, of course, a spin on pineapple-juicy pork al pastor. The Shrimp Bizkit is even more straightforward: pan-seared shrimp with peppers and onion. For the Amy Swinehouse taco, Pelly looks to his mother's Cuban heritage with pork braised with garlic and citrus. The succulent meat needs no additional accent, though for this and all of the tacos, a splash of Rock Star Tacos' searing habanero-based hot sauce supercharges every bite.
The crackling cubes of honey-chipotle pork belly in the Notorious B.I.G. taco evoke carnitas and chicharrones while also containing the abundant spirit of the Down on the Korner and Poutina Turner appetizers to a single corn tortilla. The combination of spiced beef, purple onions and tzatziki sauce inside the There Goes My Gyro taco is so effective that you might imagine a fluffy pita, rather than a flour tortilla, is cradling the ingredients.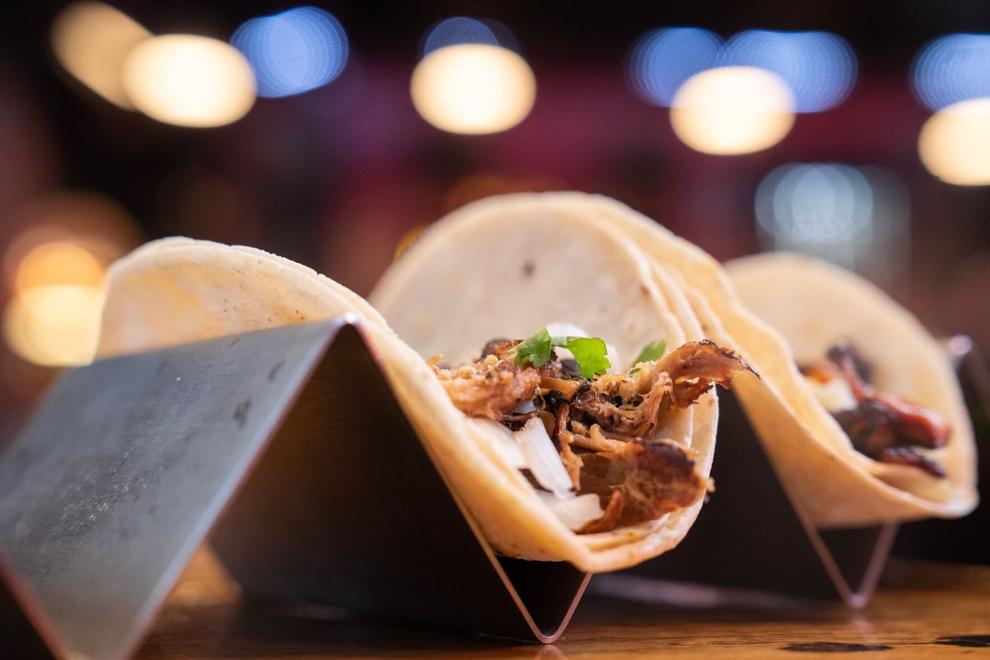 You bought the concert ticket for Rock Star Tacos, but you might leave humming a tune about corn. From masa, Pelly fashions exceptionally tender, subtly sweet tamales filled with either ground beef or green chile. Be sure to scroll to the bottom of the QR-code menu for the side dish of street corn — or, rather, Street Korn — juicy roasted kernels served off the cob with cotija cheese, onion, jalapeño and Rock Star Dust in a silken, aioli-like "fancy sauce."
Naomi Roquet tends to Rock Star Tacos' bar program. She mixes an elegant, lightly smoky riff on the paloma with mezcal and fresh pink-grapefruit juice and, on one of my visits, she had concocted a daring special, the 2 Live Blue, with tequila, blueberry, key lime and jalapeño. The house margarita is bright and refreshing — swanky, too, if you upgrade to the premium version. You can opt for a rim of Rock Star Dust instead of salt, but it's one more credit to the restaurant's appeal that the drink doesn't need either.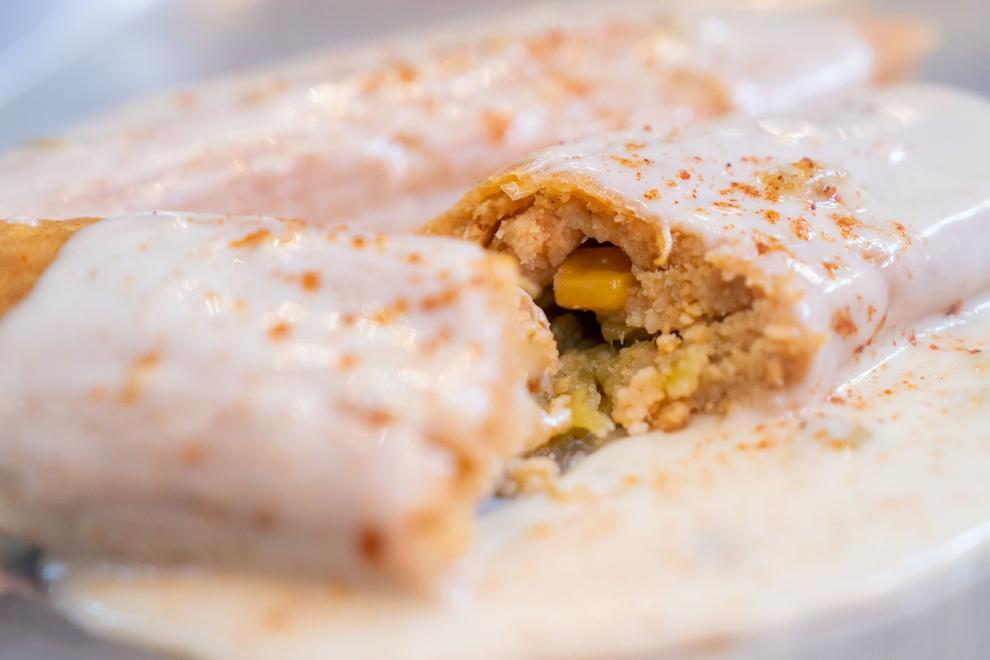 Where Rock Star Tacos • More info 314-571-9016; rockstartacos.com • Menu Tacos and other Mexican fare • Hours Dinner Tuesday-Saturday (closed Sunday-Monday)