ST. LOUIS — Piekutowski's, a north city sausage shop, fed Krakow Archbishop Karol Jozef Wojtyla in 1969. When he revisited St. Louis in 1999, this time as Pope John Paul II, his entourage took a bunch of the artisanal meats home with them.
Odd that it might be, there isn't so much as a billboard to coax drivers off of nearby Interstate 70, into the Hyde Park neighborhood, where the sausage has been made and sold for generations.
"Pope John Paul II ate Piekutowski's sausage. Now he's a saint. Exit now!" 
"Pontiff 'Likes' Piekutowski's. Turn on Salisbury Street."
If not that, perhaps speed up the production process, blend in more filler, live off the fruits of departed elders.
Ted and Barbara Piekutowski aren't having any of that kind of talk. Not their style. Ted, whose father took over the business in 1940, said cutting corners isn't how they've done things all these years.
"That's why people always come down for it," Ted, dressed in a white apron, said of the sausage. He was bellied up to a plate of it himself for a late lunch in back. "It stays the same."
There's no need to advertise.
"People do it for us," said Barbara, gnawing on an end piece left over from getting a large order out the door for the Police Department. "It's not packaged. It's all cut fresh."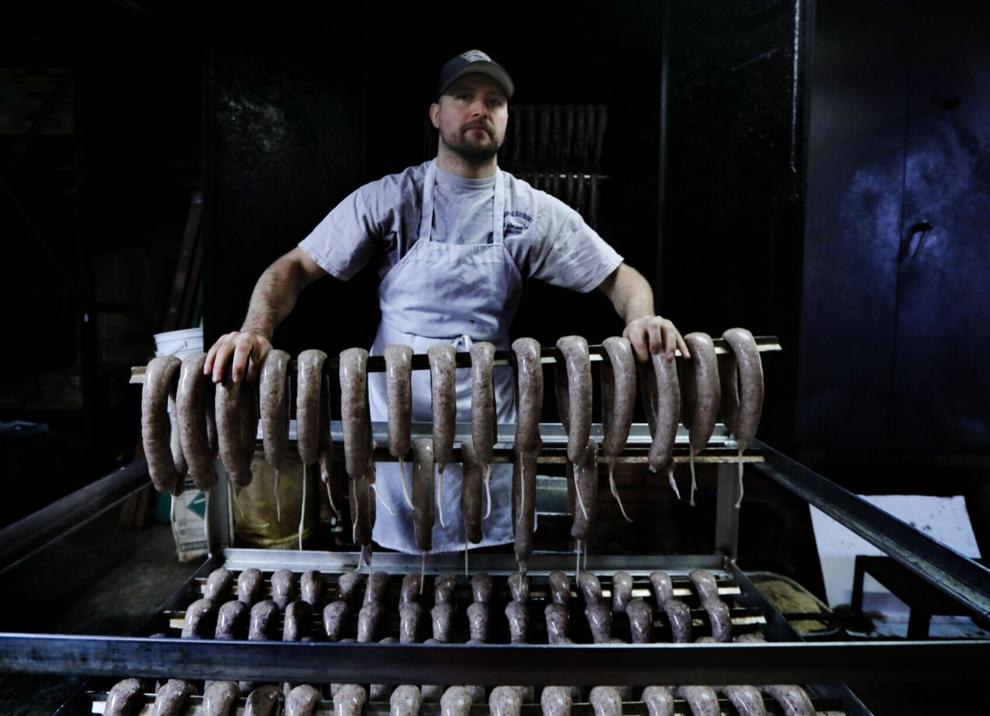 In their early 80s, they still show up for work, Monday through Saturday, at the old corner store, 4100 North Florissant Avenue. Especially leading up to Christmas. Barbara runs the cash register in front. Ted grinds the beef and pork, packs some of it in natural casings, guards the recipe. 
"That's why we get along so well," Barbara said. "He works back there. I stay up here."
Ted has two words of marriage advice: Yes, dear.
"It doesn't matter if you do it or not," he said of spousal requests. "It makes them feel better."
They married Oct. 26, 1963 at the Shrine of St. Joseph, 1220 N. 11th Street. Part of the satisfaction that came from feeding Pope John Paul II is Ted's Polish ancestry. They've also been Roman Catholic their entire lives. They grew up in north St. Louis and today live in the Spanish Lake area of north St. Louis County.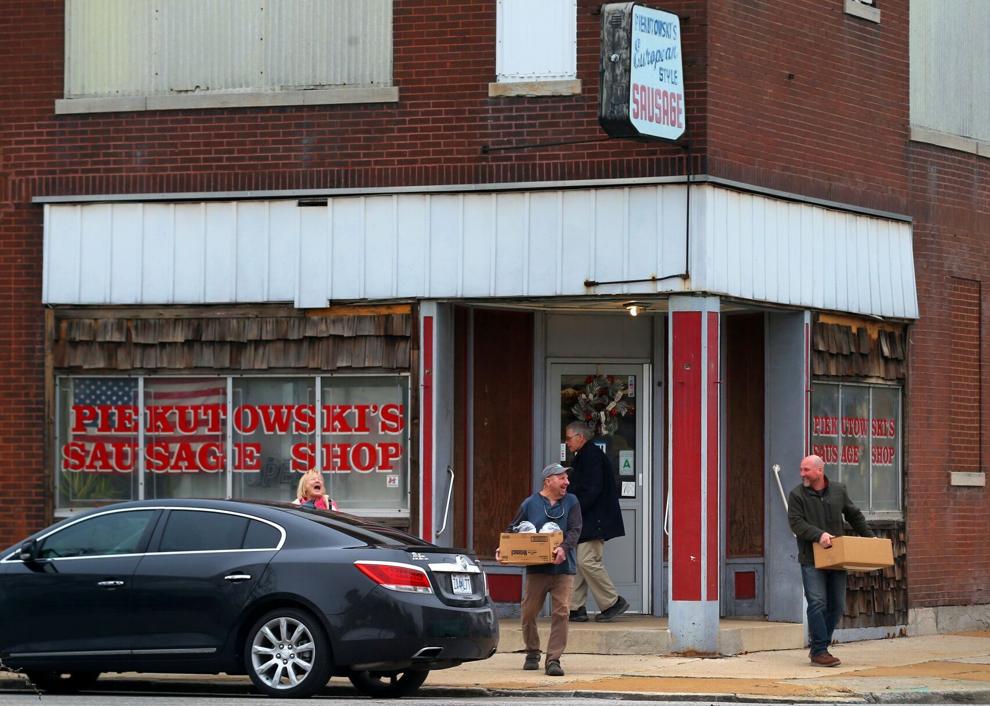 They've weathered church consolidations and continue to. They are registered at Holy Name of Jesus Parish, in Bellefontaine Neighbors, which, like the rest of the Archdiocese of St. Louis, faces possible closure or merger from "All Things New," an ambitious effort underway that is supposed to change the regional Catholic experience.
"The whole damn thing is a mess," Ted said. "By consolidating, you lose a lot of people."
Holy Name of Jesus was formed by a 2005 merger that covers 35 square miles of terrain. The new parish combined Corpus Christi, Our Lady of Good Counsel, St. Catherine of Alexandria, St. Jerome, St. Pius X and part of St. Christopher. According to the archdiocese, it also shares "in the heritage" of many other former parishes in north city and county, including: St. Adalbert, St. Louis de Marillac, St. Lucy, St. Francis Xavier Cabrini, Our Lady of the Rosary, Our Lady of Loretto, St. Aloysius and Transfiguration.
"It may have to happen," Ted said of "All Things New." "It's not a good thing. It took a long time for people from the different parishes to come together. I hate to say it. Every church has cliques."
He said the priest even tried to change the seating around.
"It never did any good," he said.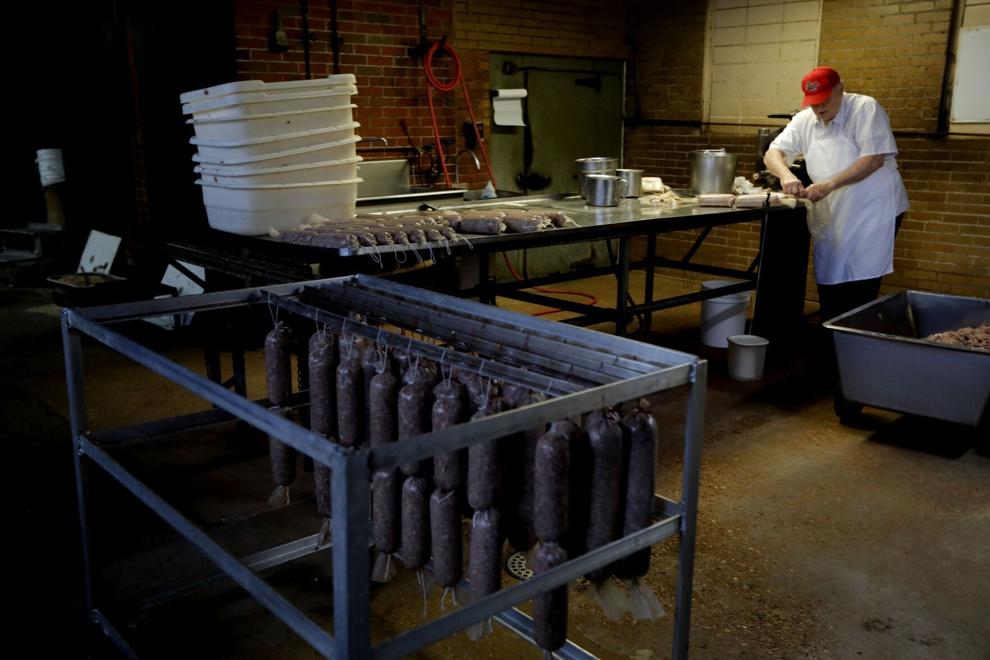 Falling off
Ted recognized complexities. When his grandparents were alive, priests were like gods. Their word carried enormous weight. Today, he said, their pastor says they need to recruit more families and it doesn't seem to go anywhere.
"The kids' days are over," Ted said.
And yet generations of families still come to buy sausage.
"People have come here for years and years, then their kids come back and their grandkids come," Ted said.
Why aren't people sticking with the Catholic Church?
"I am told the church doesn't appeal to them anymore," he said. "They don't derive any benefit. Then, when they are older, they might come back because of a need to develop a closeness to God."
He nodded at his son-in-law, a firefighter who also works in the sausage shop. His mother, the matriarch of a large family, taught in a Catholic school. Once she died, things changed.
"We just kind of fell out of it," said son-in-law Mark Koch, 52.
A grandson, who tends the smoker and does other tasks at the shop, doesn't attend church either.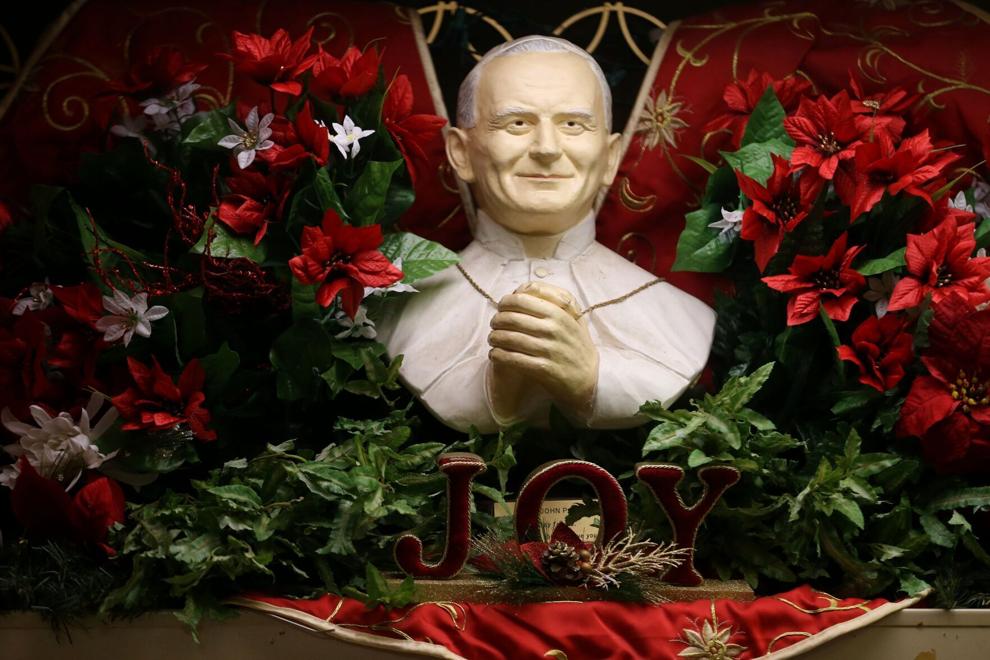 "Parish life isn't what it used to be," Ted said. "People were always together and doing things."
Priests were available 24/7.
"We had to go to church every morning," Barbara said of attending Catholic school in the neighborhood.
Unlike Ted, Barbara said she stopped going to church about seven years ago. She said church is different.
"I can pray at home," she said.
Tacked up in the clutter of the shop is a personal card from St. Louis Archbishop Mitchell Rozanski. He thanked them for a gift of sausage, saying it reminded him of his grandmother's kitchen in Baltimore. 
What could the archbishop tell you to get you back in church?
"He ain't gonna tell me nothing," Barbara said. "It's up to the people, if they want to go. I get more satisfaction praying at home."
Family tradition
Finances are a key piece, even for the old sausage shop.
"If we depended on the neighborhood, we'd starve to death," said Ted.
They also stay put because their equipment is old. They'd have to upgrade to stainless steel and other modern technologies if they moved to a new location.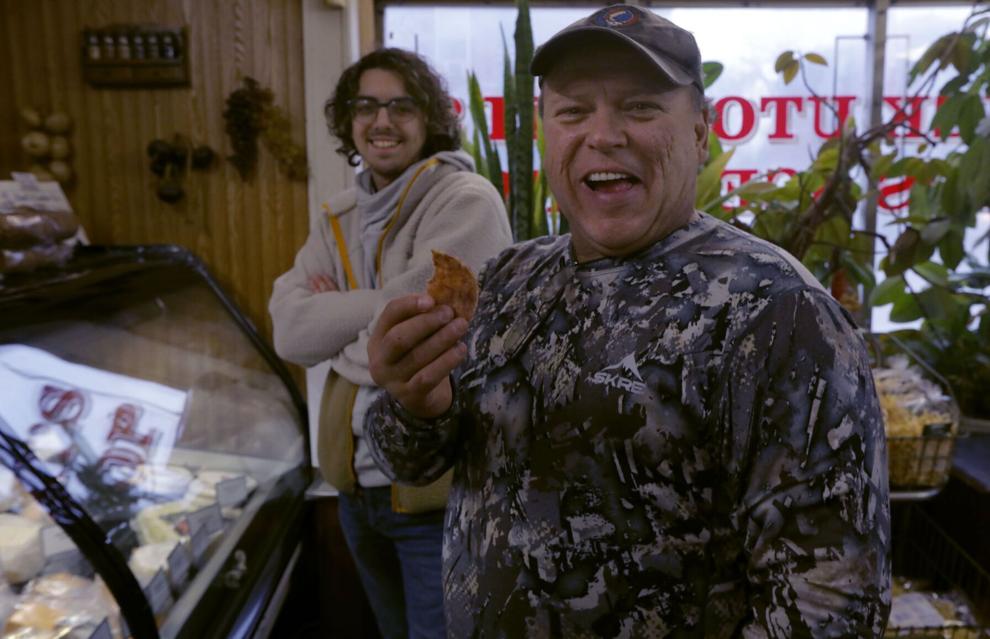 Besides, more than enough people are willing to come in from long distances, even after a big recall in December 2008.
"We aren't out to screw the people," Ted said. "We give them a fair shake. That's what keeps us going."
He said they aren't seeking new business. It's hard enough keeping up with loyal followers.
Much like churches, many of their customers are from the "C and E" crowd — Christmas and Easter. They come into the old shop, often telling stories about how their grandparents used to buy sausage there during the holidays.
Piekutowski's fills their stomachs. Hearts, too.
Step inside Piekutowski's sausage shop in St. Louis' Hyde Park neighborhood