You'll definitely need to save room for dessert: Industry veteran Sarah Osborn just joined Nick Bognar's team at Sado on The Hill as its new pastry chef.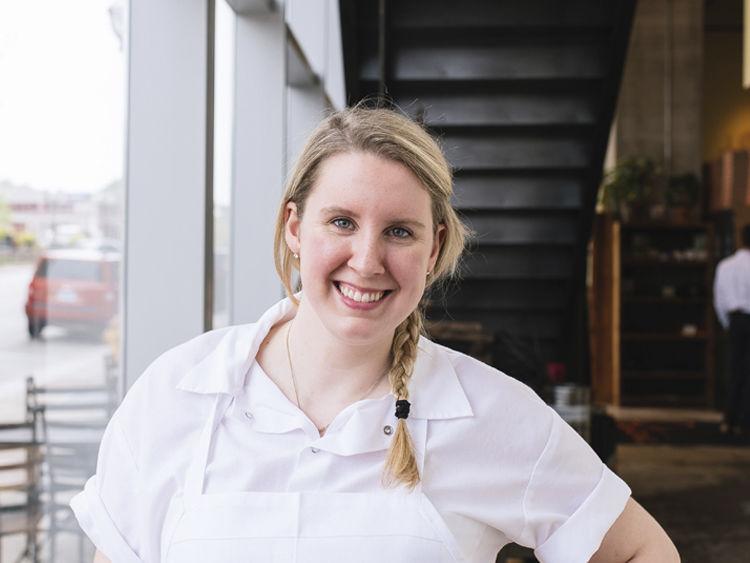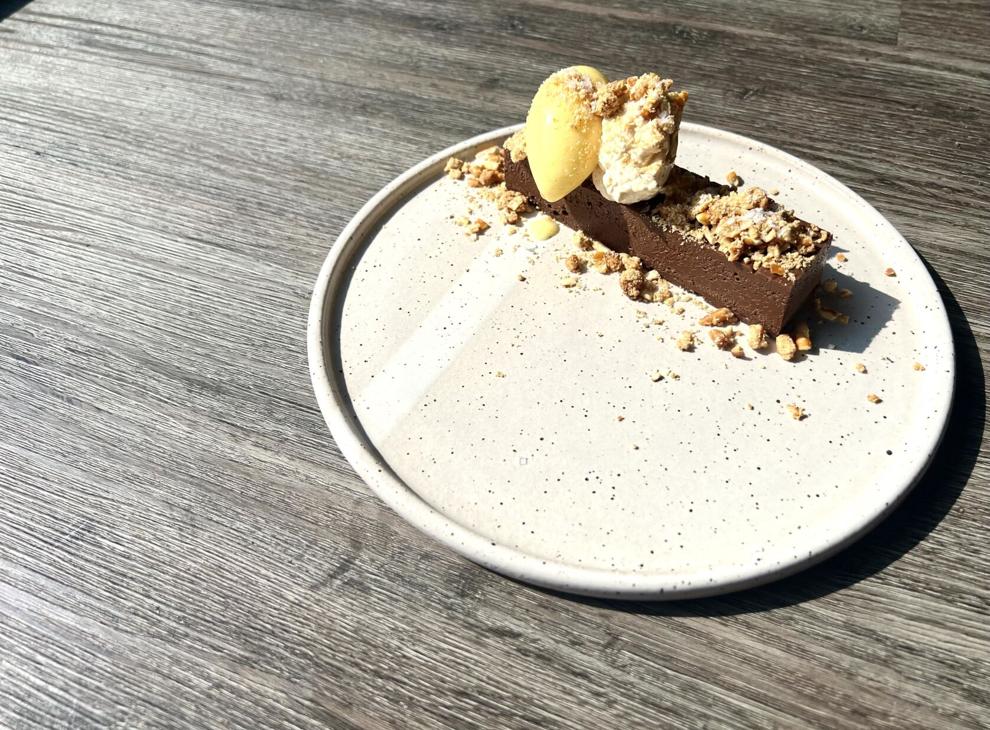 "We want to bring fun flavors, but also use underlying Asian ingredients to tie into the theme of the restaurant," Osborn says. "Hopefully, [it] can bring you a little nostalgia or give you that sort of 'first-bite moment' where you take a pause." 
Osborn has plenty of experience in crafting desserts that make you stop and savor. After receiving her pastry arts degree from the Culinary Institute of America, Osborn worked as assistant pastry chef for Gerard Craft's Niche Food Group. She then moved to Chicago for a short period, returning to Niche as pastry chef for the commissary. In this position, Osborn managed the pastry programs for all of Niche's restaurants at the time, including Sardella, Pastaria, Porano Pasta, Taste and Brasserie. The pandemic began shortly after Osborn started a new job at Elmwood, and she shifted to Pizza Champ and also started her own brand of dog treats, Jax Snax. "When the pandemic started, pastry chefs were the first to go, unfortunately – understandably but unfortunately," Osborn says. "I feel like there are a few of us in the city who are trying to bring that back."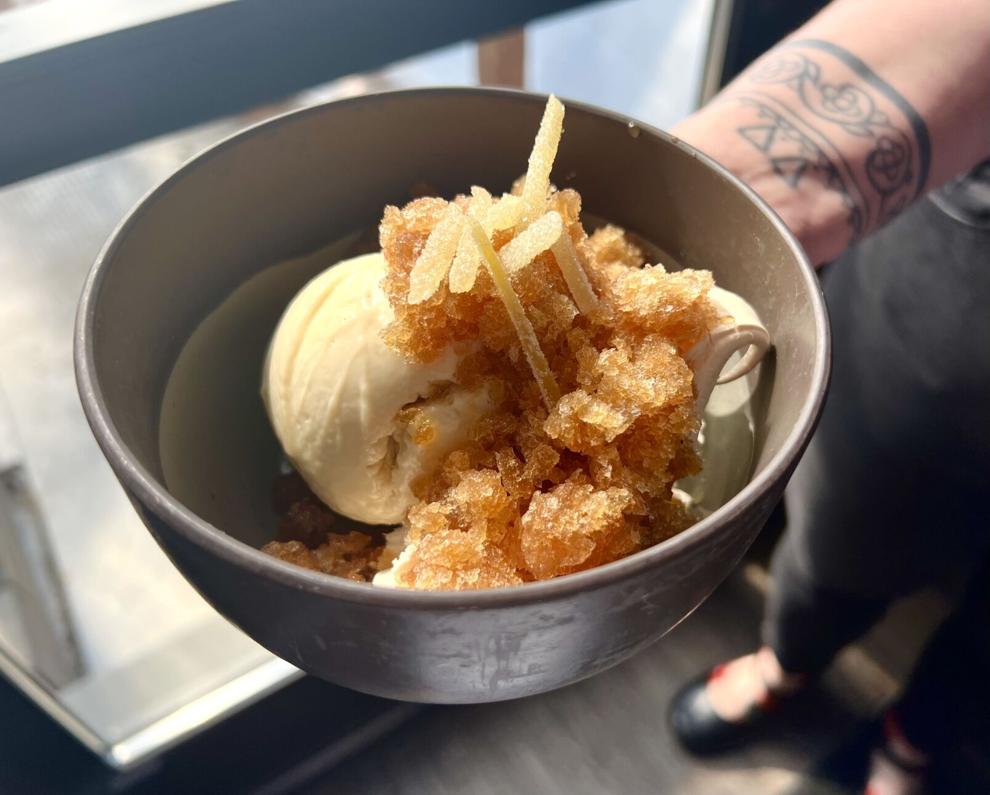 Bognar is one of these people: When he reached out to her about joining Sado, Osborn knew it was time to come back to desserts. "We sat down and talked for a little bit, and I really liked his vibe and his energy," Osborn says. "We saw eye-to-eye on what we'd want desserts to be going forward. It happened really quickly, but it all felt right in the moment."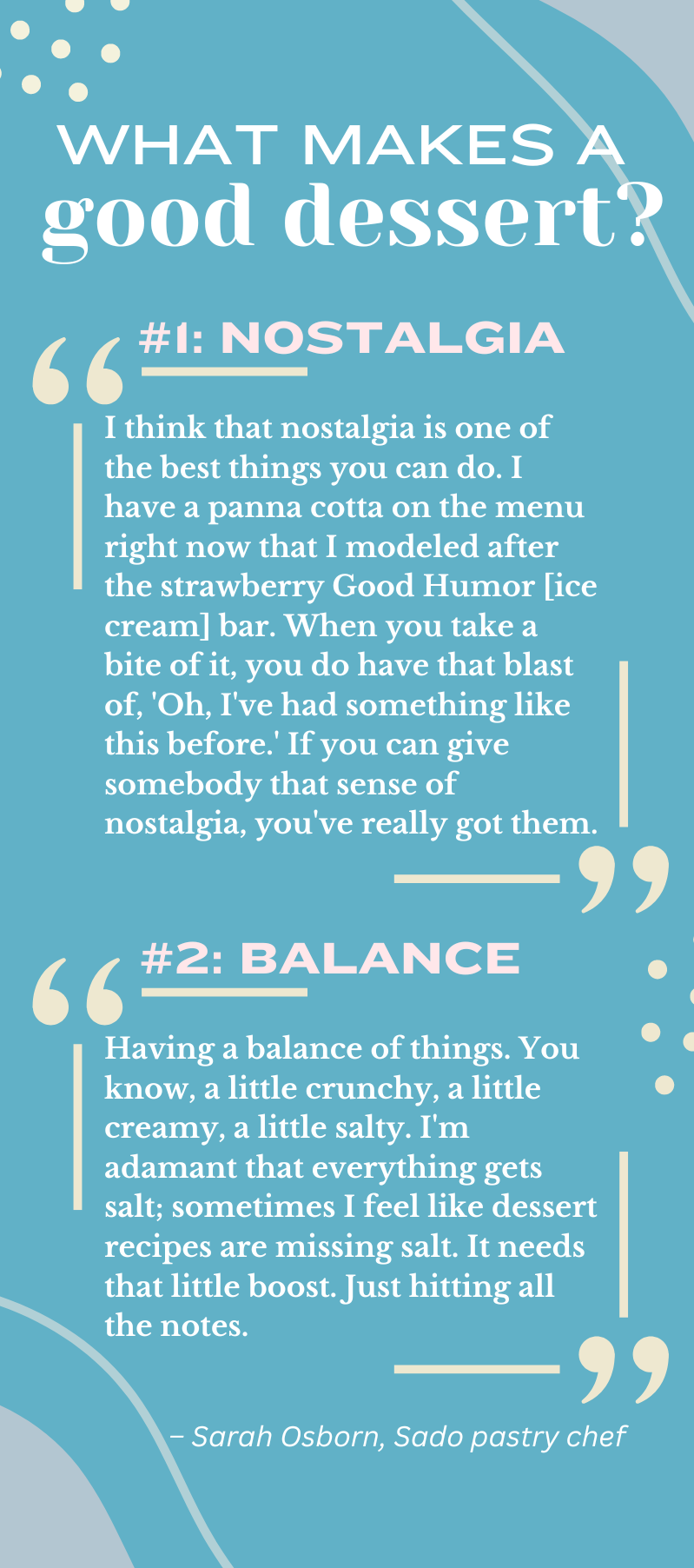 A glance at Sado's new dessert menu makes it clear that Osborn and Bognar's partnership was indeed the right move. Each dessert is its own masterpiece: The rich chocolate torte is topped with passion fruit sorbet, pretzel crumble and caramel whip, while the black sesame semifreddo comes layered with matcha crumble and blackberry syrup. Osborn's personal favorite, though, is the coffee pavlova. "It's a lemon pavlova – a grilled lemon-coconut white chocolate custard – and then it's covered in a coffee granita and then topped with a little candied ginger," Osborn says. 
Osborn plans to keep experimenting to create thoughtful desserts with an eye on seasonality. Just last weekend, she created a limited-run sundae featuring black raspberries, a sought-after crop in Missouri with a very short season. No matter what Osborn is making, you can be sure the result will be nothing short of inspired. "It's really lovely to get back into the kitchen in this way and making desserts again and having that access to that creativity for myself. Pastries are definitely my creative outlet." 
Sado, 5201 Shaw Ave., The Hill, St. Louis, Missouri, 314-390-2883, sado-stl.com