Aurora Blanchard

After much anticipation, Lefty's Bagels in Chesterfield has opened its doors to the public. The bagel shop, run by brothers-in-law Doug Goldenberg and Scott "Lefty" Lefton, started as a pop-up in The Trolley Stop Bakery just blocks away; now, they finally have their own brick-and-mortar they built from the ground up. "We spent two years in the pop-up kitchen really fine-tuning and becoming bagel people and getting that intuitive sense of time, temperature and humidity – all those things that factor into baking," Lefton says.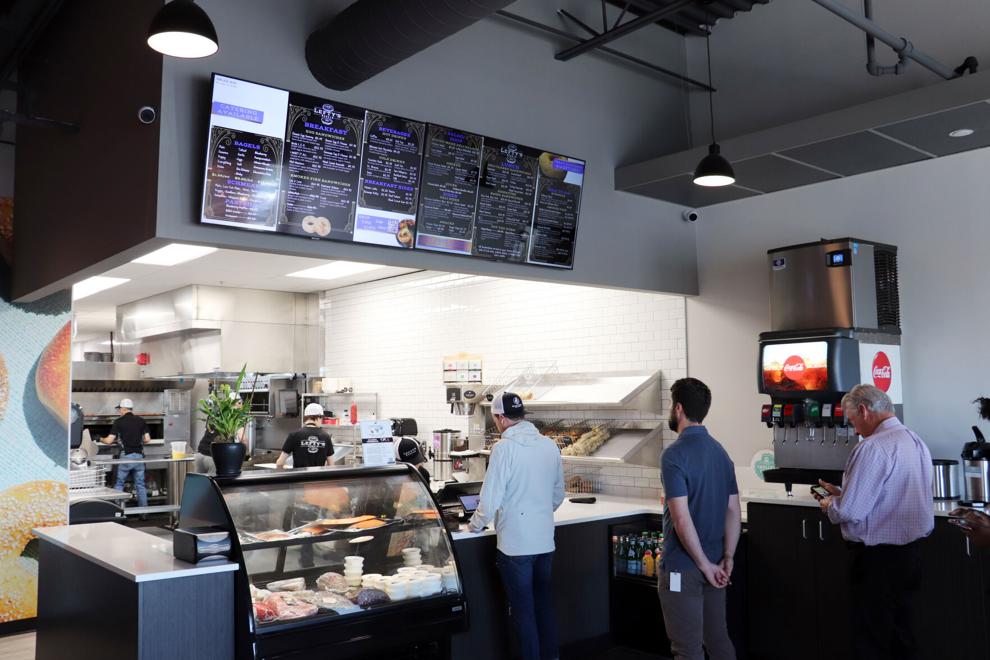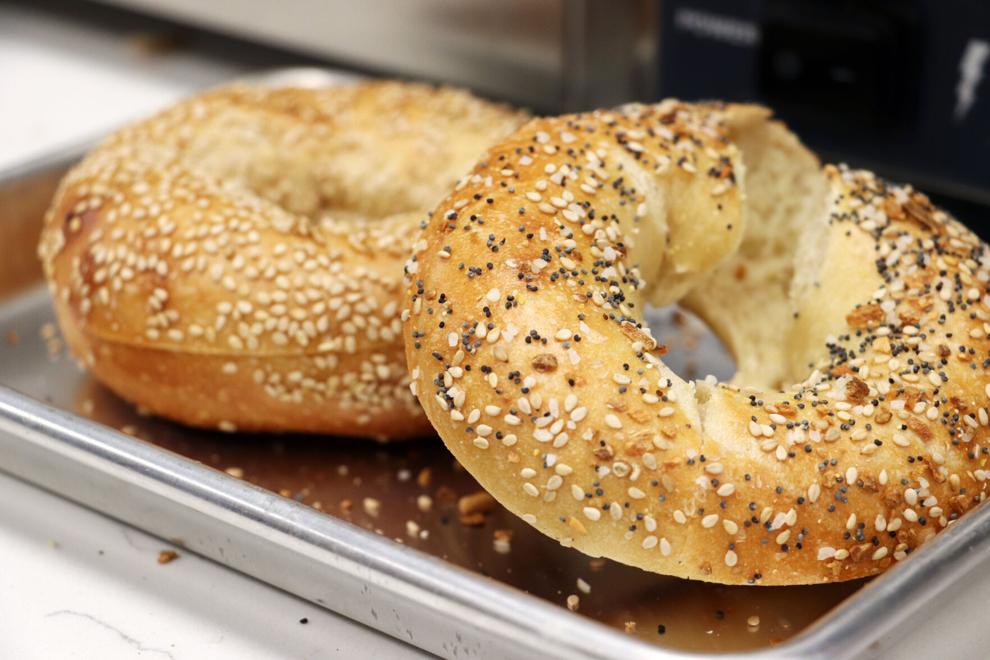 Just off to the side of the register, bagel bins display the flavors of the day, which can be ordered over the counter or pre-ordered on its website. The current menu includes popular bagel flavors such as plain, salt, everything, onion, sesame, garlic and the signature half and half, a combination of tzitzel and poppy seed. Cream cheese schmears (plain and garlic and herb) and traditional deli items sourced from Sy Ginsberg's and Samaki Smoked Fish are also available. Menu screens hang just above the counter, easily visible, listing the offerings of the day. Deli meats, situated in the front case, are sliced fresh daily and include turkey, salami, pastrami, roast beef, turkey pastrami and corned beef. The trout is hot-smoked while the double-cured lox and nova lox are cold-smoked.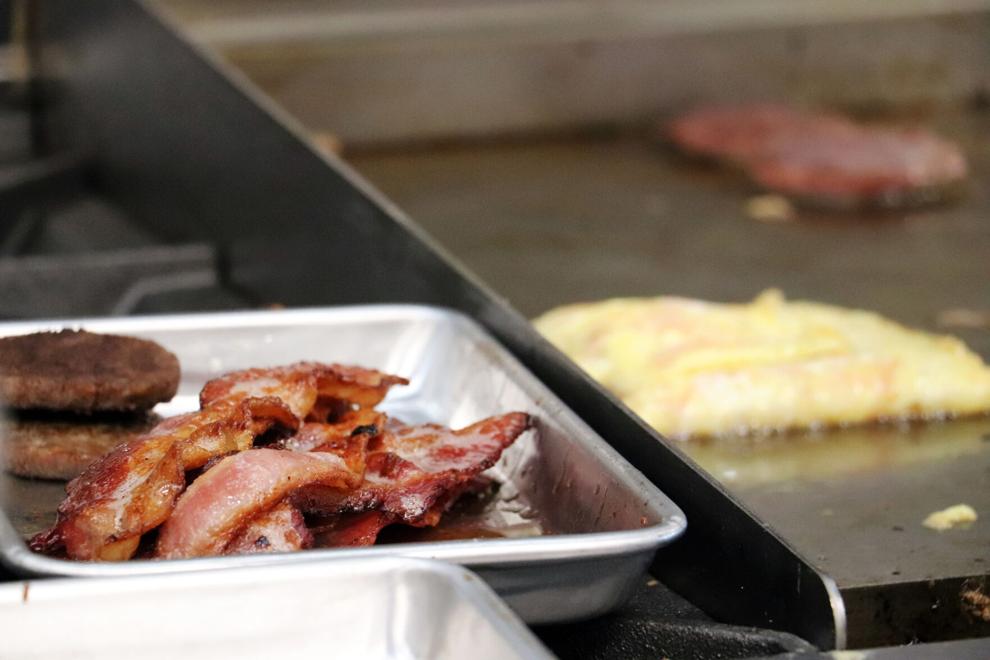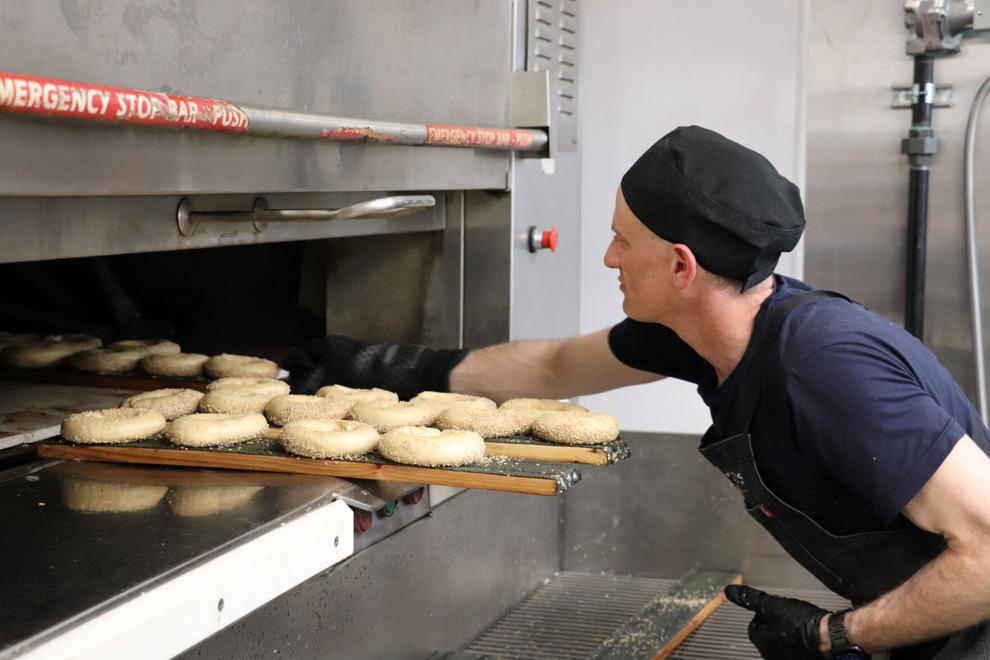 A glossy wood ledge lines the ample windows at the front of the shop to give customers a place to grab a bite, while four 4-seat tables line the interior. It's an efficient setup, allowing for guests to sit comfortably within the space without having to compete with the line, which moves smoothly. There's ample room for customers to wait for their order without crowding dine-in visitors, with space near the side of the counter. There's a natural flow to the space, and even on the first day open, customers seem to know where to go within it. In the future, the owners plan to add a patio for outdoor seating.
"We wanted it to have a classic timeless look – a 1920s art deco aesthetic with a bit of an urban vibe, so there's some exposed brick. We wanted it to conjure the feeling of being in a big city while you're in the shop instead of the suburbs of West County," Goldenberg says.
Lefty's has an open kitchen, so customers can get in on the action: The oven, kettle and flat top are central to the show, with employees bustling between stations at all times. Lefton holds court over the oven, constantly in motion. The oven, imported from New Jersey, is affectionately named Krushka, an inside story and a nod to the Armenian technician who installed it. Even the deli slicer at Lefty's has history – it was once used at the now-shuttered Pumpernickel's in Creve Coeur.
Bagels are boiled, then set on planks and eased into a rotating oven, flipped to finish, then transferred into wire bins to hold. It's not long before the still-warm bagels get shuffled into a wire bin and taken back to the front to be sold, a constant rotation performed by whomever is available. On opening day, the job belongs to Goldenberg's wife, who came in on the first morning with a Mylar balloon and quickly got to work lending a hand in the back. Lefton's mother – who is also Goldenberg's mother-in-law – also stopped in to watch the duo in action and wish them well on their first official day. She was greeted to a line of eager customers, some shouting greetings to the back of the shop, congratulating the partners on their achievement.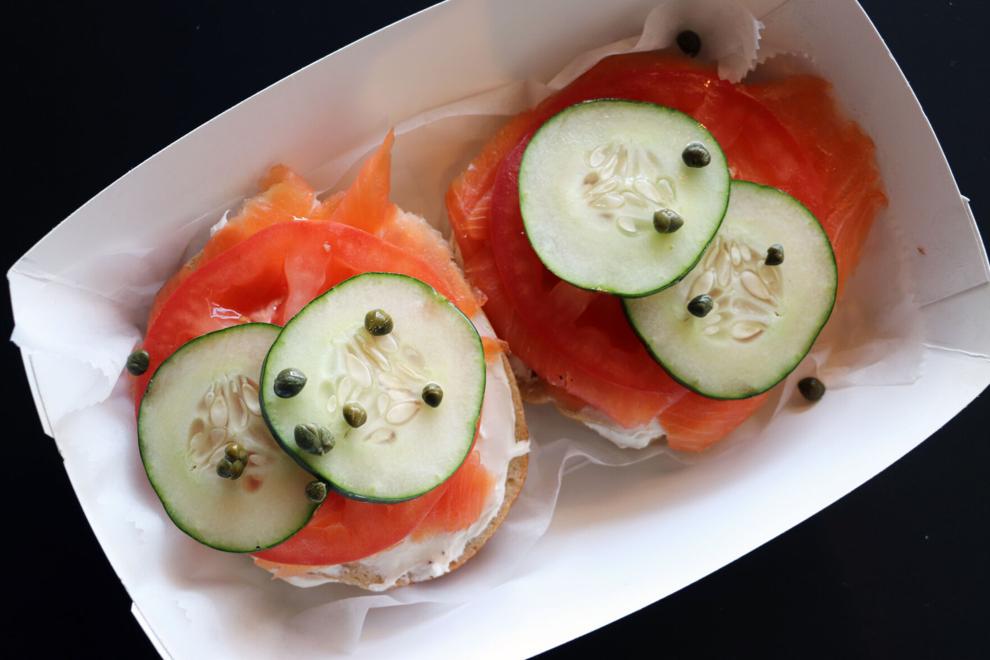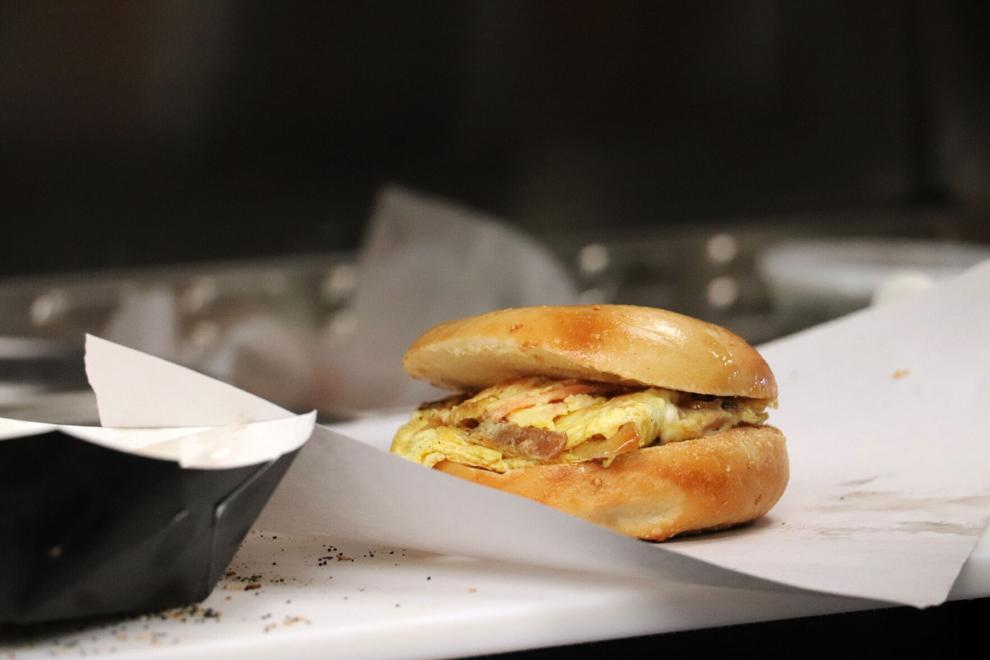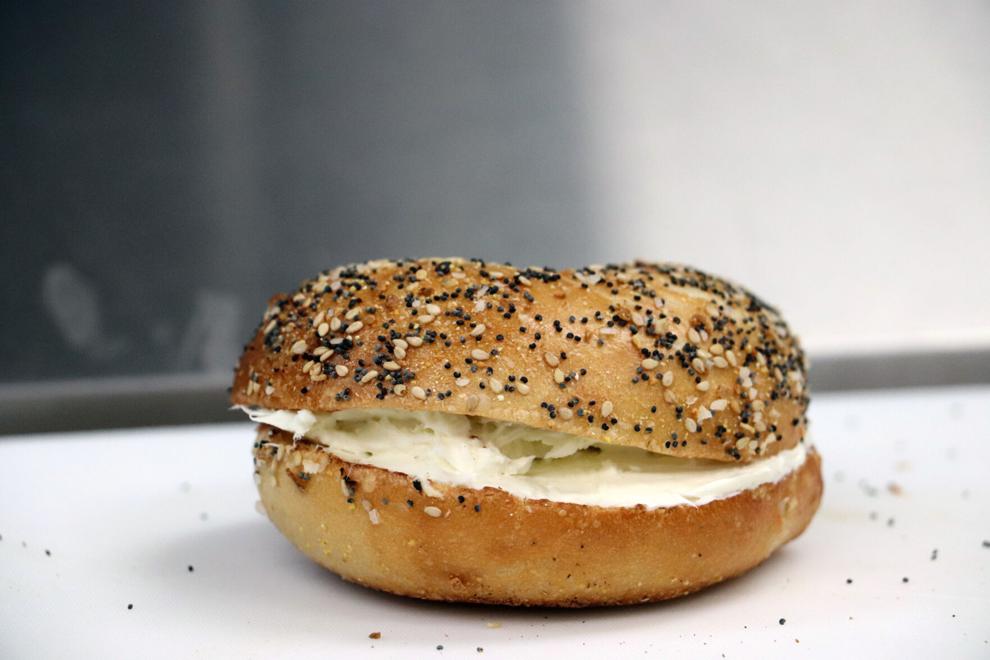 Bagel sandwiches are a lineup of classics – the greatest hits of the bagel world – with plans to add more sandwiches over time. Currently, choose from standards like the bacon, egg and cheese breakfast sandwich, sausage egg and cheese breakfast sandwich, the turkey club and the Lox o' Love. Lox o' Love is one of the most popular menu items, and it includes lox, your choice of schmear, red onion, cucumber, tomato and capers on a bagel of your choosing. Lunch sandwiches are served with a side of pickle and signature coleslaw. "I am most excited about the coleslaw we're offering," Goldenberg says. "It's a family recipe, white-vinegar based." The slaw is crisp and satisfying, a perfect complement to any of the bagel selections. Rabbi Jeffrey Abraham from the Congregation B'nai Amoona visited Lefty's to kosher-certify all its bagels, and all the pre-packaged Samaki Smoked Fish is certified kosher.
Beverage choices abound and are available near the front counter, including a rainbow of Dr. Brown's sodas in flavors like root beer, black cherry, cream soda and cel-ray, an ode to the crisp freshness of celery that's oddly perfect with a lox-laden bagel. Lefty's also offer Natalie's fresh juice in orange and apple flavors and Kaldi's Coffee in two blends: the 700 Blend and the World Tour Blend, which is Colombia Monserrate. Assorted teas from Kaldi's are also offered. Howard Lerner, the founder of Kaldi's, is related to Lefton.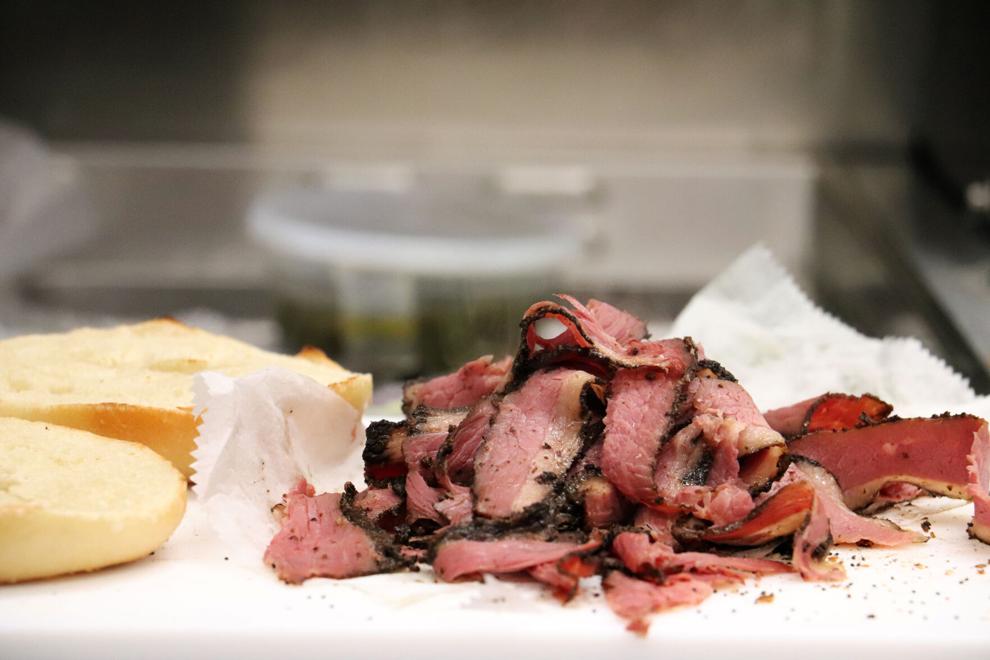 "We're a Kaldi's partner and love doing local collaborations," Lefton said. "When I'm eating a bagel, I usually have a bagel in my right hand and a cup of coffee in my left hand. These two go together, so I thought, 'Why not put a coffee flavor in a bread product?'" And that's precisely what he's doing. Currently, Lefton is recipe testing a coffee bagel with subtle almond flavor and a chocolate chip swirl.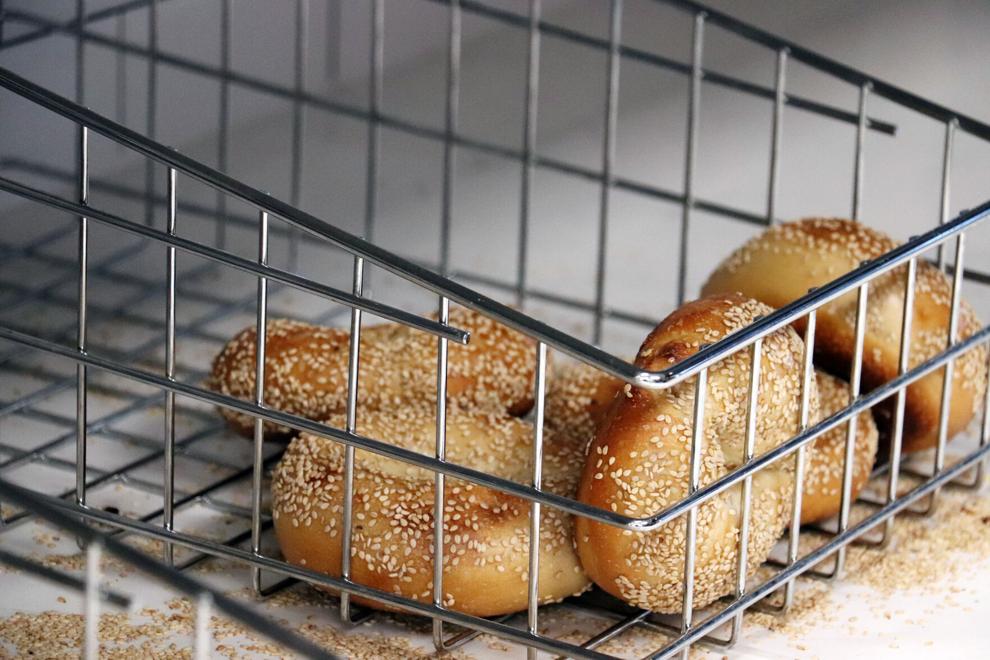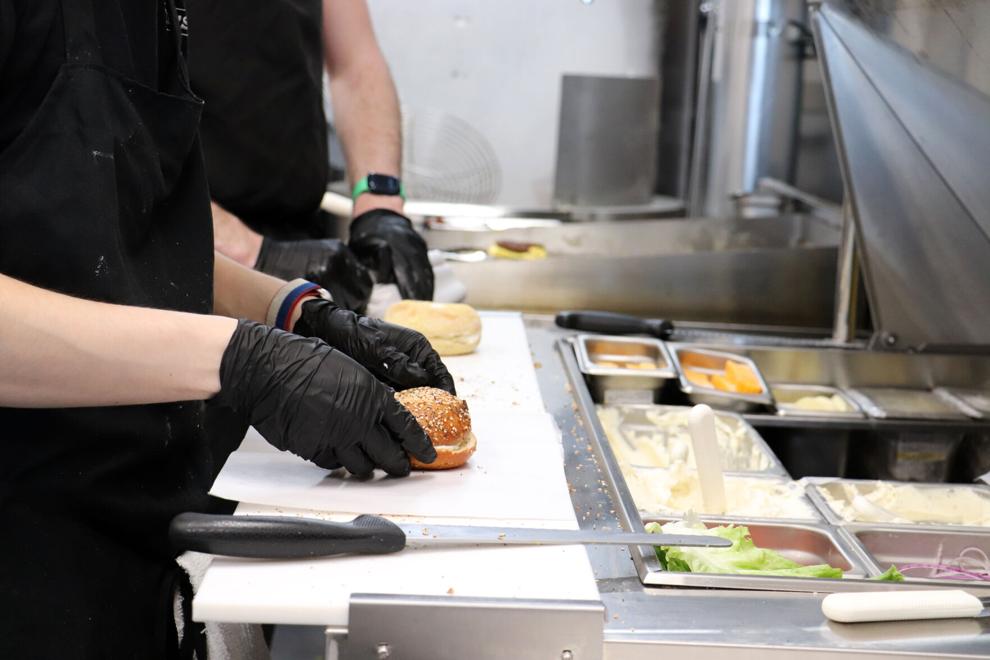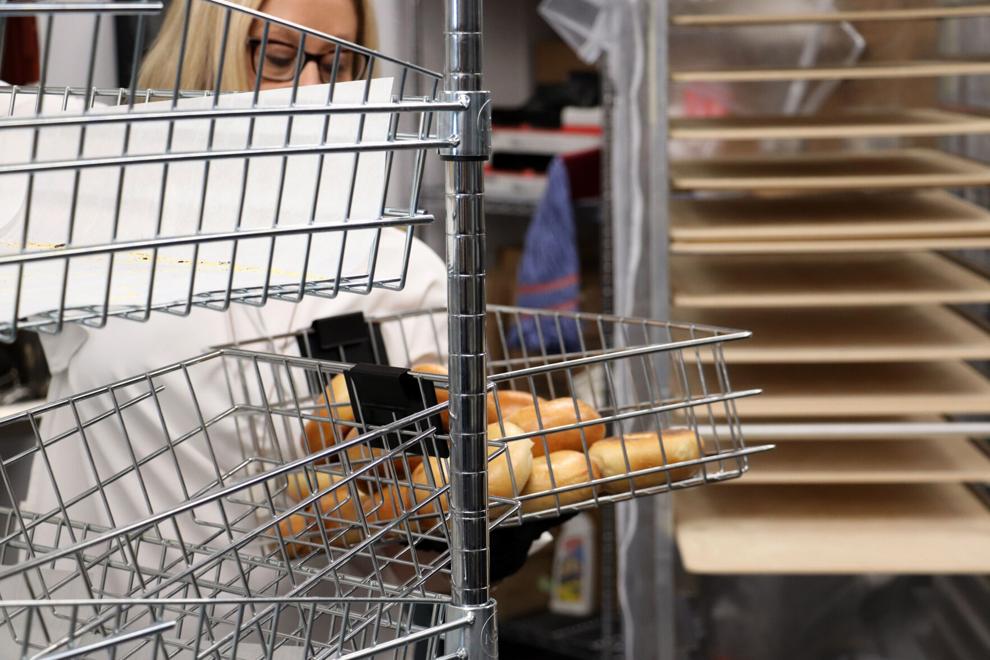 Opening the facility was not an easy road, with construction delays and challenges with coordinating the arrival of all the bagel-making equipment. But it has been worth it: Improvements in equipment allow Goldenberg and Lefton to produce the same amount of bagels in one hour as they were able to do in 16 hours at the Trolley Stop commissary kitchen. This, combined with room to breathe and expand into the space, let Goldenberg and Lefton continue to innovate and grow at their own pace. The duo is keenly aware of the resurgence in popularity of bagels, which has manifested in new bagel shops popping up all over the city and parts beyond. "Bagelmania is here, not just in St. Louis, but it's happening all over the country," Lefton says. "We're riding the wave of bagelmania."
It's been a long time coming for the duo. "It has been a journey to get here," Goldenberg says. "I feel like the big hurdle in this part of that journey is over and now we're really excited about what we've done. We're proud of the facility we've built and we're ready to share."
For the latest updates on hours and specials, follow Lefty's on Facebook or on Instagram. 
Lefty's Bagels, 13359 Olive Blvd., Chesterfield, Missouri, 63017, leftysbagels.com