A new restaurant space is coming soon to Midtown, and it'll serve double duty. By night, it will host private supper club Dinner at the Loft for an intimate, seasonal dining experience. By day, it will house The Biscuit Joint and its scratchmade biscuit sandwiches. The new venture, led by Dinner at the Loft co-founder Elliott Brown, is the next step in the culinary evolution of DATL and Brown's professional career.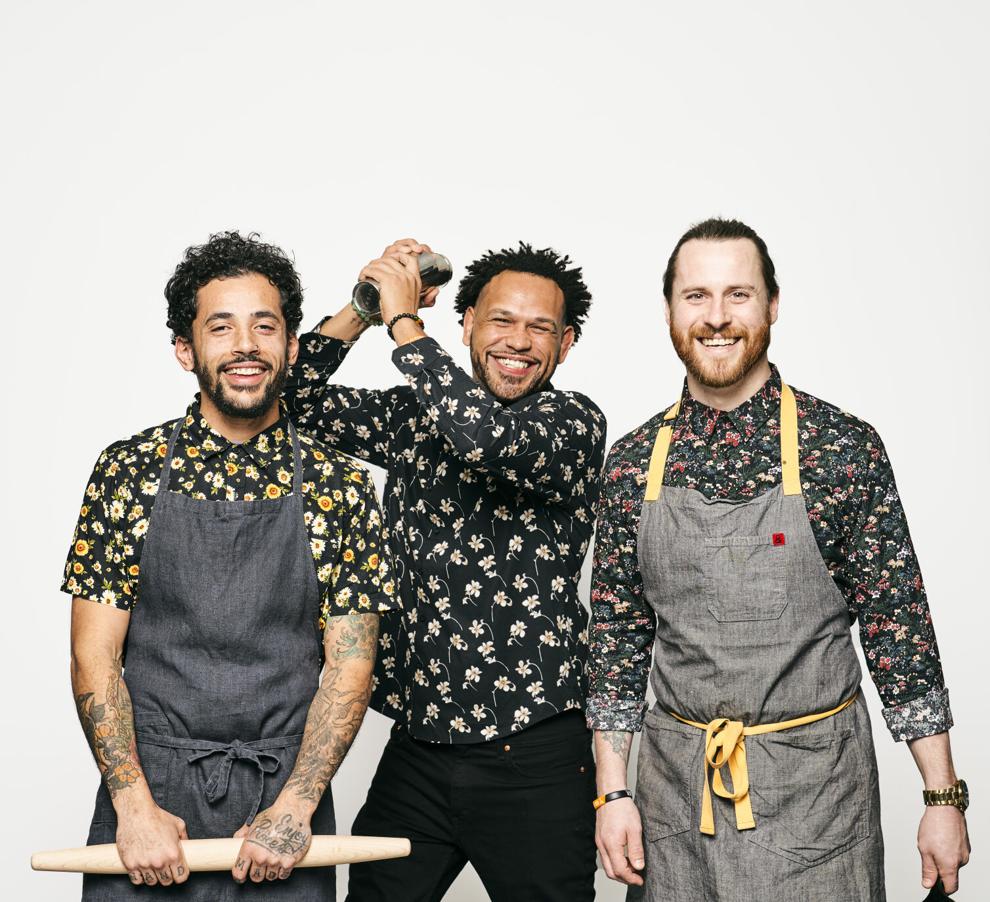 Brown has lived in Midtown for years, hosting DATL out of his loft in the area. But preparing multi-course dinners out of your apartment comes with a certain set of challenges. "We were having trouble because we can only accommodate eight people," Brown says. When he saw this new space open up, Brown jumped on the chance to give DATL a permanent home that also had a professional kitchen setup. The private supper club, which is also run by Brandon Panosh and Jordaryl Logan, will operate out of the space the last Friday and Saturday of each month. Additionally, the trio will host private events and parties, as well as a catering operation out of the restaurant.
When it's not arranging intimate dinners, the restaurant will house The Biscuit Joint, a casual, grab-and-go breakfast concept run by Brown. He was inspired by his grandmother's biscuits and deep love for the southern comfort staple. "I've never really met anyone that didn't like a biscuit," he says. Brown plans to take his classic favorite recipe and tweak it a bit – instead of a honey-glazed sweet biscuit, he plans to offer one with complex flavor. "I want to make a more savory and more herbaceous [biscuit], with dried oregano, some fresh thyme, black pepper, garlic," Brown says.
Brown loves playing with classics and nostalgia, so diners can expect creative riffs on homestyle breakfast food. The menu will include a smash patty breakfast sandwich, a Nashville hot chicken sandwich and biscuit French toast. "People have this clear idea of what they're gonna get and it's still true to what they're expecting, but you put your little spin on it to make it something special," he adds.
The Biscuit Joint will also serve as a foundation for another one of Brown's projects: Scouts. The restaurant, which he hopes to open in 2024, will serve polished, seasonal fare in a relaxed setting. Brown feels confident about his ability as a chef, but he wants to hone his management and business skills. The Biscuit Joint will serve as a crash course in restaurant management, from handling payroll to permits to insurance. "You really can't go anywhere and be taught this, really … You just gotta get in and start learning," he says. "Scouts is such a big project and so personal to me and my family that I want to be prepared for it."
The potential of this new space is monumental for Brown, both personally and professionally. It will be the first restaurant of his own, a way to grow DATL and an opportunity to develop himself as a restaurateur – as well as a way to get a mountain of kitchen equipment out of his loft. The space itself will replicate the vibe in Brown's loft: homey and welcoming. Think lots of plants, exposed brick and stone and a butcher block bar top.
After a break from restaurant kitchens, Brown is thrilled to work the line again. "I really miss being in a restaurant … I'm just really excited to interact with people cooking good food."
The Biscuit Joint is scheduled to open by August 2023. To find out more details or support its Kickstarter, follow Dinner at the Loft on Instagram.