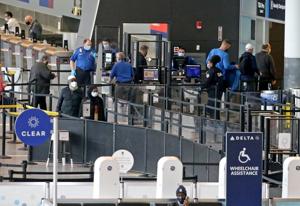 Kyle Arnold, The Dallas Morning News
It's not just gasoline prices that are making travelers swoon during this summer vacation season.From airfare to hotels, airport shuttles to parking, the cost for every aspect of leisure and hospitality is up and forcing vacationers to alter plans just as they look to shake off two years of pandemic restrictions.In May, airfare was up nearly 48% from prepandemic 2019 and will continue to rise in June with prices over $400 for a roundtrip ticket on average, according to travel site Hopper.Hotel rates in May shot up to more than $200 a night on average, up 46%, Hopper reported.Food away from home is costing consumers 7.2% more than a year ago, according to the Consumer Price Index, and increases have been even steeper for full-service restaurants, many of which are facing labor shortages and have had to increase wages.
People are also reading…
Skyrocketing inflation is meeting unprecedented consumer demand head-on — and the supply of summertime vacation escapes just can't keep pace. But after months of travel costs increasing as faster or faster than inflation, there are signs that many consumers are fed up."People still want to get out and they are spending money," said Kristie Catchings, a McKinney travel agent with Kristie Len Travel. "They may not get to stay as many days, but they are eager."Consumers are countering with shorter stays, eating at cheaper restaurants and cutting back at spending at home.And there are few alternatives for consumers who want to trim the price of a vacation. The average price of a gallon of unleaded gas hit $4.70 Wednesday, an all-time high and little reprieve for those who thought they could escape airfares that keep rising as airlines trim back on summer flights.A vacation rental property was 33% more expensive in April 2022 than it was during the same month in 2019, according to AirDNA, which tracks rentals on sites such as Airbnb and VRBO.Theme park admissions are only 7.7% more expensive than three years ago, but major attractions such as Disney World have moved to surge pricing, making tickets on the busiest days more expensive. And a round of golf is about 17.7% more expensive than in 2019, according to the Bureau of Labor Statistics Producer Price Index."People are willing to spend that money and go on that trip," said Anthony Jackson, Deloitte's U.S. airline sector leader. "But for people that don't plan to travel, the biggest reason isn't COVID. It's cost."Catchings, who cut back on costs as a travel agent during the COVID-19 pandemic by closing her physical office and working from home, said she is now inundated with demand from consumers looking to navigate travel after years away. Trips to Mexico are particularly popular, despite the U.S. requiring a negative COVID-19 test to re-enter the country, she said."A lot of things are getting back to normal with live music by the pool, nightclubs and swim-up bars reopening," Catchings said.But for those looking for travel discounts, Catchings said deals are harder to come by."I subscribe to all the sites that have last-minute deals, and I'm just not getting many emails these days," she said.People are eager to travel now that mask requirements on planes have dropped and COVID-19 restrictions are easing, she said. People who frequently traveled before the pandemic have thousands of frequent flyer miles saved up and are using them to buy tickets and upgrade to first class.But it all comes at a cost. Travelers are paying the same prices for three or four nights at an all-inclusive resort as they got for six or seven nights a year ago, she said.Daniel Armbruster, a spokesman for AAA Texas, said travelers have been taking big "bucket list vacations" after sitting at home or cutting back on vacations during the last two years."Europe is popular right now, and so is Greece, Italy, Hawaii and Mexico," Armbruster said.But even with gas prices at record highs, more people planned to drive over the recent Memorial Day weekend than in 2021, Armbruster said.For the last two years, travelers have reined in their vacations to more socially distanced and shorter-haul trips. A trip to Mexico was traded for a vacation to the Florida Panhandle or camping in Oklahoma. A trip to Europe was substituted for a weekend getaway to Mexico's Yucatan Peninsula.The eagerness to travel is showing with how full planes are this year. Fort Worth-based American Airlines said it served 2.8 million passengers during the four days of Memorial Day weekend and load factors, or how full planes are, were the highest of the year. Airlines for America, the trade group for major carriers, says that planes are about as full as they were in 2019.All that demand means prices will continue to increase, sometimes to get more revenue and sometimes to control demand.
Did you know TSA prohibits these innocent items from being in your carry-on bag?
1. English Christmas Crackers
Much to the dismay of British travelers, English Christmas crackers are prohibited by the TSA.The small, popular party favor is used to celebrate Christmas and other special occasions. When popped, it creates a "bang" sound with the help of a minuscule amount of gunpowder stored inside.
FIlckr https://flic.kr/p/7zdXAs
2. Ink and toner cartridges
According to the U.S. Transportation Administration, ink and toner cartridges that are more than 16-ounces in weight pose a risk to air travel security and are banned from both carry-on and checked baggage.
3. Most sports equipment
Sports equipment like baseball bats, hockey sticks and golf clubs can be used as bludgeons and are prohibited in the cabin of airplanes. If you wish to travel with these items, they must be stored and transported in checked baggage.
Pixabay
4. Aerosol insecticide
As long as they aren't labeled "hazardous material," aerosol insecticides can be transported in checked baggage. However, you could have your can of bug spray swiftly confiscated if you try to bring it through TSA.
Texas A&M
5. Bang Snaps
The highly entertaining (and rather annoying) childhood toys known as Bang Snaps, Bang Pops, or TNT Pop-Its are strictly prohibited in both checked and carry-on baggage. This is most likely due to the small amounts of explosive silver fulminate stored inside of each tiny pouch of fun.
Eagle novelties
6. Cooking spray
Although it's highly unlikely you would ever be traveling with a can of Pam, you should know that it is considered a restricted item according to TSA's standards. Cooking spray cannot be transported by air travel in checked or carry-on baggage.
Pixabay
7. Foam toy swords
If you're traveling to or from a certain fairytale-themed amusement park, be sure to explain to your young prince and princess that their foam swords must travel separately in a checked bag.
Dreamstime
8. Wrapped gifts
One way TSA could ruin your holiday mood is by unwrapping a gift you spent time packaging. Unless you want your gifts to be unwrapped and reconstructed with TSA tape, you may want to wait until arriving at your final destination before wrapping presents.
Pixabay
9. Samsung Galaxy Note 7
According to the U.S. Department of Transportation and the Federal Aviation Administration, all Samsung Galaxy Note 7 smartphone devices are banned from air travel in the United States.The ban was initiated in 2016 after a series of recalls on the device were ordered due to its tendency to spontaneously combust."Device owners have experienced documented incidents of dangerous evolution of heat with both recalled and replacement Samsung Galaxy Note7 devices," the Department of Transportation said in a statement. "Anyone violating the ban may be subject to criminal prosecution in addition to fines."
John Biehlr on Flickr https://flic.kr/p/LgLdek
Stay up to date on life and culture in St. Louis.