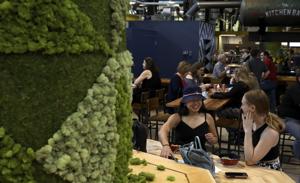 Beast Craft BBQ Co., Beast Butcher & Block, Beast Southern Kitchen & BBQ • Barbecue, Contemporary, Southern
Beast owner and pitmaster David Sandusky has hustled throughout the pandemic. He launched a ghost kitchen that featured some of the best chicken wings I've eaten. For a time, he pivoted his Grove location from its usual barbecue menu to sandwiches, including a phenomenal take on Baltimore-style pit beef. He appeared on Food Network's "BBQ Brawl" competition and, after a stumbling beginning, made it to the finale. That same spirit has animated Beast since Sandusky and his wife, Meggan, opened the original Belleville location in 2014, and it has brought their signature pork steak, beef brisket, and other top-notch meats and sides to the head of St. Louis' barbecue class, where it remains. Before the pandemic, they introduced an ambitious live-fire cooking program at the Grove Beast — look for its return from pandemic hiatus soon — and in late 2020, they debuted a third Beast in Columbia, Illinois, where you can order boudin balls, excellent fried chicken and more Southern fare alongside your barbecue.
Update: Beast Southern Kitchen & BBQ in Columbia, Illinois, permanently closed in May 2022.
📍 Where Beast Craft BBQ Co., 20 South Belt West, Belleville • More info 618-257-9000; beastcraftbbq.com • Hours Lunch and dinner daily • Pricing $-$$
📍 Where Beast Butcher & Block, 4156 Manchester Avenue • More info 314-944-6003; beastbbqstl.com • Hours Lunch and dinner Tuesday-Sunday (closed Monday) • Pricing $-$$
📍 Where Beast Southern Kitchen & BBQ, 1280 Columbia Center, Columbia, Illinois • More info 618-719-2384; beastsouthern.com • Hours Lunch and dinner daily • Pricing $-$$