ST. LOUIS COUNTY  — When McArthur's Bakery began selling king cakes for Mardi Gras in the late '70s, they made them the traditional way: similar to a coffee cake, but shaped in a ring.
It was not a success. They sold about 15 cakes the first year and 25 cakes the second.
The company's then-owner, Randy McArthur, went to a bakers' convention and asked bakers from New Orleans what they did. They told him they used a praline filling, added icing and topped them with Mardi Gras beads.
What they created, they said, was "a party in a box."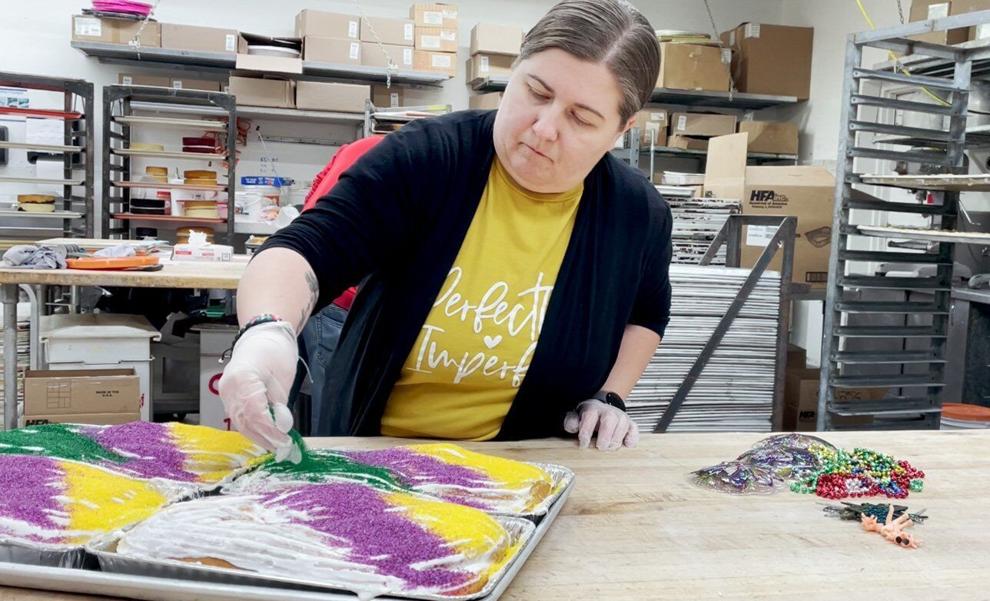 McArthur took the idea to heart. He used a sweet, yeasty dough and added fillings, icing, beads and other festive decorations. The next year, he sold 1,200 cakes.
That was when Mardi Gras was less popular than it is today, and the bakery was one of the few in the area — if not the only one — to sell king cakes. But even with competition now from every corner, owner Scott Rinaberger expects them to make about 500 cakes by Shrove Tuesday, the last day of Mardi Gras, on Feb. 21.
Last year, they turned out about 375 or 400 of the brightly colored cakes. Rinaberger thinks his sales will increase because the waning threat of COVID-19 will lead to more Mardi Gras parties.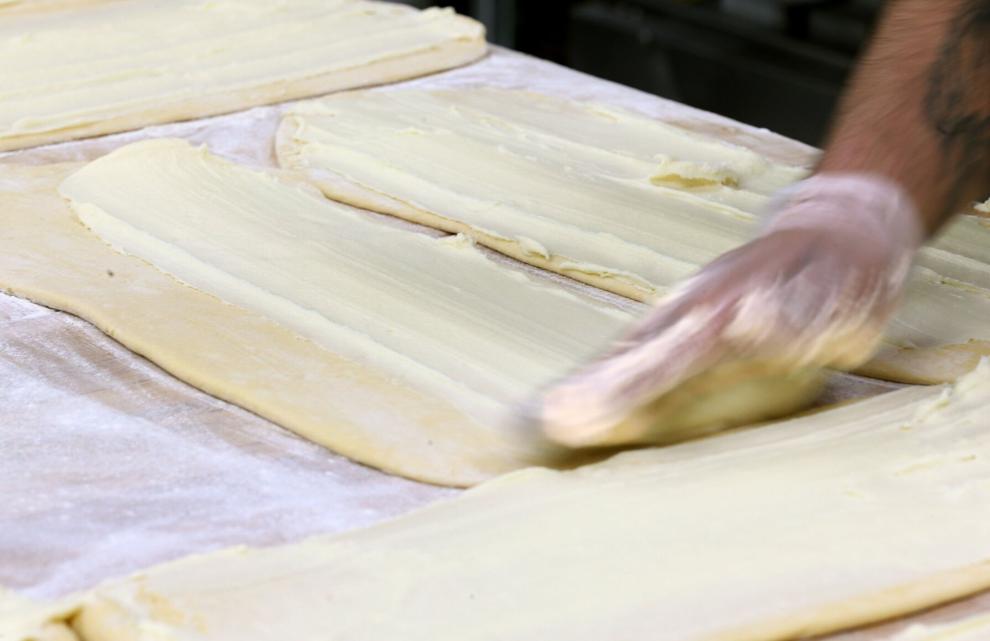 The essential idea of the king cake goes all the way back to pre-Christian Europe, Rinaberger said. The tradition was to bake a cake and hide a bean inside it. Whoever got the slice with the bean was said to be in for a year of prosperity.
King cakes were relatively unknown in America until they were adopted by New Orleans to become an integral part of the Mardi Gras celebration. The modern king cake is now an elaborate affair, adorned by sprinkles of sugar in the traditional colors of purple for justice, gold for power and green for faith.
Faith is an important, if largely unspoken, element of Mardi Gras. A pre-Lenten bacchanal, Mardi Gras is an opportunity to indulge in sin before the prescribed 40 days of contemplation, sacrifice and reflection that precede Easter.
The nod to religion continues with the surprise hidden inside. Instead of a bean, many makers of king cakes now hide a plastic or porcelain figure of a baby in it, to represent the infant Jesus — though some still use a bean to cut down on a possible choking hazard.
Either way, whoever finds the hidden item is expected to bake or buy the next year's cake.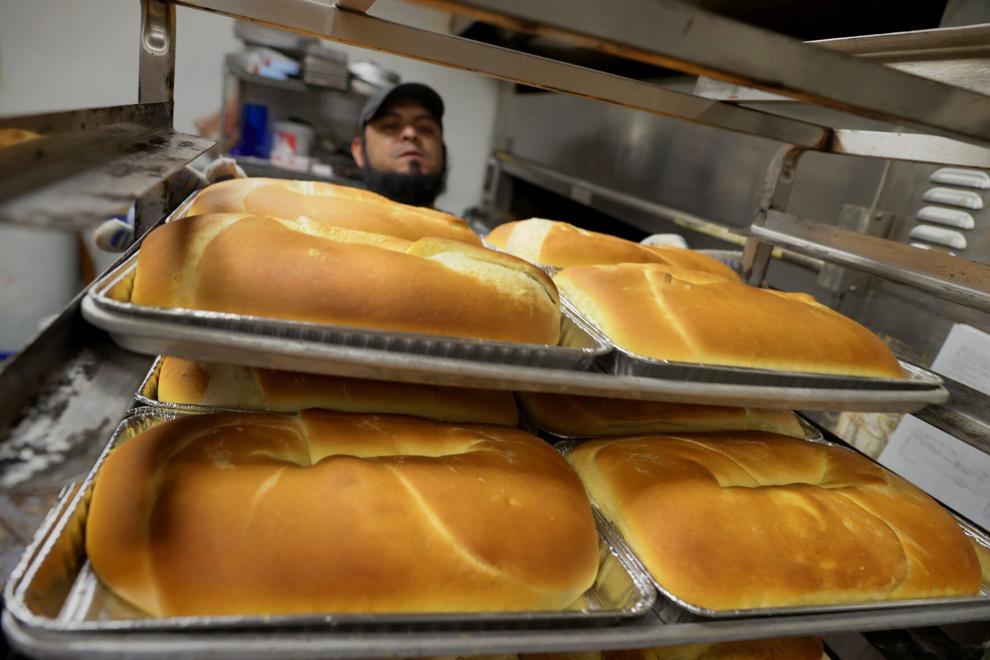 At an operation as large as McArthur's, 500 or so king cakes are not going to dramatically affect finances. But Rinaberger said that the bakery business is seasonal, and king cakes — and baked goods for Valentine's Day — help to pay the bills during an otherwise dry period that stretches from New Year's Day to Easter.
McArthur's was founded in 1956 by Donald McArthur, who, Rinaberger said, "was an engineer by mind." He enjoyed tinkering and inventing things, and held patents on several machines. One separates eggs, shells and all, and another uses tubes and suction to transfer perfect portions of batter from bowls to cake pans.
That invention is still used by all large commercial bakeries today, he said.
McArthur was such a successful inventor that he planned to close the bakery in order to focus on creating equipment. His son Randy asked to take over the bakery, which he enhanced and expanded.
Rinaberger bought the company in 2014 from Randy McArthur, who is now semi-retired but still works as a consultant to other bakeries. Rinaberger came to the business from a background in banking and finances. He also ran local franchises of the Goddard School preschool and the School of Rock.
"It's a great brand, great product, great people. What could I bring to it? A business acumen," he said.
He thrives on the challenge of working in a business that is constantly changing and evolving. Wedding cakes, for instance, which are an important source of their business, are moving away from the multitiered extravaganzas of the past and now tend to be smaller and simpler, often with dessert bars behind them.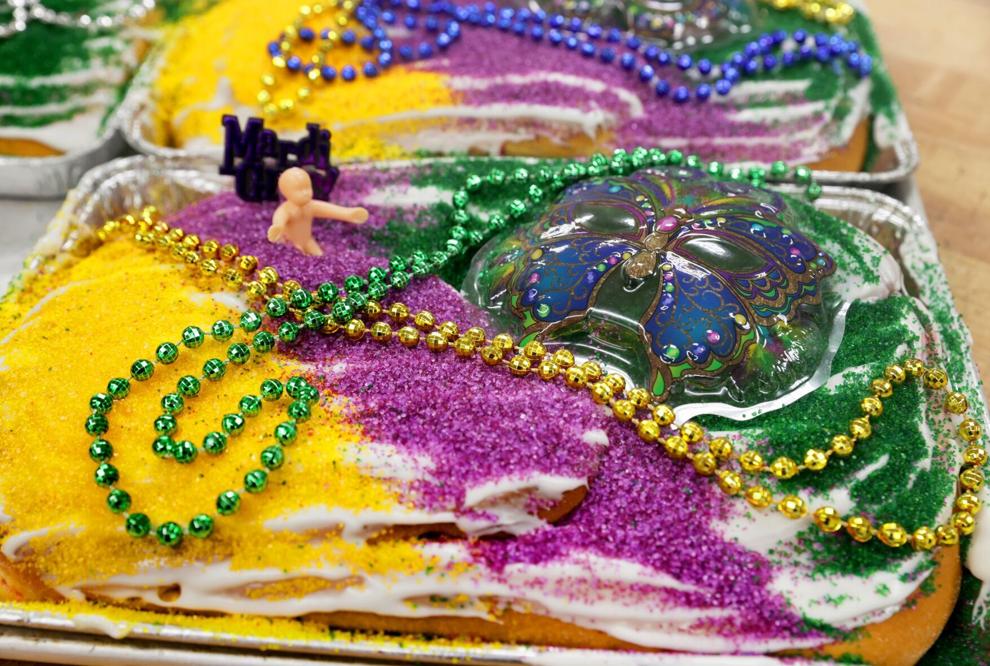 One innovation Rinaberger made was particularly prescient. He began moving the company away from retail sales made at the counter, the traditional model for bakeries, in favor of stressing online ordering and delivery.
That was shortly before the pandemic hit and in-person retail almost came to a stop.
"When COVID came along, we were all primed and ready. It took off," he said.