The chef Logan Ely has based his new Fox Park restaurant Press around a dish he calls smash pizza.
If you don't know Ely or devour every morsel of local dining news, you understandably might be scratching your head at the moment. Maybe you are imagining whole pizzas flung over diners' heads onto their plates, a fusillade of resounding splats.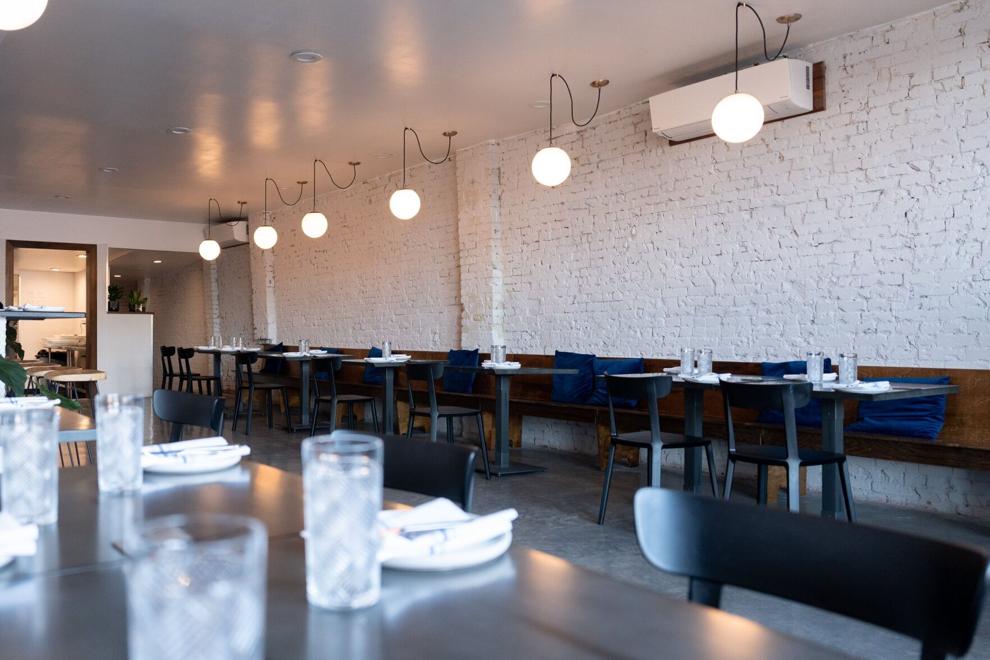 If you have visited one of Ely's other restaurants — his original, tasting menu-
focused Shift (now an occasional pop-up) and his current flagship, the Lucky Accomplice — it won't surprise you to learn Press is actually a pretty chill spot. You don't need a reservation. The décor is spare, clean: brick painted white, plants, small blue cushions along the banquette's bench. A painting of what looks like Swamp Thing if he were made of melting mozzarella lends the dining room a touch of the Lucky Accomplice's playfulness.
As with their other ventures, Ely and co-owner Brian Schuman played a significant part in the buildout of the space, a former garage on the same block of South Jefferson Avenue as the Lucky Accomplice. Joining Ely and Schuman as a partner in Press is Lucky Accomplice beverage director Corey Moszer.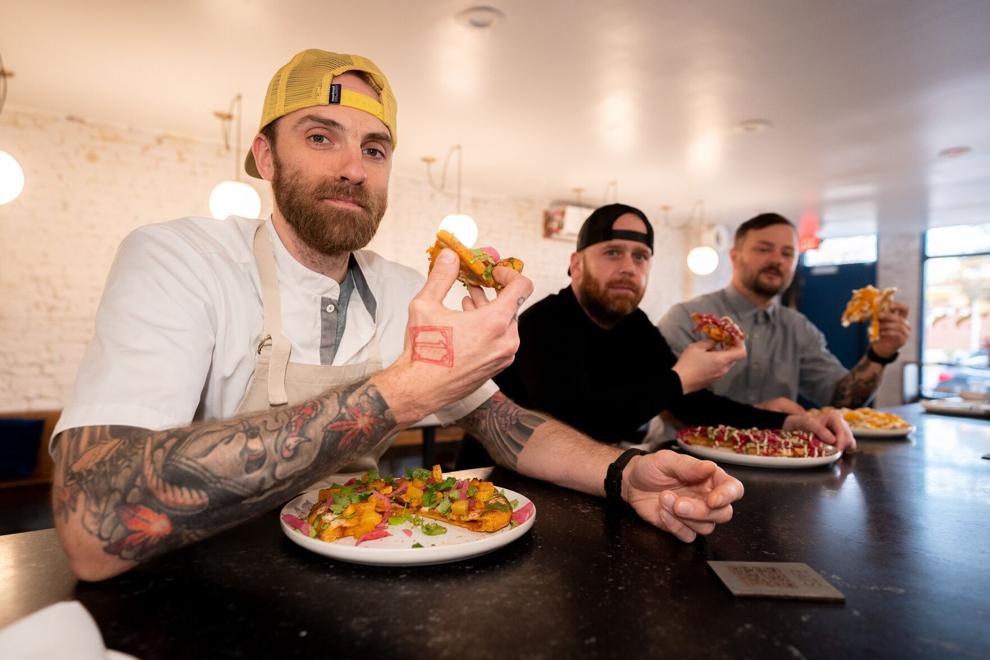 Here, in keeping with the chill vibe, Moszer has installed a draft-cocktail program. This doesn't lose any quality for what it offers in efficiency. The list sticks to classics (the Hemingway, with rum, grapefruit juice and maraschino liqueur) and fun variations thereof (the Cranberry Mule, which jolts the exhausted duo of vodka and cranberry with ginger beer). The modestly named Italian Soda is the best of all, a dangerously quaffable bourbon highball gussied up with amaro and sweet vermouth.
Still, you ask, what is smash pizza? Ely explained the dish in interviews when he announced the project last year, and the restaurant shared photos on social media ahead of its August debut, but I didn't truly understand smash pizza until I took my first bite of it.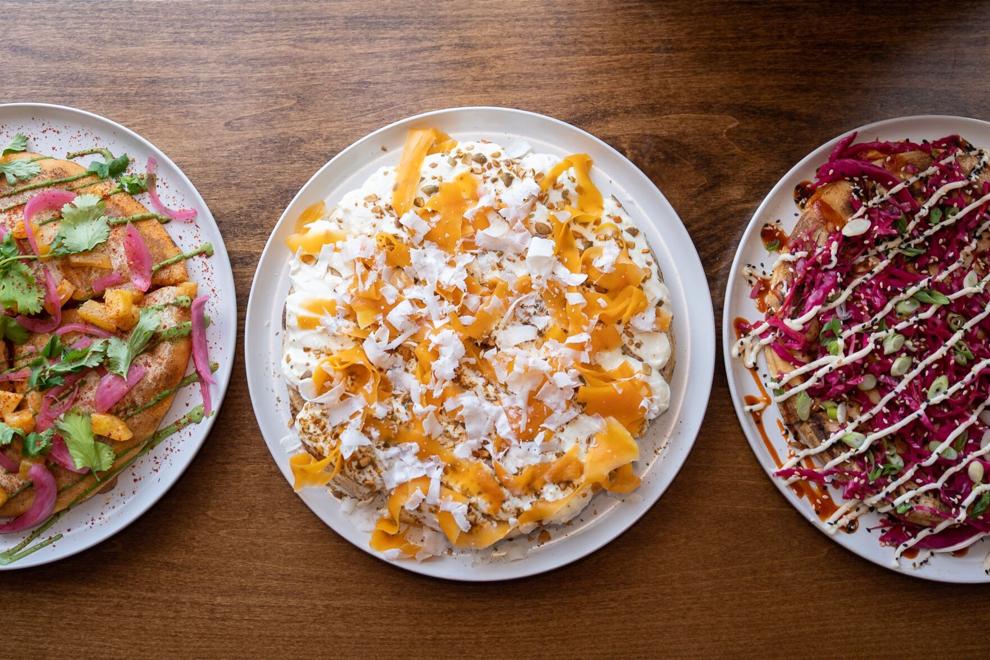 The process begins with the dough, which is fermented for two days. A thin sheet of this dough is stretched across the bottom half of a press, covered with the dish's fillings — to take the most straightforward example, pepperoni and mozzarella cheese — and topped with another sheet of dough. This arrangement is pressed together into a single, char-speckled shell: a smash pizza. The kitchen adds garnishes that complement the fillings, intensifying the peppery bite of the pepperoni version with arugula, pickled peppers and a drizzle of pepperoni aioli.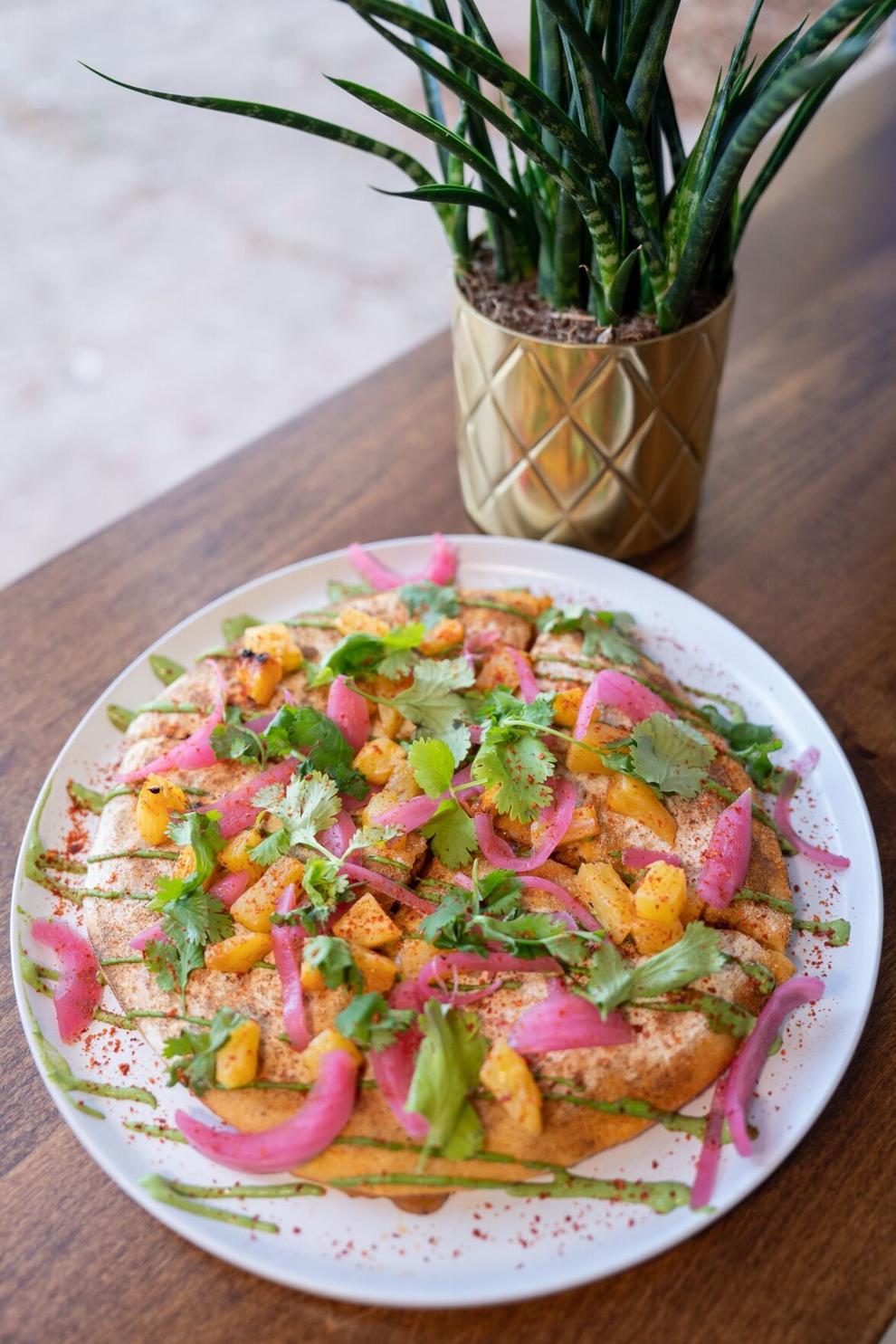 I could describe the plated dish as a calzone crossed with a quesadilla, but there is also a sort of "Inception" effect where the smash pizza at first glance looks like the crust of a traditional pizza and its garnishes like the toppings. When you pick up an individual slice, you even have to bend it slightly to keep those garnishes from spilling off, as you would with a particularly floppy slice of New York-style pizza.
For all of these comparisons, though, in the heft of each slice in my hand and especially in the way the first bite collapsed the shell — crisp, but with just enough tug to still register as dough — into the molten cheese, Press' smash pizza reminded me of nothing so much as a Hot Pocket. A transcendent Hot Pocket, to be sure. The mushroom pie is a fecund duo of meaty mixed mushrooms and truffled sottocenere cheese. Garnishes of Tuscan kale and fresh, sour quark cheese punctuate the heady filling.
Call them Haute Pockets. The smash pizzas range from $17-$23, and Press' staff is likely to recommend one per diner. On my visits, I brought at least one of each pie's four slices home.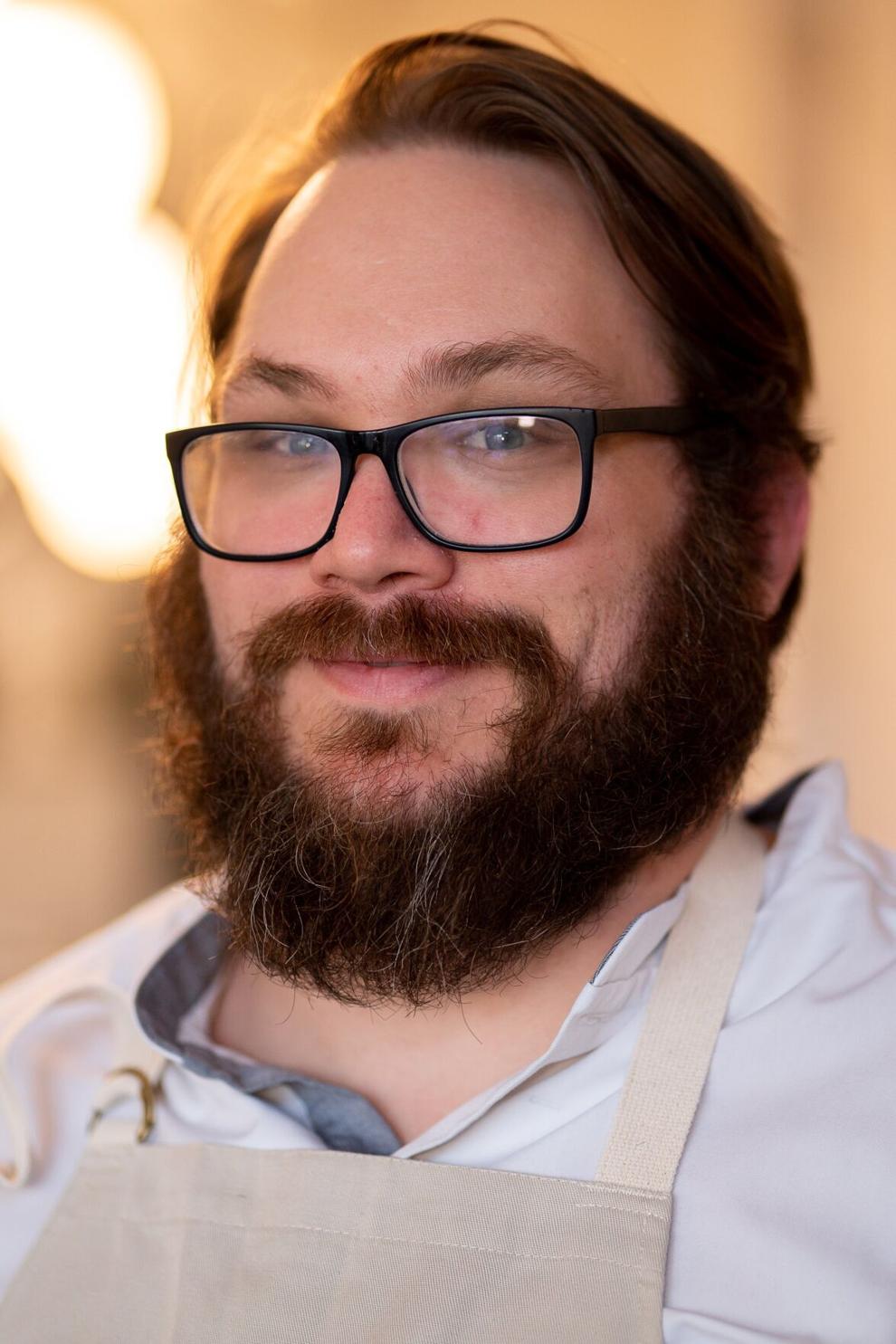 The kitchen, which is led day to day by the chef Donn Hinkle, draws some inspiration from classic pizza combinations: pepperoni, mushroom, the Hawaiian. Note the qualifier "some." Press' Hawaiian smash pizza travels to the island via Mexico, with al pastor-style pork and stretchy Oaxacan cheese inside the shell and pineapple, pickled red onion and a cilantro-lime crema decorating it. It deliciously subverts the idea of the taco pizza as well as the Hawaiian.
The winter squash smash pizza is the lightest on the palate: ribbons of its signature ingredient bracketed by piquant manchego cheese and buttery ricotta, with a pop of pepitas in each bite. Of the pies I sampled, the BBQ Kimchi & Duck was the only one that fell short of Ely's trademark, understated brilliance. Provolone-esque smoked scamorza cheese made a fine partner for duck confit inside the shell, but while each bite delivered some of the funk and zest you want from kimchi, it lacked the pungency and heat to stand up to the heavy filling.
Press doesn't overextend itself. Besides the smash pizzas, there are a couple of salads. The Bonito & Brassica Caesar was a bracing variation on a classic, the naturally bitter greens and wafer-thin slices of pickled lemon fortified by white anchovy as well as bonito flakes. While you might understandably overlook the garlic-cheese bread once you understand how weighty your smash pizza will be, you shouldn't. Rather than a variation of the pizza dough, you get a thick slice of very good bread capped with melted cheese and garlic you can smell from across the room.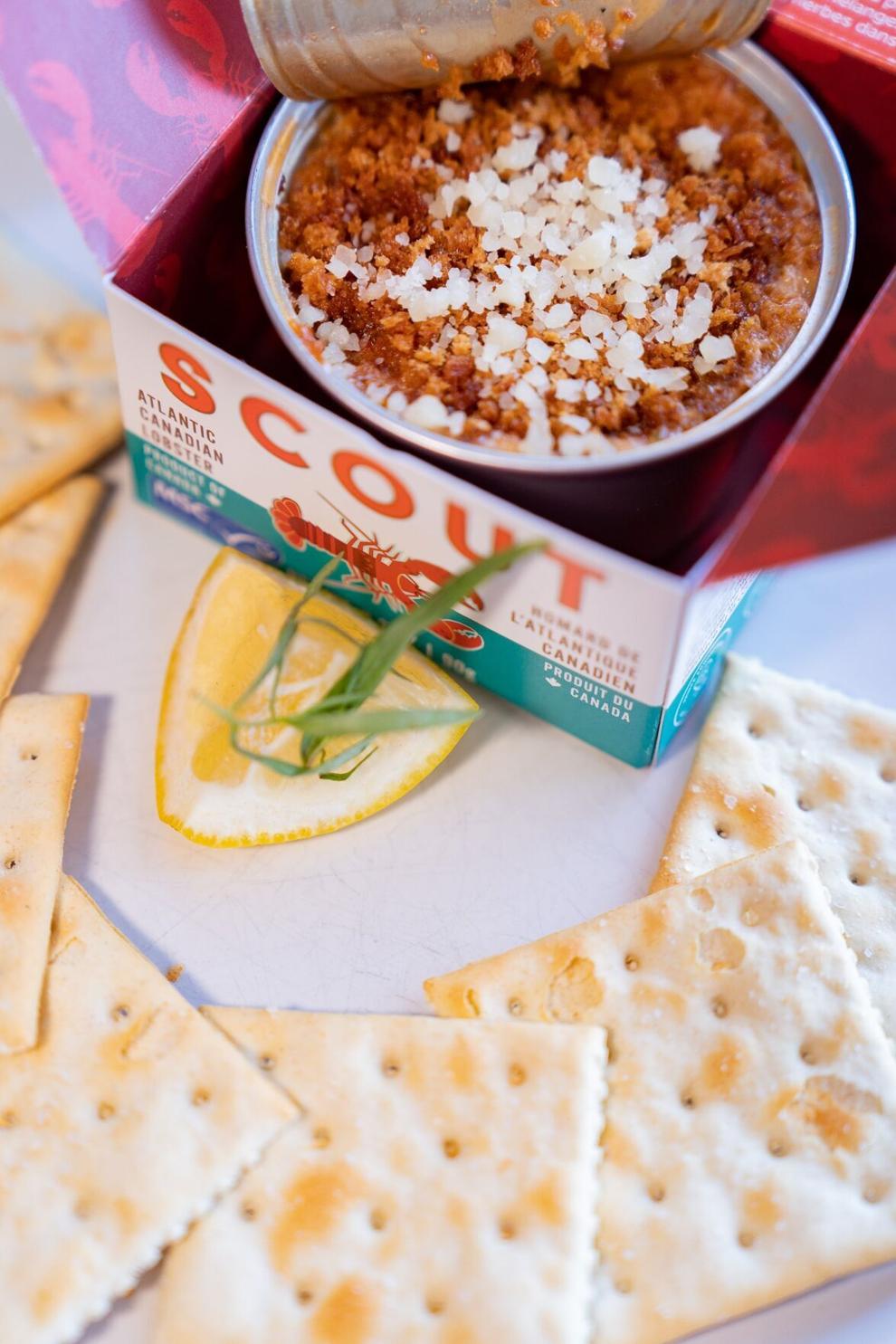 The most incongruous dish at Press is the lobster thermidor, an appetizer. It is served in a small, repurposed can of tinned seafood, with Saltines on the side. I have no grand theory for why this is on Press' menu or why it is served out of a can — in keeping with Ely's general approach, the answer to both questions is probably "why not?" — but the lobster meat is plump, sweet and drunk on butter.
I suppose the lobster thermidor is a fitting emblem for Press. When a team as talented as this is having this much fun, why bother with firm definitions or categories? A smash pizza could be anything they want it to be.
Where Press, 2509 South Jefferson Avenue • More info 314-328-1094; press-stl.com • Menu Smash pizza (i.e., a calzone and a quesadilla fall in love and make babies) • Hours Dinner Thursday-Monday, lunch Saturday-Monday