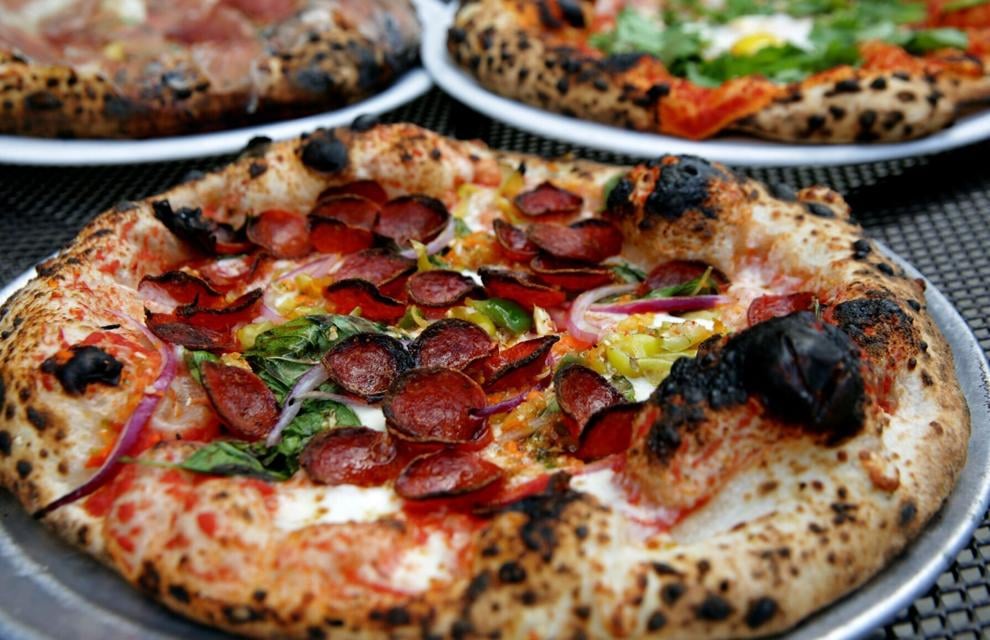 Fordo's Killer Pizza
Once again this summer I'm recommending Canada's divisive culinary export, the Hawaiian pizza. Unlike the excellent, but still recognizably Hawaiian version with pickled pineapple and candied bacon at Pie Hard Pizzeria in Waterloo, the Hawaiian pie at Fordo's Killer Pizza might pass muster with the most hidebound pizzaiolo in Naples.
Joe Luckey, the executive chef of Fordo's, drapes long, gossamer slices of Vopli Heritage prosciutto on the pie's bed of sauce and mozzarella. That sauce is made from roasted pineapple, its flavor both more complex and mellower than the neon-bright sweetness of the fresh fruit, but still obviously pineapple. It's a natural complement to the silky ham, and the accents of red onion and jalapeño are natural counterpoints.
Fordo's debuted in May at the Food Hall at City Foundry, which celebrates its first anniversary this week even as development within the Food Hall itself and across the City Foundry project continues. The pizzeria is also yet another venture from the acclaimed, prolific chef and restaurateur Gerard Craft —Fordo is a nickname taken from his middle name, Ford — who has also played a key role in building the Food Hall's roster.
Craft is the most prominent name yet among the hall's eclectic mix of established operators and debut restaurateurs. To see Fordo's wood-fired oven for the first time, you might wonder if he has merely opened Pastaria Express.
Yes, the crust here matches the sourdough tang, airy chew and leopard-print char of the pies at his Clayton Italian restaurant. The margherita pizza is a study in traditional simplicity — the sunny ripeness of the tomato sauce, the licorice bite of the basil — while the Supreme Pizza intensifies the sharpness of its charred pepperoni cups with both giardiniera and pepperoncini as well as red onion.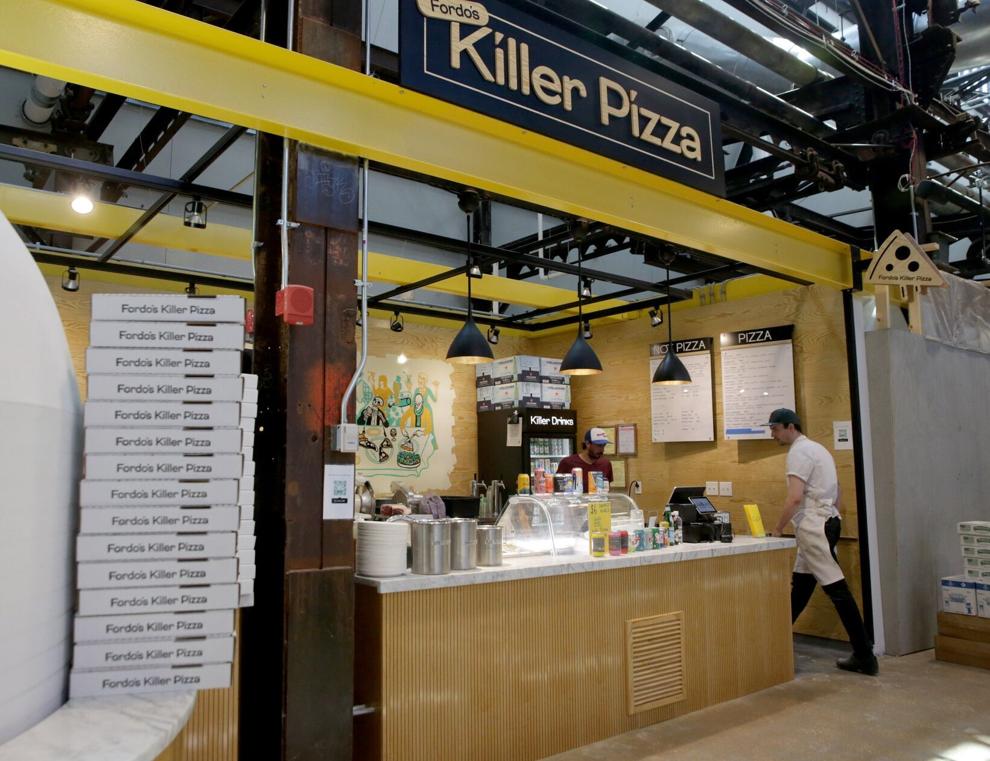 But Luckey, who has cooked at both the original Pastaria and its Nashville, Tennessee, spinoff, has been given license to look beyond traditional Italian cuisine. If Luckey's take on the Hawaiian pie isn't proof enough, consider the Lamb Laarb, a recent special. This flips a classic sausage pie into a tribute to the Thai dish, with coarse, pungent lamb sausage spread over the base of tomato sauce, mozzarella and Parmesan. Luckey showers this after the bake with herbs, peanuts, slivers of pickled carrot and chopped little gem lettuce.
This doesn't so much fuse laarb and pizza as guide you from the bright, hot, funky snap of the former dish wrapped in lettuce to the pillowy comfort of the latter — a different and, as Fordo's continues to evolve, even more exciting kind of journey.
Where Fordo's Killer Pizza, the Food Hall at City Foundry, 3730 Foundry Way • More info fordospizza.com • Menu Wood-fired pizza • Hours Lunch and dinner daily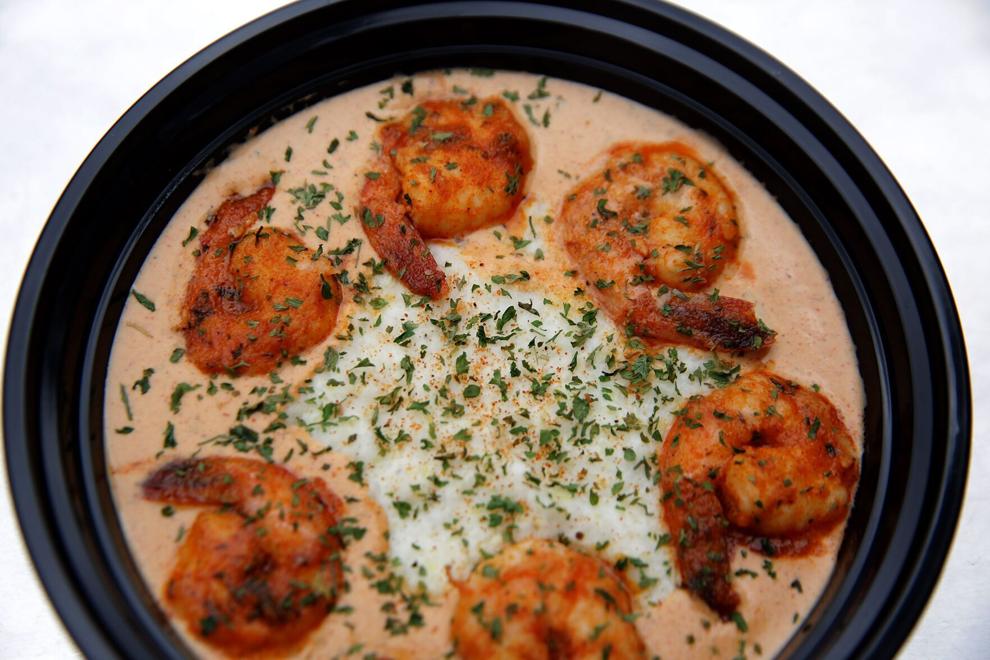 4 Hens Creole Kitchen
Fordo's Killer Pizza — and Gerard Craft's involvement more broadly — provides the culinary star power that can anchor a project as ambitious as the Food Hall at City Foundry. 4 Hens Creole Kitchen, which joined the lineup in late January, is an example of what I think has been the hall's greatest virtue so far: a space to showcase new or previously unheralded voices.
Chef Brandi Artis is a relatively recent St. Louis transplant. The Kansas City native moved here from Chicago, where for the previous few years she had run a culinary business that included catering events and staging pop-ups featuring street tacos in bars and clubs. She owns 4 Hens with her wife, Brittany Artis, and is already preparing to open a second restaurant, Simply Delicious, later this month downtown.
With its open galley kitchen, 4 Hens crackles with more in-the-moment energy than many of the other Food Hall restaurants. The team sautés shrimp and crawfish tails to order, lowers an order of fries into the fryer, pairs the shrimp with grits and dresses the tender crawfish with the traditional fixings for a plump, if not overstuffed, po'boy.
Artis' shrimp and grits is among the creamiest versions of the dish I've encountered, the grits fortified with smoked gouda cheese and both shrimp and grits bathed in a teasingly spicy Creole cream sauce. That sauce might benefit from a touch more heat or tang to cut through so much creaminess, but you'll savor the dish nonetheless — possibly as tomorrow's leftovers as well as today's lunch or dinner.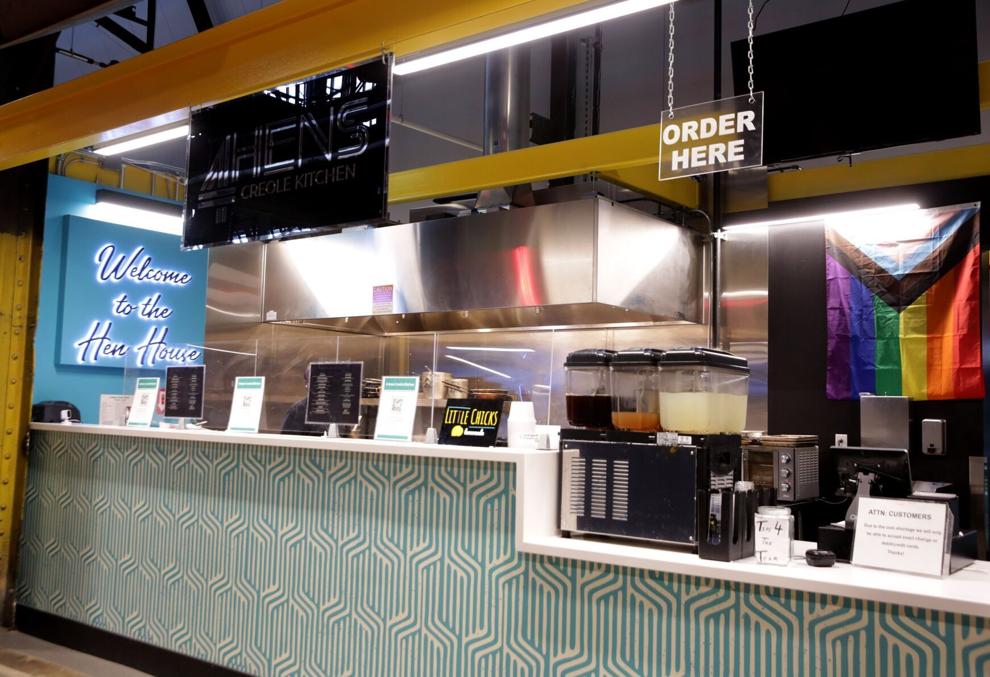 Shrimp is also an option for your po'boy, as are bite-sized pieces of fried chicken breast, andouille and fried green tomatoes. Those tomatoes are tremendous by themselves, drizzled with a little remoulade and tart and collapsing inside their crunchy fried jacket.
Artis has smartly tailored her menu for the food-hall experience. Groups can share fun dishes (the Menage a Trois appetizer sampler or the Big Easy loaded fries), and the standout components like the sauteed shrimp and crawfish tails and the fried green tomatoes are deployed in multiple dishes.
To one of Artis' signature items, the succotash soup, you can add andouille sausage or shrimp and crawfish (the Swamp Thang) or shrimp, crawfish and andouille. Even with a generous portion of andouille slices floating atop the soup, as I ordered it, the draw remains the broth (vegan when served without meat or seafood) with simmered okra, tomato, corn and lima beans, light in body, zesty, perfect for hot or cold weather or whenever I'll inevitably return to 4 Hens.
Where 4 Hens Creole Kitchen, the Food Hall at City Foundry, 3730 Foundry Way • More info 4henscreolekitchen.com • Menu Po'boys, shrimp and grits and more Creole fare • Hours Lunch and dinner daily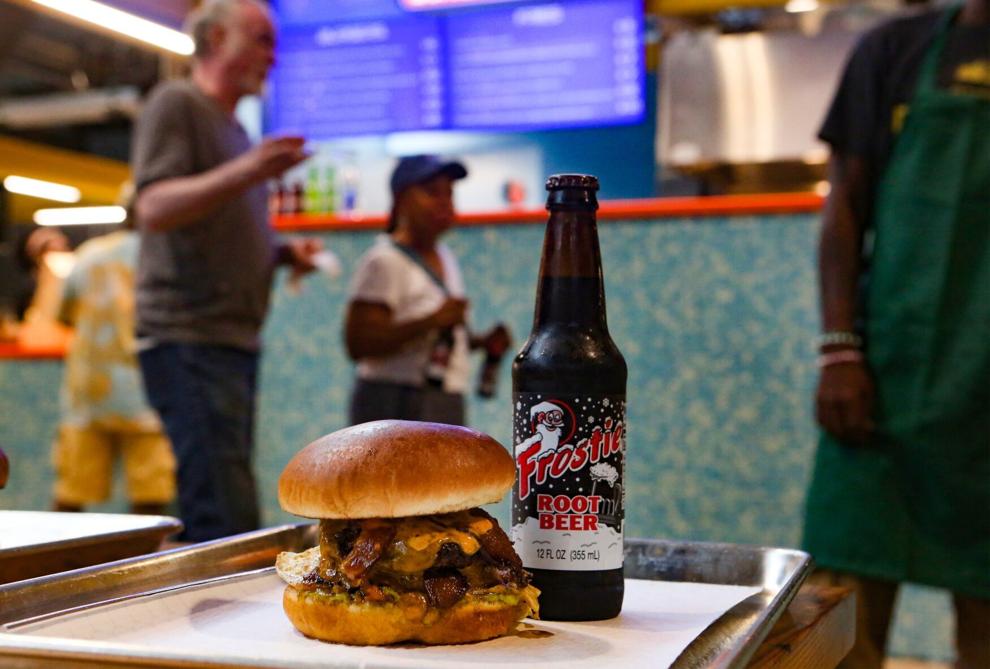 Intergalactic
Death, taxes, smashed burgers. The inescapable and seemingly unending trend arrived at the Food Hall at City Foundry when Intergalactic opened in December.
Remarkably, this is the third Food Hall concept from Be Polite Hospitality, the team behind Polite Society in Lafayette Square and its nearby sibling the Bellweather. Brian Schmitz, Jonathan Schoen and Travis Hebrank debuted Good Day and Sub Division Sandwich Co. when the hall opened last year. (Be Polite Hospitality executive chef Thomas Futrell, who was involved in rolling out Intergalactic, recently left the company.)
Intergalactic griddles its burgers thin but not exceptionally thin. You can taste the beef under the smashed char. Where the restaurant distinguishes itself from the many other purveyors of skinny patties is with its signature combinations, two patties precariously stacked with cheddar, bacon, guacamole, a fried egg and an energizing Red Hot aioli (the Big Bang) or the fiestier and less precarious trio of pepper jack, pickled jalapeño and a spicy ranch dressing (Super Nova).
Fittingly for its science-fiction theme, Intergalactic travels back in time to rescue the mushroom-Swiss burger. The Ground Control intensifies the already formidable umami of the beef and mushrooms with a splash of steak sauce, while horseradish sauce adds heat and caramelized onion a dash of sweetness. It's the best burger here.
The fries are waffle-cut, very crisp and a deep golden-brown, but not without a cottony tenderness at their heart. You can order them plain or, as with the burgers, topped with an array of ingredients, from straightforward cheese sauce and scallions to chili and all the fixings (Close Encounter). When it comes to fries, I'm in the less-is-more camp — especially at Intergalactic, where the burgers bring much more than just smashed patties.
Where Intergalactic, the Food Hall at City Foundry, 3730 Foundry Way • More info cityfoundrystl.com/food-hall • Menu Smashed burgers and waffled fries, with numerous toppings for each • Hours Lunch and dinner daily

18Rails opens inside City Foundry, with space for concerts and special events

Fordo's Killer Pizza, from acclaimed chef Gerard Craft, opens at City Foundry

Review: Grab a spork, and dig in — Sureste is another win for Food Hall at City Foundry

Review: Rotisserie birds at Chicken Scratch are another win for City Foundry's Food Hall