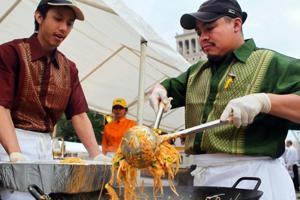 Mark your calendars and polish your forks: Taste of St. Louis will return to Ballpark Village downtown Aug. 11-13, organizers announced Thursday.
The food-centered event is scheduled nearly a month earlier than previous years.
"The flavor-filled weekend is a favorite for foodies and families alike, offering a selection of over 30 local, brick-and-mortar restaurants, where event-goers can order everything from complete entrees to snack-sized samples," an announcement said.
There will also be vendors of food and merchandise, live music and "engaging culinary exhibits."
Expect to see more announcements about other "fresh new additions" to the event, with the next bit of news coming June 1, organizers said.