The first flowers of spring are in bloom and several new restaurants have opened their doors in St. Louis this season.
James Beard Semifinalist Nick Bognar wowed us with sushi spot Sado this month; plus, City Winery opened up inside City Foundry STL and Tim's Chrome Bar welcomed guests into its retro space near Bevo Mill.
We're sad to say goodbye to 21st Street Brewers Bar, PW Pizza and Vin de Set – the three businesses shared a building near Lafayette Square that was damaged by a fire back in September of last year. They've unfortunately shuttered for good.
Chef-owner Matt Borchardt also closed Edibles & Essentials in St. Louis Hills, but will become executive chef at the new Ronald McDonald House in The Grove.
These are the restaurants that opened and closed in March.
Update: We're so bummed to share that BEAST Butcher & Block in The Grove had its last day of service on March 26.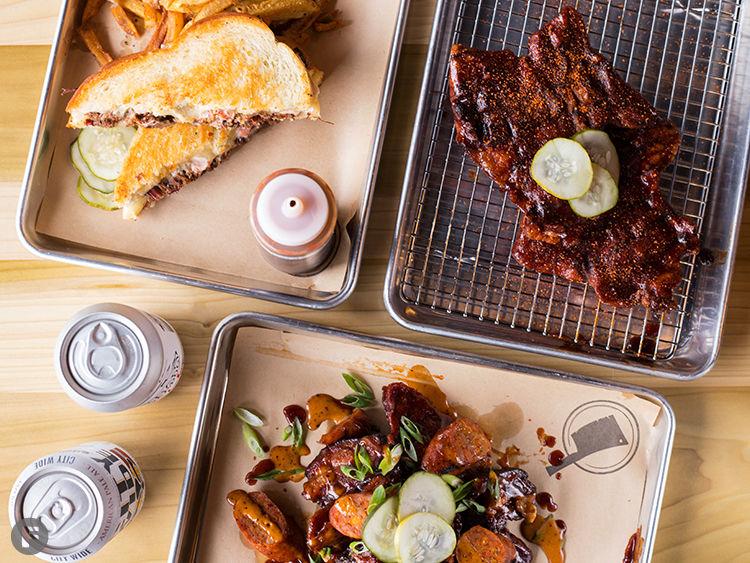 However, its store in Belleville, Illinois, remains open, as does the roaming BEAST food truck and food stall in CITYPARK.
The award-winning barbecue spot will still host Easter brunch in The Grove on April 9, along with pre-ordered Easter pickups scheduled for that day. If you booked a barbecue demonstration class, those are also still on for April 8, 15, 22 and 29.
The owners expect to park the BEAST food truck at The Grove location periodically – stay tuned.
Openings
Black Mountain Wine House, 354 N. Boyle Ave., Central West End, St. Louis, Missouri, instagram.com/blkmtnstl/
Frida's (reopening) and Bonito Bar, 622 North and South Road, University City, Missouri, 314-727-6500, eatatfridas.com
Bootleggin' Tavern, 4501 Chouteau Ave., Forest Park Southeast, St. Louis, Missouri, 314-405-2020, bootlegginbbq.com
Cafe Ganadara, 6413 Hampton Ave., St. Louis Hills, St. Louis, Missouri, facebook.com
Chef B's Chicken & Burger Bar pop-up, 9527 Gravois Road, Affton, Missouri, facebook.com 
City Winery (inside City Foundry STL), 3730 Foundry Way Ste. 158, Midtown, St. Louis, Missouri, 646-751-6033, citywinery.com
Hi-Pointe Drive-In (additional location), 6015 Mid Rivers Mall Dr., Cottleville, Missouri, 636-946-7890, hipointedrivein.com
Kobito Poké, (inside Ballpark Village), 601 Clark Ave., Downtown, St. Louis, Missouri, koibitopoke.com
Mission Taco Joint, (inside Busch Stadium), 700 Clark Ave., Section 150, St. Louis, Missouri, missiontacojoint.com
Omen Coffee Co., 2657 Washington Ave., Midtown, St. Louis, Missouri, omencoffeeco.com
Quarrelsome Coffee, 33 N. Sarah St., Central West End, St. Louis, Missouri, quarrelsome.coffee
Rosé by Peno, 1463 S. 18th St., Lafayette Square, St. Louis, Missouri, 314-405-8500, rosestl.com
Shaquille O'Neal's Big Chicken (inside Busch Stadium), 700 Clark Ave., Sections 135 and 358, St. Louis, Missouri, bigchicken.com
Sado, 5201 Shaw Ave., The Hill, St. Louis, Missouri, sado-stl.com
Sawmill BBQ Pub & Grill (additional location), 1090 Old Des Peres Road, Des Peres, Missouri, 314-394-1196, sawmillbbq.com
Tim's Chrome Bar, 4736 Gravois Ave., Bevo, St. Louis, Missouri, timschromebar.com
Closings
21st Street Brewers Bar, 2017 Chouteau Ave., Downtown West, St. Louis, Missouri
BEAST Butcher & Block, 4156 Manchester Ave., The Grove, St. Louis, Missouri
Edibles & Essentials, 5815 Hampton Ave., St. Louis Hills, St. Louis, Missouri
Gezellig Tap House & Bottleshop, 4191 Manchester Ave., The Grove, St. Louis, Missouri
J. Devoti Trattoria, 5100 Daggett Ave., The Hill, St. Louis, Missouri
Kitchen House Coffee, 3149 Shenandoah Ave., Tower Grove East, St. Louis, Missouri
Llywelyn's in Soulard, 1732 S. Ninth St., Soulard, St. Louis, Missouri
PW Pizza, 2017 Chouteau Ave., Downtown West, St. Louis, Missouri
Vin de Set, 2017 Chouteau Ave., Downtown West, St. Louis, Missouri