Salve Osteria officially opened at the beginning of June in Tower Grove East, but the restaurant's debut is less a fine point on a timeline than a fuzzy dot in the Venn diagram of South Grand Boulevard's commercial hub. To follow the linear path for a moment, though: Salve Osteria succeeds the beloved Persian restaurant Cafe Natasha, which closed at the end of April as owner Hamishe Bahrami retired after 39 years across three locations.
Bahrami and her late husband, Behshid, named Cafe Natasha for their daughter, who herself became a familiar presence even to occasional diners at the restaurant. Now, Natasha Bahrami and her husband, Michael Fricker, have recast Cafe Natasha's space as Salve Osteria with the chef and partner Matt Wynn, whose resume includes an excellent pre-pandemic stint leading the kitchen of the late, great Taste by Niche.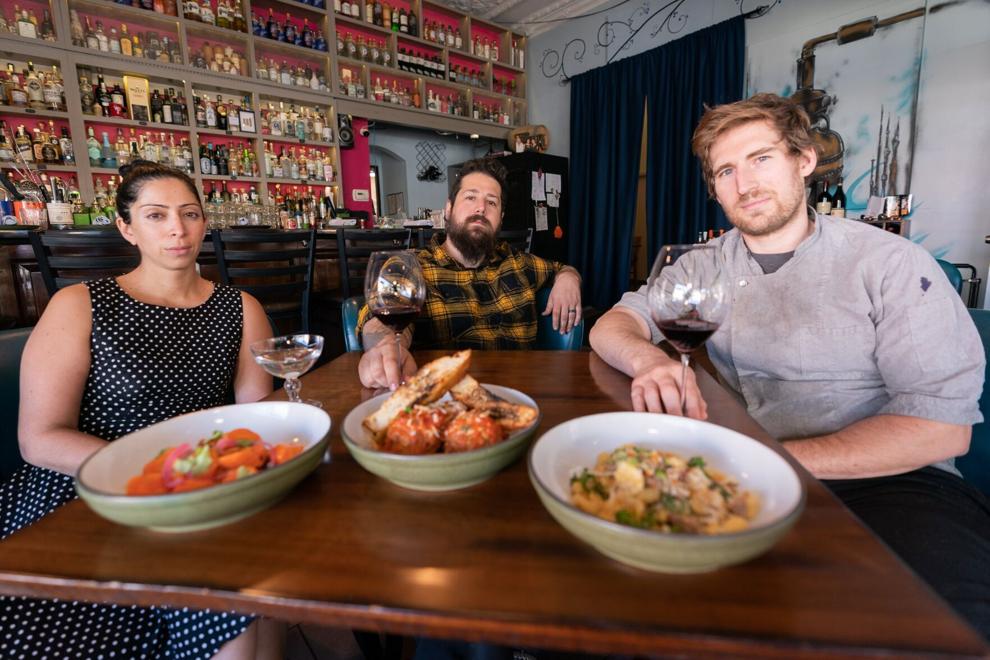 Salve Osteria isn't Cafe Natasha 2.0. As the name suggests, it looks to Italian cuisine for inspiration. Still, if you visited Cafe Natasha in recent years, walking into Salve Osteria for the first time will feel uncanny. Here is where the timeline begins to blur.
While working at her parents' restaurant, Natasha Bahrami also pursued a parallel hospitality career focused on gin. She gave Cafe Natasha's bar its own identity as the Gin Room. Last year, she was inducted into the Gin Hall of Fame.
The Gin Room now doubles as Salve Osteria's bar, and it remains St. Louis' preeminent destination for gin and one of the area's best all-around cocktail bars. Bahrami, Fricker and bar manager and ace bartender Kyle Gillespie turn out invigorating takes on the negroni (the Alpine, bracing as a brisk wind) and the gin and tonic (the herbaceous Summer Garden). The bar's shelves showcase more gin than the collected works of John Cheever.
Meanwhile, late last year Bahrami and Fricker opened the wine bar and shop Grand Spirits Bottle Co. on the same South Grand block. Fricker, who is also a chef, oversees Grand Spirit's on-trend focus on natural wines, and he has curated an appealingly varied list for Salve Osteria. I can't think of a better way to introduce a novice or skeptic to the orange wine phenomenon than a glass of the lightly funky, dangerously quaffable Gulp Hablo verdejo, and when I asked Fricker to suggest a pairing for a creamy pasta dish, he unexpectedly directed me to a dry sherry.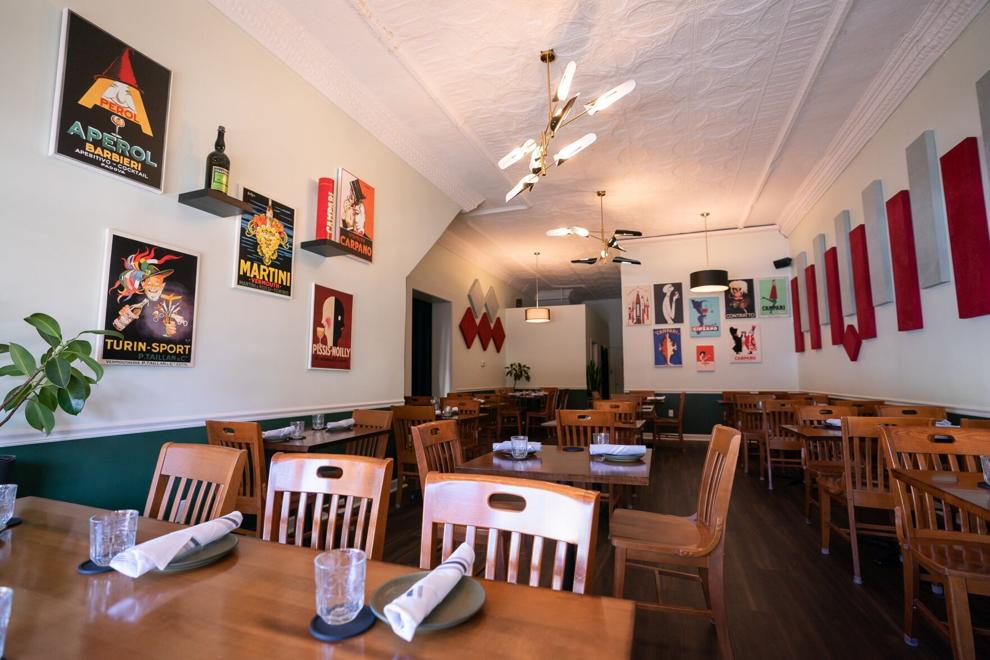 If this were a drinks column, I could stop here and treat myself to another negroni at the Gin Room, and thanks to its exemplary beverage program, I can still recommend the total Salve Osteria experience. As a restaurant, though, Salve Osteria struggles to assert itself. Part of that is a result of the design. The dining room proper is adjacent to the Gin Room and looks like an afterthought in comparison. The décor features the cliché of European liqueur posters and, along one long wall, a drab alternating pattern of red and pale gray panels.
(The patio along the Wyoming Street side of the restaurant's corner location makes for a nice middle ground between buzzing bar and sedate dining room, weather permitting.)
Wynn and his kitchen team don't adhere to any view, regional or philosophical, of Italian cuisine, and my favorite dishes here are playful without being gimmicky or self-conscious. The Savory Canoli, an appetizer, are basically small, thin crackers topped with chilled, delicately poached shrimp. My order dressed these with a bright, late-summer arrangement of grilled corn and pineapple, which has lately given way to an apple-root vegetable relish. Creamy zucchini enlivens the arancini's classic duo of crunchy exterior and gooey cheese, though the dish's most vital component is the tart agrodolce on which the arancini sit.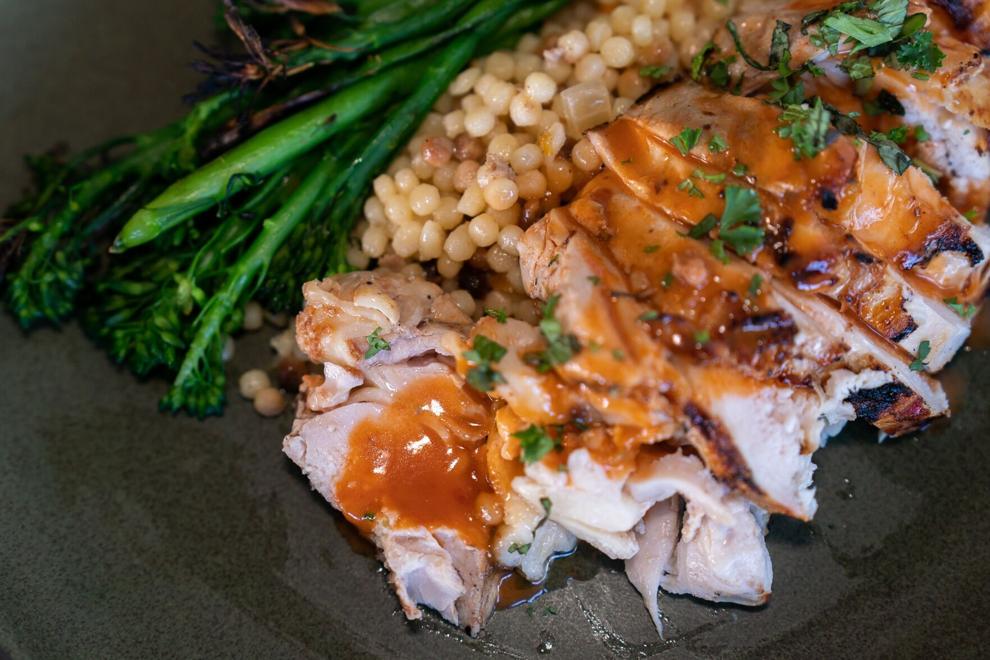 For the roasted chicken, the highlight of Salve Osteria's main courses, Wynn looks to the broader Mediterranean. The sliced breast meat is served atop fregola sarda and wilted Swiss chard, with a side of roasted broccolini — an attractive, if straightforward plating. But the distinctive heat of harissa, warming spices that only briefly cloak the paste's chile heart, builds with each bite. A touch of yogurt takes the edge off this heat but doesn't try to dampen it completely.
The grilled trout, another of the three main courses (as listed separately from the pastas), needs some of this sophistication. My plate featured too salty trout atop a staggeringly sweet corn puree, the combination like a modernist dessert experiment gone horribly awry. Ravioli plump with ricotta smothered the rest of their dish as soon as I split one of the pillows open. The trio of chicken, braised mustard greens and dried tomatoes lacked the pop to withstand so much bland creaminess.
The best of Salve Osteria's pastas tosses freshly rolled, pleasantly chewy orecchiette with punchy lamb sausage and verdant broccolini. A simple preparation of cherry tomatoes, basil oil and Parmesan showcases the housemade tagliatelle, but those accents don't register enough individually or collectively to make for a memorable dish.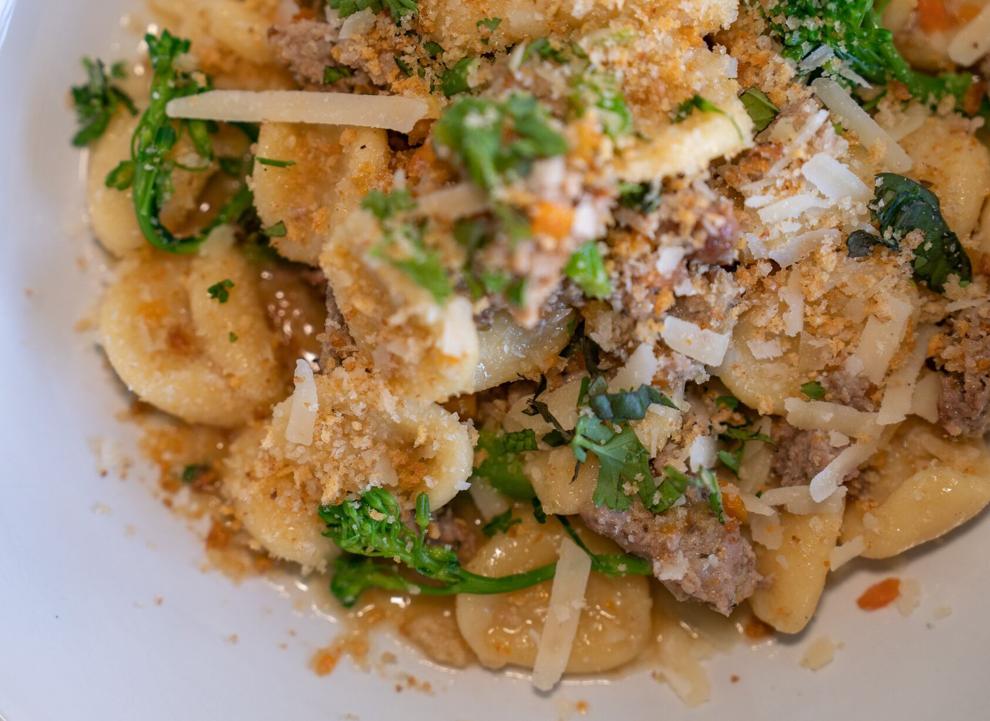 This was one of a few dishes where I felt like the kitchen was holding something back — or checking the boxes they think diners want from a seasonal Italian-ish restaurant, not compelling diners to order what the kitchen is excited to cook. A perfectly fine butternut-squash soup drizzled with yogurt and pepitas, as predictably autumnal as the turning leaves. Three large, tender meatballs in a dead-ripe tomato sauce with grilled bread for dipping, an unimpeachably simple plating that can't hide how salty those meatballs are.
Likewise, the talent and passion behind Salve Osteria is undeniable. How Bahrami, Fricker, Wynn and their team will transform that into one cohesive restaurant and bar is still unclear.
Where Salve Osteria, 3200 South Grand Boulevard • More info 314-771-3411; salveosteria.com • Menu Italian-inspired cuisine, with wine and the Gin Room cocktail program • Hours Dinner Thursday-Sunday