Before parking Pie Hard Pizzeria in downtown Waterloo, Megan and Michael Pastor commanded one of the mightiest food trucks that has ever rumbled over the potholes of St. Louis. A wood-fired oven inside a converted shipping container atop a flatbed, the original Pie Hard grabbed your attention and changed your lunch plans even before you saw the illustration of Bruce Willis as John McClane in "Die Hard" across the back.
The name was a silly nod to the classic Christmas movie — the couple thought their behemoth of a truck looked like something that could have appeared in the film — but from Pie Hard's 2017 launch, Michael's cooking has made it a serious contender among both the region's mobile kitchens and pizzerias. His pizza is wood-fired but not Neapolitan. Crucially, wood-fired and not-Neapolitan are descriptions but not defining characteristics. In its own, more subtle way, Pie Hard's pizza is as distinctive as its truck was.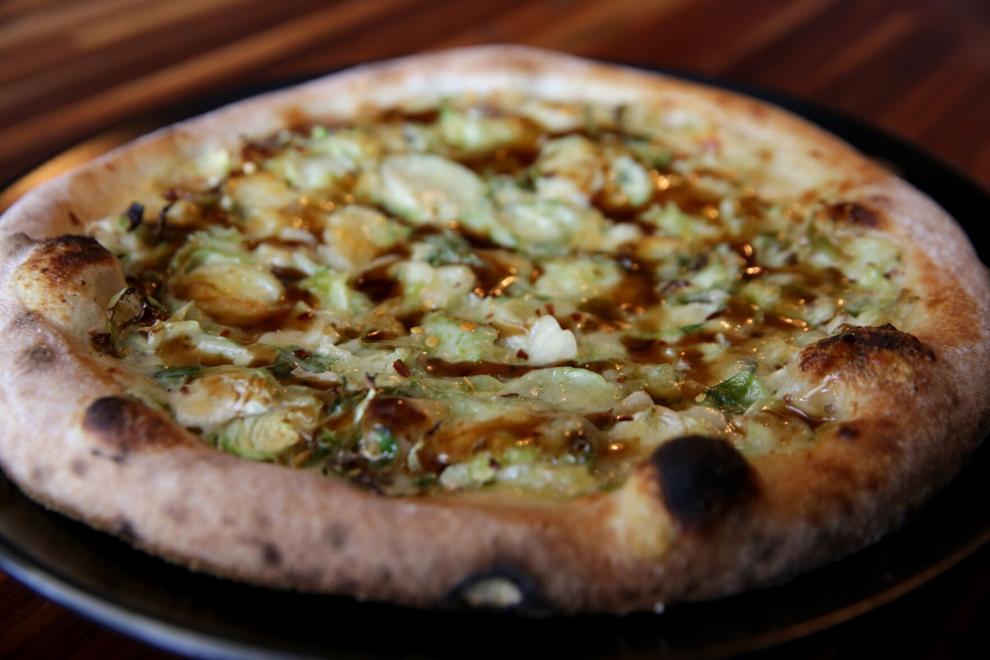 The brick-and-mortar Pie Hard opened in late May 2020. After building out the space for more than a year, the Pastors had been preparing to debut the restaurant when the pandemic hit that March, forcing restaurants to close their dining rooms and pivot their business models more or less overnight. "We were just getting ready to order food," Megan said in an interview two years ago. "Thank God we didn't."
The pandemic certainly delayed my visits here. I first wrote about Pie Hard four years ago and was excited to see the restaurant version. But as I wrote two weeks ago in my belated review of the nearby Shorty's Smokehouse, I also haven't given Waterloo the attention it deserves. So I return this week, two years late to Pie Hard — abashed, yes, but mainly hungry.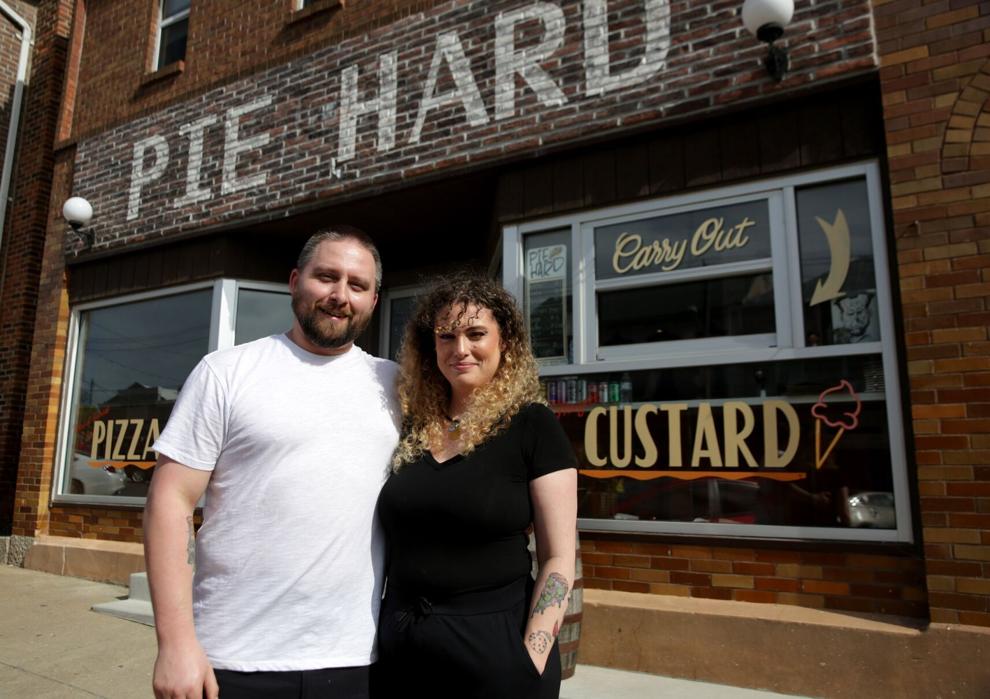 The space, a former Subway, is cozy, with the wood-fired oven occupying the center of the dining room. To the right as you enter is a counter displaying the current selection of frozen custards and a short bar counter. A pop-culture collage mural stretches along the wall from the bar to the back of the room. Among its tributes are Bruce Willis from "Die Hard" again, Michelangelo from the Teenage Mutant Ninja Turtles and the late Anthony Bourdain.
Studying this mural on my visits, I was pretty sure one of its largest images is the veteran St. Louis chef Josh Poletti, who is currently the executive chef and pasta maestro of the great Noto Italian Restaurant in St. Peters. The Pastors confirmed my hunch. Michael had worked with Poletti at Niche, and Poletti helped with the launch of the Pie Hard truck, including mixing dough by hand when the mixer didn't work. As thanks, Megan told Poletti if they ever opened a brick-and-mortar restaurant, they would put his picture on the wall.
(As for that truck, its fate is fittingly unique: The Pastors sold it to a private collector of exotic vehicles.)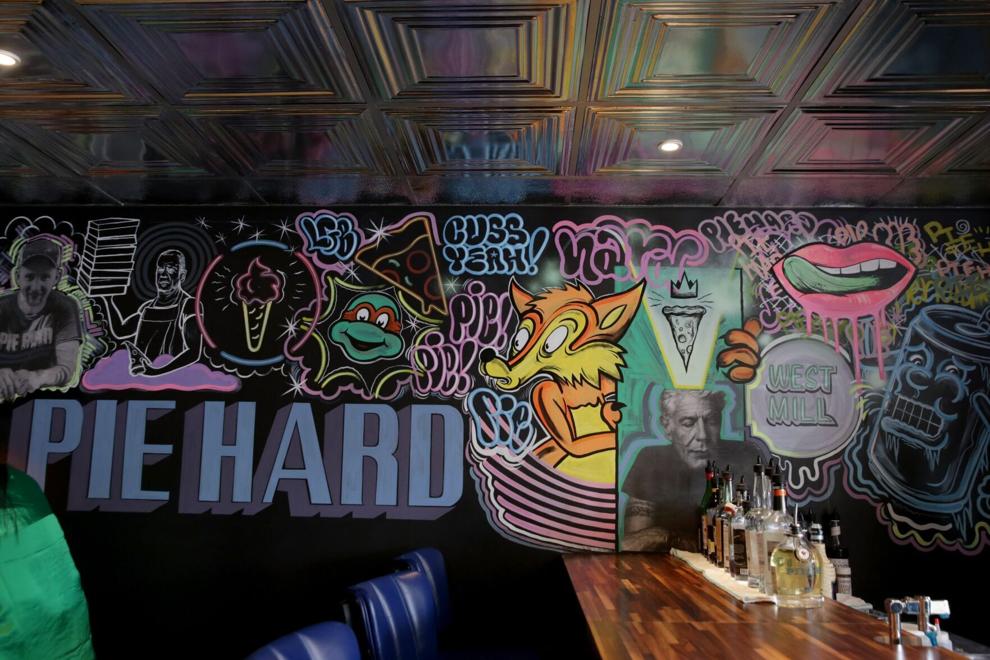 Michael burns locally sourced white oak in Pie Hard's oven, which usually runs around 700 to 750 degrees, though it can sometimes reach 800. From the yeasted, cold-fermented dough, this oven coaxes a puffy lip of crust, a pout to Neapolitan's bee-stung look. Where the surface is charred, the color tends toward the intensely dark brown of high-cacao chocolate, not blistered black. The crust yields just enough chewiness to tease out a gentle tang and mild smokiness.
On the truck and now at the restaurant, Pie Hard has always distinguished itself by its topping combinations — even an arrangement as conventional as red sauce, mozzarella and pepperoni. Here called the McClane, and gussied up with roasted garlic and (if you ask for it, which you should) a drizzle of hot honey, it finds the common language between wood-fired sophistication and a floppy, stretchy-cheesed New York style. (This and every pie here is a relatively compact 10 inches.)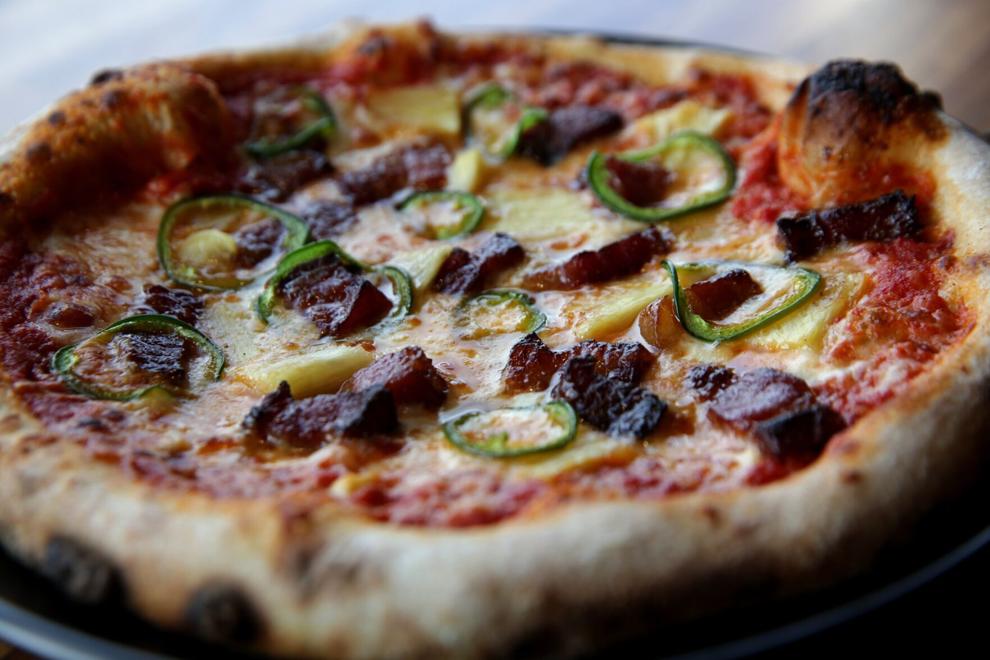 Pie Hard's Island pie could turn the most fervent of the anti-Hawaiian pizza brigade traitor. Michael inverts the expected sweet-and-savory ingredients, candying the bacon and pickling the pineapple. Jalapeño delivers its own punch and underlines both the bacon and the pineapple, creating a pie that is smoky, sweet, spicy and tart as a whole, not as the sum of its parts.
The selection of specialty pizzas is likely to feature at least one pie that will earn a raised eyebrow and a "Why not?" When I reviewed the truck in 2018, it was the Darkwing Duck, featuring duck pastrami. Duck stole the show again at the storefront location: The Breakfast Club pizza, from the Sunday-only brunch menu, stars a scrambled duck egg with candied bacon and sausage gravy in a blanket of cheddar cheese and garnishes of scallion and hot honey. This is a rich pizza, no doubt, but its luxuries are balanced, the sausage gravy's creaminess distinct from the duck egg's supple curd.
Michael's kitchen talents extend beyond pizza. Before founding Pie Hard with Megan, he cooked at Cielo and Pastaria as well as Niche. If you can look away from the pizzas, the regular menu also includes an exceptional French dip sandwich with slow-roasted prime rib dressed with caramelized onion, a garlic-horseradish aioli and provolone with a side of sticky bone-marrow au jus for dipping.
At brunch he essentially creates a different restaurant, with the Breakfast Club the only pizza available. A stack of French toast crunches with a graham-cracker streusel and a cornflake-churro dust before collapsing into orange cream cheese. The B and Double G smothers one jalapeño-cheddar biscuit with a velvety country gravy, a second with a bristling, red-orange chorizo gravy.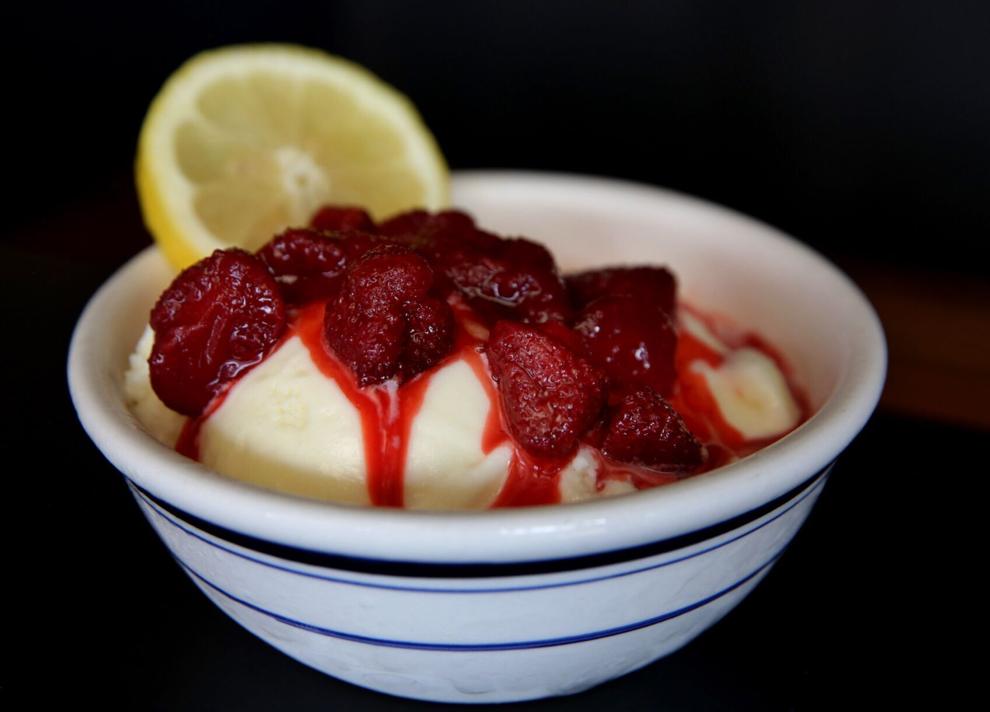 Did my children demand frozen custard even after housing Pie Hard's French toast? Did I help them even after trying both the Breakfast Club and the B and Double G? Of course they did, and it is, after all, my professional duty to recommend the silky triple-chocolate and refreshing strawberry-lemonade flavors.
Between Pie Hard and Shorty's Smokehouse, I was already planning to return to Waterloo much sooner than later, but the Pastors are about to offer another reason to visit. As soon as this fall, they will relocate Pie Hard the short distance to 101 South Main Street, where the restaurant will share its space with a 21-and-older cocktail bar called Night Fox.
Where Pie Hard Pizzeria, 122 West Mill Street, Waterloo • More info 618-939-4273; piehardpizza.com • Menu Pizza, sandwiches and Sunday brunch • Hours Lunch and dinner Wednesday-Saturday, brunch Sunday (closed Monday-Tuesday)