Like many in the restaurant industry, Elizabeth Hensley, chef at Fordo's Killer Pizza, once had an entirely different plan in mind. "Honestly, I went to school and got two degrees: one in psychology and one in English," Hensley says. "I didn't anticipate this career, but I truly couldn't be happier. It's like when you meet the right person and everything just clicks."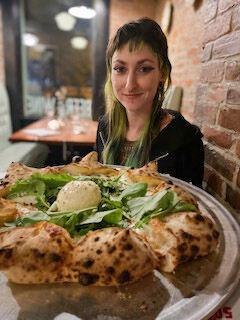 And that's not to say those two degrees don't help when it comes to working in hospitality, but perhaps Hensley was destined to be in food from the beginning. "My mom taught me how to cook, follow recipes, work with fractions, etc. when I was very little (pre-kindergarten), and I had this epiphany that I could take that approach and start making whatever I wanted whenever I wanted," they say. When Hensley was younger, baking was their favorite pastime, and they loved surprising friends and relatives with custom birthday cakes. "It's still a tradition that my fiancé and I look forward to each year," Hensley says.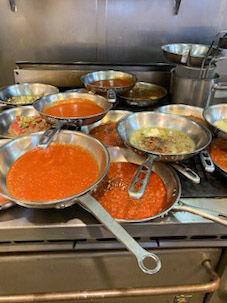 As is too often the case, finding a job after graduation proved difficult, and Hensley found themselves staging at the now-shuttered Vista Ramen. "I'm very grateful that chef Chris Bork was willing to give me a chance," they say. "I was doing prep to start. I didn't even know how to hold a knife properly, but my time there was the perfect mix of challenge, struggle, patience and excitement that made me fall in love with the professional kitchen."
Fast forward to 2019, when Hensley was hired at Pastaria, Gerard Craft's venerable Italian restaurant in Clayton. This was Hensley's first experience working for Niche Food Group, Craft's hospitality management company. "I thrive when I have new things to study and practice, and not only was Italian food completely new to me, but the scale of the restaurant itself was mind-blowing," Hensley remembers. "Getting to run around and help with so many different kitchen stations, catering, private events, pastry projects and to-go orders really made the weeks fly by, but it also allowed me the opportunity to start working with pizza for the first time."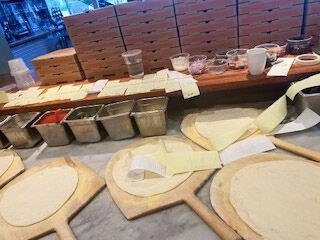 After a few years of working with chef Joe Luckey at Pastaria, Craft broke the news about a new Niche pizza concept – Fordo's Killer Pizza, christened "Fordo's" after Ford, Craft's middle name. "I'd never had the chance to be part of the opening team for a new restaurant before, and it's been such a cool experience," Hensley explains. "There's so much emotion that goes into it, and it's only been a year so far, but we've grown tremendously since last summer. So many unique pizzas, and so many more ideas we haven't even gotten to yet." 
Here, Hensley talks unlikely nacho toppings, shares their thoughts on cow's milk and explains why the best food memories can be made at home with the one you love.
What's the best thing you've ordered at a restaurant recently? S.K.Y. in Chicago was everything a dinner experience should be. My fiancé and I went for our anniversary recently and ordered almost everything à la carte in addition to the chef's tasting menu. The smooth edamame and warm mushroom salad definitely stole the show. I'm always impressed when a chef picks one ingredient and keeps it simple while simultaneously making it shine. Both those dishes did just that. The smooth edamame was a purée served with a rice crackling and a hint of lime and I was completely blown away. It was an entirely new way to experience a familiar vegetable. The salad consisted of maitake with avocado, chèvre and fresno chiles. Phenomenal. Sitting at the pass and talking with the kitchen led us to discover that it was the chef's favorite dish as well. You truly can taste the passion through the food.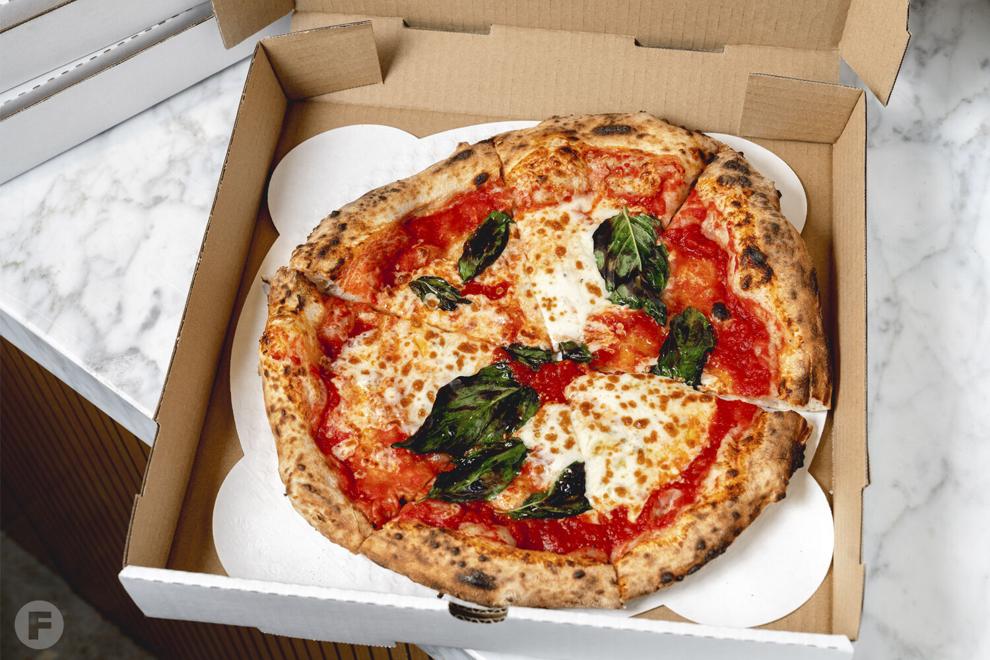 What's your favorite food memory? Hot dog nachos. This one's sentimental for me. My fiancé works in the industry too, and when you both get your ass kicked all weekend, you probably don't want to go to the store, and you probably don't have the energy to cook. So sometimes (as in, on more than one occasion), you have nachos for dinner. And sometimes, the only protein in the fridge is a pack of hot dogs. Now, we do make some extraordinary meals at home: top notch ingredients, busting out the cookbooks we've read but haven't had the time to experiment with yet (just sharpened my favorite knife). But these hot dog nachos were sensational. I mean, we were still telling our coworkers about them later that week. That's the thing about food – it nourishes us. It brings people together. It doesn't have to be something as significant as a wedding or a funeral or a birthday. It can be hot dog nachos at home with your partner on your day off, and that means the world to you.
Where's your favorite place to grab a drink and what do you order? Without a doubt, it's Lazy Tiger! I used to go for something super boozy (I call it the Menzar) – just mezcal and Cynar [an Italian bitter apéritif that's made from 13 herbs and plants], neat. It totally hit the spot after a busy shift in the kitchen. This year, I haven't been drinking alcohol, and there don't seem to be many alcohol-free options if you still want to go out and socialize. Fortunately, David Greteman has been making hydrosols [a substance created by distilling plant materials such as fruits, leaves, flowers and stems in water] over at Lazy Tiger, which has totally changed the game for NA drinks. I think it's an amazing gesture of hospitality to make sure there are a range of options for every guest's individual needs. It's incredible [to see] someone taking the time to distill their own ingredients in order to come up with all sorts of flavor profiles [for] NA beverages. Whether you drink alcohol or not, Lazy Tiger has a next-level selection to get acquainted with.
What ingredients do you think everyone should keep at home and why? Citrus! If you're making a protein, it's gonna need citrus. If you're making a drink, it should have citrus. If you want a sauce to go with your meal, it needs citrus. Having a salad? Put citrus in it. It's extremely versatile. Zest it, juice it, supreme it; just make sure your dish really pops.
What's your most controversial food or drink opinion? I really don't enjoy peanut butter or peanuts in general. Some people have given me grief about it, but I just think there are so many other delicious and nuanced nuts out there. I don't think peanuts are really doing anything interesting.
I have two controversial drink opinions that consistently seem to ruffle some feathers. One, I will not drink water unless it's room temperature. I absolutely can't stand ice. It drives me crazy when I go out to eat and there are pitchers of ice water being served. Two, milk is under-appreciated. Personally, I drink multiple cups of milk (or cream) every single day. If you can, you should. It's delicious.
Fordo's Killer Pizza, 3730 Foundry Way, Midtown, St. Louis, Missouri, fordospizza.com