Teresa Floyd

Salty, sweet, crunchy and chewy aptly describe these giant chocolate chip cookies. Studded with buttery walnuts and loads of dark chocolate, the secret ingredient to their perfectly salty-sweet balance is the addition of white miso. An overnight rest in the refrigerator is required to allow the miso's savoriness to mellow and the dough to evenly hydrate, which helps the final cookie stay super thick and chewy. The end result is one with depth and balance that makes this show-stopping cookie entirely irresistible.
Miso Chocolate Chip Walnut Cookies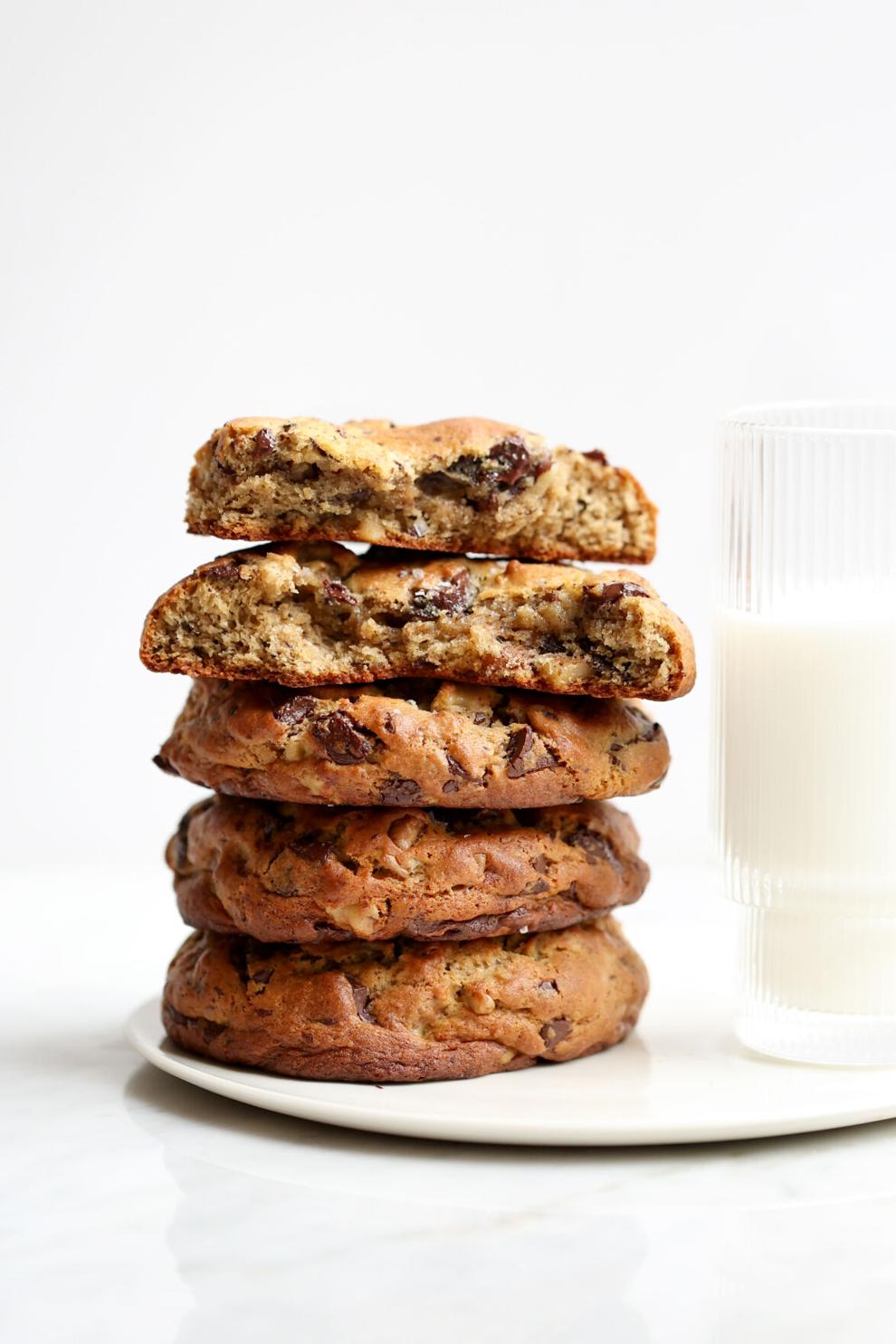 Yields | 8 extra-large cookies |
½ cup (1 stick) unsalted butter, room temperature
½ cup packed light brown sugar
½ cup granulated sugar
2 large eggs
1 Tbsp vanilla extract
2 Tbsp white miso
2¼ cups all-purpose flour
1 tsp baking soda
1¾ tsp baking powder
1½ tsp kosher salt
1½ cups walnuts, chopped
2½ cups (420g) 60% bittersweet chocolate fèves, discs, chips or chocolate bars, chopped
flaky sea salt for finishing
| Preparation | In a bowl, whisk together the flour, baking soda, baking powder and salt. Set aside.
In the bowl of a stand mixer fitted with the paddle attachment, beat the butter and sugars until light and fluffy, 8 minutes, stopping halfway through to scrape down the sides of the bowl. Add the eggs one at a time, allowing each to incorporate fully before adding the next. Add the vanilla and miso; mix until combined. Stop and scrape down the sides and bottom of the bowl to fully incorporate. On low, add the flour mixture and mix until combined. Add the walnuts and chopped chocolate and mix just until combined.
Using your hands, divide the dough into 8 equal large round ball-shaped portions, about 6-ounces each; the dough will be sticky. Place each dough ball onto a parchment-lined baking sheet and cover tightly with plastic wrap or aluminum foil. Transfer to the refrigerator to chill overnight, at least 12 hours.
Preheat oven to 350°F. Line a large baking sheet with parchment paper.
Transfer half of the dough balls onto the prepared baking sheet, spacing several inches apart to allow the large cookies to spread, and press the tops down lightly. Bake cookies for 22-23 minutes, until lightly golden brown on top and puffed. Remove from the oven and lightly sprinkle cookies with flaky sea salt, then set on a wire rack to cool. Repeat with remaining dough balls. Cookies are best enjoyed the day they're baked, but leftovers may be stored at room temperature in an airtight container for up to two days.