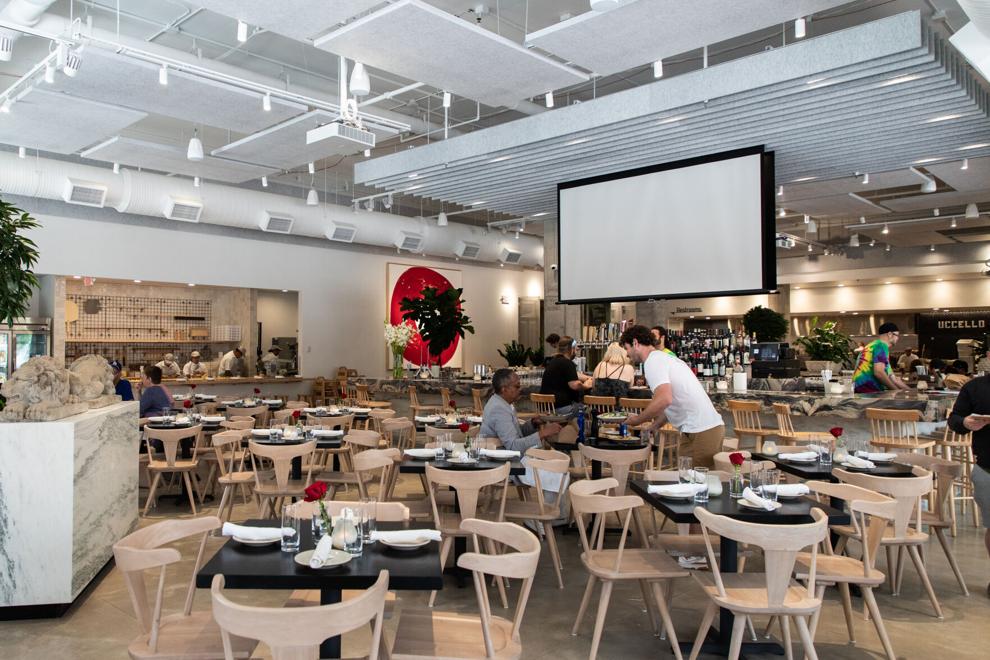 It's hard to imagine a restaurant with a broader appeal than Katie's Pizza & Pasta Osteria. From the original Clayton Road location to the current Rock Hill and Town & Country restaurants, every iteration of Katie's has been a space where all are welcome. At any given time, families stopping by on the way home from soccer practice sit side by side with first dates in a space that deftly accommodates both. The Ballpark Village location in downtown St. Louis is no exception, effortlessly blending high-end dining with casual fare. "That's always been our thing. That's why the uniform is tie dye. It's all beautiful food, but you can come in and get a pizza and a beer with your kids, or come in and get a four-course meal," Katie Lee Collier says.
The colossal 10,000-square-foot space adjacent to the Live! by Loew's hotel can seat nearly 400 guests, including 100 on the patio alone, which looks out over the green space central to BPV. Twinkle lights glisten under a cool white awning that keeps guests in full shade as they linger. A wall of windows works double duty, bathing the interior with soft sunlight while visually joining the indoor and outdoor spaces.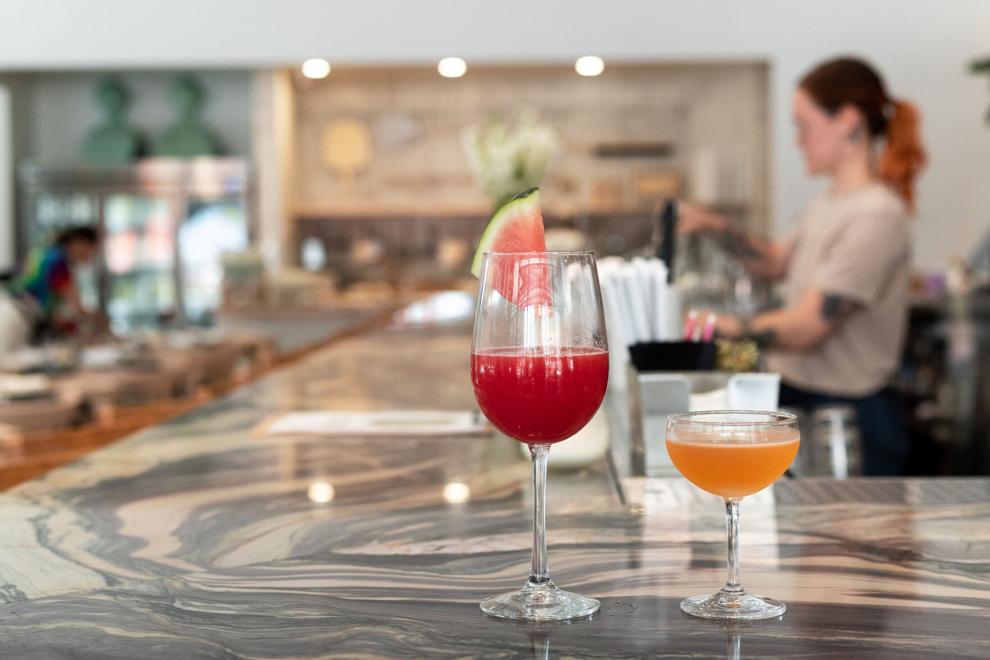 The interior is nothing short of magnificent, a symphony of texture and light, grounded in marble and stone but still light as air. There is a strength to the innately feminine design, which translates Roman ruins into modern environs, with matte gray stone columns and a marble bar that matches the signature pink and green veining of the marble of the Duomo in Florence. Every detail matters here, with delightful touches everywhere you look. Art and artistry abound, but not because of a designer's renderings; art is in the blood of this family – and it is a family – and the details have a history. The space, for all its grandeur, is intensely personal.
Katie Lee Collier founded Katie's Pizza & Pasta Osteria in 2008 with her father, Tom Lee, and her best friend, Rolando Colon. Lee was an architectural salvage picker in downtown St. Louis and amassed a huge collection of unique and historic St. Louis artifacts. Colon, a former professional baseball player in Cuba, was the brightest light in Collier's universe and a constant source of encouragement. Both Lee and Colon were huge Cardinals fans, and sadly Collier lost the two of them during the pandemic.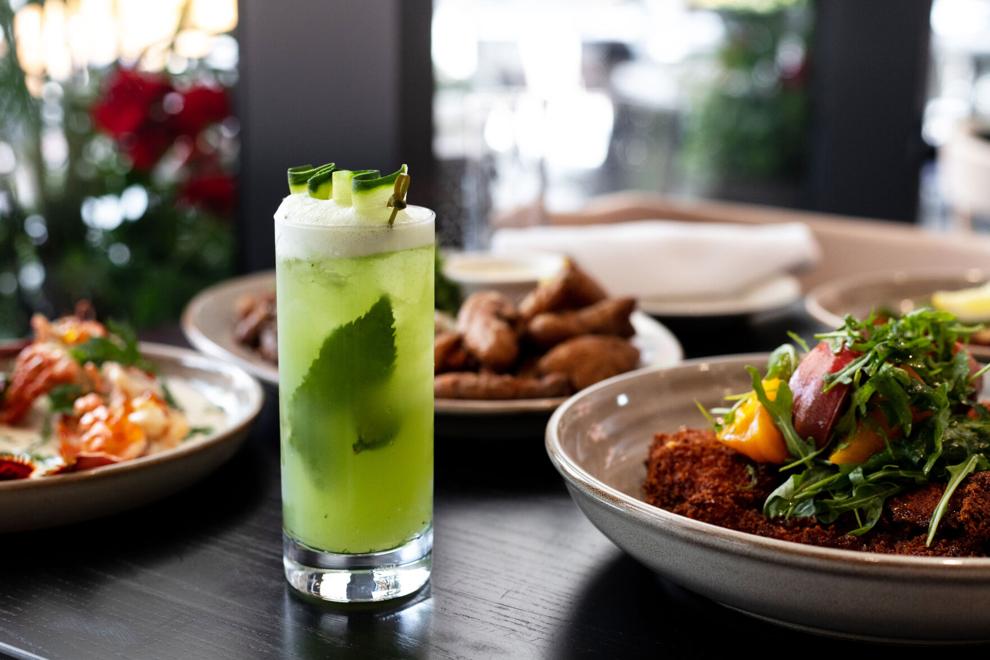 The opportunity to build the Ballpark Village space came during that time as well, which gave Collier a way to move forward through her grief. She calls the space a love letter to her father and friend, and walking through the space, you can't help but feel their joint presence within it. Details like oversized stone artichokes and the two stone lions overlooking the front (both Lee and Colon were Leos) are from Lee's collection, carefully curated to accent the space. New work from Collier's mother, master painter Belinda Lee, hangs near the front, including blown-up maps of ancient Italy created with the same pigments found in the Vatican's map room. Guests will also recognize work from co-owner and renowned artist Ted Collier; in Cardinal red and St. Louis blue, the pieces are a masterful balance of texture and color so bold they nearly vibrate. In the corner, art from Cardinals owner Bill DeWit III – also a painter – hangs over the VIP booth.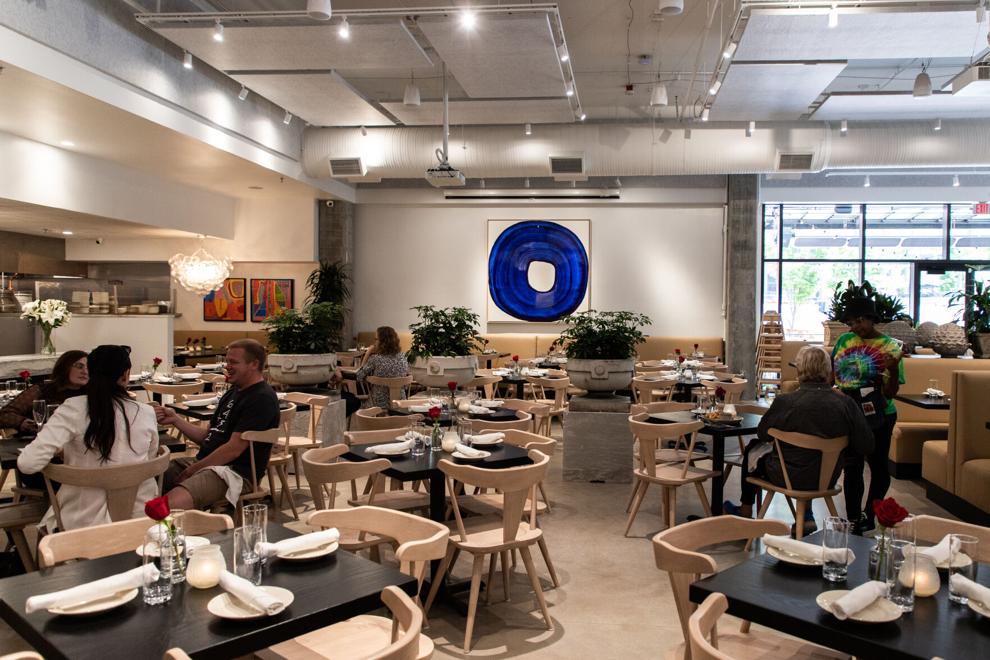 The entrance is grounded by a custom terrazzo family crest created by Cartel Design Studio, which took a full two weeks to compete and includes symbols like wheat, artichokes and a cardinal. The whole affair is housed in a peace sign, an ode to "all these amazing hippies in our lives," Collier says. To the left of the entrance is the charcuterie deli, one of several new elements exclusive to the BPV location. The area is also home to a takeout window, where visitors can walk up and order personal pizzas and charcuterie boxes. Boxes come with a choice of three or five cheeses and meats from the deli, alongside mostarda and other accompaniments. All boxes come with Katie's signature pizza bread.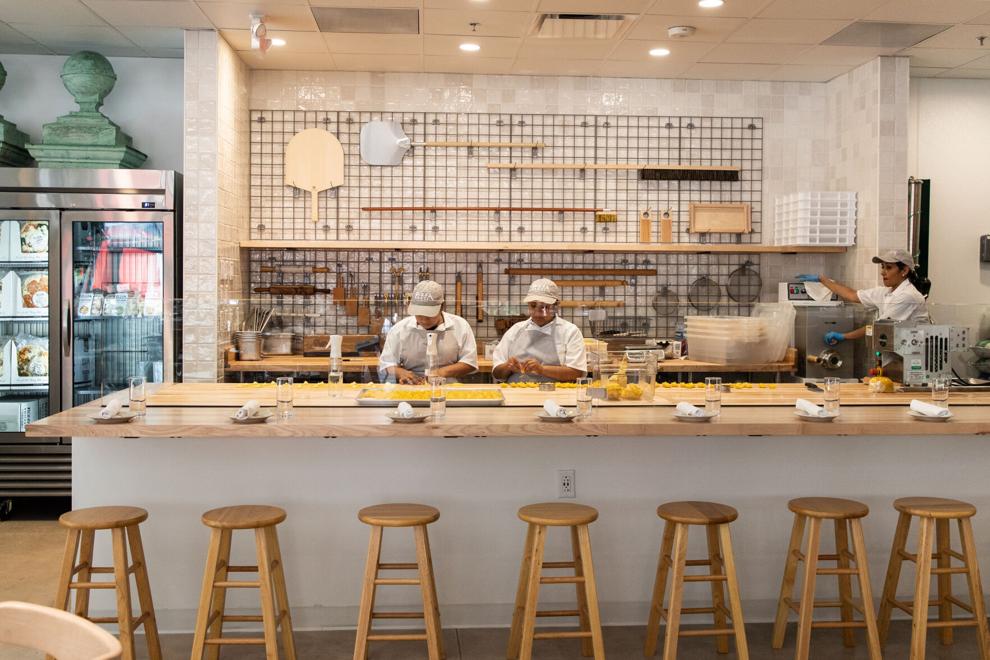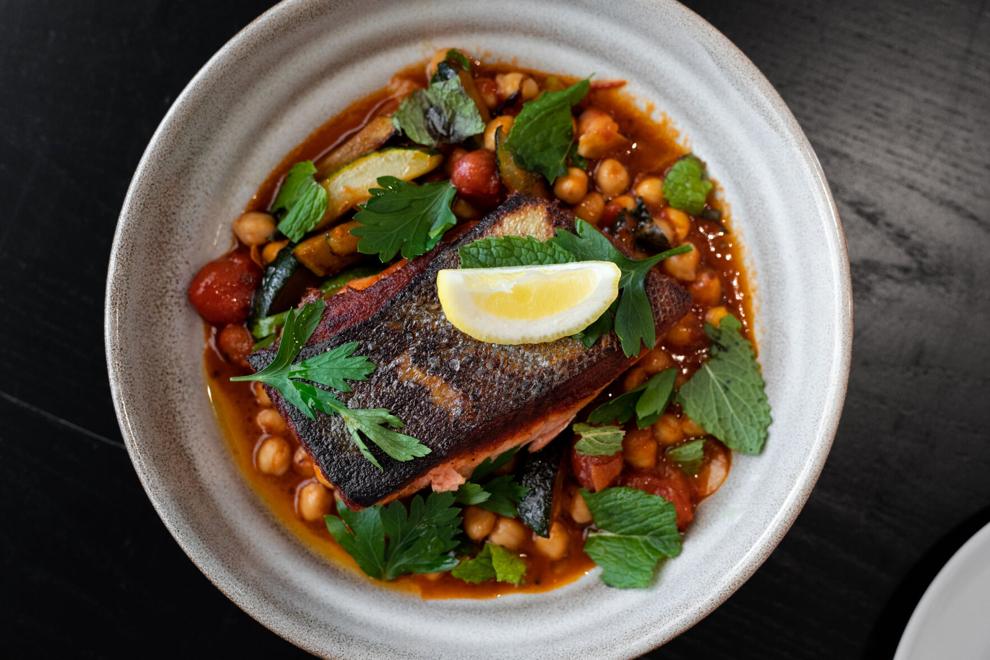 The pasta room sits adjacent to the charcuterie deli, and serves as the new home for all pasta production for the brand. "We've always made our own pasta, but we couldn't make it all in our restaurants because they were too tiny," Collier says. Previously, pasta production was done out of a commissary, but the BPV location allowed Collier to shift production into a space where guests could be a part of the process. If one is free, grab a table that overlooks the work station. "It's the most beautiful art form, and no one gets to see this. It's meditative, and when you do it – when I get lucky enough to sit there and do it with them – you come out of it really refreshed."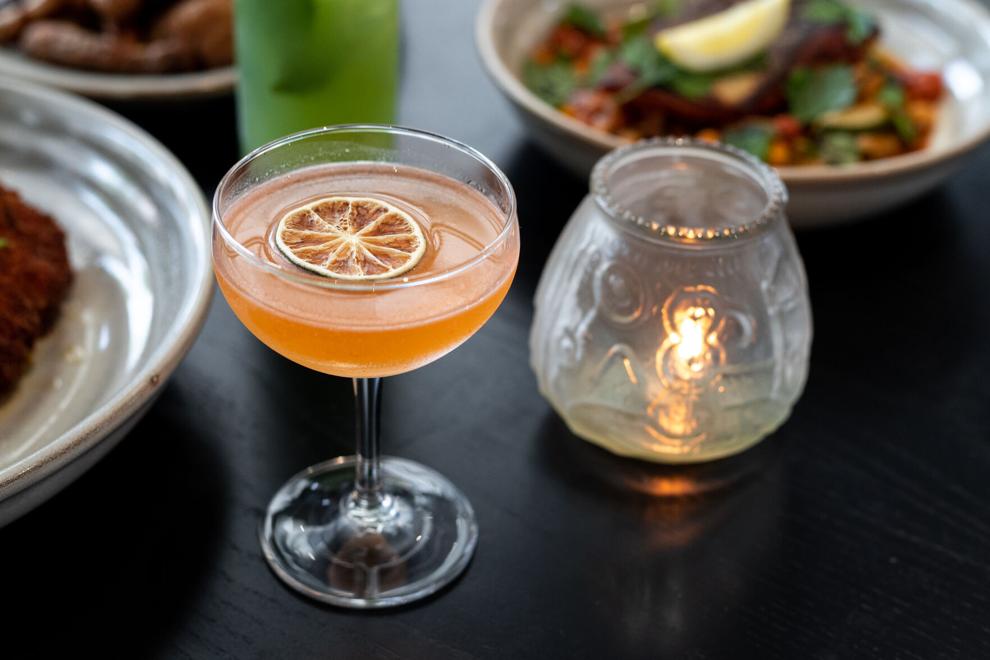 The centerpiece of the space is undoubtedly the bar, which seats 40 and divides the space neatly in half; it's one of many elements that makes the enormous space feel intimate and cozy. Known for showing classic films on the wall at the other two locations, the BPV location takes it a step further, with front- and back-facing screens to livestream games via a direct link from the stadium. The restaurant also houses an event space tucked off to the side – with seating for 65, plus its own small bar and AV projector – that's separated from the main area by "spirit doors" designed by Josh Smith.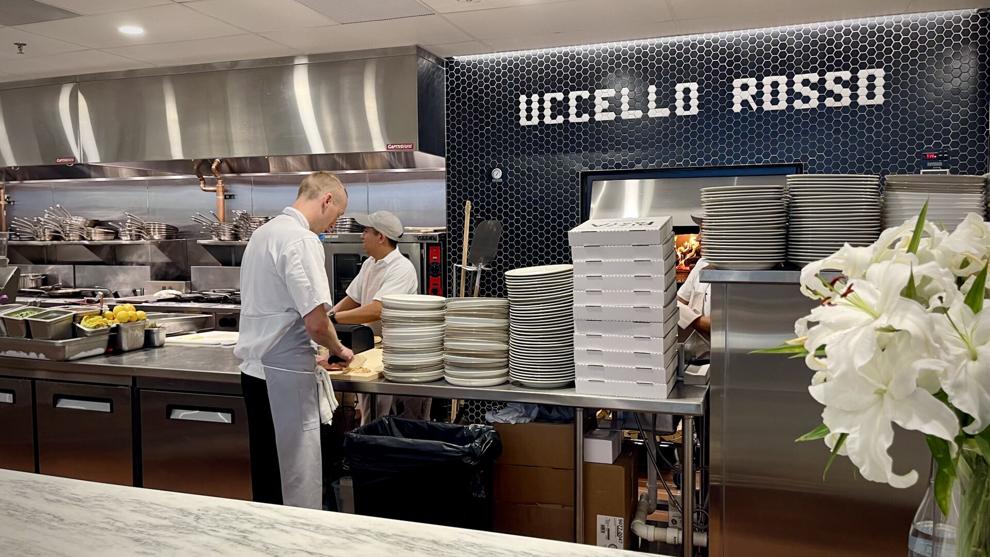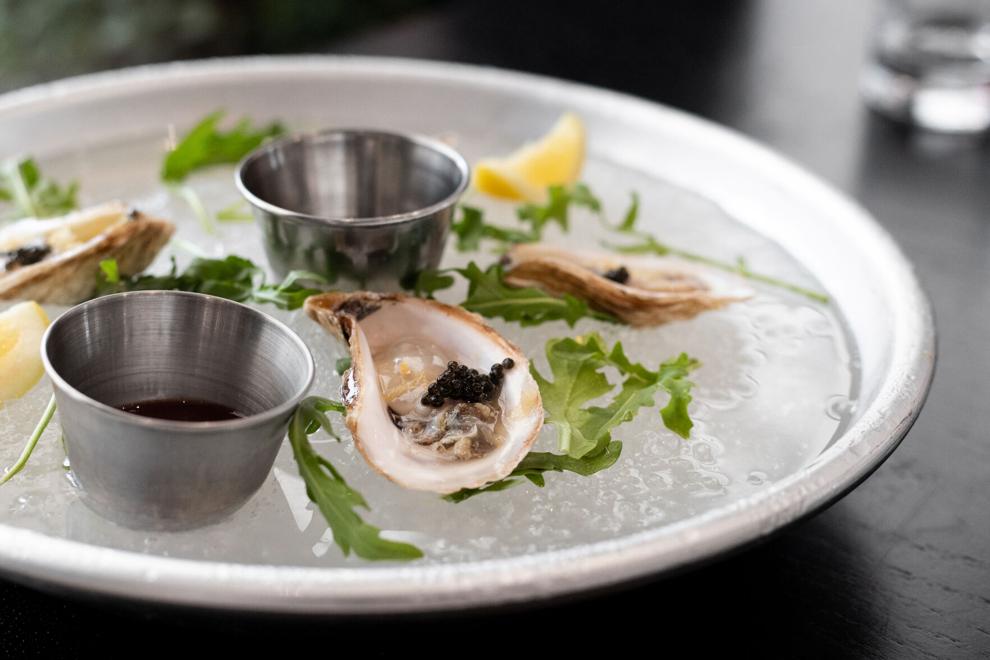 The kitchen is center stage, with all-black tile and a warm glow coming from the Japanese wood-fired oven named Uccello Rosso, Italian for "red bird." Amidst stacks of white tableware and pizza boxes is Jake Sanderson, a 10-year employee of Katie's Pizza and co-executive chef of the restaurant. He works methodically, purposefully maneuvering between dishes, guiding staff and adding finishing touches with zen-like calm.
And the dishes coming out of this kitchen are as stunning as the kitchen itself. The menu for Ballpark Village location includes all the favorites and seasonal specials longtime customers have loved since the beginning, from the burrata to the fried artichoke salad. Here, Collier goes even further with entrées that breathe new life into the best of old-world, New York steakhouse fare. The Aragosta al Fumetto Bianco, or Lobster Thermidor, is a classic not often seen in St. Louis, a stunning plate of perfectly cooked lobster, dotted with tarragon oil and salmon roe that bursts at the slightest pressure.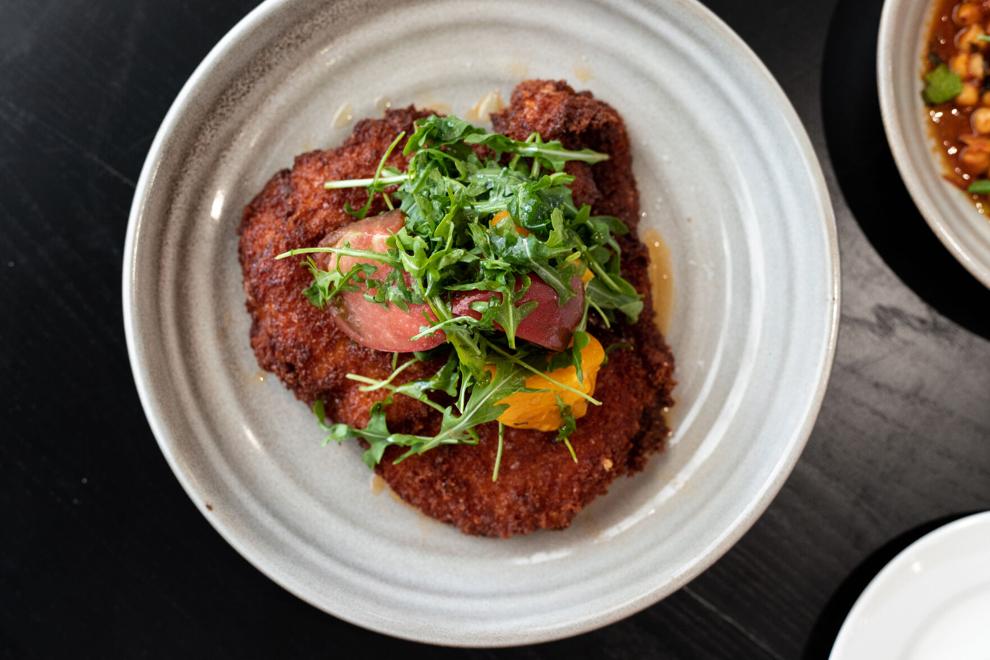 The Parmigiana di Pollo is masterful, crusted in panko and Parmesan, filled with creamy fontina and prosciutto di Parma and set off by a spicy Calabrian chile bomba sauce. This 16-ounce beauty is then drizzled with honey and topped with fresh tomato and arugula salad. The Ora King Salmon is luscious, with shatteringly crispy skin set atop minted chickpeas and summer vegetables, and the 24-ounce rib-eye is artfully prepared and decadent, a classic set alongside fried fingerling potatoes and a taleggio fonduta.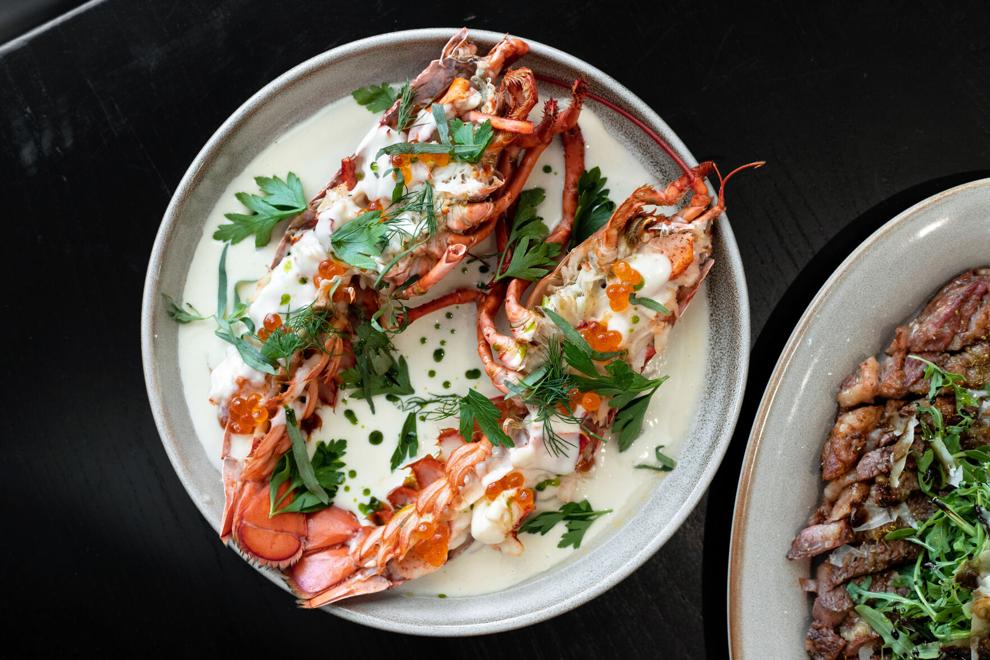 The menu also has a selection of local craft beers both canned and on tap, and an extensive wine list – by the glass or bottle – designed to pair with every offering on the menu. The cocktail program is seasonal and voluminous, with options perfect for lunch, dinner or happy hour. The Ruby Red Rosemary Spritz is a treat, herbaceous and tart, with a pop from Prosecco, and the Mint Condition is summer sipping at its finest – a bubbly, refreshing mix of cucumber and lime with a white rum backbone. The NA options are thoughtful, ranging from classic Italian sodas and a trio of kombucha flavors to crafted cocktails like Acceptance is the Key, a sweet-tart pineapple, honey and lime concoction finished with Tajín.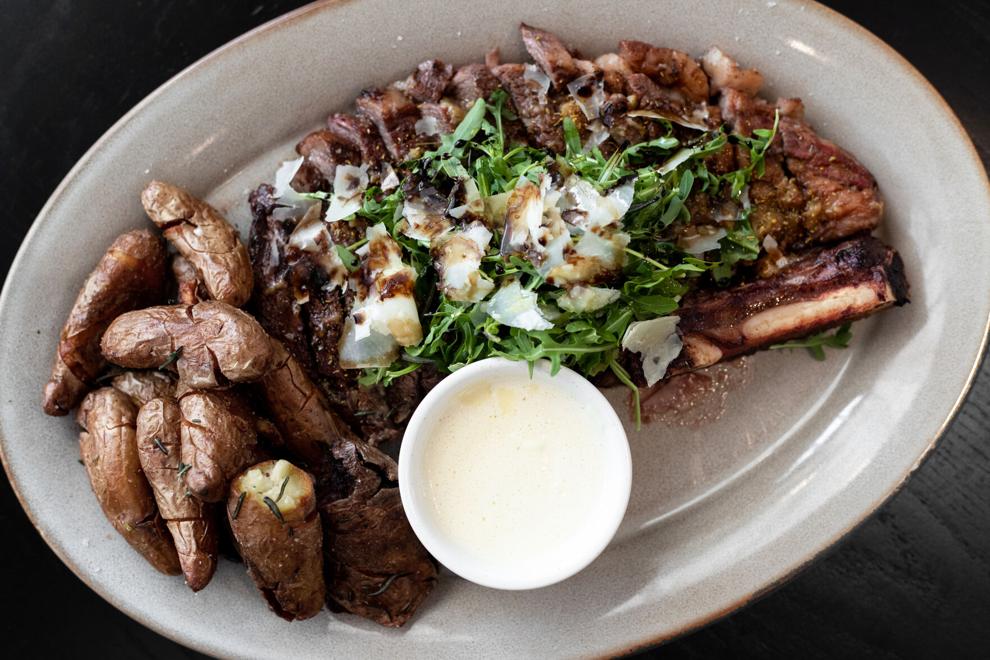 The end result is a swanky, modern Italian restaurant, built for anyone and everyone, with family-style dishes designed for sharing. At Katie's the goal is to eat like family, because here, the staff is one. Sanderson has been here a decade, staging all over the globe to hone his craft. Hayley AuBuchon has been with Collier since the beginning; she started working as a hostess at the Clayton location and now serves as the bar program manager for all locations, spinning fresh ingredients into an inspired cocktail menu that rotates twice yearly.
Then there's Justin Giardinelli – five-year veteran and regional manager for all locations – and Collier's brother Johnny Lee, who recently graduated USC with a master's in human resources, specifically to assist Collier with the brand. The team has seen each other through thick and thin, including a pandemic where Collier famously pivoted her business model in under 24 hours to keep her entire team employed. As much of a struggle as it was, the time brought the group together. "You're bonded for life; you absolutely are. And you feel like you can accomplish more than you knew you could because you were pushed to that limit," Collier says. She feels like this has been the easiest restaurant to open, which she credits to the dynamics of her team. "We're just in this groove, and we're all so connected that we can be honest with each other. We communicate really well, and those two things can get you pretty far."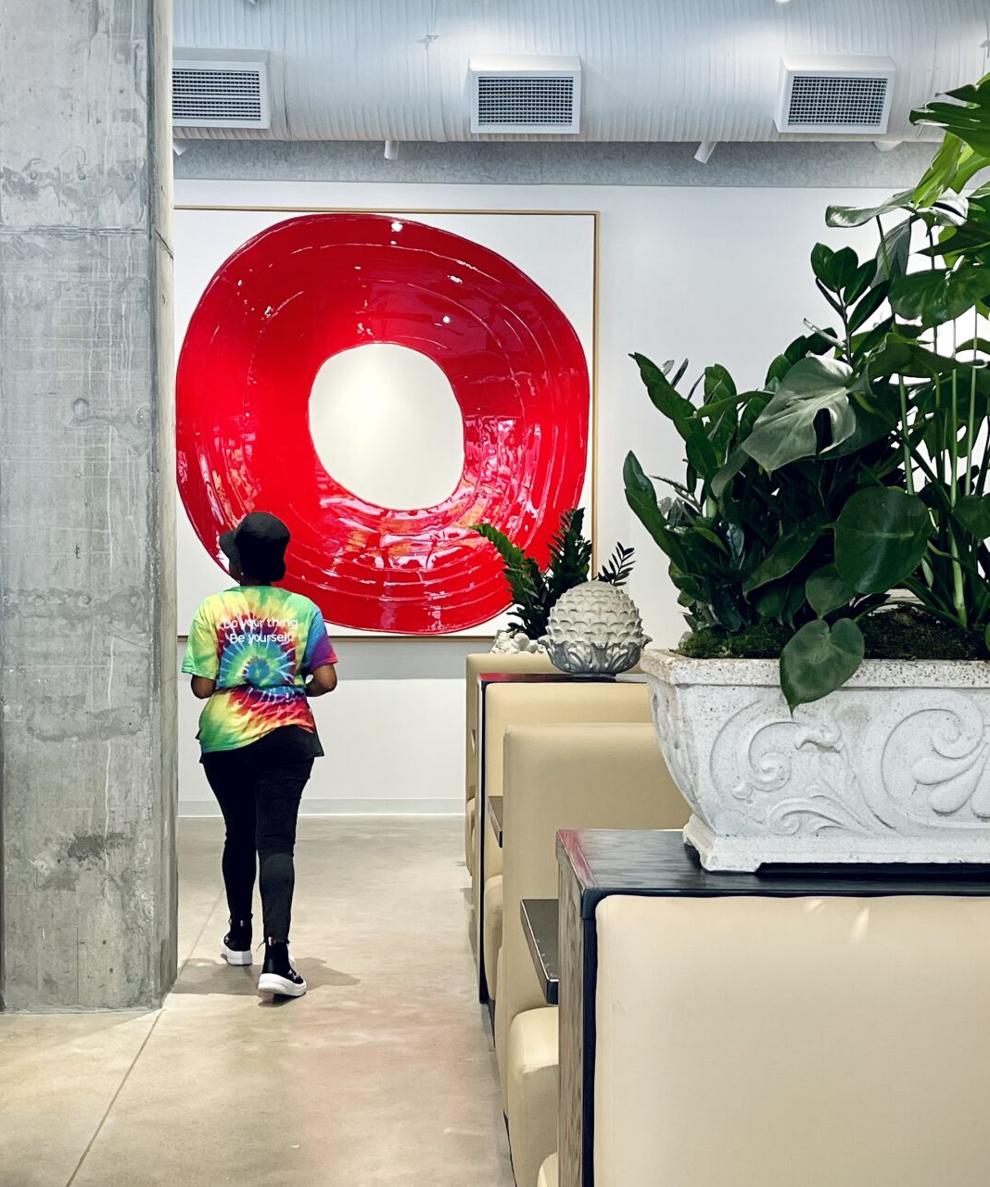 And now, in this new space, they are family, and Collier has arrived at this moment in time fully aware of her talent, unencumbered and confident. Her dad is here too in spirit: She jokes that when she started, she would try too hard to plate, overworking things, making them too precious. Her dad put a stop to that. Dishes exit the kitchen now with sumptuousness and body, which she says is all her dad's doing. "That's my dad. When we first opened, I would plate things, and he would look at them and tell me to fill the fucking plate," she says. "He would say people in St. Louis want to eat, and he loved color, and he wasn't a chef but he was so smart. He would tell me we needed color and we need fresh and big." Collier has taken that to heart, with each and every dish at all three locations confidently colorful and full of big flavor to match. No longer trying to chase trends, Katie Lee Collier's mantra, from her father, is "Do your thing. Be yourself." And now, that belief is embodied in every detail of her Ballpark Village location.
Katie's Pizza & Pasta Osteria Ballpark Village, 751 Clark Ave., Downtown, St. Louis, Missouri, katiespizzaandpasta.com