The new season of "Project Fire," which begins at 11:30 a.m. April 16 on KETC (Nine PBS), was filmed entirely in St. Louis. Last November, we visited the set during production. Here is our story, which originally was published Nov. 11, 2021.
On a chilly day outside Union Station last week, Steven Raichlen prepared a meal of grilled branzino for the benefit of television cameras and, eventually, millions of viewers.
He stuffed the cavities of two branzinos — a mild-flavored fish from the Mediterranean Sea — with slices of lemon and fronds of fennel. And then he tried to close the cavities with a toothpick.
The toothpick broke. And so did the next one.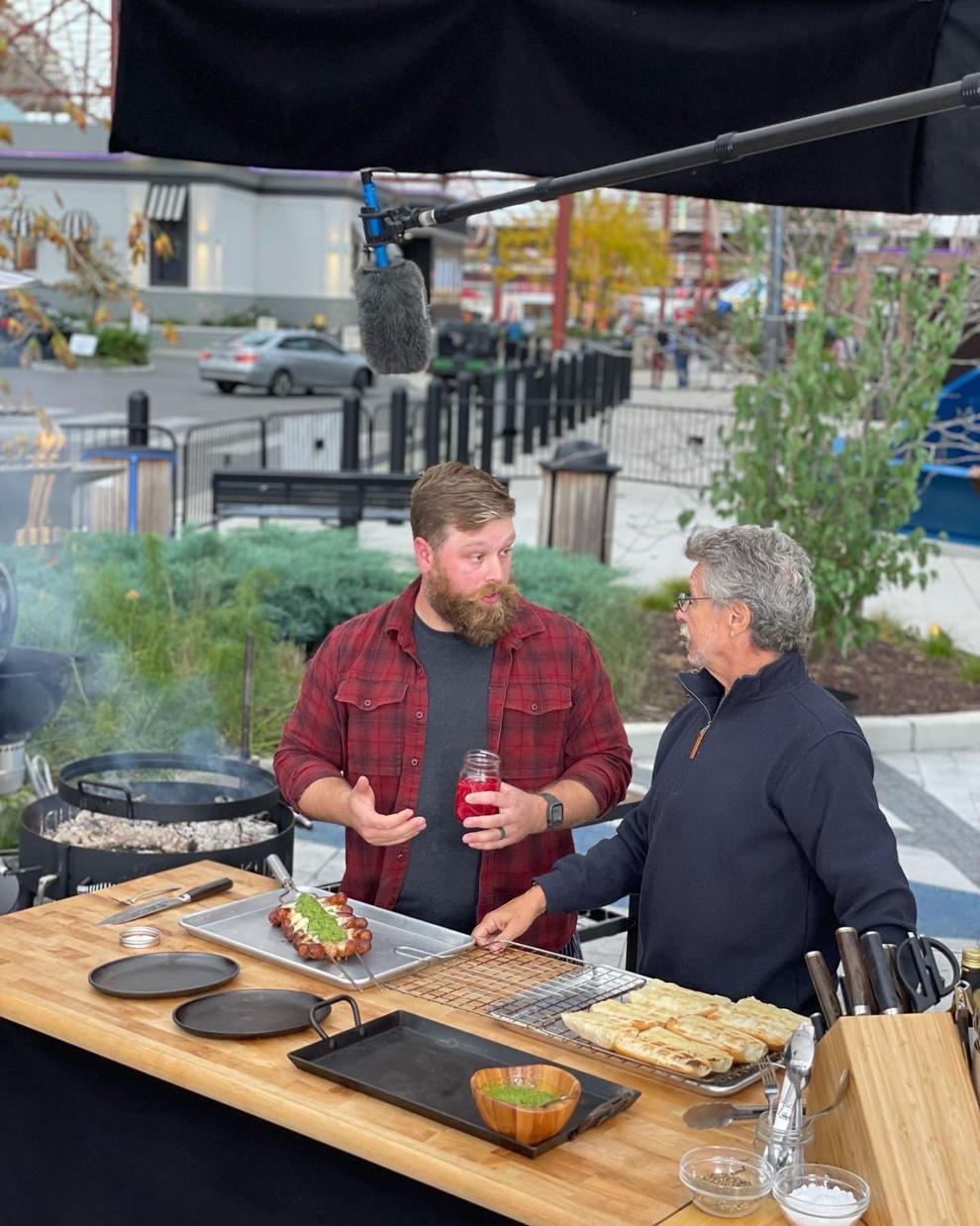 For many people, Raichlen is the country's go-to expert on grilling and smoking foods. His wildly popular cookbooks have won five James Beard Awards. He has also brought his grilling expertise to a host of TV shows, including the current public television hit "Project Fire."
It was "Project Fire" that brought Raichlen to St. Louis. For two weeks, he brought a crew to the Union Station set to film all 13 episodes of the show's fourth season here. New episodes will air on PBS stations starting in April. 
"All of my previous shows have been done in rural settings — pastoral, sylvan. We always try to change things up," Raichlen said, which is why an urban background was chosen for this season's shows.
The move was not without its challenges. Executive producer Frank Batavick said the sound of trucks and other vehicles could be so loud that shooting was sometimes paused until it became quieter. Helicopters overhead would cause brief delays, and once production was shut down completely while workers at Union Station used impact wrenches to install a Christmas display.
Once the set was quiet, or as quiet as it was going to get, Raichlen continued with his recipe. He took a slice of fennel bulb, dipped it in olive oil and rubbed it across the grates of a hot grill. He placed fennel fronds on top of the grates and placed the fish on top of the fronds.
He closed the cover to the grill, creating — as he told the camera — a hybrid of direct and indirect cooking. The fish and fennel were directly over the coals, but the closed cover ensured that the food would be heated from all sides. Meanwhile, when the fennel started smoking, it would add an extra layer of flavor to the fish.
An exquisite aroma of smoke, fennel and fish wafted over the crew.
"As both a production person and a food lover, this is great," said COVID compliance officer Bob Singleton.
Singleton, known on the set as COVID Bob, is one of the handful of crew members hired for the job from the St. Louis area. A production assistant and a couple of young chefs from the culinary arts program at St. Louis Community College are also from here.
The rest of the crew of about 20 came from Maryland — the show is produced by Maryland Public Television — and California and points in between. Along with the usual jobs on a TV production crew, this group also included some specialists involved in preparing and cooking the food.
And because it is a grilling show, one man on the set was the fire wrangler; his job was to look after the grills, the hot coals and the fire and to make sure everything was safe.
"It's a dangerous job," Batavick said.
Some parts of the episode were shot twice, Batavick said, for the benefit of the corporate underwriters. Because the show airs on public television, specific brands aren't named.
But the companies that help finance the show expect something for their money. So the crew shoots portions of the episode again, this time with Raichlen using product brand names. The production company gives those clips to the companies, which can post them online.
One product being used last week was a grill that is made in France. For the clip made for that company, Raichlen spoke in French. He has been the host of several grilling shows in France and also one in Italy. His bachelor's degree is in French literature, and he trained at Le Cordon Bleu and other cooking schools in Paris.
Raichlen, who lives in Baltimore, first came to St. Louis 21 years ago when he was researching his book "BBQ USA."
"To be honest with you, there was no barbecue here," he said.
And when he went to restaurants that touted their barbecue, he was disappointed to see and taste that they had cooked it in an oven, not a smoker.
"Pappy's (Smokehouse) launched a real barbecue renaissance," he said.
The midtown restaurant opened in 2008, and a host of other smoker-based barbecue joints soon followed.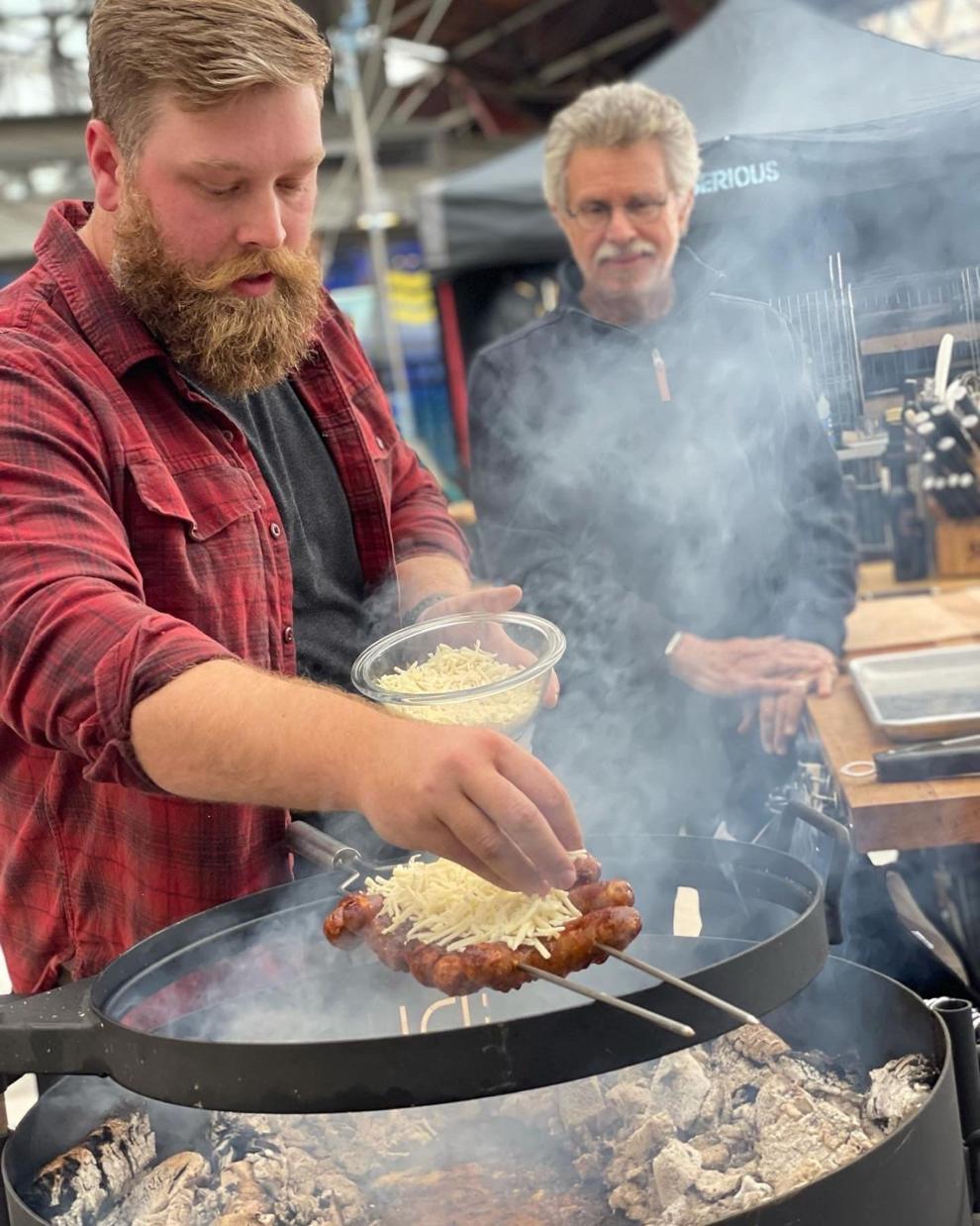 Raichlen brought Pappy's co-founder and co-owner John Matthews on as a guest chef in one episode. Loryn and Edo Nalic from Balkan Treat Box also stopped by for an episode, as did Dave Sandusky from Beast Craft BBQ and Russel Cunningham, executive chef at St. Louis Union Station Hotel.
Because of the location, the show also featured St. Louis specialties this season. St. Louis-style ribs got their turn in the smoker, and Raichlen made something no one else would have the courage to try: He cooked toasted ravioli on a wood-burning grill.
"If it tastes good baked, fried or sautéed, it tastes better grilled," he said.
Cooked on a grill, whole, stuffed branzino take about 30 minutes to be done. Raichlen called for the spare branzinos to be brought in to speed along the production.
On a grill at the back of the set, field chef Chris Lynch cooked duplicates of the dishes that Raichlen was preparing in front of the cameras. Lynch's beautifully grilled stuffed branzinos were swapped in to save time.
Using a portable burner, Raichlen heated a small pot of Pernod, an anise-flavored spirit from France. He ignited it with a lighter and slowly poured the flaming liquid over the fish.
"And that, my friends, is how they serve grilled Branzino in the south of France," he said to the camera.
Then, with the cameras off, he turned to the crew.
"How's that look? Pretty amazing, right?" he said.