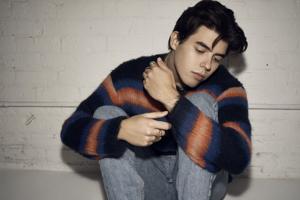 Jae-Ha Kim, Tribune Content Agency
Braeden De La Garza said his latest acting role was a fun challenge. "'The Quest' is an immersive (Disney+) fantasy series based around the fictional world of Everealm," said the 21-year-old Los Angeles-based actor. "Eight teens are summoned by the Fates as a last resort to save the kingdom. I play Prince Emmett – a brainy and quiet prince who values his own intelligence above all else." De La Garza – who is the cousin of the actor and singer Demi Lovato – stays in touch with his fans on Twitter (https://twitter.com/BraedenDLGarza) and Instagram (https://www.instagram.com/braedendlgarza/).Q: Where are some of the places you have filmed on location?A: For "The Quest," we filmed in a castle in Calistoga, California! I've also shot things all over Texas, Arkansas and Vancouver.Q: You've been an advocate for suicide prevention among the LGBTQ+ community for a while. How did you get involved with the Trevor Project?
People are also reading…
Messenger: Daughter wants justice for dad's arrest at BJC while he was a kidney patient
Softball team to honor Parkway West student killed in boating accident
Video: Hazelwood police chief was 'hammered drunk' during stop, driven home by another chief
Nurse, paramedic stabbed at SSM Health DePaul Hospital in Bridgeton
St. Louis-area teen swimming in Table Rock Lake hit, killed by pontoon boat
Fed-up Missouri caregivers walk away from disabled client, leaving mother, sheriff's deputy scrambling
Children left alone for hours with dead mother after she overdosed in St. Charles
After hospital stabbing, SSM DePaul nurses say they've long called for better security
Nolan Arenado says test vs. top teams underscores Cardinals 'needs'
St. Louis family in turmoil, divided after fatal crash involving 13-year-old driver
Ivana Trump, first wife of former president, dies at 73
How plucky Packy Naughton dodged LA magic, conjured outs in Cardinals' breathtaking win
Hochman: Matt Carpenter, 'always a Cardinal to us,' turns ex-teammates into Yankees fans
Hochman: Assessing the state of the Cardinals after a particularly worrisome week
Hummel: The Cardinals almost certainly will make a move before the deadline
A: Living in a pretty socially conservative part of Texas for most of my life, I was surrounded by a lot of prejudice against the LGBTQ+ community. And because of that, I wanted to do what I could to support them.Q: This pandemic has made everyone think differently about how we spend our vacation time. What have you been up to?A: I've become a big hiker during the pandemic. I walk everywhere. My favorite hike is probably Fryman Canyon in Studio City.Q: If you had to cancel travel plans due to the pandemic, where were they to?A: I had plans to go to Disney World that got shelved. That really sucked.Q: What untapped destination should people know about?A: Whittier, California, is extremely beautiful in the spring.Q: What was the first trip you took as a child? And did you love it … or not so much?A: The first trip I can remember taking is to Estes Park, Colorado. I loved it!Q: What is your favorite vacation destination?A: Disney World. My recommendation would be to get up early every day that you're there and make sure you ride every ride you can. It's worth the loss of sleep.Q: What would be your dream trip?A: Liverpool to see all the historical Beatles sights!Q: What's the most important thing you've learned from your travels?A: Take as many pictures as you can.Q: Where are your favorite weekend getaways?A: I don't take many getaways, but when I do I like to go down to Malibu. So beautiful.Q: What are your five favorite cities?A: Los Angeles, Dallas, Vancouver, Austin and San Francisco, in that order.Q: If you've ever gone away for the holidays, which was the best trip?A: Disney World! I apologize for going back to it constantly but I really am a big fan.Q: Do you speak any foreign languages?A: I don't. I wish I did.Q: Do you have any summer trips planned?Q: Where would you like to go that you have never been to before?Q: When you go away, what are some of your must-have items?A: Sunglasses, baseball cap and my phone charger. Apparently, anything you need to spy on someone.Q: What is your guilty pleasure when you're on the road?A: Honestly, just grabbing a local burger.Q: What kind of research do you do before you go away on a trip?A: Not much. I like to be surprised.Q: What is your best and/or worst vacation memory?A: My favorite vacation ever was Disney World a couple years ago. Something about that place just makes me feel seven years old again. I'll stop talking about it now!(Jae-Ha Kim is a New York Times bestselling author and travel writer. You can respond to this column by visiting her website at www.jaehakim.com. You may also follow "Go Away With…" on Twitter at @GoAwayWithJae where Jae-Ha Kim welcomes your questions and comments.)
Stay up to date on life and culture in St. Louis.