Feast Staff

Considered to be one of the most diverse and vibrant neighborhoods in St. Louis, The Grove has something for everybody. The main strip, Manchester Avenue, is littered with restaurants, bars and more, making it an ideal stretch for a walking food tour or pub crawl. Whether you are craving a craft cocktail, a Middle Eastern kabob served over rice or an upscale modern American dinner, there's something waiting for you.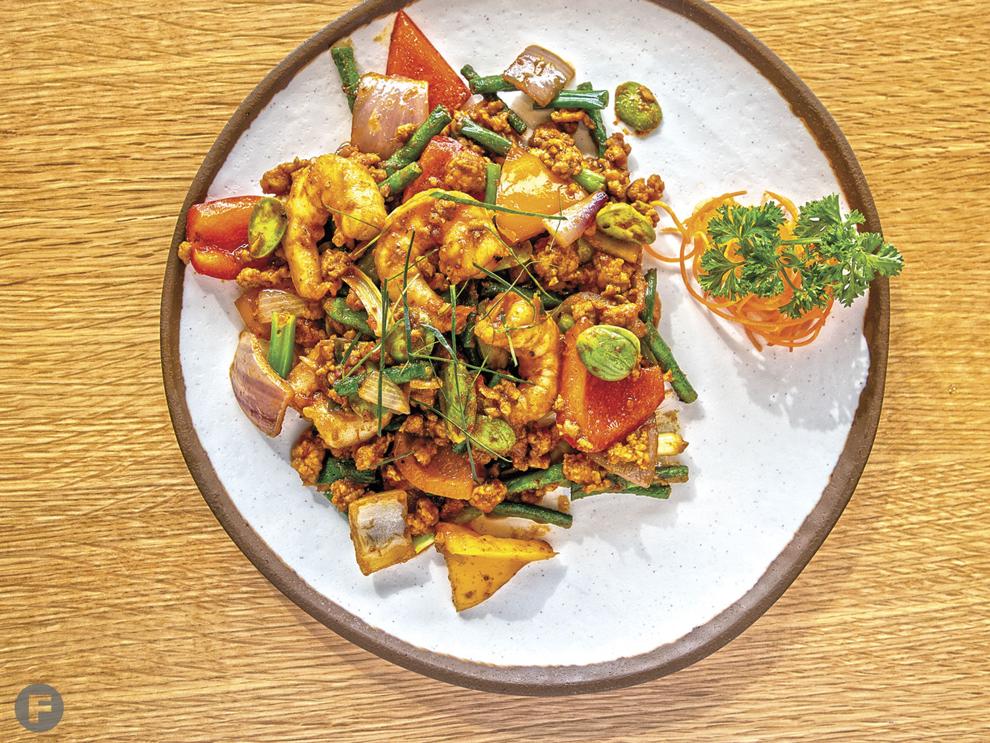 Chao Baan is part of the Prapaisilp family's group of restaurants, which started with St. Louis' first Thai spot: King & I. With a blend of both northern and southern regional Thai dishes, you'll find offerings you may have never heard of before, but the flavors speak for themselves. Try the khao tod nam sod, a deep-fried egg rice cake smashed and mixed with chiles, or the som tum, a fresh shredded papaya salad with tomatoes, garlic, chiles, long bean, dried shrimp and roasted peanuts. 
4087 Chouteau Ave., The Grove, St. Louis, Missouri, 314-925-8250, chaobaanstl.com
This kombucha brewery is the place to be if you want to treat both yourself and your gut. It offers eight flavors of kombucha always on tap and a meat-free menu. This spot prides itself on being inclusive and welcoming, so if you're new to kombucha, its experts are there to help. 
4507 Manchester Ave., Forest Park Southeast, Missouri, 314-833-3059, confluencekombucha.com
Creole with a Splash of Soul
Creole with a Splash of Soul offers high-quality, Creole-inspired dishes from chef-owner Ronda Walker. Appetizers include fried green tomatoes, crab cakes and house wings. For entrées, choose from po'boys, catfish or St. Louis-style gumbo with chicken, shrimp, sauce, rice and spicy creamy Cajun broth. 
4353 Manchester Ave., The Grove, St. Louis, Missouri, 314-349-2566, creolemeetsoul.com
Look for the black and white striped awning to find tasty hot dogs in the grove. Dog On It specializes in next-level dogs; try The Cookout with barbecue sauce, baked beans, coleslaw and potato salad. Another favorite is the Nacho Dog (sour cream, cheese, chunky salsa, jalapeños and crushed tortilla chips). 
4300 Manchester Ave., The Grove, St. Louis, Missouri, 833-563-4466, dogonitstil.square.site
The food companion to Platypus, DuckBill has a small menu that packs a punch. The rotating list of offerings is anchored by Chooch's popcorn chicken with four other rotating items such as hand-cut fries, roasted cauliflower tossed in harissa and crispy tofu. Dip these goodies into your choice of sauce, including Buffalo, sweet chili and agave mustard. 
4501 Manchester Ave., The Grove, St. Louis, Missouri, 314-359-2293, eatduckbill.com
This café, open since 2004, blends Nepalese, Indian and Korean food. Choose from dishes like beef bulgogi, chicken korma, vegetable samosas, chicken momo and chili paneer. With plenty of vegetarian and gluten-free dishes, everyone can find something to enjoy from the diverse menu. 
4145 Manchester Ave., The Grove, St. Louis, Missouri, 314-531-4800, everestinthegrovestl.com
Chef Rick Lewis' fried chicken and barbecue spot has become a staple in The Grove in the years since it opened. Make sure to try the famous fried chicken and stock up on sides, whether you prefer classic crinkle-cut fries, collard greens or mac 'n' cheese. 
4270 Manchester Ave., The Grove, St. Louis, Missouri, 314.-533-2700, stlgrace.com
To newcomers, The Gramophone looks like your typical pub, but it's also the neighborhood's favorite sandwich shop. Enjoy takes on a Cuban or turkey club, or try something outside of the box like the Mississippi Nights Club: turkey, roast beef, bacon, pepper jack cheese, lettuce, tomato, red onion, pepper mayo, spicy red pepper spread and Billy Goat chips all piled on a baguette. Plus, all sandwiches are offered in both half and full sizes and can be made as wraps or salads.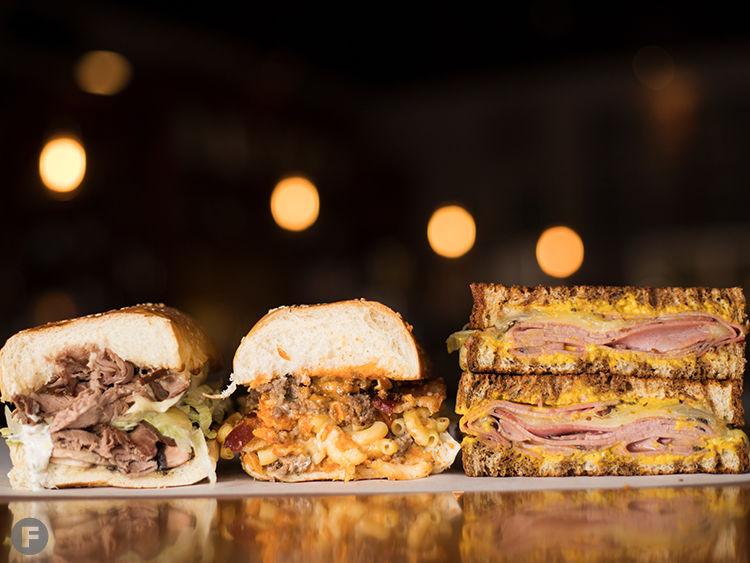 4243 Manchester Ave., The Grove, St. Louis, Missouri, 314-531-5700, gramophonestl.com
Not to be confused with a "biker bar," this bicycle-themed joint offers fun every night of the week with no cover. Stop by for Karaoke Wednesdays, Trivia Thursdays or the DJs that will keep the whole place bumpin' on the weekends. Just wanna kick back with a beer and a snack? Post up in one of the bar's booths and enjoy something from the kitchen like toasted ravioli or pretzels with cheese dip. 
4127 Manchester Ave., The Grove, St. Louis, Missouri, 314-652-2212, handlebarstl.com
This iconic LGBTQ+ nightclub is bound to be a great time whether you're going out for a few drinks or a night full of fun. Feeling hungry? Make sure to pick up some St. Louis-style 'za from the in-house kitchen, TJ's Pizza. Grab an 8-inch small or 12-inch large with toppings like triple cheese, supreme and Buffalo chicken. 
4112 Manchester Ave., The Grove, St. Louis, 314-371-1333, justjohnclub.com
La Finca prides itself on being the first Colombian-style coffeeshop in St. Louis. Try the Café Olla: Mexican-style coffee made with sugar and cinnamon. Other options include fruit smoothies, hot cocoa, tea and frappes. 
4400 Manchester Ave., The Grove., St. Louis, Missouri, 314-925-8588, coffeelafinca.com 
With a wide-ranging menu, Layla is sure to have something for everyone in your family or group. The spot offers creative spins on burgers, like The Reaper (a smash patty topped with gyro meat, Monterey Jack, flash-fried kale, sumac onions, tomato and apricot ketchup on brioche). The other standard at Layla is the shawarma: Choose from traditional, spicy or Greek style. With salads, falafel, hummus and a Beyond Burger on the menu, vegetarians and vegans won't be disappointed either. 
4317 Manchester Ave., The Grove, St. Louis, Missouri, 314-553-9252, laylastl.com
This one-of-a-kind bar doesn't sell drinks; it sells time. Book time online, check in at the door and then drink all that you wish (and can legally handle) during that time. For unlimited beer, pay $25, and for unlimited premium liquor and cocktails, pay $50. Open until 1 a.m., the bar also regularly hosts events and DJ nights. 
4130 Manchester Ave., The Grove, St. Louis, Missouri, 314-356-1286, openconceptstl.com
If you're looking to grab something quick in The Grove, a slice from Pie Guy is always sure to satisfy. The pizza joint specializes in individual slices, but you can also pick up a customizable full pie for your entire brood. And just because it's quick doesn't mean this pizza is subpar; the dough, made of fermented sourdough, is crispy and full of flavor. 
4189 Manchester Ave., The Grove, St. Louis, Missouri, 314-899-0444, pieguystl.com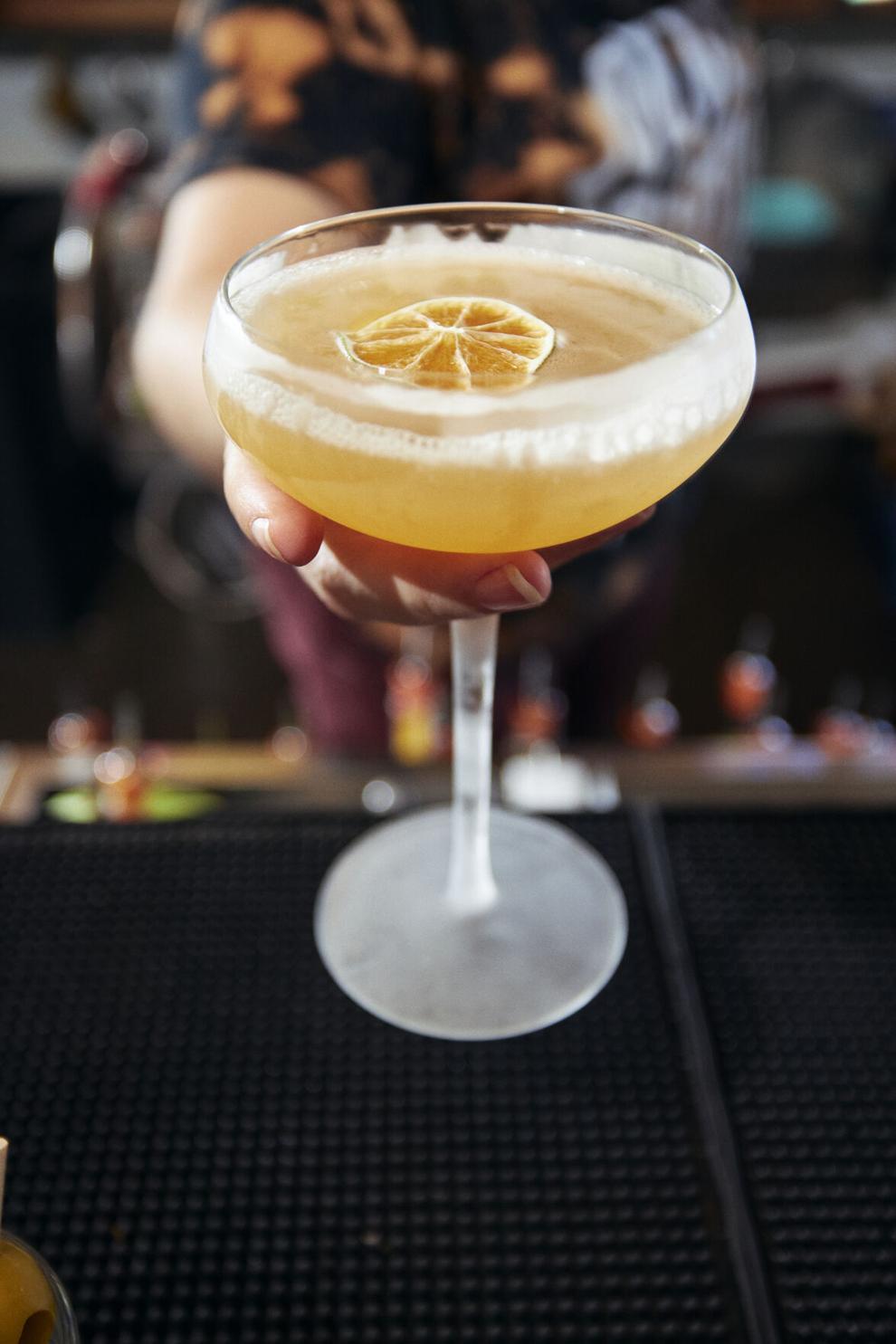 Co-owners Tony Saputo and Meredith Barry want Platypus to be The Grove's neighborhood bar. It features a rotating selection of five cocktails with the goal of training great bartenders. Guests can also find wine and bottles and cans of beer from local breweries, including 4 Hands, Heavy Riff, Perennial and 2nd Shift. The bar also frequently hosts live music from St. Louis artists.
4501 Manchester Ave., The Grove, St. Louis Missouri, 314-448-1622, drinkplatypus.com
Open in the space that formerly housed The Monocle, Prism is a cocktail and drag bar that welcomes the LGBTQ+ community. It features a cocktail lounge, cabaret stage and large outdoor patio. The spot regularly hosts a Sunday drag brunch and other weekly shows. Check its website to reserve a spot in advance. 
4510 Manchester Ave., The Grove, St. Louis, Missouri, 314-256-1898, prismstl.com
This LGBTQ+ bar declares itself as a place where there's no pressure to be anything but yourself. Head here on Friday nights for all-request dance parties, or show up on Saturdays to meet the "Divas of The Grove." But the party isn't just for nighttime; this bar's massive patio is great for hanging out and having a few drinks with friends in a fun atmosphere. 
4054 Chouteau Ave., The Grove, St. Louis, 314-652-3700, rehabstl.com
Rockwell Beer Co. may not be on The Grove's main strip on Manchester, but it's clear why that's not possible when you see its sprawling outdoor patio. If it's a little too hot or cold for your liking, the brewery also has a large interior where you can set up shop and even take a peek at the brewing operations. Pick up four-packs of some staples, like Passing Clouds witbier, or stay for a while with a draft or a glass of natural wine and dig into a burger from Brasswell, the on-site kitchen from Niche Food Group. 
1320 S. Vandeventer Ave., The Grove, St. Louis, Missouri, 314-256-1657, rockwellbeer.com
Established in 2005, Sameem Afghan Restaurant moved from its Grand location to be a part of the burgeoning restaurant scene in The Grove. To start, enjoy the falafel or the traditional bollani (bread stuffed with seasoned potatoes and scallions). For a main, try the chicken karahi with fresh tomatoes, chiles, ginger, garlic and turmeric or the grilled lamb chops. 
4341 Manchester Ave., The Grove, St. Louis Missouri, 314-534-9500, sameems.com
With live music, a large patio and an extensive list of tapas, Sanctuaria is a great spot for a post-work get-together. Sip on hand-crafted cocktails like the Better Weather (Plantation 3 Star rum, lime, lavender and mint) or the Peach Be With You (J. Rieger Kansas City whiskey, peach brandy, cinnamon and ginger beer). Nosh on small plates like tostones, bacon-wrapped dates and guacamole. Its happy hour runs Tuesday through Friday from 4 to 6:30 p.m.
4198 Manchester Ave., The Grove, St. Louis, Missouri, 314-535-9700, sanctuariastl.com  
At Sauce on the Side, make your own calzone or order off the menu. Keep it Italian with the Costanza (pepperoni, eggplant, roasted garlic, basil, mozzarella, ricotta and garlic-honey oil) or the Puttanesca (roasted chicken, white onions, capers, green olives, minced garlic, roasted red peppers, Feta, mozzarella, ricotta and garlic oil). Feeling like something a little more continental? Spring for the Duke (barbecue chicken, Applewood-smoked bacon, corn salsa, smoked Cheddar, mozzarella and smoked chile oil).
4261 Manchester Ave., The Grove, St. Louis, Missouri, 314-932-7800, sauceontheside.com
This fast-casual Korean-Mexican fusion spot offers customizable tacos, burritos, nachos and more loaded with bulgogi beef, chicken, spicy pork or tofu. For something extra special, go for the Gogi & Waffles, a bed of sweet potato waffle fries smothered in queso, Seoul sauce, green onions, black sesame seeds and your choice of protein. 
4099 Chouteau Ave., St. Louis, Missouri, 314-925-8101, seoultaco.com
Serendipity Homemade Ice Cream
Enjoy your favorite frozen treat in a variety of ways at Serendipity: sundaes, coops, shakes and ice cream sandwiches. Count on classic flavors like strawberry and birthday cake, plus vegan options like Margarita sorbet. Its drink menu includes lattes, cold brew and tea. 
4400 Manchester Ave., The Grove, St. Louis, Missouri, 314-833-3800, serendipity-icecream.com
We'll admit, Songbird may technically not be in The Grove, but it's close enough – and is so good – that you'll be happy we included it. From the folks behind Kounter Kulture, Songbird brings creative breakfast and lunch fare to Forest Park Southeast. Try The Combo, a dreamy breakfast sandwich that features toasted sourdough, aged white Cheddar, Applewood-smoked bacon and a fried farm egg, or the breakfast tamale, filled with Cotija cheese and topped with stewed black beans, cilantro crema and a fried egg. 
4476 Chouteau Ave., Forest Park Southeast, St. Louis, Missouri, 314-781-4344, songbirdstl.com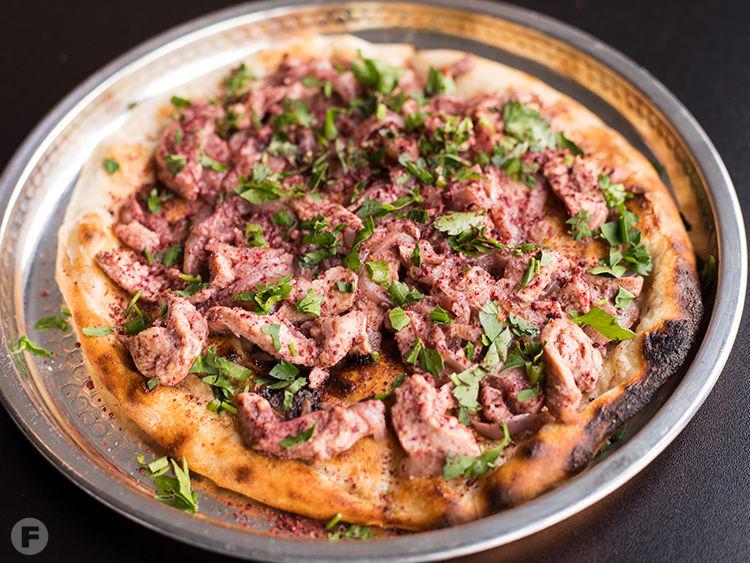 Sultan Mediterranean Restaurant
The lentil soup at Sultan Mediterranean Restaurant is in its own league for two reasons: it's served with onions and curry, and until 3 p.m., it's served for free with the purchase of a main entrée. So even if you come for the Dolma – grape leaves, onion, zucchini and eggplant, stuffed with beef and rice – you'll also enjoy complimentary soup and salad.
4200 Manchester Ave., The Grove, St. Louis, Missouri, 314-390-2020, sultan-stl.com
Taha'a Twisted Tiki is bound to be pumping on a weekend evening. Try the famous Blue Lagoon Volcano Bowl – 32 ounces of rum, raspberry, curacao, lemon and pineapple. The food follows the tropical theme, with coconut shrimp, fried fish sandwich, and a Tiki burger topped with Canadian bacon and pineapple. Weekday happy hour specials from 4 to 7 p.m. include $5 coconut Mojitos and $5 Deep Eddys. 
4199 Manchester Ave., The Grove, St. Louis, Missouri, 314-866-8454, stltiki.bar
Tempus is part event space, part pop-up dinners and part barbecue. Big V's Craft BBQ regularly sells barbecue out of Tempus on the weekends. It also frequently hosts local chefs for special dinners. Keep an eye on its Instagram to see what Tempus is doing next. 
4370 Manchester Ave., The Grove, St. Louis, Missouri, 314-349-2878, tempusstl.com 
This bar from the team behind STL Barkeep opened up in 2023, and has become a go-to spot for a post-work cocktail. From gin cocktails to whiskey flights to NA options, there's something for everyone here. Boss Taco provides food Tuesday through Saturday, and Pizza Politano slings pies on Sunday evenings. 
1301 S. Vandeventer Ave., The Grove, St. Louis, Missouri, 314-372-5321, thevandystl.com
At this longtime bar, you'll find the perfect summer drink. Sip on frozen cocktails like the Brain Freeze (rum, tequila, gin blue curacao and lemonade) or the Island Punch (rum, triple sec, fruit punch, mango, lemonade and orange juice). Enjoy your cocktail on the shaded patio or inside next to the pool table and pinball machines. 
4104 Manchester Ave., The Grove, St. Louis, Missouri, 314-899-9404, tropsstl.business.site
Urban Chestnut Brewing Co. 
Urban Chestnut's original brewery and tasting room is located in Midtown, but its massive Grove bierhall is home to an even larger selection of food and, of course, beer. With a large interior and a patio overlooking the street below, you'll be able to find an ideal spot to post up with your favorite beer. Wash down one of the brewery's signature pizzas or a G&W bratwurst with an Urban Underdog or a fizzy hop water for an NA option. 
4465 Manchester Ave., The Grove, St. Louis, urbanchestnut.com/orderucbc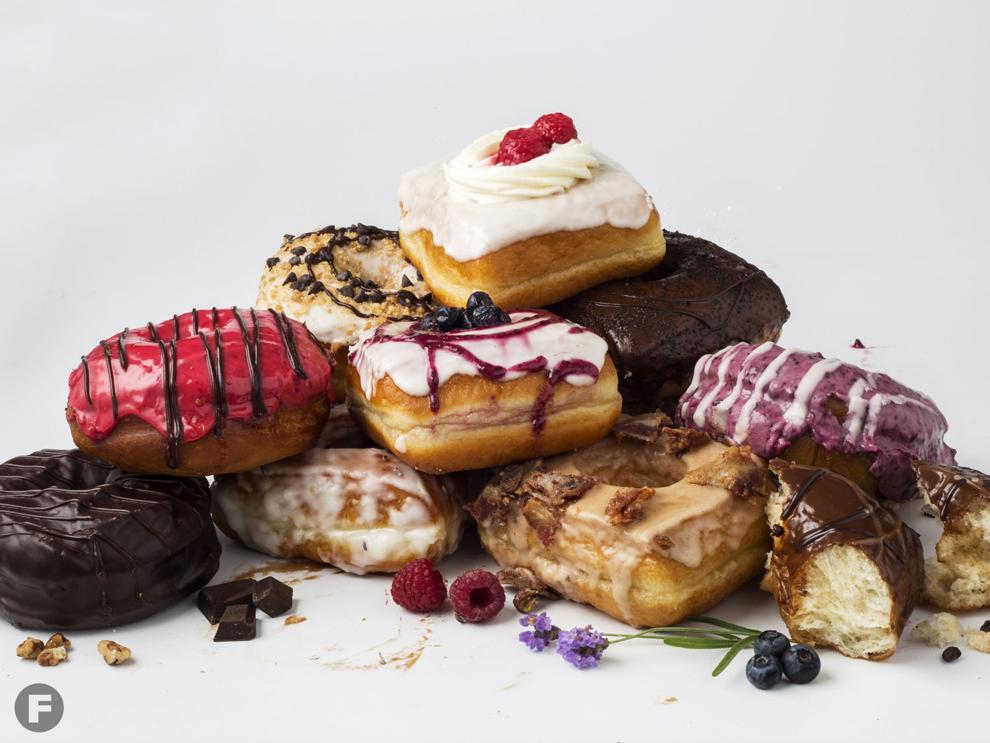 When you step into Vincent Van Doughnut, you can guarantee that your donuts will be handmade from scratch. The shop specializes in yeast-raised varieties, but on any given day, you'll also find gluten-free and vegan versions, plus pastries, muffins and quiche. Call for the daily menu, but out-of-the-ordinary options include a New York Cheesecake doughnut (cheesecake glaze with scratch-made strawberry pie filling and a cherry glaze drizzle and housemade graham streusel) or a Lemon Lavender doughnut (fresh-squeezed lemon and Italian lavender oil glaze with lemon zest, lavender buds and a decorative stripe). 
1072 Tower Grove Ave., The Grove, St. Louis, 314-339-5440, vincentvandoughnut.com