Ballpark Village has seen several notable restaurants open their doors on the campus in 2023: Kobito Poke began welcoming guests in March, and a mega-sized Katie's Pizza and Pasta opened this June. Now, BPV is home to another concept – Condado Tacos – known for its family-friendly build-your-own tacos and bowls and its selection of Margaritas made with fresh fruit purées.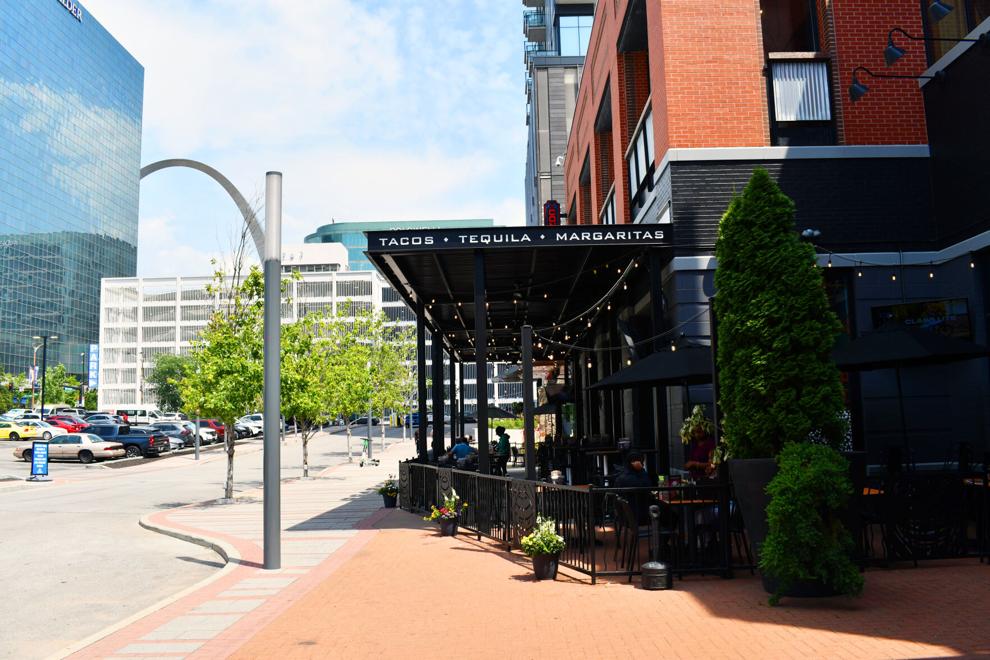 This opening marks the 45th location for Condado Tacos, which began in 2014 in Columbus, Ohio. It also marks the most westward location for the brand, which is looking to increase its presence nationwide. "Our goal is to keep expanding, and once we decided we wanted to expand westward, St. Louis made a lot of sense," says Lupe Hernandez, general manager for Condado's Ballpark Village location, who moved here from Michigan to oversee operations.
In his time here, Hernandez has seen crowds from all over; on game days, it's the fans who frequent the area, but on weekdays, he says, Ballpark Village is bustling with convention center visitors looking for restaurant and bar options. Condado's adjacency to office buildings and easy access to parking make it a great option for locals needing a quick lunch, which is one of the restaurant's top priorities. "We have very quick turnaround times," Hernandez says. "We can get you in and out in 30 to 45 minutes, but you control the pace. If you want to make it a long afternoon, you can do that, too."
The restaurant, which sits near Broadway and Clark Avenues, is situated just to the left of the main entrance to the property. The expansive patio that welcomes guests into the interior seats 120 currently, with room for more tables as the restaurant establishes itself. The exterior is lined with oversized glass doors that open out on warmer days, connecting the patio to indoor dining and creating a breezy, indoor-outdoor feel to the entire footprint.
Inside seating is sorted evenly around a massive bar and can seat 150 guests with ease. The bar itself is home to over 130 types of tequila; local brews on tap from 4 Hands, Schlafly and 2nd Shift Brewing; and an array of cervezas, or Mexican beers. There are some standout NA options available as well, like the Cactus Juice – with prickly pear, pineapple and ginger beer – or the Nojito – with cucumber, mint, lime, agave and soda water.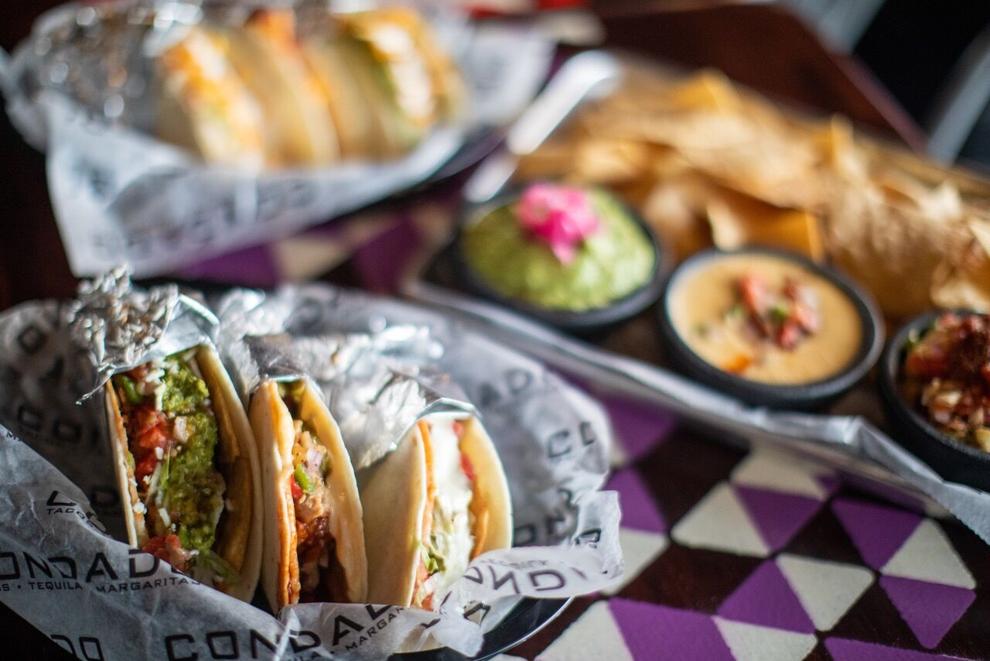 The menu is almost as large as the restaurant itself and boasts six different queso options – and that's just to start. Condado's guacamole and salsas all come in several different flavor profiles to allow guests to mix and match with flavor and texture. Choice is a theme here: the restaurant is notable for its build-your-own tacos, bowls and nachos, which allows for complete customization of dishes. Guests are directed to "shell it" with hard, soft, flavored and double-decker taco shells. They can also forgo the shell entirely by laying a foundation of rice and beans, lettuce or lemony kale.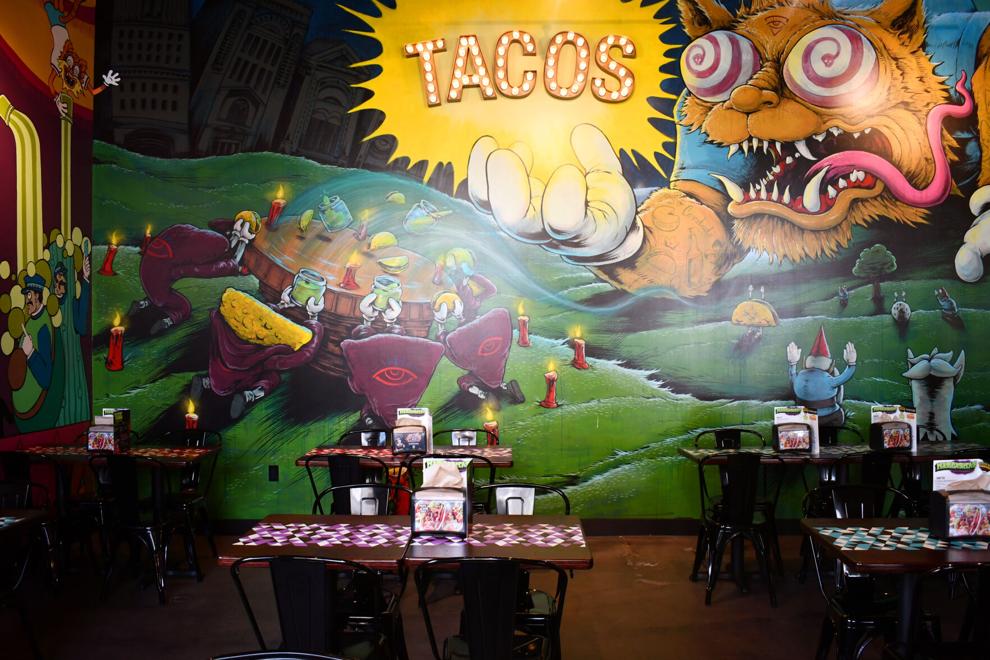 Proteins are next, and the 11 choices range from traditional steak, chicken and chorizo to plant-based options like Korean barbecue pulled jackfruit and Thai chili tofu. Then, it's time for the toppings, which are delineated by category: Choose from fresh vegetables, like fajita peppers and onions, tomatoes, or jicama and cabbage slaw, cheeses, salsas and sauces to finish. The menu outlines heat profiles and clearly marks which items are gluten-free, vegetarian and vegan.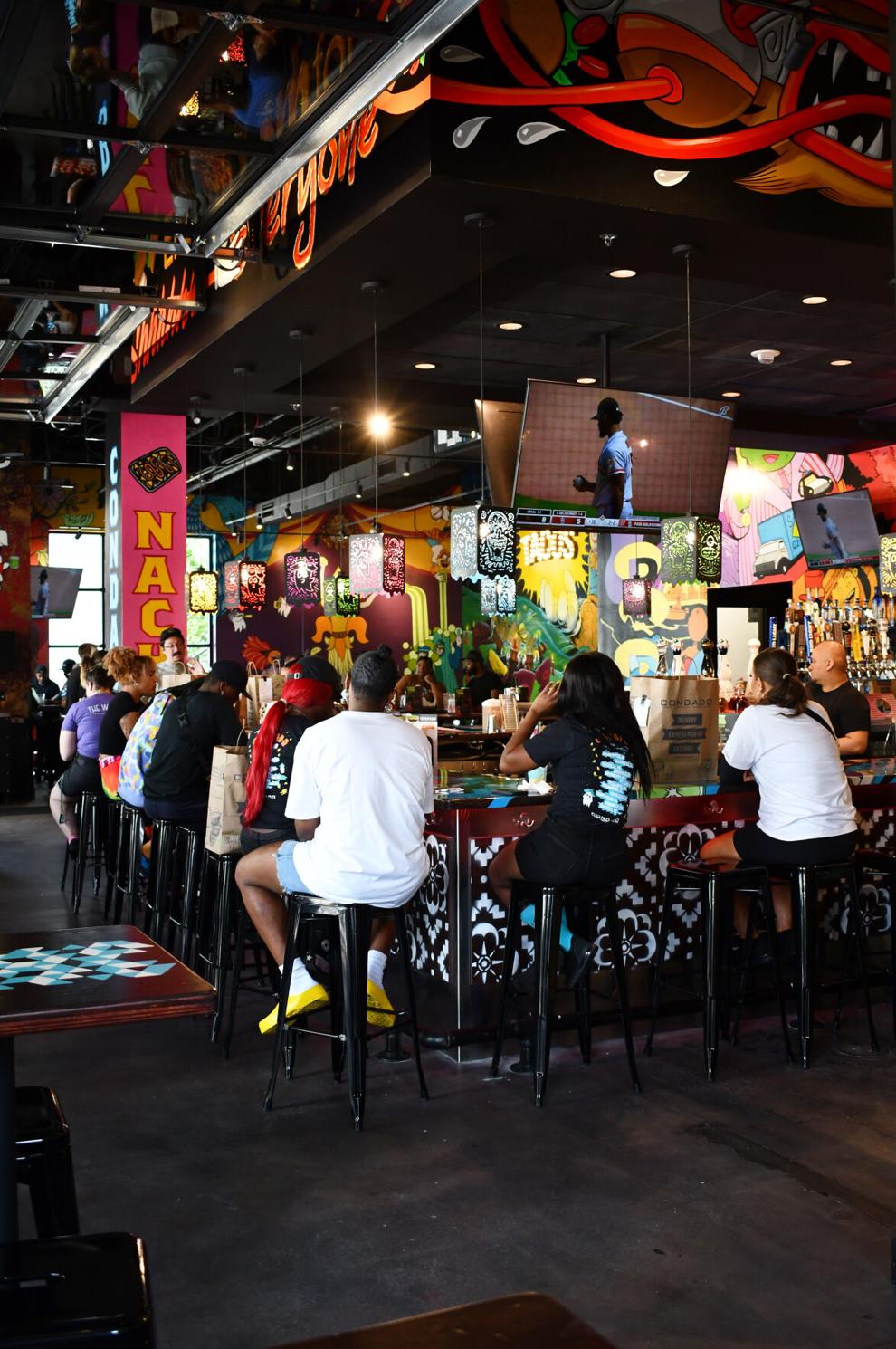 If you don't feel like choosing every detail of your meal, there are a host of suggested tacos to choose from, including seasonal selections which rotate regularly. Each protein is represented here, from the Lucy's Fire taco, served in a Firecracker shell with roast chicken, vegetables, smoked cheddar and cilantro-lime aioli, to the Braised and Confused, where jicama and cabbage slaw add a crunch to tender brisket, pickled red onions, queso fresco and chipotle crema, all housed in a soft shell. Plant-based suggested tacos include the new Rango Tango, a double-decker soft and hard shell with crispy Thai chili tofu, red cabbage, pickled jalapeños, pineapple salsa and habanero mango sauce. With so many options, it's an easy choice for families with kids, who can assemble their favorites into a taco or bowl. Pro tip: Although not on the menu, kids can also order a kids' quesadilla, made with their choice of beef, chicken or cheese.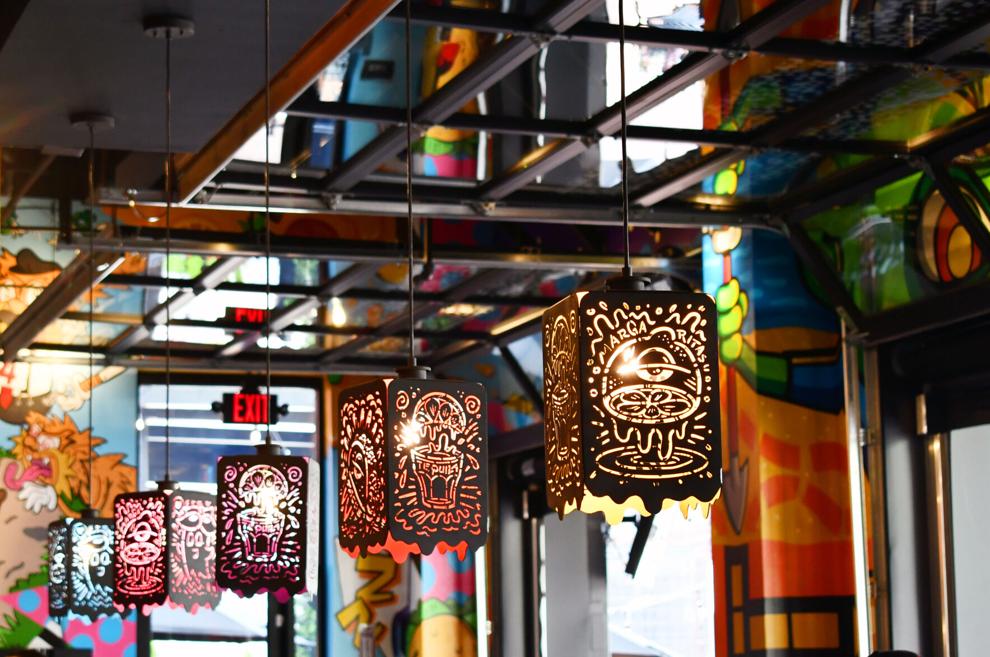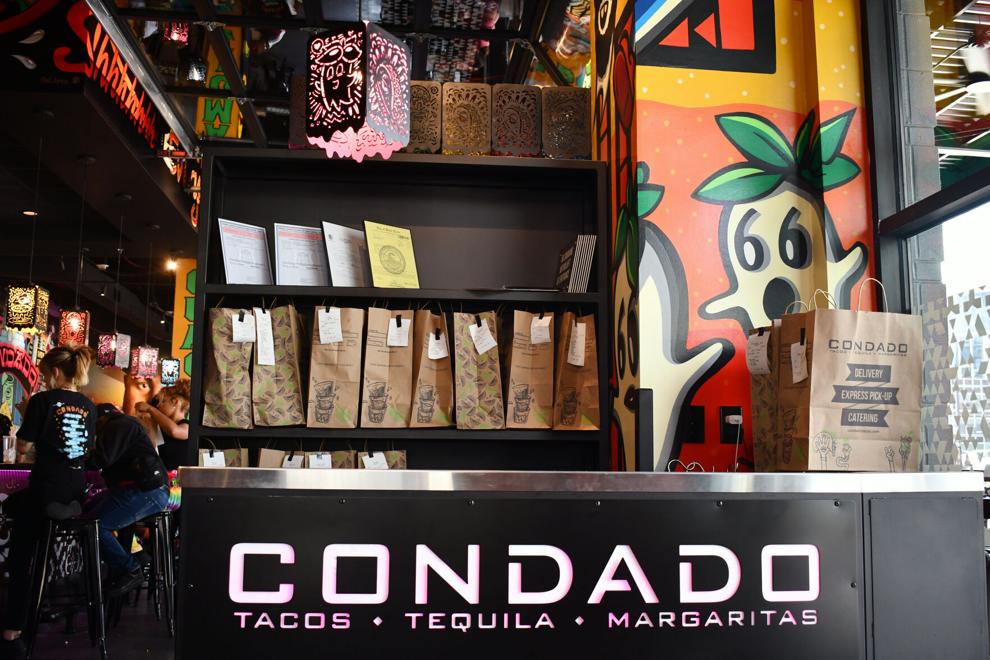 The ample seating and equally ample staff are designed for efficiency, and the order pick-up station located at the front doors allows for quick grab-and-go for online orders. During busy days, the restaurant sets up a beer cart near the front gate of the patio for passers-by to grab drinks as they walk the property. The restaurant also runs a happy hour on weekdays from 3 to 6 p.m. with food and drink specials.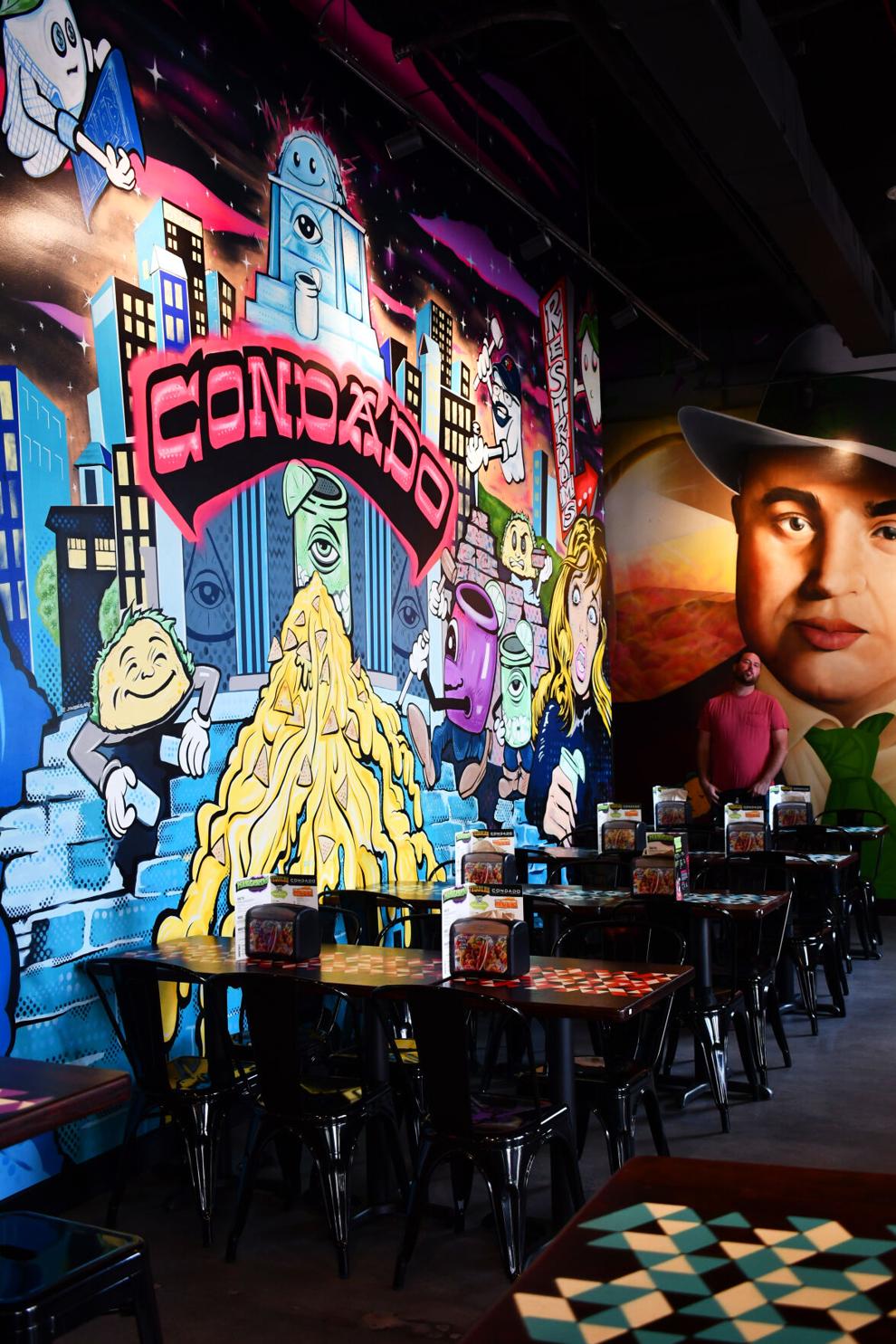 Condado's menu of Mexican and Mexican-inspired cuisine is also a nice fit among the other restaurants that call BPV home, which Hernandez sees as a benefit. "I think it's super cool that we're all here," he says. "I loved watching Katie's [Pizza & Pasta] open and that come to fruition, and Kobito Poke open as well. I just love it. We're all good for everybody. If you're not feeling tacos tonight, go to Katie's. If you're on your way to another restaurant, you saw us, so we're in your head for your next visit. At the end of the day, we're all one family on this property, and I think it's just great business that we can help each other."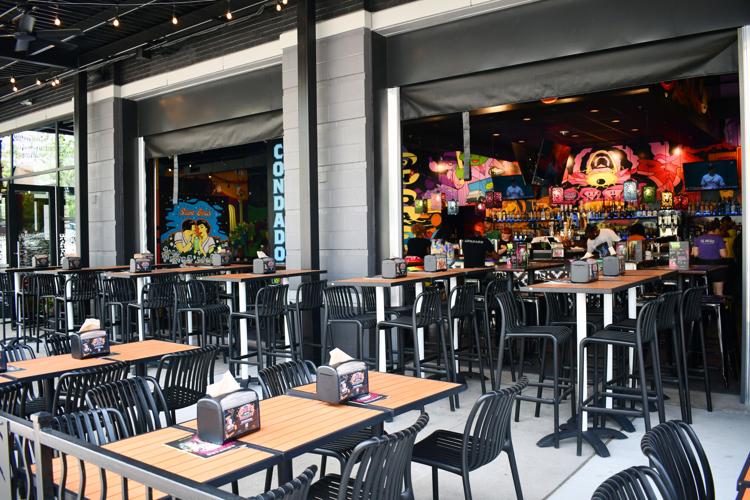 Condado Tacos is open Sunday through Thursday from 11 a.m. to 11 p.m. and Friday through Saturday from 11 a.m. to midnight.
Condado Tacos, 601 Clark Ave., Downtown, St. Louis, Missouri, 314-899-5155, condadotacos.com