You might know Comet Coffee as the café close to Forest Park where you can grab a quality cup of coffee along with a mean pastry – a concept that co-owners Mark Atwood and Stephanie Fischer have finessed throughout the last 11 years. While the base they formed is still intact, Natalie Suntrup and Kyle Shelby are bringing Comet Coffee into a new era with new pastry-only offerings at Tower Grove Farmers' Market.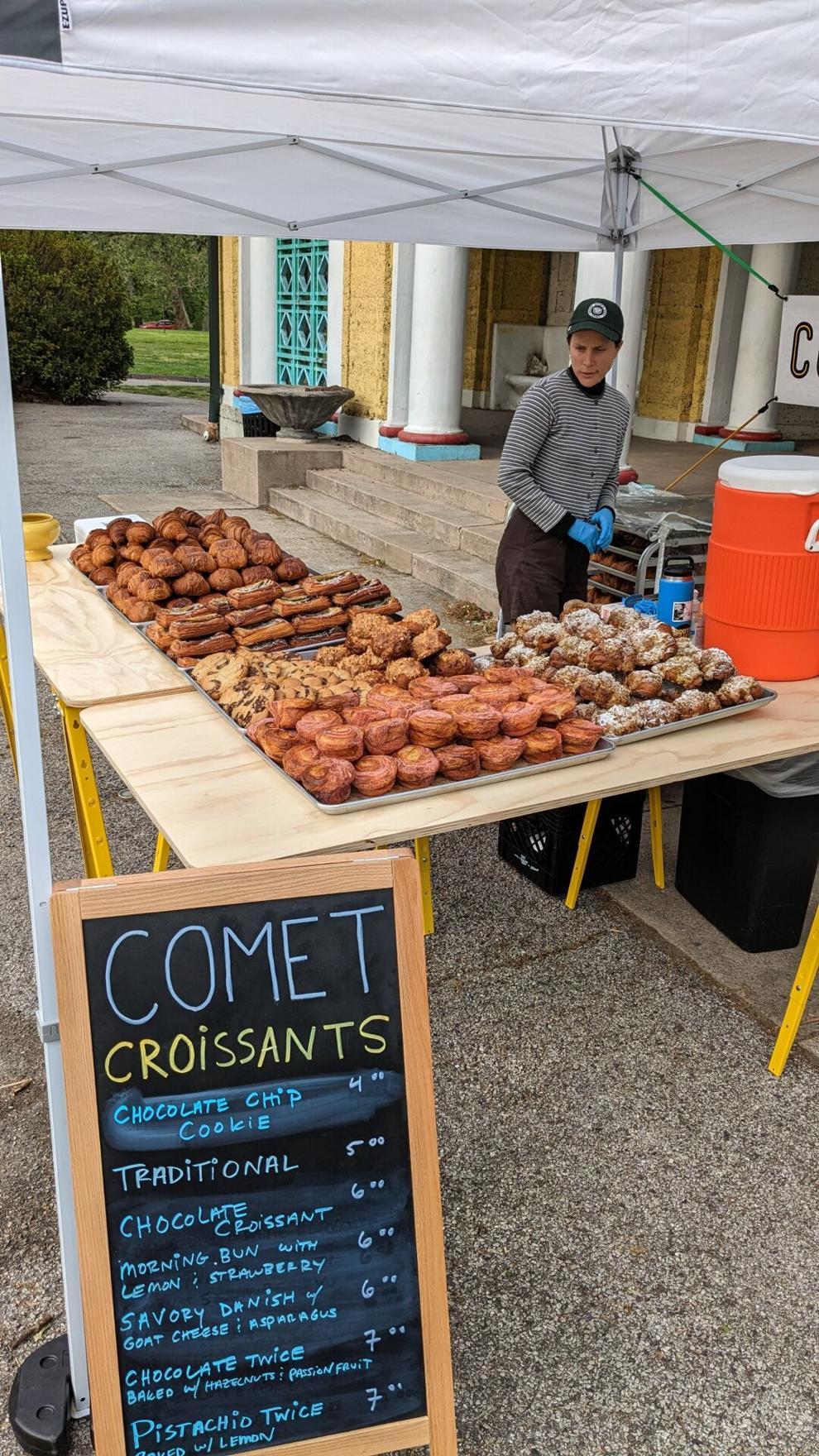 It's hard to pin down exactly what role Suntrup and Shelby play at Comet Coffee; they're hesitant to go by any hierarchal term like "manager." Instead, they see Comet Coffee as a true collaborative project where they use their creativity to produce a high volume of pastries. "We're just bakers exercising our skills," Shelby says. Before Suntrup and Shelby came on in January 2023, the bakery was struggling to keep up with the production. Fischer, who was also Comet's executive pastry chef, had moved away from the café to attend vet technician school, and there was talk of possibly selling the business. Instead, Suntrup and Shelby were brought in to "help stabilize things." They took over as the sole bakers for Comet, working out of its commissary bakery in Kirkwood. The bakery had formerly been open for retail purchases, but now is only used for production.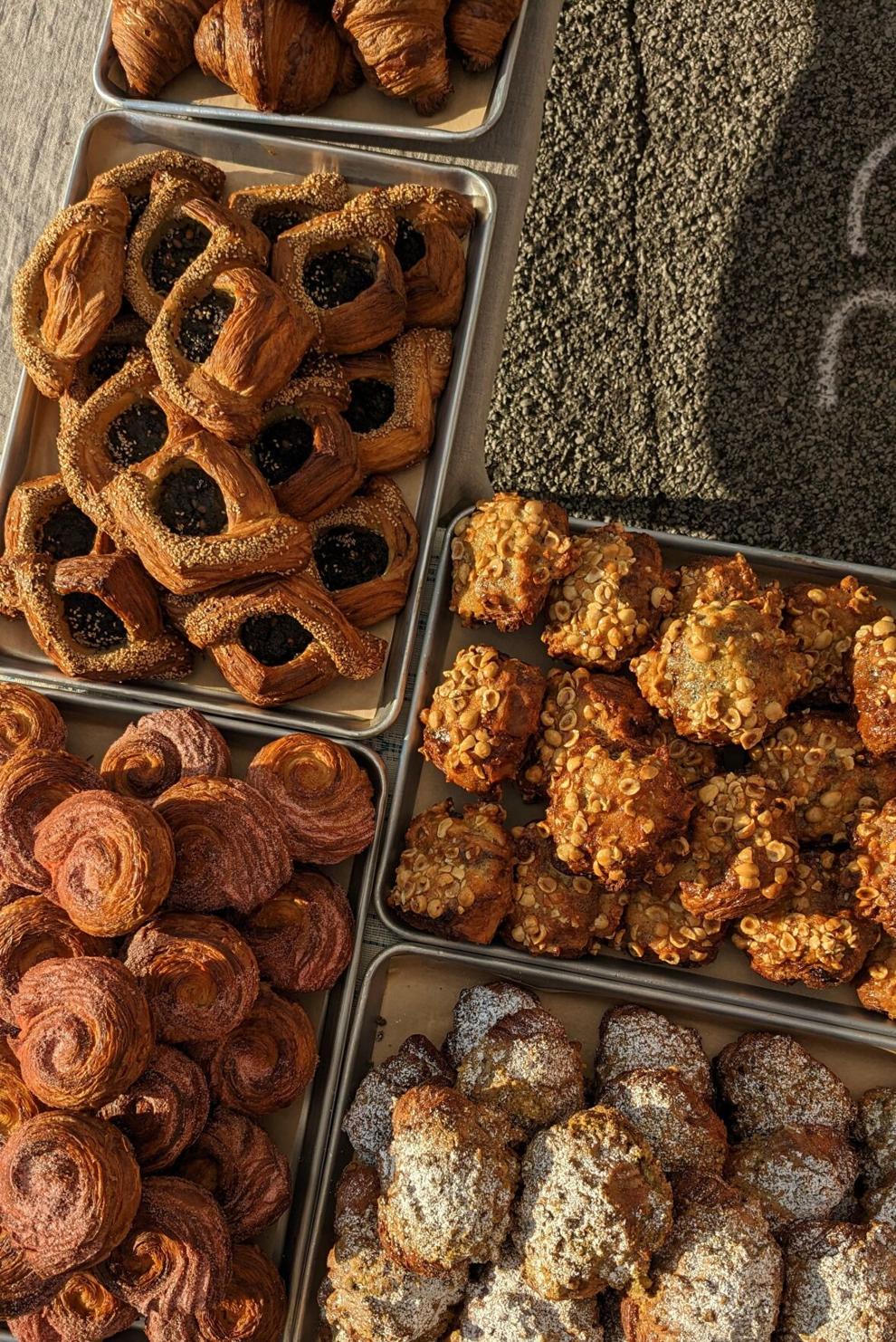 "We had a bunch of different ideas about how to change production and what we wanted to do creatively also. They just turned things over to the two of us," Shelby says. "We changed a lot of production systems to scale things up. Now, we're able to make so many croissants that we couldn't possibly sell them all through the café."
Luckily, Suntrup came up with an idea of how to use up the extra baked goods: selling them at Tower Grove Farmers' Market. She notes that while there are lots of great pastries there, no one else is doing a croissant-centric menu. Plus, being visible at the market allows them to plug Comet Coffee's brick-and-mortar location and get more creative with their pastry offerings. "Last week, we made a violet-themed croissant," Suntrup says. "We harvested a bunch of violets, made a violet sugar, violet syrup and a violet pastry cream. We filled the croissant with the pastry cream and rolled it in the sugar and brushed it with the syrup and we topped it with a candied violet. Those are the kinds of things that we want to be experimenting with and also to see how well-received it was. It sold out first." 
Everything (other than its cookies) is made with croissant dough, but the pastries come in all shapes and sizes. You'll find plenty of savory options, like a Danish with asparagus, or creative limited runs like the aforementioned violet croissant. Each week will offer something new to market-goers; get there early to snag one of the special treats. "One problem we've been having is that we can't produce enough to keep up with how busy the market is," Shelby says. "We've been selling out in two-and-a-half hours every time, which feels exciting, but also kind of bad because I know people want to take their time getting to the market or showing up, and all they see at our table is some crumbs and maybe some plain croissants."
In the future, Shelby and Suntrup are thinking about collaborating with Janie's Mill, an artisan milled flour producer in Ashkum, Illinois, and possibly incorporating sourdough into the croissant recipe. But ultimately, they want to keep the croissant legacy that Fischer and Atwood created intact. 
"We're trying to honor this croissant that's been an important part of my life and an important part of the baking community in St. Louis," Shelby says. "We'll see what happens." 
To keep up with Comet Coffee's weekly market appearances, follow it on Instagram. 
Comet Coffee, 5708 Oakland Ave., St. Louis, Missouri, cometcoffeestl.com