Whether it's been a late night or an early morning, sometimes we just need a brunch that feeds our soul as much as our stomachs. After a concert or a long work week, comfort food – pancakes, hash and slingers – is what you need on a Sunday morning. Here are five spots dishing out homestyle brunch.
On a lazy Sunday, there's nothing like a crispy, cheesy hash, and Kingside Diner has a standout version of the classic. Its Meat Me in St. Louis Skillet has got it all: bacon, sausage, ham, peppers, onion, cheddar and your choice of eggs served over a mountain of hash browns. If some hair of the dog is in order, Kingside also has Irish Coffee and apple cider Mimosas.
multiple locations, kingsidediner.com
Nothing says comfort food like Cajun cuisine, and Grand Pied uses New Orleans flavors to deliver a unique take on brunch. Don't miss the baby beignets tossed in butter and topped with sausage gravy and your choice of eggs. The breakfast po'boy, with andouille, slaw and scrambled eggs, will become your new favorite breakfast sandwich. Take note: Grand Pied is BYOB and does not seat parties larger than four people.
3137 Morgan Ford Road, Tower Grove South, St. Louis, Missouri, grandpied.com
This Soulard building has housed a diner for 40 years, and Nadine's Hash House is carrying on this tradition with its scratch-made breakfast. On its diverse menu, in addition to classics, you'll find unexpected gems, like the diner tamales, smothered in chili, cheddar and onions. Open from 7 a.m. to 2 p.m., Nadine's is there when nothing but diner fare will do.
1802 S. Broadway St., Soulard, St. Louis, Missouri, 314-802-8021, nadineshashhouse.com
Since opening in Princeton heights, Hatch'd has become a neighborhood standby for its cozy atmosphere and house-smoked meats. The Benny's Got Beef – English muffin with smoked brisket, jalapeño queso, two eggs and pico de gallo – packs a punch. For something a little different than your ordinary Mimosa, order the Princeton Penknife: house-infused pineapple strawberry vodka, orange juice and apple cider.
6931 Gravois Ave., Princeton Heights, St. Louis, Missouri, 314-448-1642, hatchdstl.com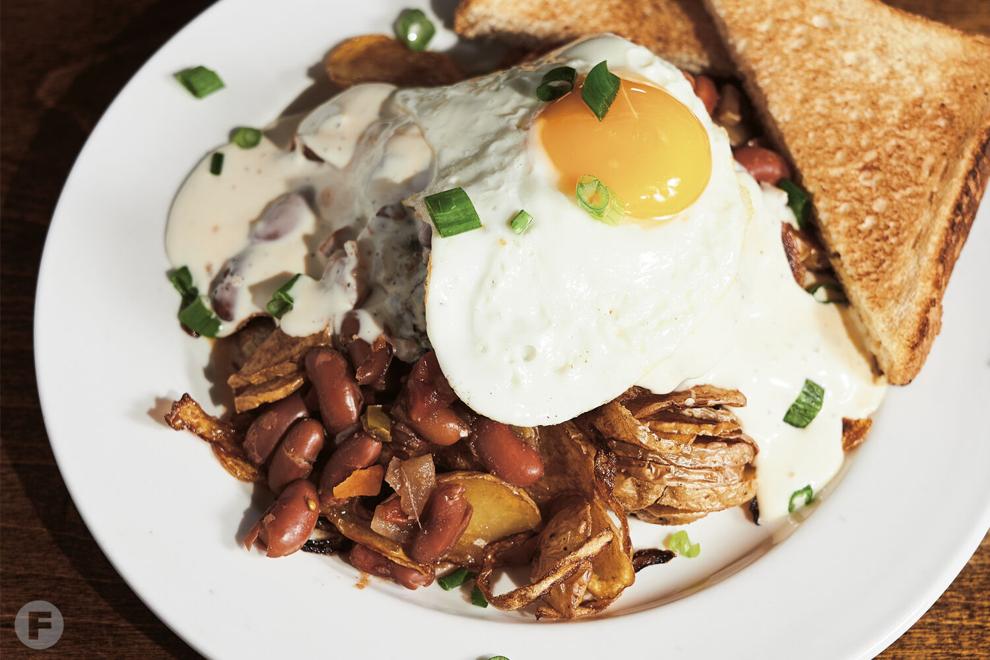 If you went to a concert late on Friday, keep the music vibes going with Metal Brunch at the Crow's Nest. Available on the weekends, its decadent brunch is full of indulgent options, like the Stuffed French toast, with housemade made maple crème brûlée and fresh fruit. The menu also includes plenty of satisfying vegetarian items, like the huevos rancheros with portabella mushrooms, peppers and onions, black beans, rice, salsa and eggs.
7336 Manchester Road, Maplewood, Missouri, 314-781-0989, crowsneststl.com