Into the always roiling debate over who makes the best toasted ravioli in St. Louis, I would like to introduce a contender you shouldn't overlook simply because it doesn't make toasted ravioli.
At Beignet All Day, which operates inside the Dutchtown shared kitchen and business incubator Urban Eats, you can order savory beignets topped with marinara sauce, Parmesan and green onion. These Italian beignets come three to an order, and each looks remarkably like an oversized T-rav, with nearly straight edges and a puffy center. There is no filling, but the savory dough incorporates both black pepper and green onion, lending its airy chew an electrifying zest even the best toasted ravioli lack.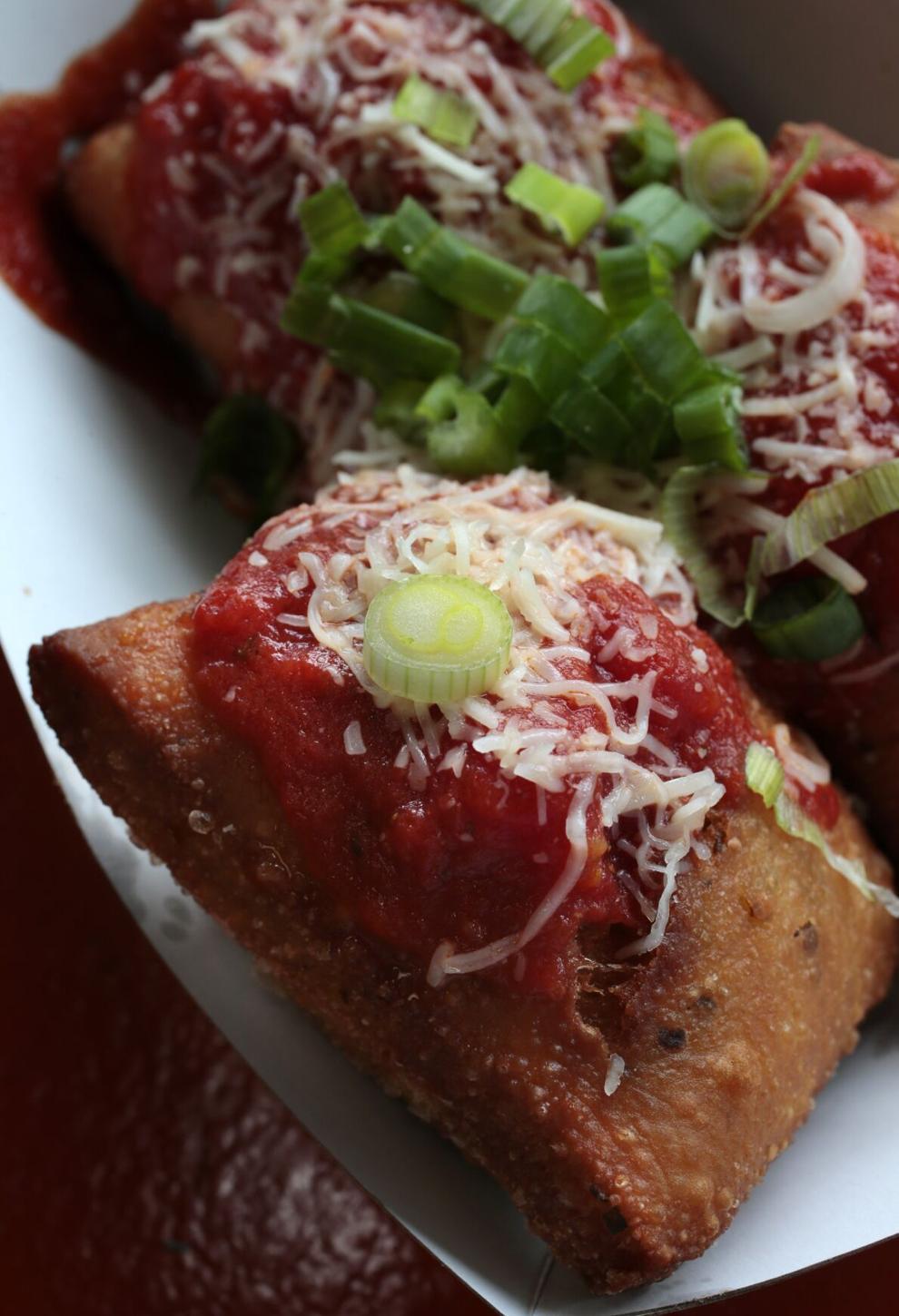 Joe Lamprich and his fiancée, Jennie Sloss, might not have been thinking about T-ravs when they founded Beignet All Day last year, but the couple definitely wanted to put a St. Louis spin on the New Orleans staple. With the Italian beignet alone, they have succeeded. The trio of savory dough, marinara sauce and Parmesan tickles the nostalgia center of your brain, but the beignet's pillowy texture and your confounded expectation of sweetness turns it into something altogether new.
In fact, Lamprich had never eaten a beignet before he, Sloss and their blended family visited New Orleans in late 2021. "He had his first bite of a beignet and literally had this spark that we need to bring these back to St. Louis," Sloss told me in a phone interview. "It's the sister city to St. Louis, so why can't we find these here?"
Sloss couldn't remember the name of the restaurant that inspired Lamprich, but — anticipating my follow-up question — she said it wasn't New Orleans' most renowned source of beignets, Café du Monde.
As soon as the couple returned to St. Louis, the inspired Lamprich went to work, and by last May he had both developed his own beignet recipe and met the bureaucratic requirements to launch a business. Beignet All Day debuted as a vendor at Third Degree Glass Factory and expanded to the Tower Grove and Kirkwood farmers markets. Its mobile operations have continued to grow this year; meanwhile, in February, Lamprich and Sloss opened a counter inside Urban Eats.
If you haven't visited Urban Eats, picture a small food court with a central dining area and a few counters for individual restaurants. The Beignet All Day counter is located down a short hallway from the dining area. Follow the signs or, if Lamprich is making dough when you visit, the clatter of his mixer. This hallway doubles as a miniature dining or waiting room, which gives the narrow space a dash of ad hoc personality.
(If you do know Urban Eats already, Beignet All Day occupies the former home of the acclaimed birria specialist Tacos La Jefa, which has moved to a larger counter facing the central dining area and remains the strongest argument for the culinary potential this incubator can foster.)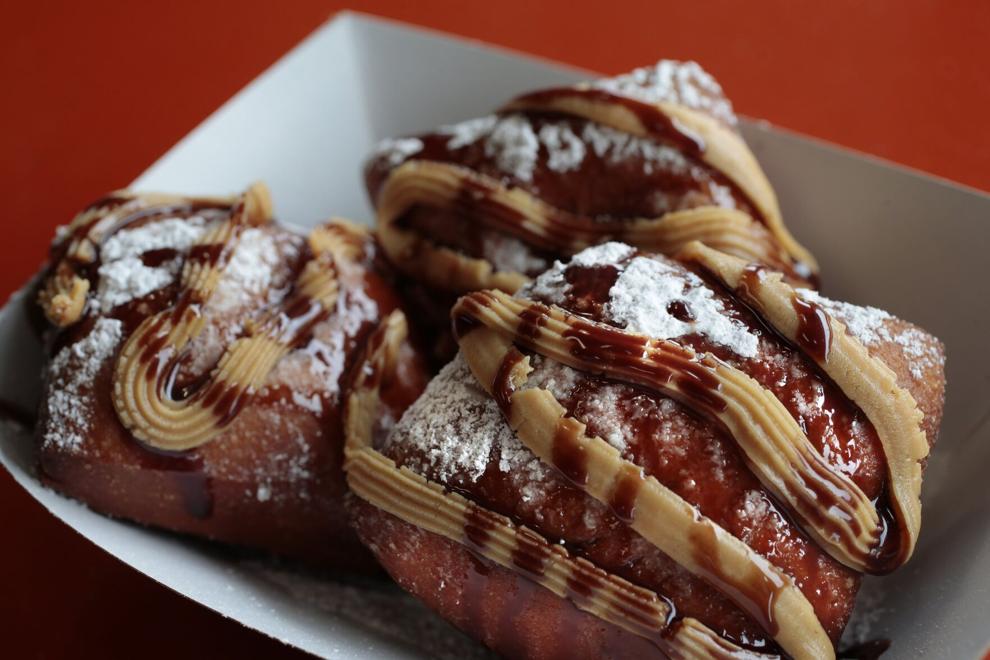 Traditional beignets sprinkled with powdered sugar lead the menu. Lamprich makes the yeasted dough a day ahead and proofs it overnight. For beignets, Sloss said, the trick is finding the proper thickness for that dough, getting it "to a point where when we drop it in the fryer, you don't want it too dense, but you also don't want it to pop up so much like a turnover where it's hollow inside. And it's all such a balance."
Your first bite showcases this nuance, from the crackling of the browned, just-fried exterior to the gentle chew of the dough — a skosh more substantial than, say, a glazed doughnut, but much lighter than a roll or cake. Mildly sweet on their own, these beignets really don't need much more than that dusting of powdered sugar.
If you want to turn these beignets into a full-fledged dessert, you can order them with peanut-butter frosting and a drizzle of warm chocolate sauce or slathered in gooey, cinnamon-scented apple-pie topping. If you prefer a nudge of sweetness, you can add a side of cinnamon butter to your regular beignets for just 50 cents. More subtle than some of the topping varieties are the Lemon Delight beignets, which are topped with tart lemon curd and crushed graham crackers.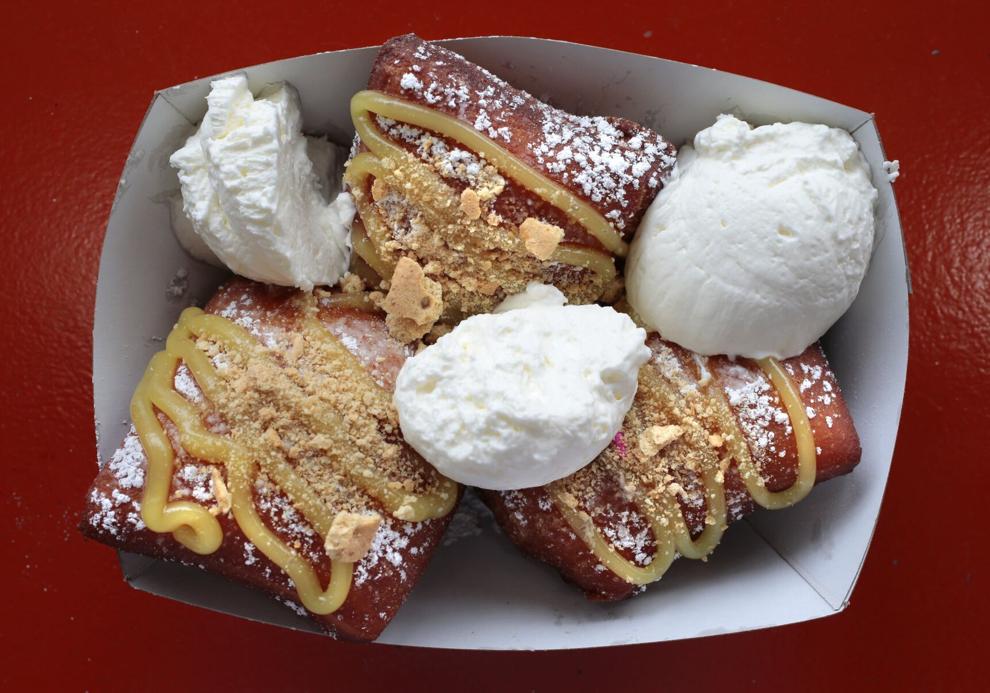 Sloss said she and Lamprich do see the Urban Eats location as a stepping stone to a potential future brick-and-mortar Beignet All Day. In the near-term, she teased the arrival of sandwiches featuring the savory beignets. For now, there are two savory options, the aforementioned Italian and the Beignets & Gravy, which as you might expect brings three beignets smothered in peppery sausage gravy. Having already gone out on a limb with my toasted-ravioli comparison, I won't say these Beignets & Gravy could be the base for a very good slinger, but I'm also not not saying it.
Where Beignet All Day (inside Urban Eats), 3301 Meramec Street • More info 314-323-6773; beignetad.com • Menu Beignets both sweet and savory • Hours 8 a.m.-3 p.m. Tuesday-Sunday (closed Monday)