Of the three Clayton restaurants Zoë Robinson closed during the pandemic, I miss Billie-Jean the most. That late-career triumph married the sophistication of its Wydown Boulevard counterparts I Fratellini and Bar Les Frères to something deeply, inimitably personal, from its name (a tribute to Robinson's parents), to the stark beauty of the black-on-white Robert Motherwell prints that lined one wall, to chef Ny Vongsaly's cooking, as likely to look to his native Laos and Southeast Asia as to Western Europe.
Billie-Jean left us too soon, but I can't imagine a more fitting new occupant for its sleek storefront than Bar Moro, the latest venture from Ben Poremba. More so than any of his peers, the chef and restaurateur of Elaia, Olio, Nixta and the Benevolent King seeks Robinson's combination of culinary excellence and a space with a uniquely expressive style. And if Bar Moro isn't personal the same way Billie-Jean was, it's the upscale Spanish restaurant only Poremba could have created.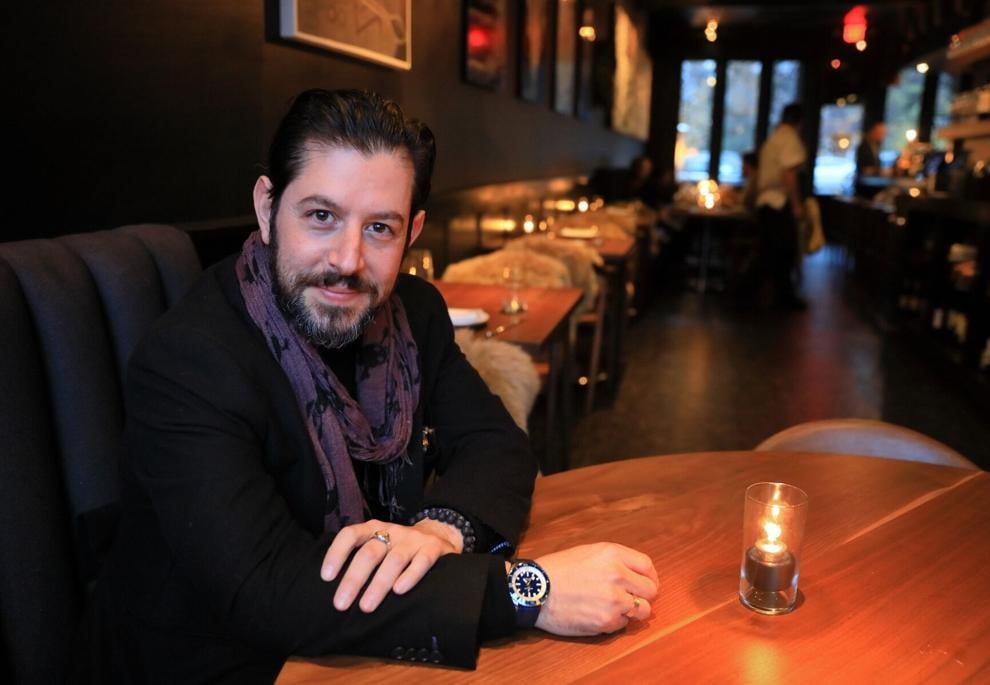 In fact, Poremba had already been planning the Bar Moro concept for some time before he moved into this Wydown address, and the restaurant came together quickly once he did. He announced his plans in August and opened Bar Moro in October. The restaurant has retained Billie-Jean's layout. To your left as you enter is the bar, which faces an open galley kitchen along the front half of the room. To your right is banquette seating followed by a few tables and, at the back, a single cushy booth.
The decor is spare but memorable. Above the banquette hangs a large mural by St. Louis artist Edo Rosenblith that depicts in black ink a surreal feast with Poremba himself at the table. I don't know that the mural is edgy, per se, but in a small space with low lighting, it playfully pokes a hole in what could have been a generically romantic atmosphere.
More colorful than the mural and more practical to your dinner plans is the display of small boxes of preserved seafood at the far end of the bar. The full array of these conservas is listed on a sheet of paper separate from Bar Moro's main menu. You mark your choices with a pencil as you would your selection of nigiri and rolls at a sushi restaurant, though unless you are building an entire meal out of these conservas, you will probably select only one or two for every couple of people at your table.
Even if you pick just a single conserva, you can spend a lot of money here. The range of prices resembles a wine list's. On the more affordable end of the spectrum, the smoked sprats offer an intensely smoky, modestly fishy flavor and a nearly spreadable supple texture for $12.
Once you unfold the main menu beside the list of conservas, the variety of choices might be overwhelming. The menu tells you to "start here" above a selection of snacks like marinated olives and Crunchies (fried fava and garbanzo beans with almonds) — though this section quickly escalates to pricey jamon Iberico sliced to order by the ounce and market-price oysters on the half-shell.
I found it more helpful to embrace the exuberance. Bar Moro isn't one kind of Spanish or more broadly Iberian restaurant so much as Poremba's love letter to the cuisine, a place where two-bite tapas can share your table with a plate of Catalan-style roasted chicken in a lobster sauce richer than bisque with pieces of tender lobster nearly as substantial as the chicken itself.
Those tapas nod to tradition — crisp croquetas that collapse into molten salt cod; toasts layered with jamon Serrano and just a hint of quince's autumnal sweetness — but also look to Poremba's broader aesthetic. A small bowl of mohamara, the dip made from walnuts, mild peppers and a touch of pomegranate molasses, could have arrived straight from the kitchen of his "Middle-terranean" restaurant Olio. A "carpaccio" of tomatoes, from the selection of vegetables and salads, showed Elaia's painterly touch, with pops of sesame, vanilla and honey decorating the very thin and dead ripe slices.
Crucially, Bar Moro knows when to exceed, but not confound, a diner's expectations. Gazpacho, served as an amuse bouche on my first visit here, is a brilliant orange hue. Sipped slowly, it resets your palate with its bright, natural acid. The bikini con trufa subtly amps up the savoriness of the toasted ham-and-cheese sandwich with a mushroom-truffle duxelles. Half the sandwich is coated in a mild Gruyere sauce. Pair this with an order of the perfect fried potatoes.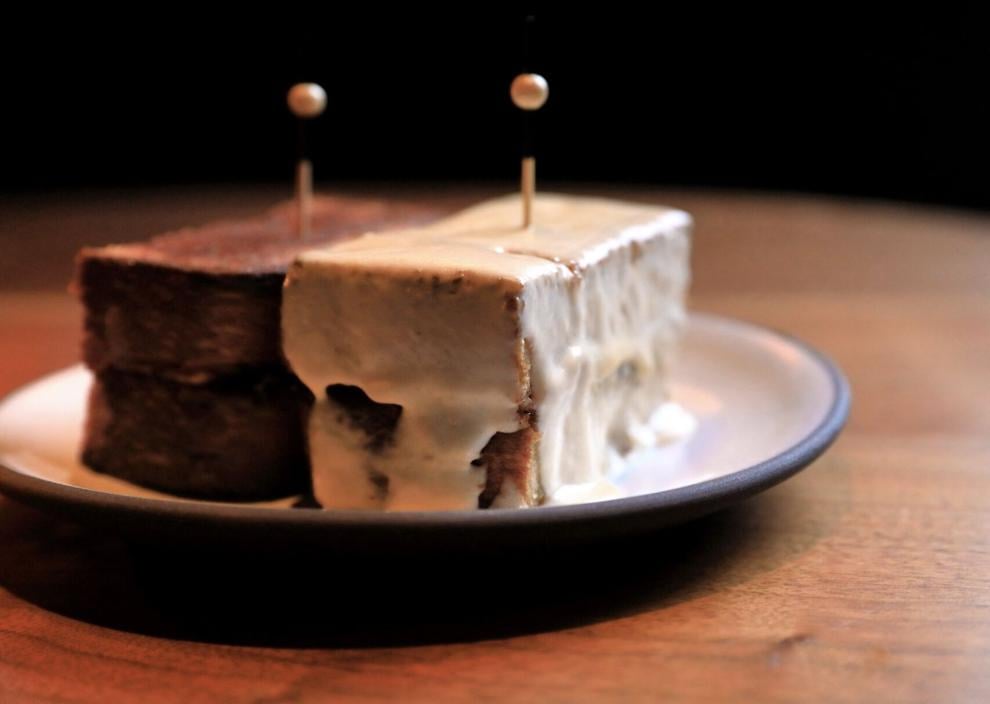 Traditional gambas al ajillo leads with a pungent garlic note and sherry's slinkly sweetness, but you can still taste the lovely, briny heart of the dish's Pacific shrimp, especially if you suck the juices from the heads. (The kitchen serves the heads separate from the bodies for those who don't want to partake.)
The aforementioned roasted chicken in lobster sauce, mar i muntaya, is one of four larger plates. These serve two to four, and having tried to tackle one by myself, I can confirm: They are meant for at least two diners. Among them is as tender a piece of skirt steak as I've eaten, grilled medium-rare and served with marinated leeks and a black-garlic hollandaise sauce that works something like a savory caramel. I dabbed my steak and dunked my bread in it.
Your server will suggest the Basque cheesecake for dessert. This is the dish crème brulee wishes it were. Say yes.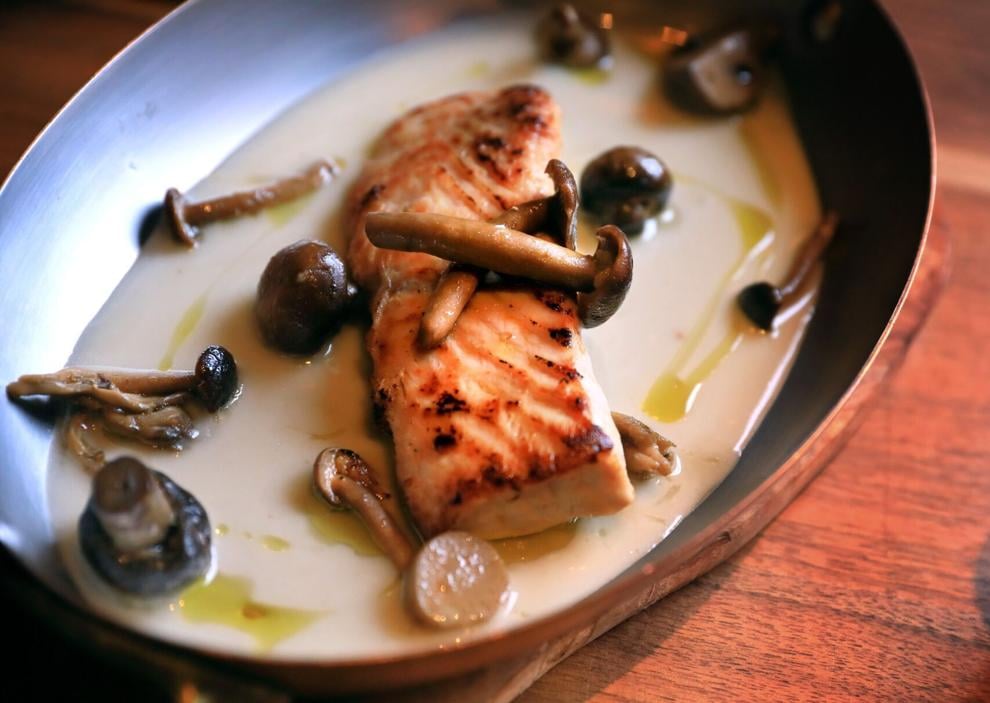 As is typical of Poremba's restaurants, the beverage program is exemplary. The main menu features a selection of sherries and vermouths, while the separate wine lists focuses on Spain. The cocktails pair especially well with the food: a variety of gin-and-tonic concoctions (the Four, with Empress gin, is floral but not overly botanical); the Martini Don Ernesto (gin, fino sherry and orange bitters); La Rosita, a negroni with tequila in place of gin.
For now, selfishly, Bar Moro's only drawback is its popularity. Reservations are essential for dinner, but my dream of stopping by on a whim for a cocktail and tapas requires forethought: From 5:30 p.m., bar seating is also by reservation.
Bar Moro opens at 4 p.m., however, and from then until 5:30, a seat is the bar is first-come, first-serve. At the end of this very long year, I can think of far worse ways to spend the late afternoon than with a drink and some tapas.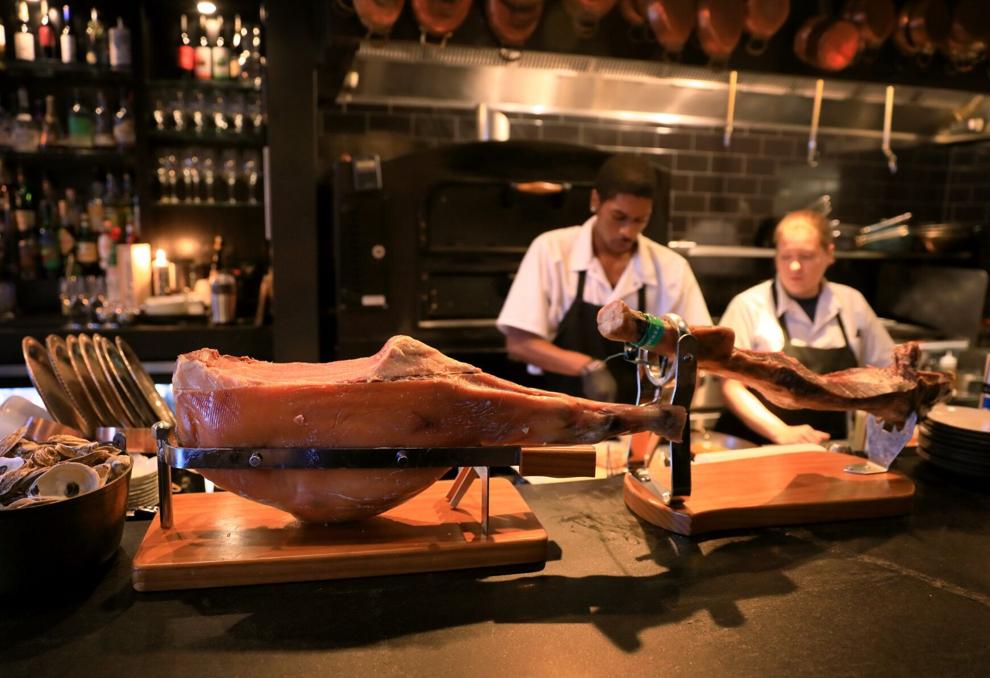 Where Bar Moro, 7610 Wydown Boulevard, Clayton • More info 314-296-3000; bengelina.com/bar-moro • Menu Spanish cuisine • Hours Dinner Tuesday-Saturday