Nearly three years since the pandemic irreversibly altered the restaurant industry for operators and diners alike, I have learned not to refer to anything as "normal." Still, this year's selection of best new restaurants suggests that, while the problems of labor and food costs have not disappeared, the St. Louis dining scene is once again turning out new establishments thrilling in both their number and variety.
The 2022 list features both debut restaurants from rising-star chefs and new ventures from some of the area's most acclaimed restaurateurs. It ranges from downtown to Edwardsville to the historic Main Street of St. Charles. It begins with ceviche and ends with a vegan fried chicken sandwich.
The restaurants honored here opened from fall 2021 through this October. In three cases, I have grouped together two establishments from the same owner. Don't think of these as "ties" so much as joint awards.
Finally, in the interest of finally catching up from pandemic interruptions, I decided not to include four restaurants that I reviewed after last December's list of the best new restaurants of 2020-21. These would have been shoo-ins here, but I already honored them in the 2022 edition of my STL 100: Chez Ali, Chicken Scratch and Sureste, all at the Food Hall at City Foundry, and Havana's Cuisine downtown.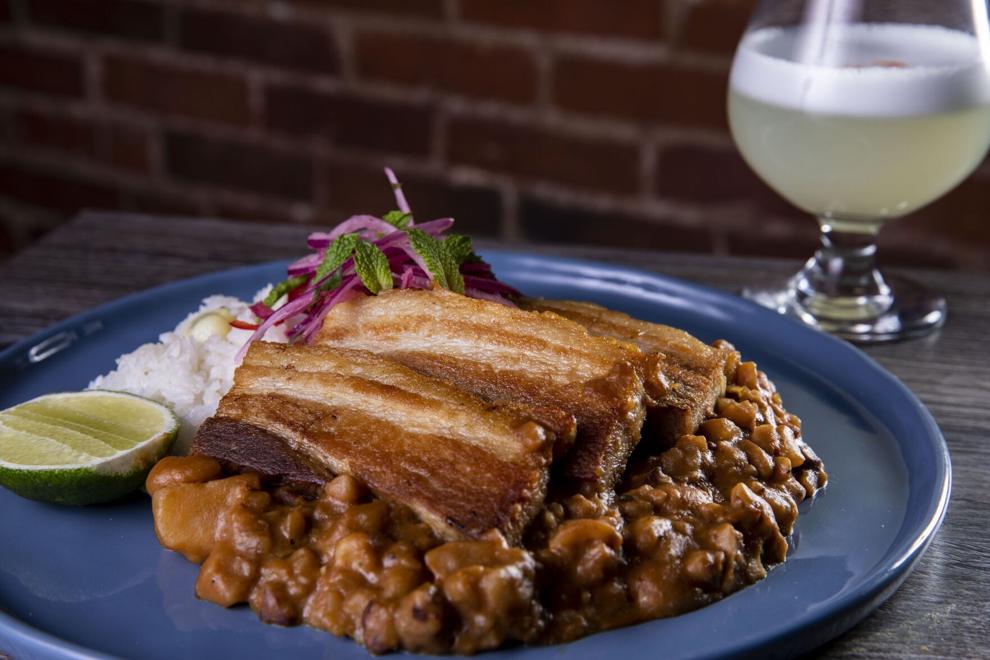 1 • Jalea
Andrew Cisneros' resume ensured that his debut restaurant would draw attention. He had cooked for some of St. Louis' best chefs — Gerard Craft, Ben Poremba, Mike Randolph — and he had showcased his own cooking with his Brasas pop-up, featuring Peruvian-style rotisserie chicken. Still, neither his rising-star status nor his terrific spit-roasted chicken with fries and sauces quite prepared me for Jalea, which opened at the very end of 2021 on St. Charles' historic Main Street. For one, Cisneros eschewed the fine-dining trappings of the restaurants where he'd made his bones for a casual, inviting and almost gastropub-esque space. In those early months, at least, he also didn't serve his signature rotisserie chicken. Instead, he focused on brilliant flavors and beautiful platings that put his own stamp on the repertoire of his Peruvian heritage: a version of lomo saltado that featured rib-eye as the steak and fingerling potatoes cooked confit-style in beef fat in place of fries; the perfectly fried seafood and precise accents in the dish that gives the restaurant its name.
Though the restaurant is called Jalea, Cisneros' signature dish is his ceviche, the fish of the day "cooked" in a staggeringly complex leche de tigre that pops with lime juice and chiles, briny clam juice, and garlic and other aromatics. Once you stop staring at the gorgeous plate of fish and its sweet potato and choclo corn garnishes, you can't stop eating it. As Jalea approaches its first anniversary, Cisneros continues to expand his reach, bringing his Peruvian-inspired slider concept Sanguchitos to the tasting room of Perennial Artisan Ales in south city.
Where Jalea, 323 North Main Street, St. Charles • More info 314-303-0144; jaleaperuvianbistro.com
2 • Menya Rui
Menya Rui is both the most efficient of this year's best new restaurants and the restaurant that takes the most pains with its product. Chef and owner Steven Pursely studied ramen in Japan for three years, first in Okinawa prefecture (where he was born) and then in the city of Matsuyama, before returning to St. Louis to hone his own approach to the dish through a series of pop-ups. At his debut restaurant, he sets himself apart by making his own noodles, a labor-intensive process that yields 30 to 40 portions per hour. Thin, springy noodles fill bowls of his exemplary pork shoyu ramen (succulent with rendered pork fatback but much cleaner and lighter than the more familiar tonkotsu style), the intensely savory chicken shoyu and the spicy tantanmen. Pursley also makes a thicker, chewier noodle for tsukemen, dipping noodles you swish through concentrated broth further intensified by scallop oil. All of this you experience quickly once you have taken a seat and ordered. Your ramen arrives promptly, and it isn't the sort of dish you linger over. Instead, in your slurps and spoonfuls, you commune with the work of a young chef who is already a serious student of his field and well on his way to becoming a master.
Where Menya Rui, 3453 Hampton Avenue • More info 314-601-3524; www.menyarui.com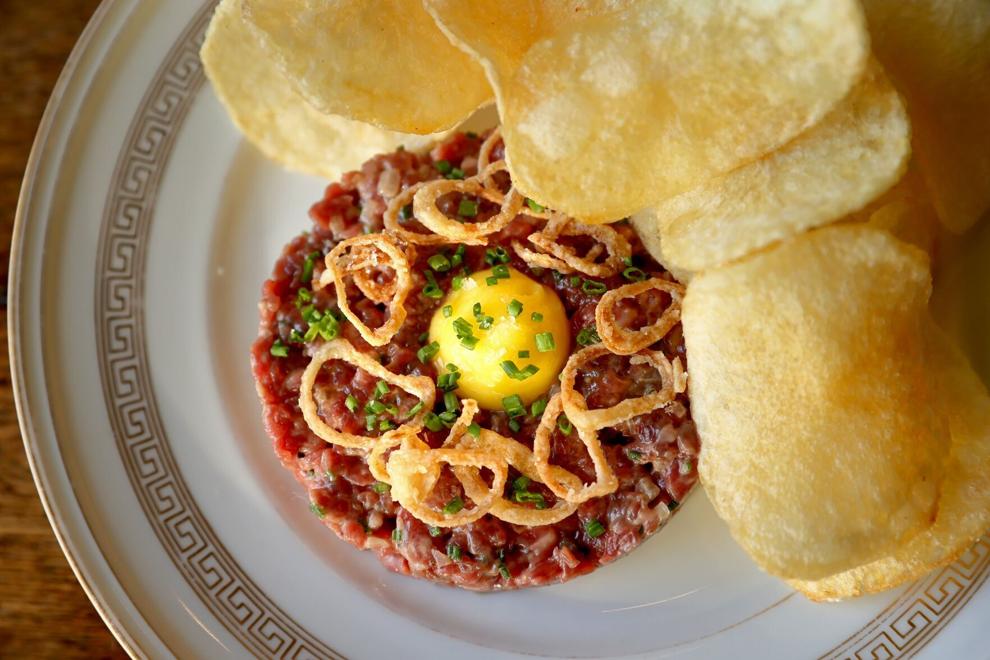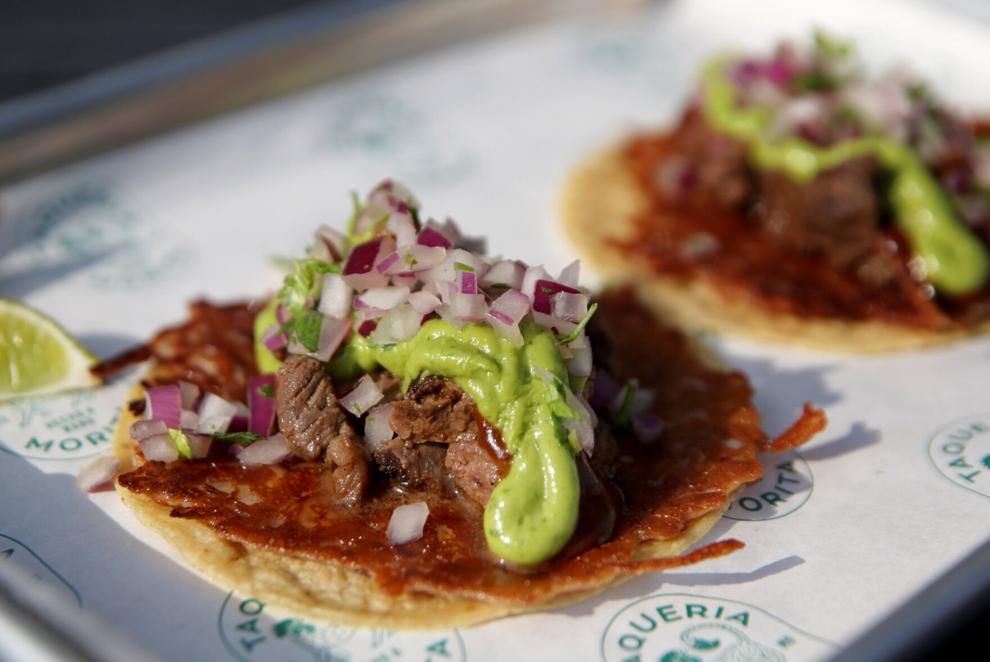 3 • Bistro La Floraison and Taqueria Morita
The team behind the great Vicia, led by married founders Tara and Michael Gallina and their business partner and culinary director Aaron Martinez, emerged from the darkest days of the pandemic with an audacious plan for 2022. First, they opened the pavilion outside Vicia as the come-as-you-are Taqueria Morita, with Martinez serving exceptional seasonal tacos — eggplant barbacoa and pork adobada with peach on my summer visits — and the best fish tacos in town. (With the change in weather, Taqueria Morita now operates out of Vicia's University City sibling, Winslow's Table.) Meanwhile, the Gallinas, Martinez, et al. undertook the challenge of imbuing Zoë Robinson's beloved Bar Les Frères with their own style while retaining its French-bistro heart. The resulting Bistro La Floraison indeed charms on its own terms, with chef Patrick Fallwell presenting subtly innovative, energized versions of classics like steak tartare and chicken cordon bleu, the latter presented as a tremendous piece of fried bird.
Where Taqueria Morita at Winslow's Table (winter location), 7213 Delmar Boulevard, University City • More info 314-725-7559; taqueriamorita.com
Where Bistro La Floraison, 7637 Wydown Boulevard, Clayton • More info 314-725-8880; bistrolafloraison.com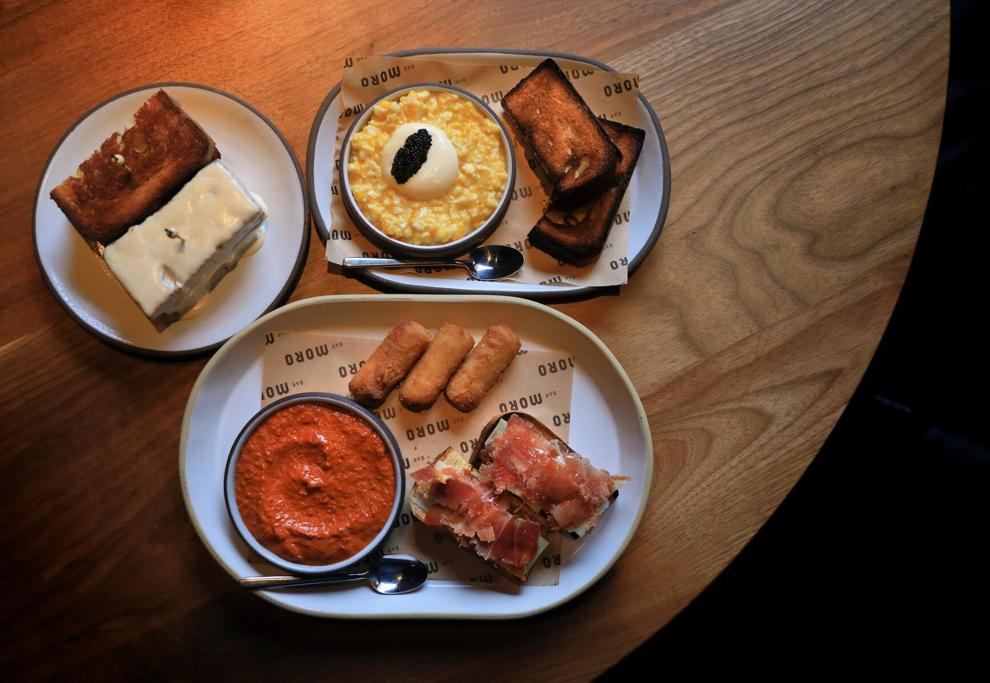 4 • Bar Moro
Is anyone more suited to succeed Zoë Robinson than Ben Poremba? The chef-restaurateur behind the acclaimed Elaia, Olio, Nixta and the Benevolent King fuses an uncompromising culinary vision with an inimitable sense of style. He's done so again at his new venture, Bar Moro, which opened in October in the former home of Robinson's Billie-Jean. Within this narrow and, so far, always crowded storefront, Poremba and his team celebrate the cuisine of Spain and the broader Iberian peninsula, from perfect two-bite tapas to a platter of Catalan-style roasted chicken in lobster sauce (with actual bites of plump lobster) meant for two or more diners to share. The menu can be overwhelming — raw oysters? shrimp sauteed with garlic and sherry? or top-notch tinned seafood you check off a list as you would nigiri at a sushi restaurant? — but as is typical of Poremba's restaurants, every choice is rewarded, and the stellar beverage program helps ease any anxiety. (Read my full review of Bar Moro on Page 18.)
Where Bar Moro, 7610 Wydown Boulevard, Clayton • More info 314-296-3000; bengalina.com/bar-moro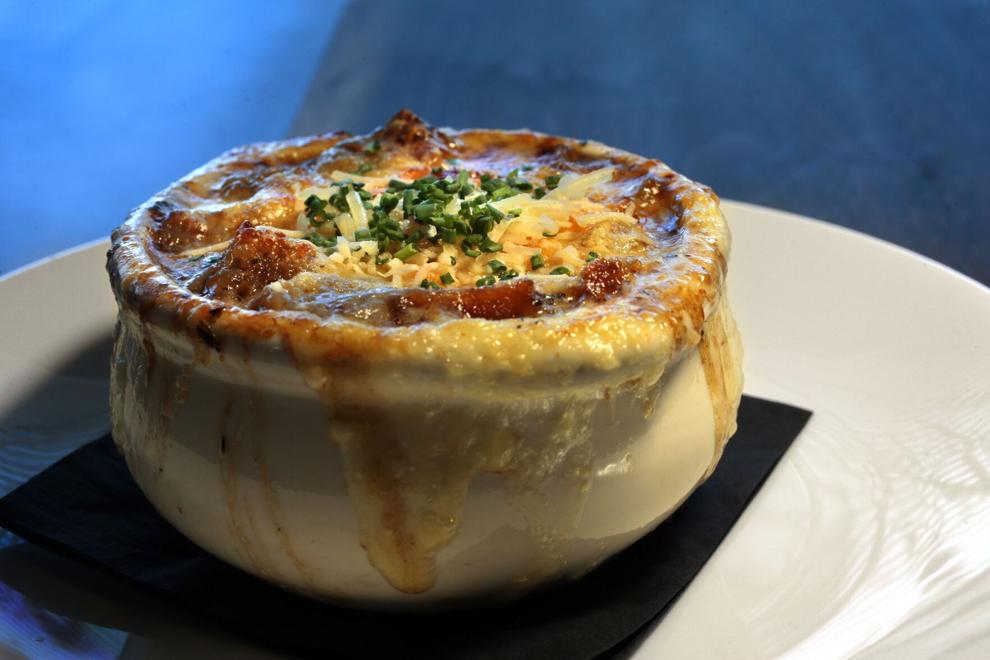 5 • Westchester
Born of a friendship forged at a wine and whiskey bar and featuring a chef who claims the great Bill Cardwell as a mentor, the Chesterfield restaurant Westchester unsurprisingly boasts a strong beverage program and an appealing menu of seasonal fare. But the trio of John Cowling, Bryan Herr and Matthew Glickert have created something more out of this shopping-plaza storefront: a space that already boasts a timeless neighborhood-hangout vibe. Glickert, the chef, pivots nimbly from upscale comfort (French onion soup, a dynamite fried bologna sandwich) to international fare (Korean-inspired smoked, fried pork belly) to dishes very much of the moment. This spring, that included fettuccini with burrata and foraged morels, grilled chicken set on a bed of panzanella salad featuring first-of-the-season heirloom tomatoes and, for dessert, macerated early-season strawberries on lemon shortbread with whipped cream and a rosemary-mint gastrique.
Where Westchester, 127 Chesterfield Towne Center, Chesterfield • More info 636-778-0635; westchesterstl.com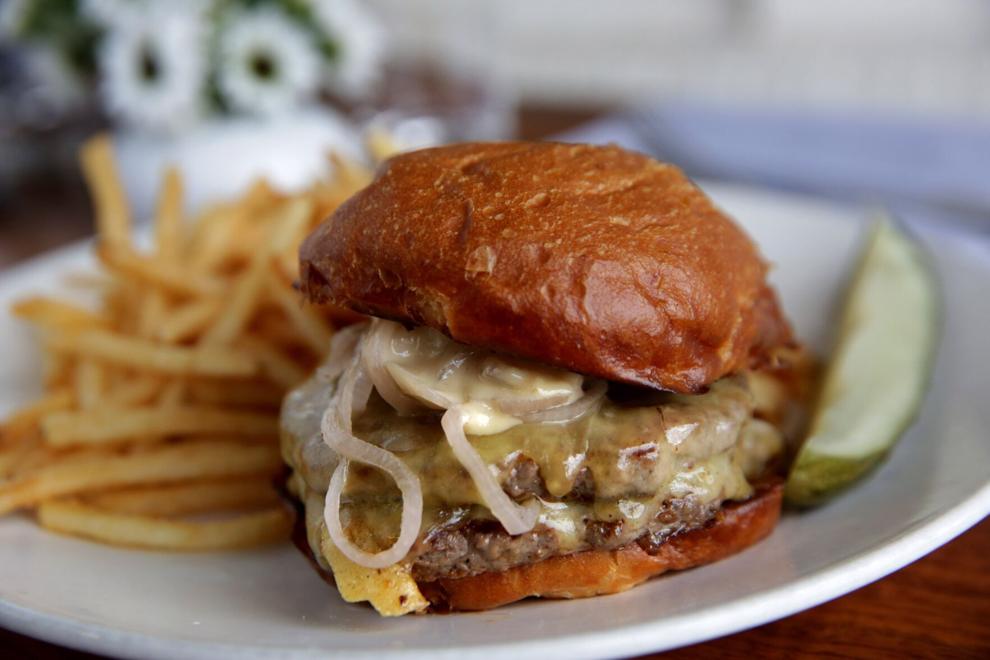 6 • Bowood by Niche and Fordo's Killer Pizza
One of the main reasons for Gerard Craft's continued success as a restaurateur is his knack for identifying talented younger chefs and putting them in situations where they can thrive. The past year has seen two prime examples, first at Bowood by Niche, his restaurant group's reimagining of the former Café Osage space in the Central West End. At breakfast and lunch, executive chef Dakota Williams deftly walks the line between comfort and sophistication (blueberry pancakes, eggs Benedict, the obligatory smash burger). His dinner menu, in its infancy when I tried it, shows an unstuffy elegance perfectly suited to Bowood Farms' lovely retail space. Meanwhile, at Fordo's Killer Pizza at the Food Hall at City Foundry, executive chef Joe Luckey puts his own spin on the now familiar wood-fired style of pizza, from straightforward pepperoni to his brilliant take on the Hawaiian pie with prosciutto and a roasted-pineapple sauce.
Where Bowood by Niche, 4605 Olive Street • More info 314-454-6868; bowoodbyniche.com
Where Fordo's Killer Pizza, Food Hall at City Foundry, 3730 Foundry Way • More info fordospizza.com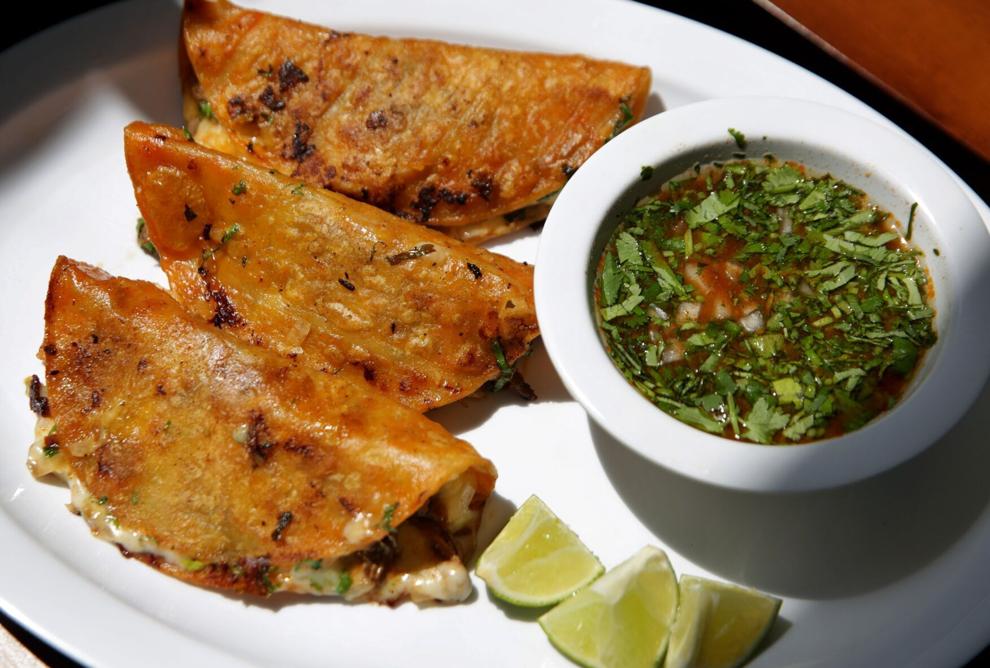 7 • Sabroso Cocina Mexicana
Of all the great shopping-center restaurants in the St. Louis area, Sabroso Cocina Mexicana might be the most improbable: an awkwardly shaped dining room and kitchen in a plaza anchored by a church rather than retail shops. In this unlikely space, the chef Miguel Pintor and his wife, Brandin Maddock, have built a tribute to Mexico's regional fare, from the taco stands of Mexico City (Pintor's own mother's included) to the cochinita pibil of the Yucatán. That cochinita pibil is Sabroso's signature dish: citrusy slow-roasted pork delicious on its own, topping an oversized huarache or as part of a panucho (layered on a crisp corn tortilla with refried beans and pickled onions). You can order cochinita pibil as a taco, too, alongside very good carne asada and al pastor tacos. Or maybe you want an al pastor torta? Or quesabirria with velvety consommé? Pintor unfolds the map of Mexico and excels at each stop along the way.
Where Sabroso Cocina Mexicana, 11146 Old St. Charles Road, St. Ann • More info 314-918-5037; stlsabroso.com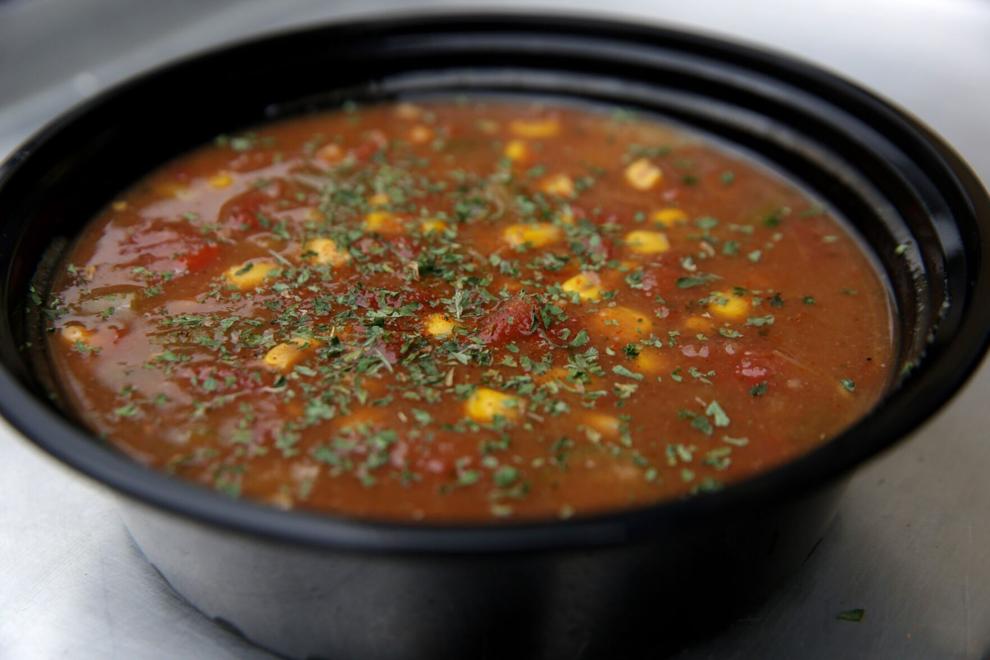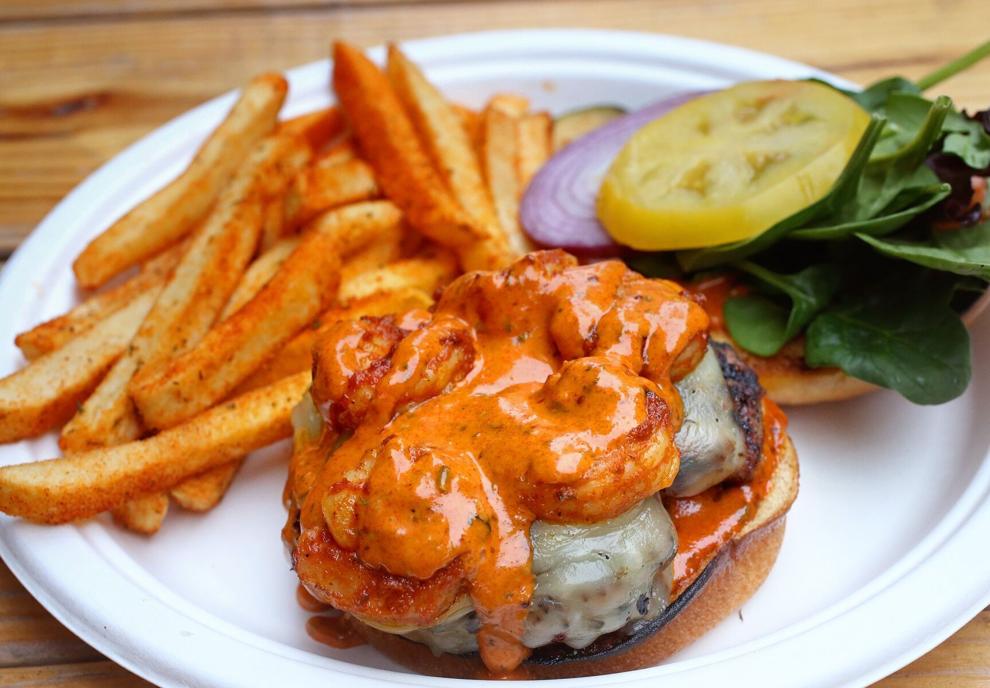 8 • 4 Hens Creole Kitchen and Simply Delicious
Opening your debut restaurant is miracle enough at any time, even more so as the restaurant industry continues to reckon with the pandemic's effect on labor and food costs. The chef Brandi Artis, a Kansas City native who came to St. Louis from Chicago with her wife, Brittany, opened her debut restaurant in January — and then premiered her second establishment eight months later. 4 Hens Creole Kitchen went first, another strong entry in the Food Hall at City Foundry's lineup. Its kitchen sizzles with sauteed shrimp and fried green tomatoes, both enhanced with a drizzle of the house remoulade, and soothes with the signature succotash soup. Simply Delicious draws on some of 4 Hens' Creole DNA — not least a burger topped with those sauteed shrimp in remoulade, an out-there combo that works — but here Artis showcases an even broader range: an oversized breakfast sandwich, papas bravas, a hot fried chicken sandwich distinctly her own and more.
Where 4 Hens Creole Kitchen, Food Hall at City Foundry, 3730 Foundry Way • More info 4henscreolekitchen.com
Where Simply Delicious, 1115 Pine Street • More info 314-802-7287; simplydeliciousstl.com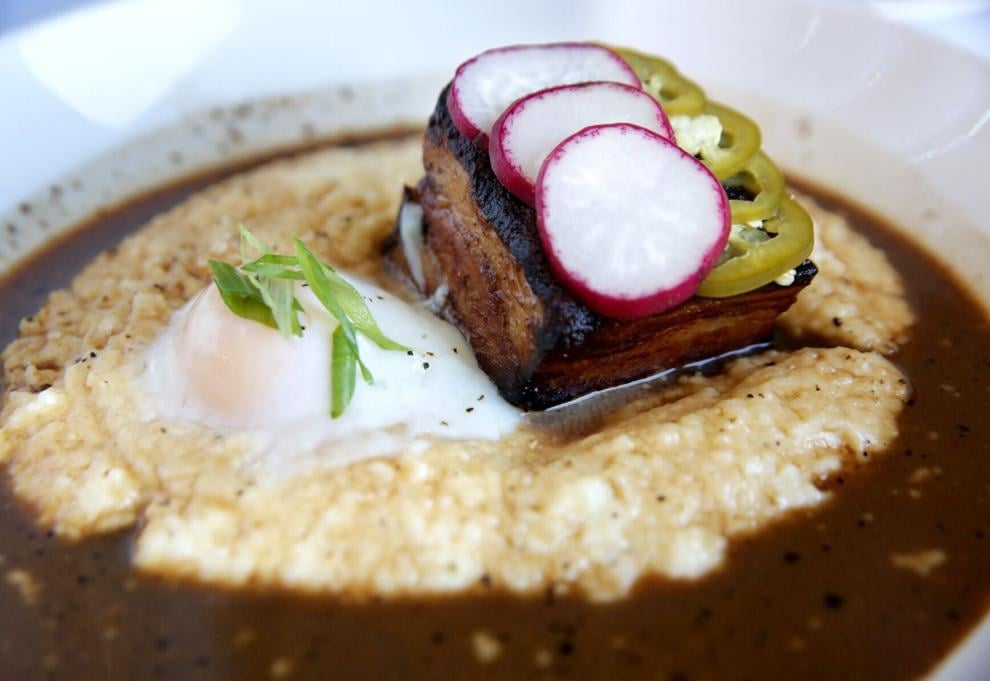 9 • Blue Violet
Prolific restaurateur Michael Del Pietro (Sugo's Spaghetteria, Del Pietro's, Il Palato) has stepped outside his comfort zone at his latest venture, the upscale but unstuffy Blue Violet in Edwardsville. Del Pietro and partners Ryan French, Micah Hopkins, Pat Baltes and Jordan Knight look not to Italian cuisine but to an eclectic blend of influences both American and international. Even the crudo defies expectations, served in little rice-cracker cups with an herb aioli and teased with the smoky bite of ancho chile. The menu, overseen day to day by Knight, draws some of its strongest inspiration from the U.S. South, from housemade pickles that can hold their own as an appetizer to cornbread with poblano jam to Nashville-style hot fried cod. The can't-miss dish is the Rocket Pork, pork belly braised in coffee and cola that practically melts into its bed of creamy grits.
Where Blue Violet, 6108 Shoger Drive, Edwardsville • More info 618-650-9003; bluevioletedwardsville.com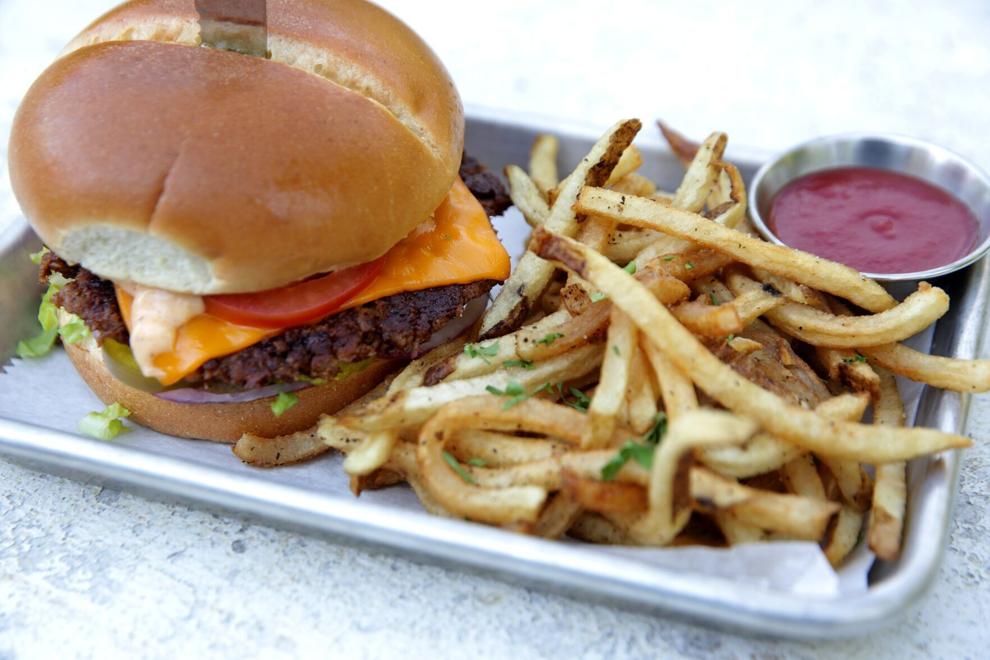 10 • Station No. 3
Station No. 3, the third restaurant from the chef Natasha Kwan and her husband, Rick Roloff, calls itself a "flexitarian gastropub," which is fewer words than "peak TGI Fridays, but make it delicious and mostly vegan, too," but maybe not so evocative. At this Benton Park address, Kwan channels her knack for both compelling vegan cooking (honed over the past decade at her original restaurant, Frida's) and compelling cooking, period (as displayed at Frida's non-vegan counterpart, Diego's Cantina), into a laid-back celebration of vegan nachos, popcorn chicken and mozzarella sticks — and, for that one friend who just won't buy into the vegan-substitute thing, real-deal smoked turkey and pan-seared barramundi sandwiches. Kwan has engineered a fried "chicken" sandwich to convince Col. Sanders, and her housemade faux-meat burger skips the try-hard "bloodiness" of the Impossible patty for the simple pleasures of grill char and melted cheese. Or, rather, you know, "cheese."
Where Station No. 3, 1956 Utah Street • More info 314-925-8883; station3stl.com