This winter, the Oakville-area restaurant Cellar House needed a new chef. As it happened, the chef Chloe Yates needed a new showcase for her talents. Yates herself might not have phrased it that way, but I visited her late food truck Red Dirt Revival and can say it on her behalf.
Yates had been a customer of Cellar House since it opened in 2015 in its original, nearby location. This began as a wine bar adjacent to owner Patrick Ahearn's wine shop Bottle Cellars and gradually evolved into a restaurant. In 2020, Ahearn relocated Cellar House to a new home on the same thoroughfare, Telegraph Road.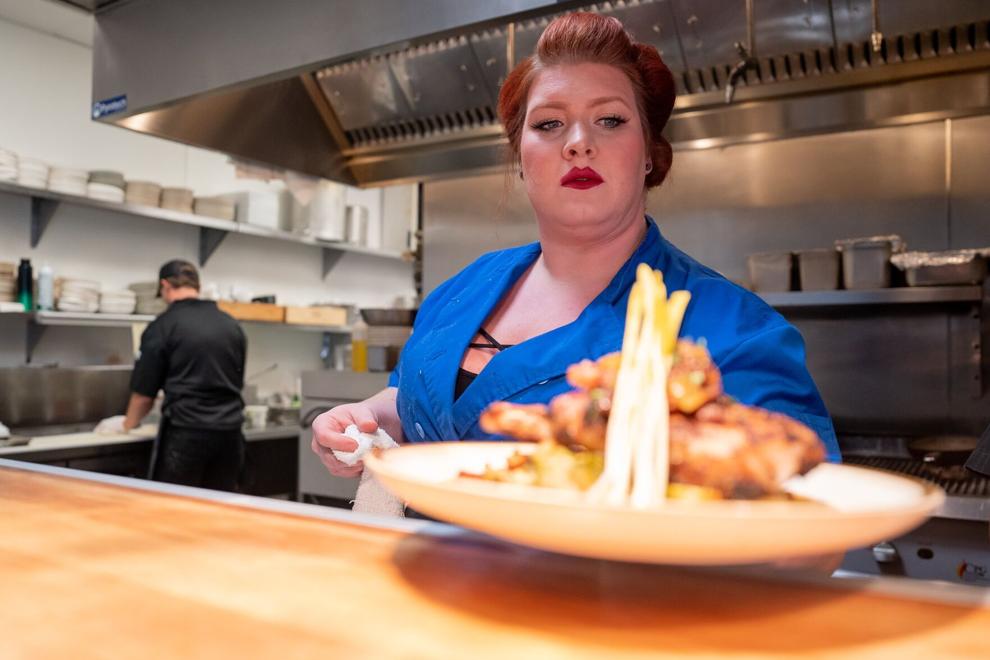 One evening in February, a Cellar House employee called Yates at home. The restaurant's chef had quit. Could she come over right now and cook? She didn't know the menu, but she said yes. Ahearn soon asked her to help consult at the restaurant; a month later, he offered her the position of general manager. Eventually, with the executive chef position still unfilled, she took on that role in addition to GM.
A first-time visitor unaware of this backstory might assume Yates and Cellar House have been together since day one. Her style perfectly fits the restaurant's vibe, a casual, friendly neighborhood spot with a higher-end gloss, equally suited to a night out or an impromptu dinner at the bar. Yates' cooking is seasonal, sophisticated and abundant in both flavor and plating: a towering grilled bone-in pork chop with a glaze of bourbon, peach and chipotle; a knob of fried burrata in a smoky-sweet sauce of eggplant and roasted red pepper as compelling as the molten cheese itself; a plate of three meatloaf sliders, each of which could pass at a squint for a modestly sized regular burger.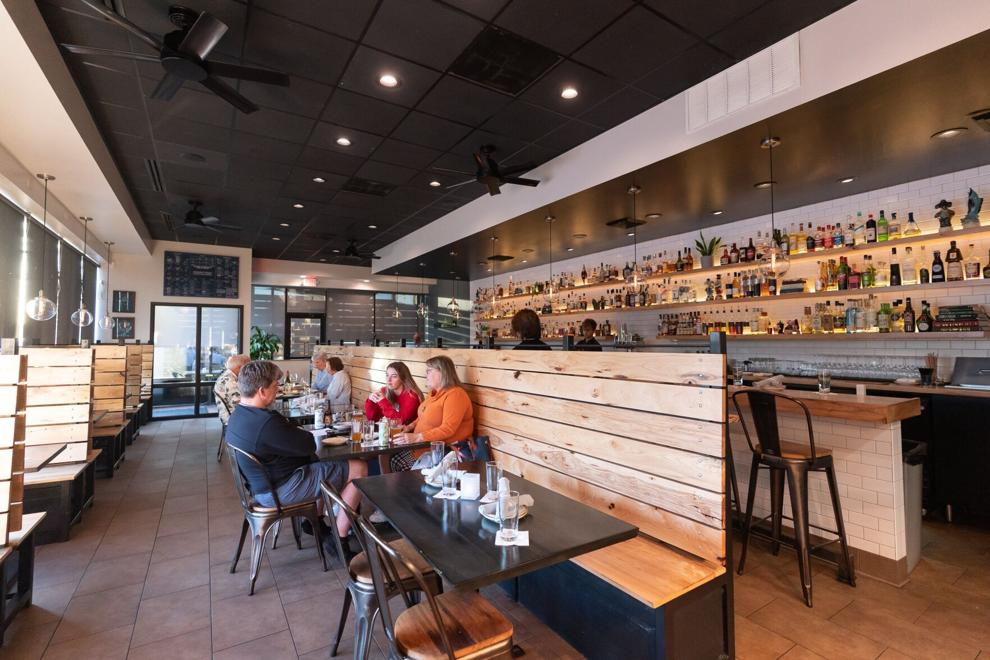 I knew Yates' work from her food truck. To my chagrin, this review marks my overdue first visit Cellar House in either its original or current location. The latter is a storefront in a shopping-plaza outbuilding, but once you enter the restaurant, a trick of the warm lighting and the clean design of light wood and subway tiles transports you into a bubble of conviviality. When the restaurant is especially busy on a weekend night, you will raise your voice to be heard just across the table.
As I said, Yates' cooking is seasonal, and my visits coincided with the menu's shift from summer to fall. The grilled bone-in pork chop I ordered has given way to a version with an apple-carrot reduction and a hash of pork belly, Brussels sprout, parsnip and sweet potato.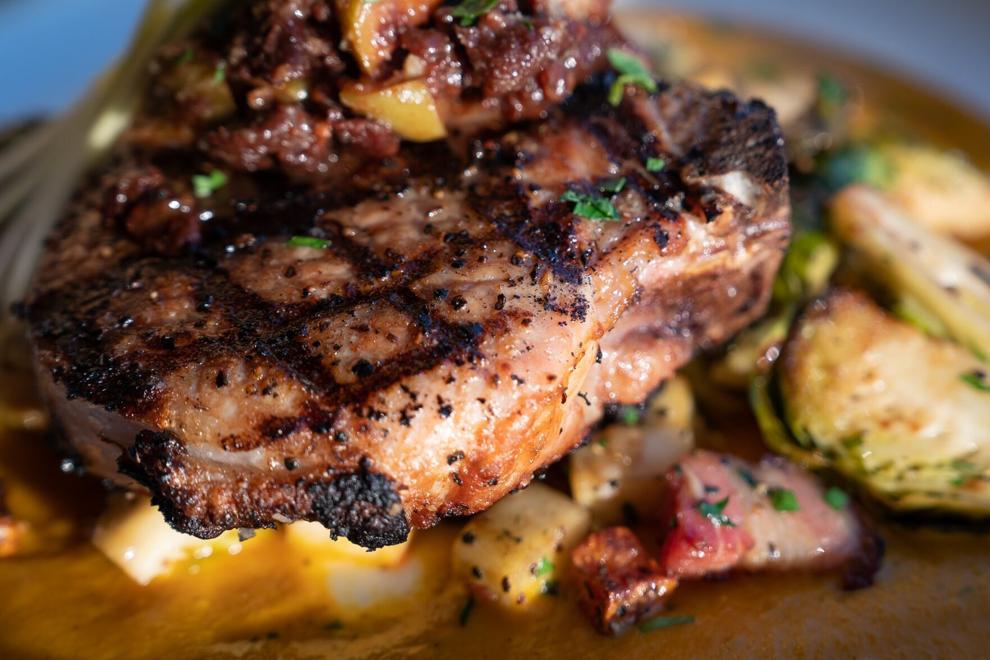 Still, the dish as I tried it highlights Yates' thoughtful cooking and her kitchen team's skill. The chop itself was expertly grilled, the surface nicely browned where it wasn't deeply crosshatched, the meat tender and juicy through the center. The glaze played on the natural affinity of pork for both fruit and smoky chiles — not to mention the sticky caramel sweetness of bourbon. What brought the dish together, though, was its rather plain-looking bed of smoked cauliflower puree, with its welcome vegetal bitterness and a mild smokiness that underlined the chipotle notes and the pork's grill char.
For the pan-seared rib-eye on the new fall menu, Yates makes a bold, even audacious choice: she smothers the entire steak in a cream sauce with mushroom, horseradish and anchovy rather than serve this sauce on the side. This turns out to be a brilliant hack for a steakhouse-quality steak from a pan. The umami rich sauce intensifies the steak's gorgeous crust and (on my table's order) precisely medium-rare meat, while the horseradish adds the exact zip necessary to keep the dish lively.
You will now find bourbon as part of the bourbon-maple glaze coating a piece of pan-seared salmon. Again, the technique here is impeccable —crucial when dealing with a fish overcooked as often as salmon is. The autumnally sweet crust, reinforced by a garnish of chopped thyme-candied walnuts, yields to just-opaque flesh. The salmon sits on a sensible bed of roasted carrot and parsnip, but I gladly would have traded that for twice as much of the dish's other side, kale in a walnut cream sauce. This both picks up the salmon's accents and punctuates the dish with a verdant counterpoint.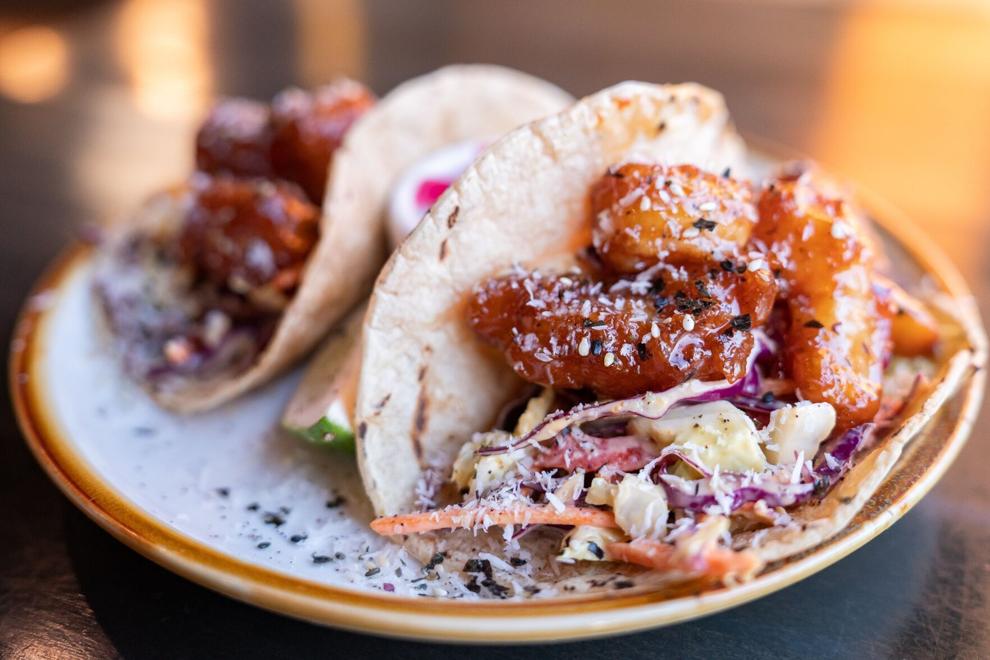 To its credit, Cellar House's food is difficult to characterize as a whole. Those meatloaf sliders are pure Americana. They are also very clever. The blend of ground beef, pork belly, cheddar and a mix of Coca-Cola and bourbon turns the meatloaf into a sort of compact, all-in-one bacon cheeseburger. A bowl of corn and crab chowder is as delicate as the plate of meatloaf sliders is staggering. The fleeting sweetness of its main ingredients is the most fall-like note on the fall menu. The spicy Thai shrimp in an order of fried shrimp tacos don't buzz with the heat and vibrant aromatics the Thai qualifier suggests, but the dish avoids the larger pitfall of fusion or mashup fare by focusing on the main component: plump, crisp fried shrimp.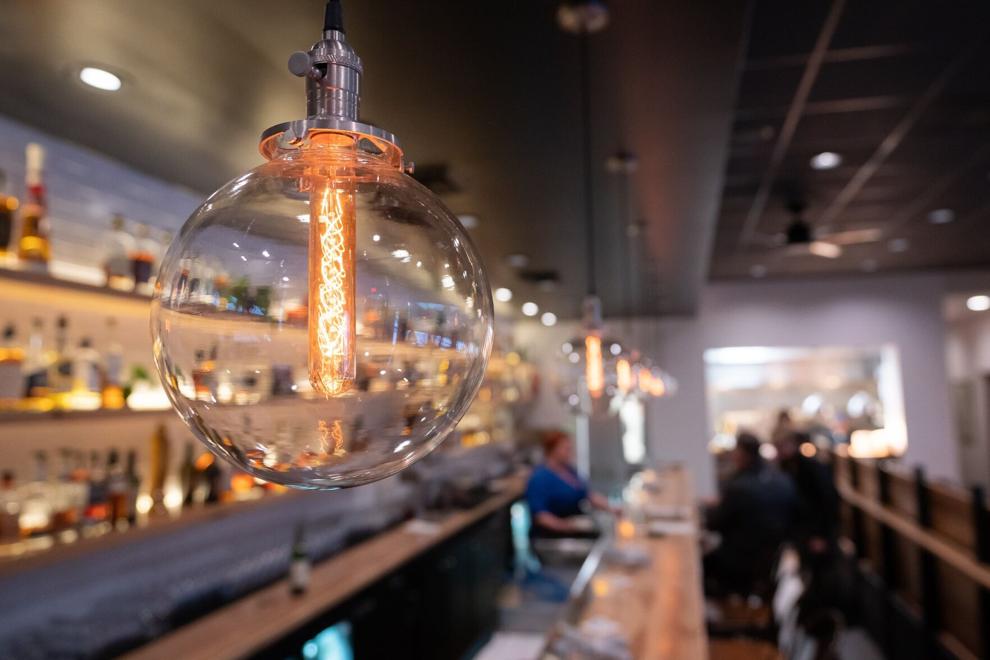 Cellar Houses' wine origins and selection notwithstanding, I found it difficult not to order cocktails here. There is the bourbon on the food menu and the bottles of whiskey on the shelves behind the bar. There are the cocktails themselves, an impressive array of balance (the Last of the Oaxacan, a mezcal-based cocktail that tastes of citrus as much as smoke) and whimsy (the BBB, bourbon with sherry and banana liqueur, garnished with a bruleed piece of banana).
Dessert is a comforting cushion after dinner's abundance: a crisp with apple and pear or a thick, moist square of bread pudding with praline pecan sauce. Neither is light, but you float out of Cellar House nonetheless. Yates has found a home here. Even when you live a half-hour drive away, as I do, you have found a new entry on your list of go-to restaurants.
Where Cellar House, 5634 Telegraph Road, south St. Louis County • More info 314-846-5100; cellarhousestl.com • Menu Contemporary seasonal fare • Hours Dinner Tuesday-Saturday (closed Sunday-Monday)