Sweet & Savory is sponsored by Closets By Design in St. Louis, Missouri. 

Download to print the recipe
Today, we'll be making a delicious Breakfast Focaccia from my restaurant and food truck, Clara B's Kitchen Table. It's layered with savory apple bourbon chicken sausage, creamy burrata and piney rosemary, brightened by the juicy tang of fresh cut apples. It's the quintessential sweet and savory dish.
To make everything a bit easier, I recommend measuring out and chopping all your ingredients before you begin.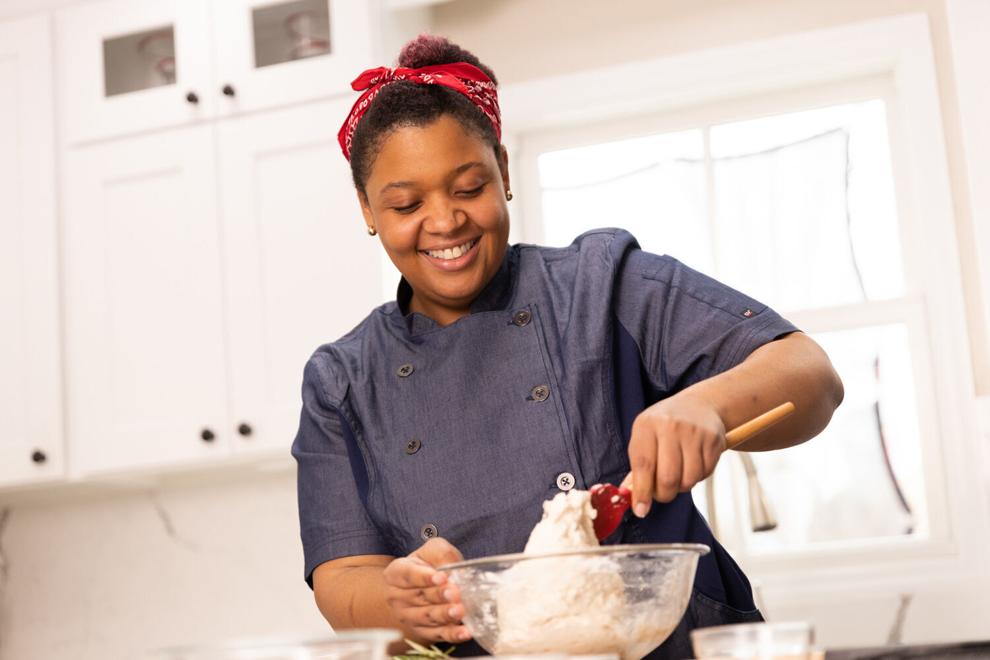 Focaccia dough
We'll begin with our dough. Dump your flour into a large mixing bowl, making a well in the middle for the rest of your ingredients. Pour warm water into the bowl — make sure it's not too hot or it will kill the yeast. Follow with olive oil, yeast, salt and sugar. Mix the ingredients together into a messy ball — we don't want to overwork the dough, otherwise it will make the focaccia too tough. I like to mix by hand, but you can also use an electric mixer with a hook attachment for this part.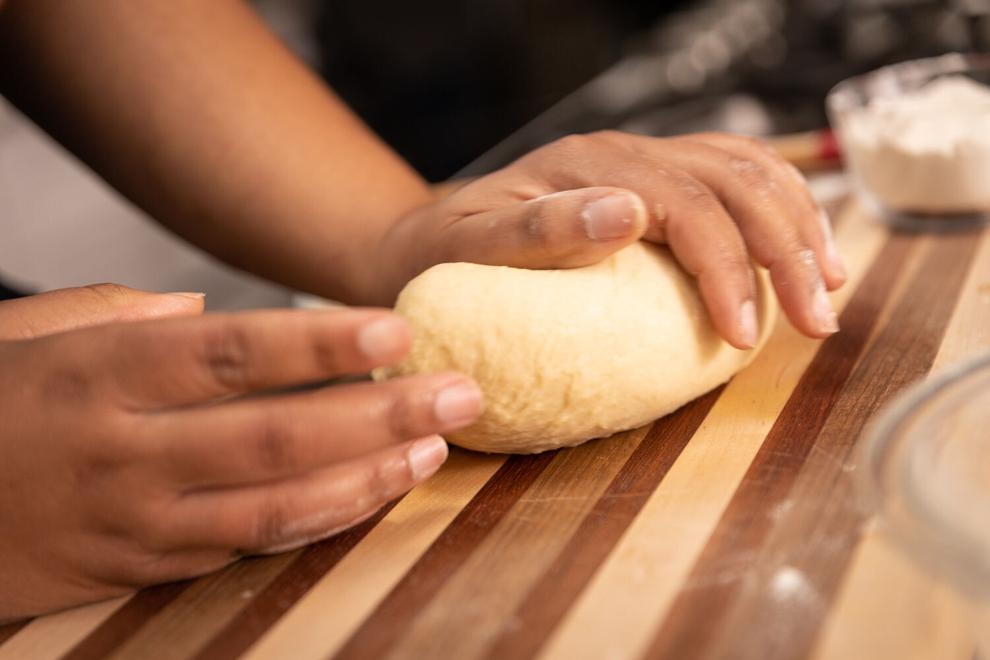 Rise the dough
Next, coat your oven-safe pan in cooking spray and pour the remaining olive oil into the bottom of the pan. This extra oil will make the bottom of the focaccia nice and crispy.
Add the dough to your pan. With oil on your fingers, spread the dough into the pan and evenly layer in the chicken sausage and fresh rosemary.
Now it's time for the dough to rise, a necessary step that makes the focaccia fluffy and flavorful. Cover the pan with plastic wrap and let the dough rise for about 45 minutes, preferably in a room temperature or warm place.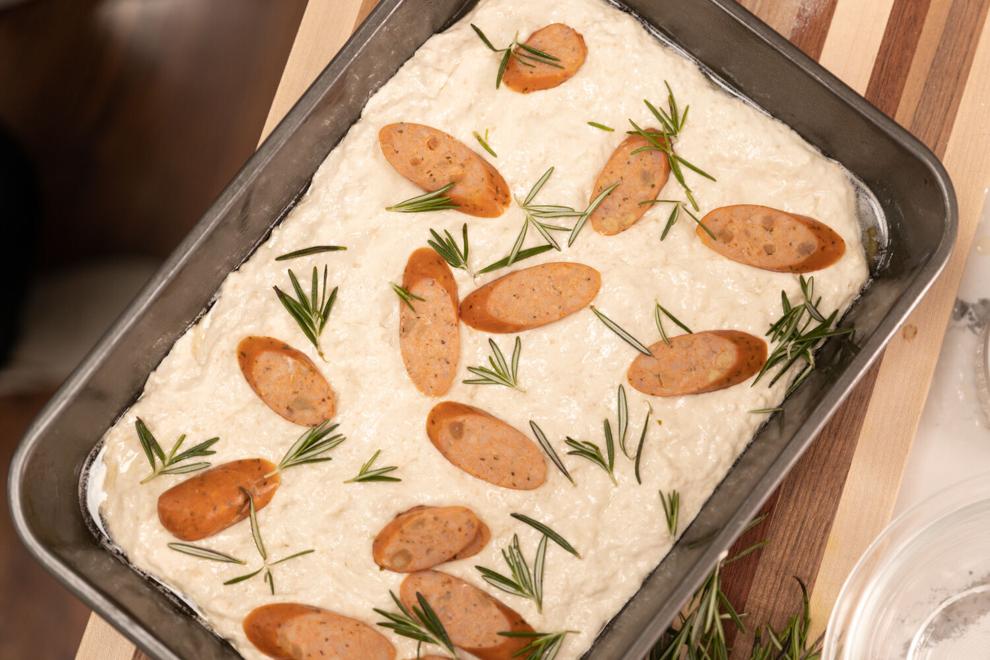 Let's bake
After the dough has risen, preheat your oven to 400ºF. Create small wells for your eggs by placing balled-up aluminum foil in the dough. Create about 6 to 8 wells, depending on the amount of eggs you want to add. Next, place your thinly sliced apple halves on top of the dough. Follow with creamy burrata and finish with a drizzle of olive oil and a sprinkle of crunchy, kosher sea salt.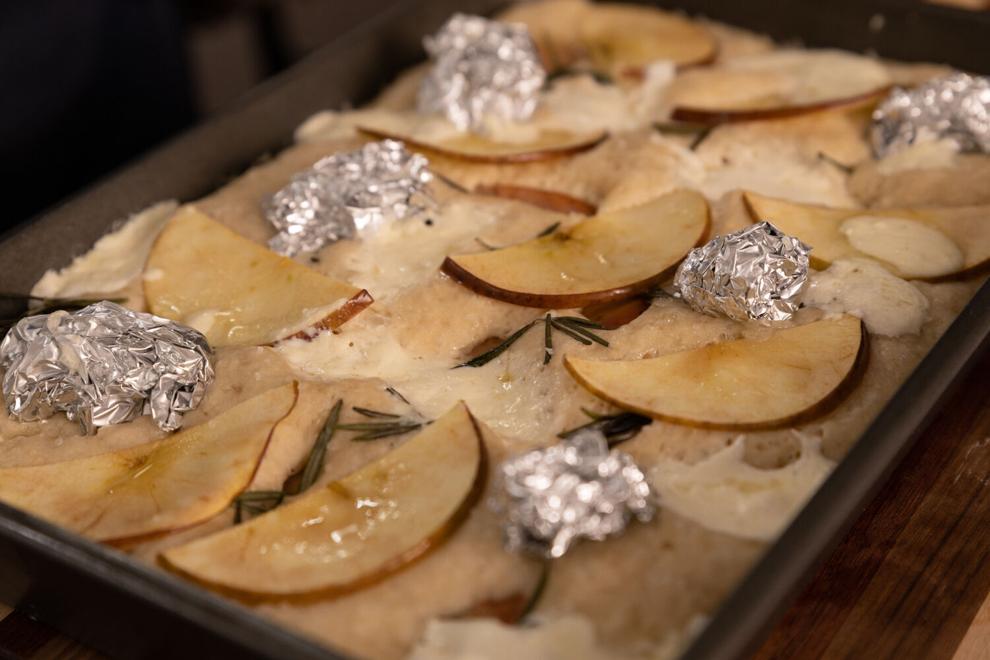 Place the focaccia in the oven and bake. After about 15 minutes, remove it from the oven, add your eggs into the wells, and bake for an additional 5 to 7 minutes, just until your eggs start to set. This will yield perfectly runny eggs that can be instantly mopped up by the warm focaccia.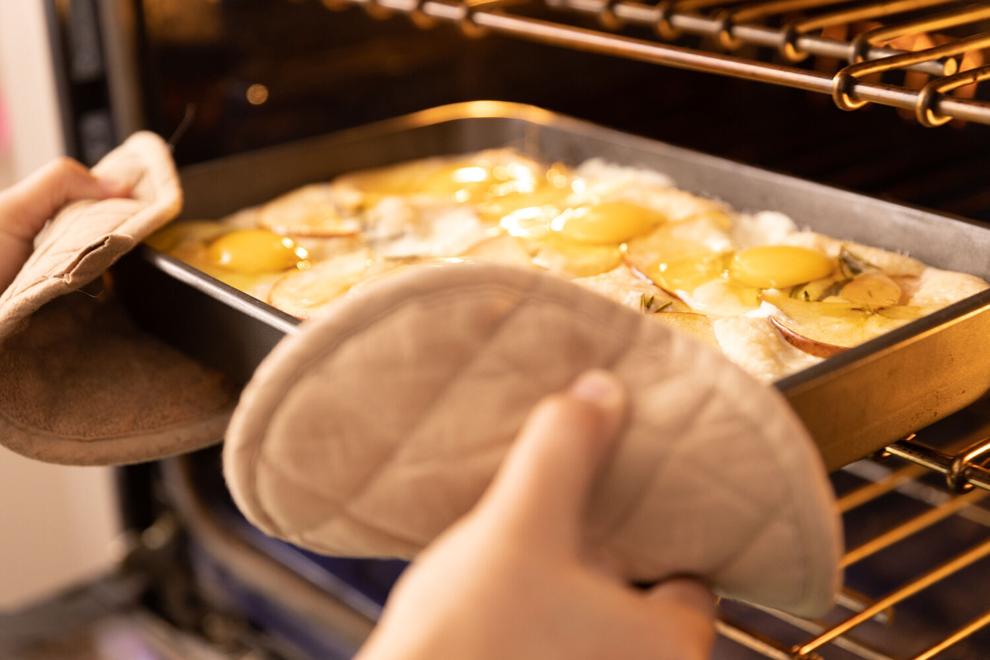 And serve
Once the focaccia is out of the oven, grate some Parmesan on top, followed by a touch more sea salt. And there you have it — our Breakfast Focaccia. The perfect way to start your day!