Timothy's the Restaurant stands sideways to humming Olive Boulevard, its storefront facing the scenic main strip and parking lot of a Creve Coeur shopping center. The unobtrusive location doesn't scream commercial curb appeal, but it suits Timothy's. If you didn't know the restaurant opened only last August, you might think you had stumbled upon some long-hidden gem given the confident cooking and second-nature hospitality.
Timothy's is actually a new venture from a trio of industry veterans. Co-owners Tim Metz, the chef, and Sean Olson, the general manager, founded Pickles Deli in 2007 in the Central West End and later added a downtown location. The third owner and the restaurant's wine director, Steven Manns, brings front-of-house experience at such upscale spots as Herbie's and Akar.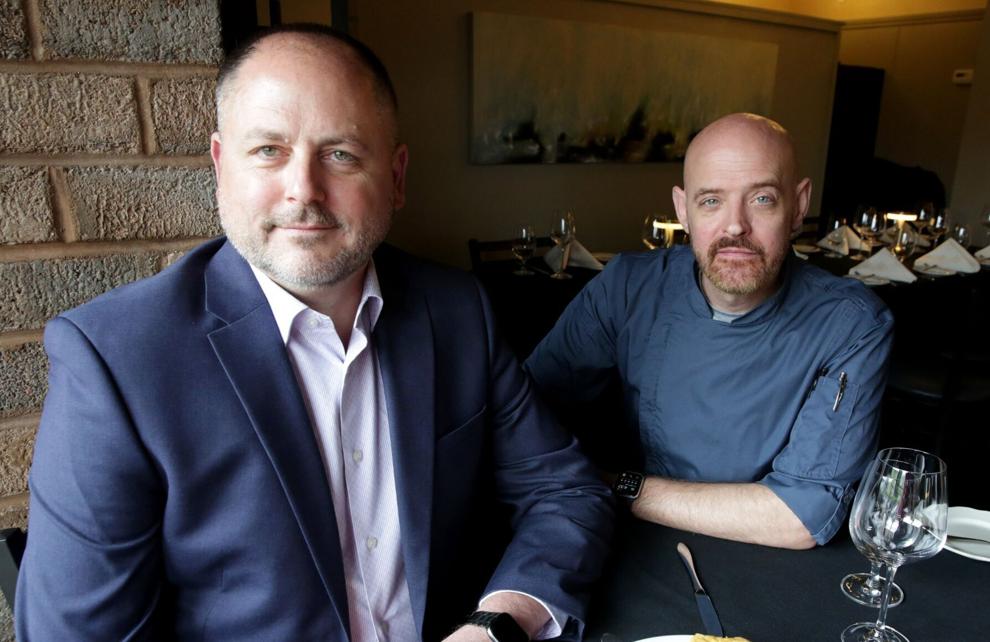 Cooking is Metz's passion, he told me in an interview when Timothy's debuted. Yet when Manns first suggested the three friends open a restaurant together, he and Olson were reluctant. They had already built a successful business. Still, both men were in their 50s now, and the more they thought about it, Metz said, they realized "if we're ever going to do it, now's the time."
The trio transformed the former Olive Street Cafe into Timothy's. The space features both a dining room proper and a bar area with tables (patio seating is also available), and the restaurant hits that sweet spot where you can feel equally comfortable planning a date-night dinner — a splurge, even, if you avail yourself of Manns' expansive wine selection — or dropping by for a snack and a drink at the bar.
That snack might be tater tots, formed here with shredded fontina cheese as well as potato. The result isn't the droopy stringiness of a mozzarella stick, but a crisp, compact bite that yields to a little gooiness and a hint of fontina's nutty character. Your drink might be the invigorating house martini, the gin's botanical notes boosted by a rinse of St-Germain Elderflower Liqueur.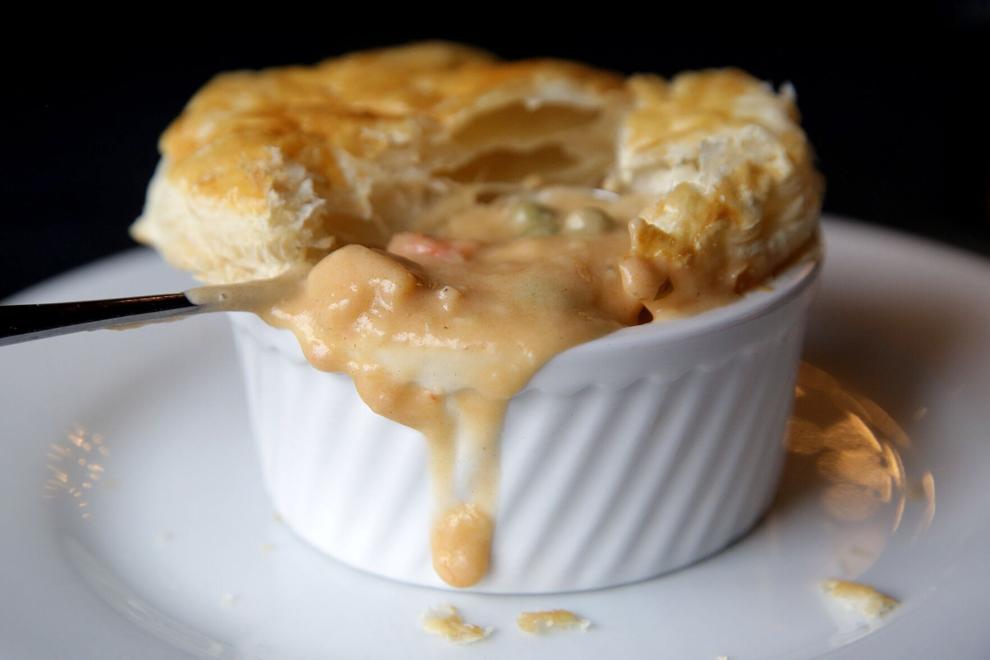 I guess I would describe Timothy's menu broadly — and maybe not entirely helpfully — as contemporary American bistro fare. The kitchen, led by Metz and recently promoted executive chef Will Mabrey, doesn't overthink the food. The edgiest technique I encountered was sous-vide cooking. But the best dishes here, like the restaurant itself, feel both familiar and new.
Smoked chicken wings, served whole rather than split into flats and drummies and sticky with a honey-barbecue glaze, really don't need anything more than the damp hand towel your server discretely provides. But in place of the desultory usual sides of celery sticks and blue-cheese dressing, the kitchen has fashioned a snappy blue-cheese slaw. You still get that piquant blue-cheese funk, but it's the sort of funk that makes you nod your head to the groove.
Among the appetizers, you will find it hard to resist the idea of a lobster pot pie, especially after I tell you what simmers beneath its tawny, delicate puff-pastry crust isn't so different from lobster bisque. You can taste the lobster, thanks to a few tender pieces of its meat, and a splash or two of cream sherry, but just when you think you have the dish figured out, there's the verdant pop of a green pea or the teasing licorice note of tarragon.
(Heed Manns' advice when I ordered this: Don't try to break through the puff-pastry crust with your spoon; nudge it aside instead.)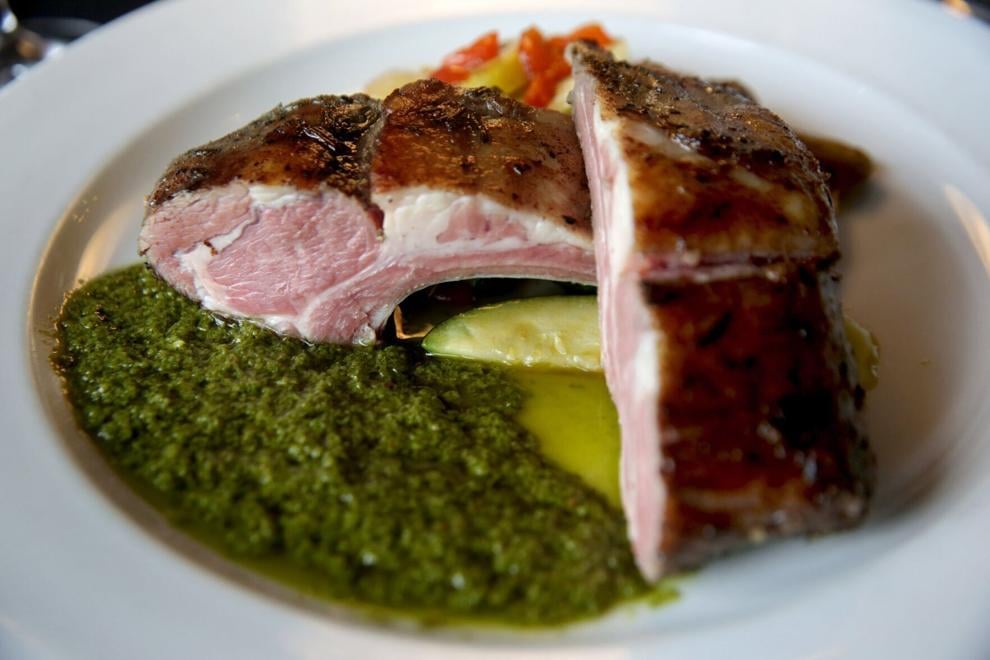 The lobster pot pie also points you toward the most compelling of Timothy's main courses. These revel in their own richness: the burger garnished with both pimento cheese and a Dijon mayonnaise; the tremendous, fork-tender pork rib-eye cooked sous-vide, finished on the grill and gilded with a swanky bourbon demi-glace; brawny roasted rack of lamb, the meat's grassy essence intensified by chimichurri.
Timothy's grilled scallops are as plump as any I've seen in a restaurant, their natural buttery sweetness so intense I might not have complained if the kitchen had dispatched them without any accompaniments. These sit on a bed of creamy roasted-poblano grits in a pool of velvety, butter-based Southern barbecue sauce with just enough Worcestershire sauce and lemon juice tang to keep the dish on the right side of decadent.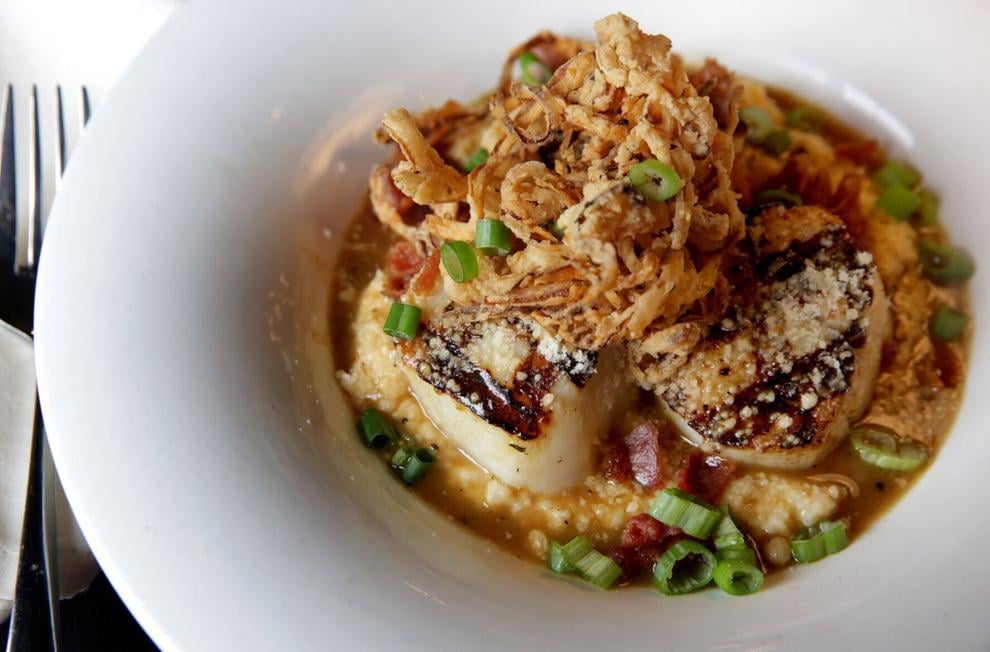 Timothy's also threads the narrow line between sensible and unimaginative. The pork rib-eye and rack of lamb plates aren't meant to work as a whole in the same manner as the scallops, but their sides of fried, smashed potatoes and glazed carrots for the pork and roasted potatoes and a medley of sauteed zucchini and squash and roasted red pepper work well. The fries served alongside the burger will catch your attention, though: thick, crisp curves that make natural scoops for the housemade curry ketchup.
The only dish that flopped were the crab cakes — especially surprising given the restaurant's success with lobster and scallops. Inside their crunchy panko breading, the jumbo lump meat was unappealingly soggy.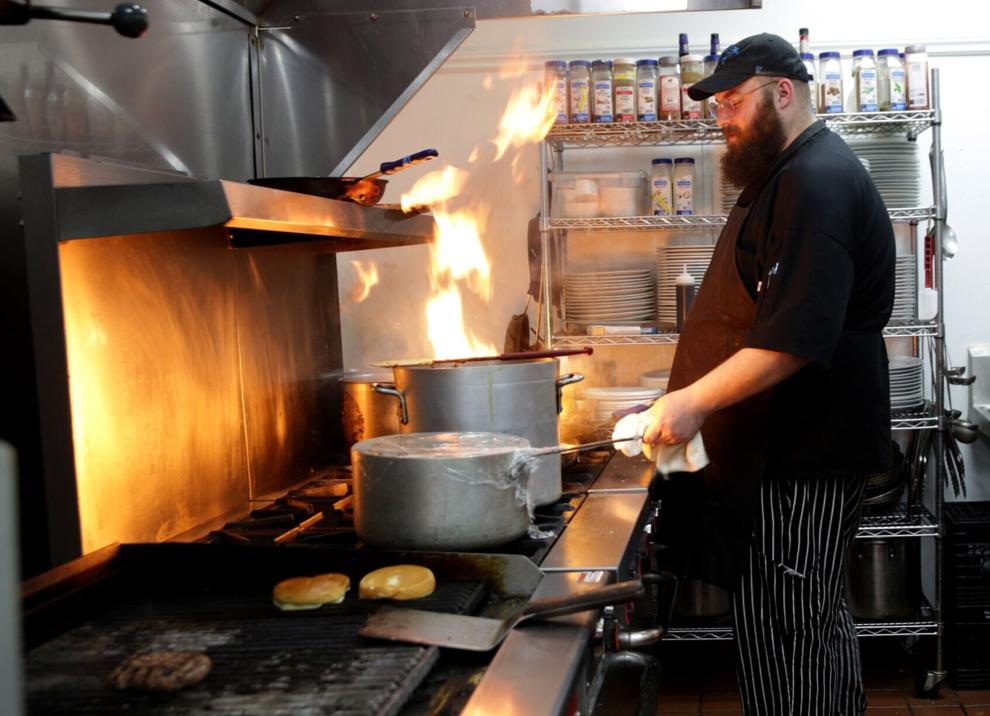 Is there crème brulee for dessert? Of course, but Timothy's gives the overplayed dish a sophisticated spin with caramelized honey and an attractive, if flavor-neutral, garnish of edible flowers.
If the restaurant's blueberry-Champagne sorbet or something like it is available, though, you should really finish your meal with a little scoop. Its boozy fizz sends you back into the parking lot with a newly buoyant step. You might not have uncovered a secret at Timothy's, but you have found a keeper.
Where Timothy's the Restaurant, 12710 Olive Boulevard, Creve Coeur • More info 314-786-5301; timothysstl.com • Menu Contemporary American fare • Hours Dinner Monday-Saturday (closed Sunday)

Ian Froeb's STL 100: Our critic's 2022 guide to the best restaurants in St. Louis