I would call the St. Ann home of Sabroso Cocina Mexicana a shopping plaza if I had seen any shopping going on. Sabroso's "open" sign and the scrolling electronic message board above its entrance are lonely beacons among the other storefronts here: a church, a day care, an adult day care. The chef, Miguel Pintor, and his wife and co-owner, Brandin Maddock, have lived in St. Ann for about a decade. They like the neighborhood, he told me in a phone interview, and the rent of this space across Old St. Charles Road from the erstwhile Northwest Plaza was affordable.
Sabroso, which opened in late September, is the couple's first restaurant, but a culinary path winds through Pintor's life. Born in Mexico's Tabasco state, at age 9 he moved to Mexico City, where his mother has run a taco stand for 40 years.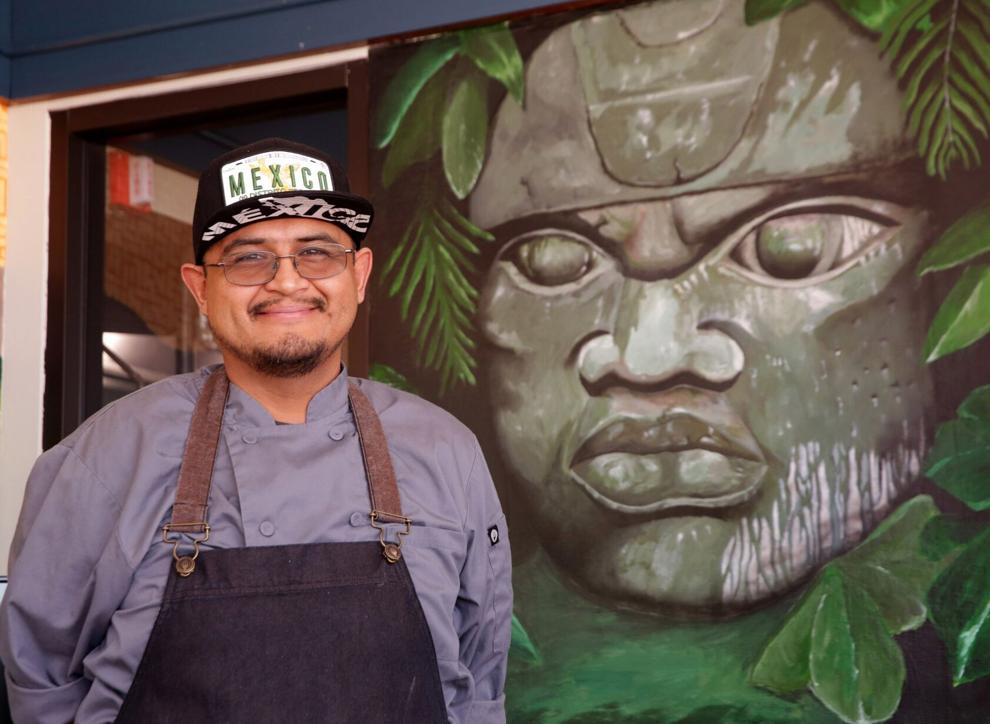 While traveling as a young man, Pintor visited cousins in St. Louis. Out of money, he asked his cousins if he could borrow some. They said no, but they could find him a job, and Pintor began his own culinary career at Red Lobster.
He went on to work for the chef Jason Tilford, who with his brother Adam has operated the Mexican restaurants Tortillaria, Milagro Modern Mexican and Mission Taco Joint. Pintor rose to become the culinary director for the multiple-location Mission, but he was laid off at the onset of the pandemic. It was tough, he said, but he realized now was the time to start something new for himself and his family.
On your first visit to Sabroso, you might find the interior as confounding as the location. To your right as you enter is a soda fountain, and directly ahead of you, in front of an open kitchen, is a counter where you might be tempted to place an order fast-casual-style.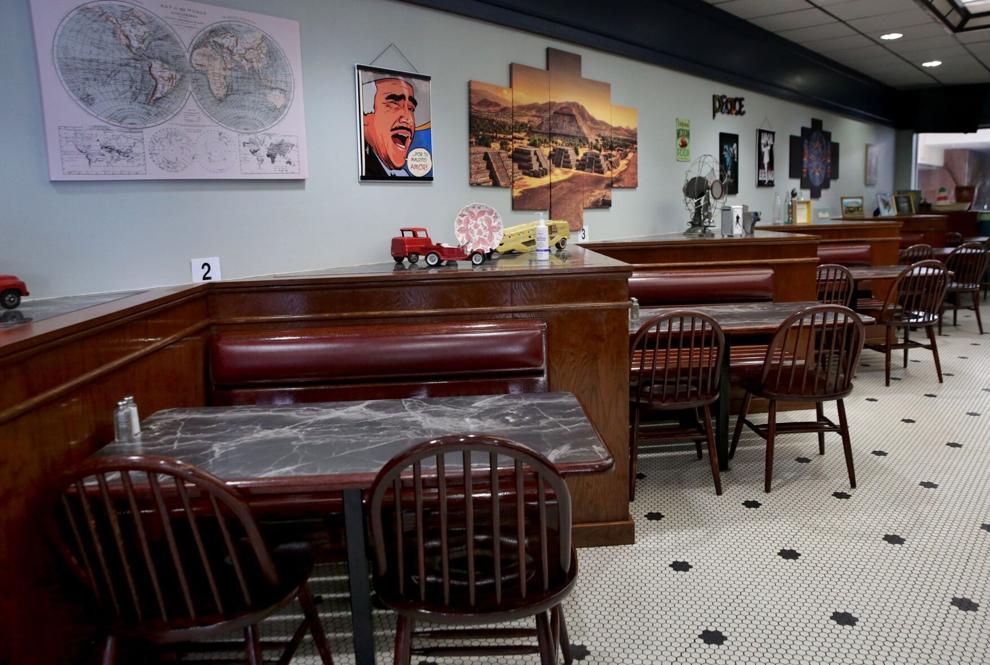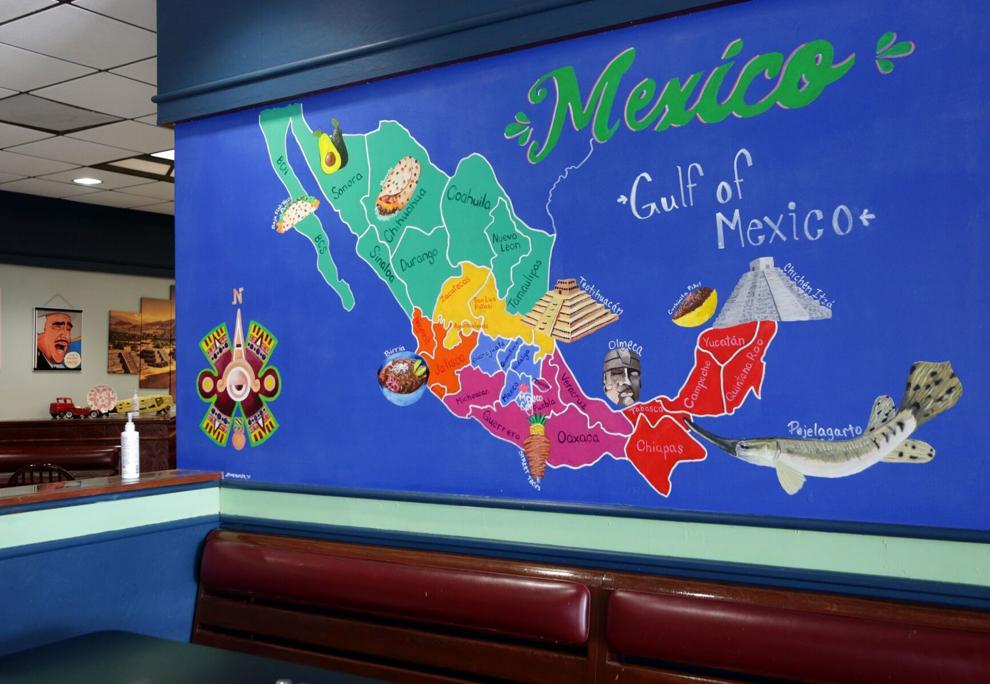 In fact, the restaurant offers table service and ample seating in the more open area by its front and side windows and along a sort of corridor where the decor features both Mexican and pop culture. (On several visits I sat within view of a picture of Optimus Prime.)
The most important piece of decor is near the soda fountain, a vibrant state map of Mexico illustrated with notable landmarks (e.g., Chichen Itza) and regional foods. Representing the state of Yucatán is probably the area's most famous dish, cochinita pibil. The slow-roasted pork is also a Sabroso specialty. The meat showcases the spreadable succulence usually associated with rillettes, while a generous garnish of red onion pickled with habanero chiles in lime juice punches up its citrusy essence.
You can order this as a plate with rice, beans and tortillas, but Pintor also offers it as a panucho, another Yucatecan dish, one that I hadn't encountered in St. Louis until its nearly simultaneous appearance here and at Alex Henry's Sureste at the Food Hall at City Foundry. The cochnita pibil rests on a bed of refried black beans atop a fried corn tortilla with just enough body to register a slight chew. The beans and tortilla ground the pork with earthiness and a mild sweetness, an assemblage as appealing as your favorite taco.
That map of Mexico is really a flex: Pintor's range is broad, and Sabroso's menu delights from the Yucatán through Tabasco across the country. Inevitably, he follows birria's path from a traditional stew of Jalisco to the current quesabirria boom, serving the pockets of elastic cheese and deeply meaty beef alongside a little cup of spicy, silky consommé.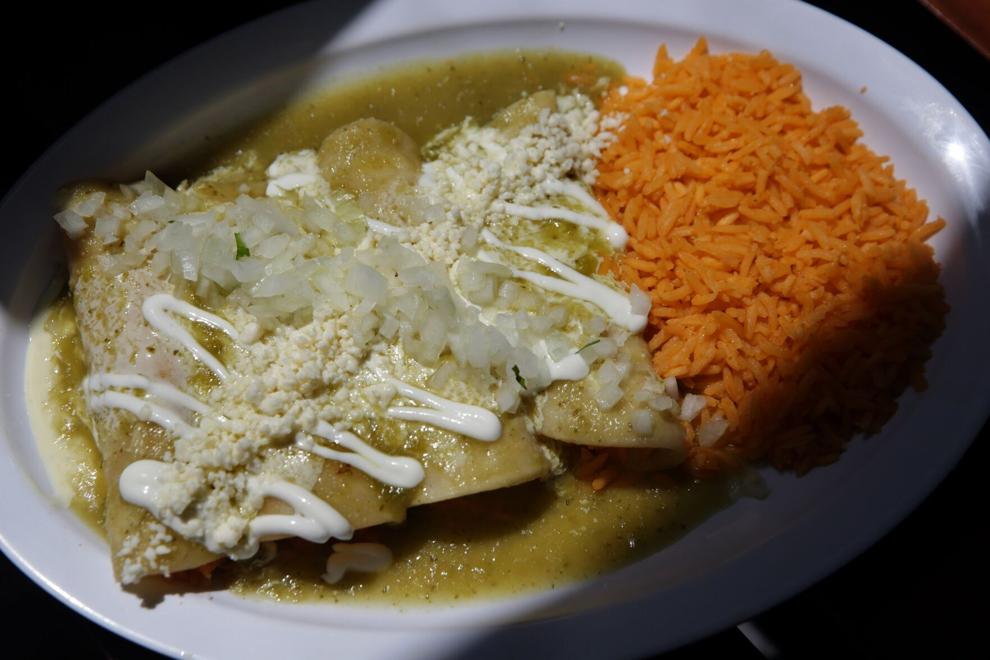 As you might have guessed, given his mother's career, Pintor knows how to fashion an excellent taco. The corn tortillas are plump with carne asada, chorizo or exceptionally tender carnitas, but while they might spill some of their contents, they somehow hold their form — unless, understandably, you sluice your tacos with a little too much of the house salsa verde.
Yet it wouldn't surprise me if Sabroso becomes renowned for a couple of dishes ahead of its tacos. The huarache begins as a beautifully painted canvas — a large, oval fried-corn tortilla dressed with salsa verde, crema, cilantro, onion, crumbles of queso fresco and, if you like, a substantial portion of steak, chicken or pork — and transforms into an engineering marvel. The tortilla has the heft and crispness to support its toppings, yet through the final bite, it retains the sweet, airy pleasure of a fritter fresh from the fryer.
Sabroso's tortas might not be as overstuffed as the legendary sandwiches at El Toluco Taqueria & Grocery in Manchester, but you still don't finish these tortas so much as stagger toward the moment you concede the necessity of leftovers. (I couldn't eat more than half at one sitting, and I do this for a living.)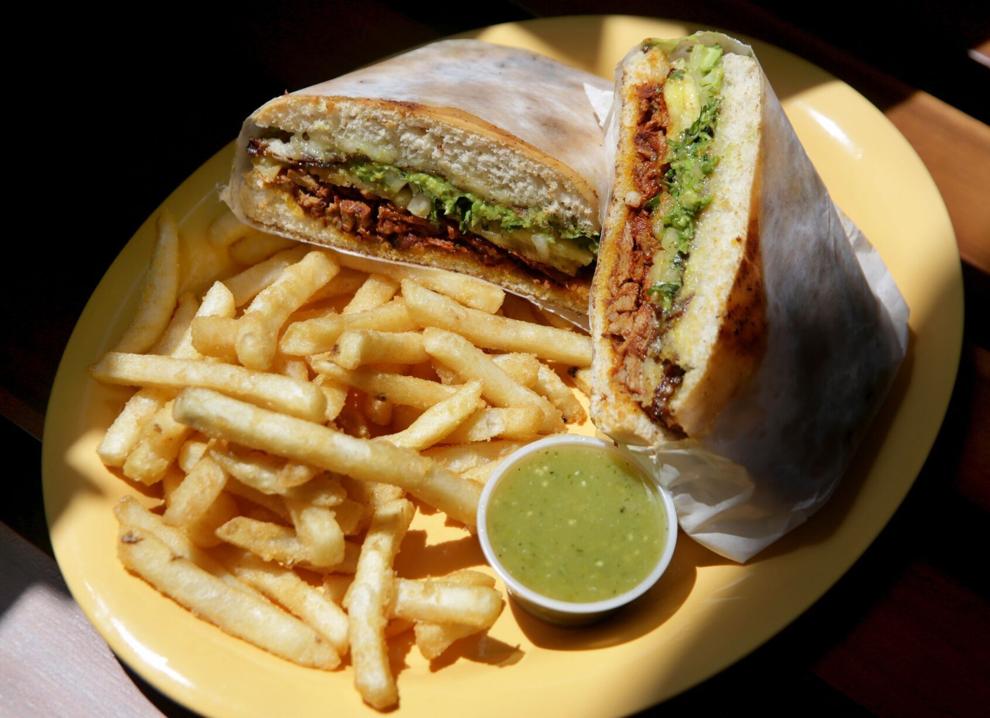 Pintor bakes his own telera bread — yet another distinguishing touch here — and the crusty, light roll cradles each torta's meticulously composed ingredients. I especially loved the al pastor torta, which contrasted the earthy, mildly spicy pork (his mother's recipe) and its accompanying pops of pineapple with the subtle sweetness of avocado.
You can actually taste the avocado in Pintor's guacamole. You can enjoy that guacamole as a dip with chips, of course, or you can scoop your chips through the thick ChoriMexico dip, queso larded with chorizo and jolted with the spice of the sausage and serrano chiles. The menu is both broad and broadly appealing — more than I could take in across multiple visits — from Mexican breakfast (chilaquiles verdes) to the tacos norteños with ground beef. The only thing it lacks, due to its proximity to a church, is a liquor license.
I don't know whether Sabroso by itself can power its not-quite-a-shopping plaza back to life. I don't know that it needs to. Its strengths are enough to drive further discussion about St. Louis' best and most intriguing Mexican restaurants.
Where Sabroso Cocina Mexicana, 11146 Old St. Charles Road, St. Ann • More info 314-918-5037; stlsabroso.com • Menu A broad range of regional Mexican dishes • Hours Dinner Tuesday-Saturday, lunch Tuesday-Sunday (closed Monday)