The most exciting dish at the Tenderloin Room right now isn't the venerable Central West End restaurant's signature Pepperloin a la Tenderloin or any other cut of meat. Though if a visit here is your first to an upscale dining room on this side of the pandemic, your pulse might quicken and your cheeks flush when you see the price of a single New York strip or bone-in rib-eye served with only a knob of melting butter atop the beef and a tableside offer of the piquant house steak sauce.
But let's stipulate that you have already read the Tenderloin Room's current menu online and that, at least for a few hours this evening, money is no object. Before you assemble your a-la-carte dinner of steak, sauce and sides — while you settle into your cushy banquette with a bracing martini and wait for your server to wheel the fabled seafood cart to your table — consider the starters, soups and salads.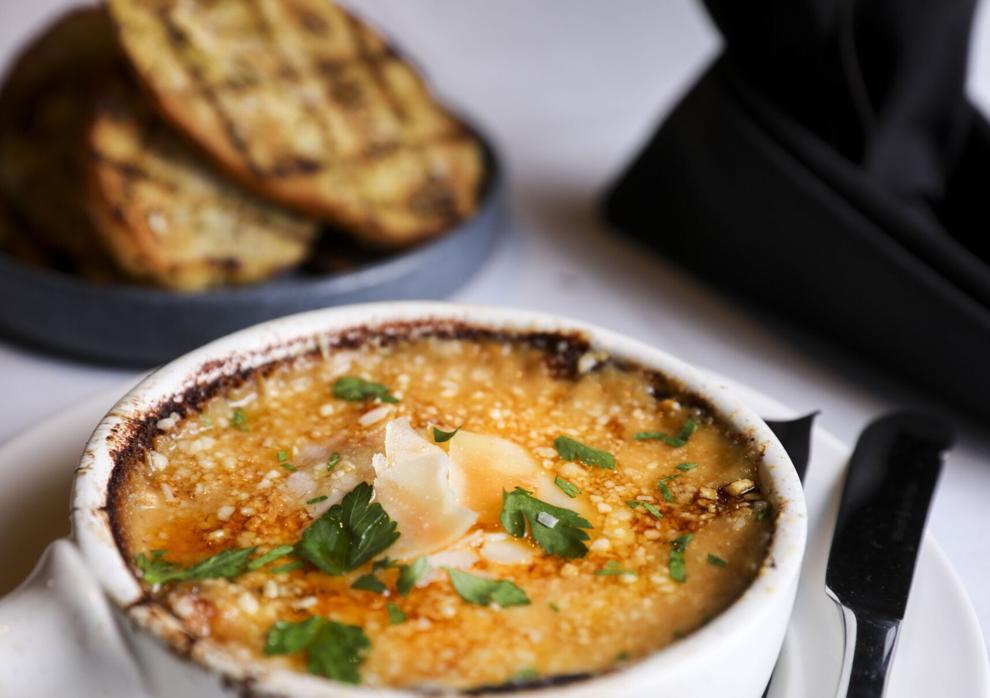 These dishes rarely capture your attention at a steakhouse, and the Tenderloin Room's selection is no more compelling than usual. There are two options to whet your appetite for more meat: bacon-wrapped beef tenderloin tips and beef carpaccio, the latter with just enough mineral bite to outshine its popping garnishes of caper, red onion and pickled mustard seed. The Senate Bean Soup, another Tenderloin House signature, is chock full of beans but also as wan and ineffectual as the U.S. Senate itself.
The Senate Bean Soup dates back to the Tenderloin Room's 1962 debut. New to the menu along with new ownership in 2019 is the baked-seafood dip: shrimp and the restaurant's catch of the day in a molten blend of gouda, smoked cheddar and Provel.
Yes, Provel. Here the love-it-or-hate-it cheese is crucial for its palate-coating creaminess, which also tempers the heat of blistered Peppadew peppers. Each spoonful spread across grilled bread — sharp, smoky and spicy, undergirded by the seafood's mellow, buttery sweetness — is thrilling, a moment when this storied restaurant speaks in a voice both new and intriguing.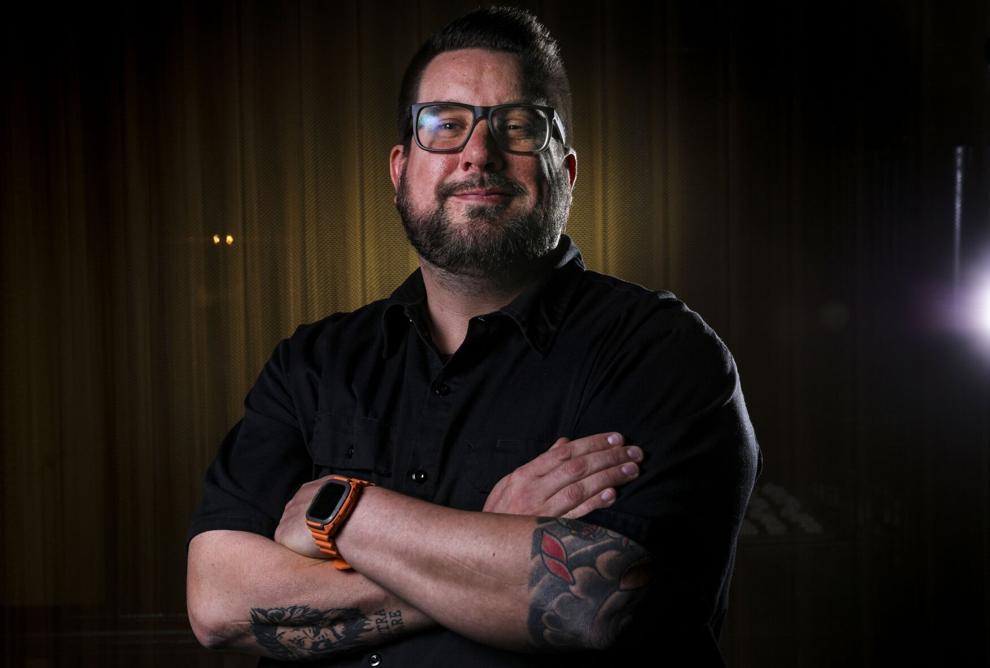 The subtle, clever introduction of Provel to the Tenderloin Room might not be so surprising if you know the work of the chef and restaurateur Bob Brazell. At his fast-casual fried chicken restaurant Byrd & Barrel, currently on hiatus while relocating from Marina Villa to Southwest Garden, he has fashioned mac and cheese with a Provel "bechamel" sauce and incorporated it into a pimento cheese dip. Brazell also boasts fine-dining chops honed at two of the most influential restaurants of the past 20 years, Monarch and Niche (where he staged).
Brazell and his business partners Ben Strake and Rick DeStefane purchased the Tenderloin Room in June 2019 from its longtime stewards Dino and Jules Karagiannis. (The restaurant is located inside the Chase Park Plaza Royal Sonesta hotel, but it operates independently.) The trio didn't publicize their purchase until that fall and then closed the restaurant for a month and a half of renovations.
The remodeled Tenderloin Room retains its unique glamour: the stained-glass windows above the narrow bar; the dark woodwork burnished to a gleam. You can't call a waterfall chandelier unobtrusive, but it's the sort of modern update that freshens the space without redefining it.
What I can't measure from personal experience is how the total Tenderloin Room experience might have changed. A transplant to St. Louis, I knew it mainly as one of George Clooney's favorite spots in 2009 when he was in town to film "Up in the Air."
The service during my visits, seated twice in one of the dining rooms and twice at the bar, was very good, though the tableside manner was a little stiff. It lacked the dazzling combination of confident, even showy patter and no-strangers-here familiarity that the Tenderloin Room's old-school ambience evokes.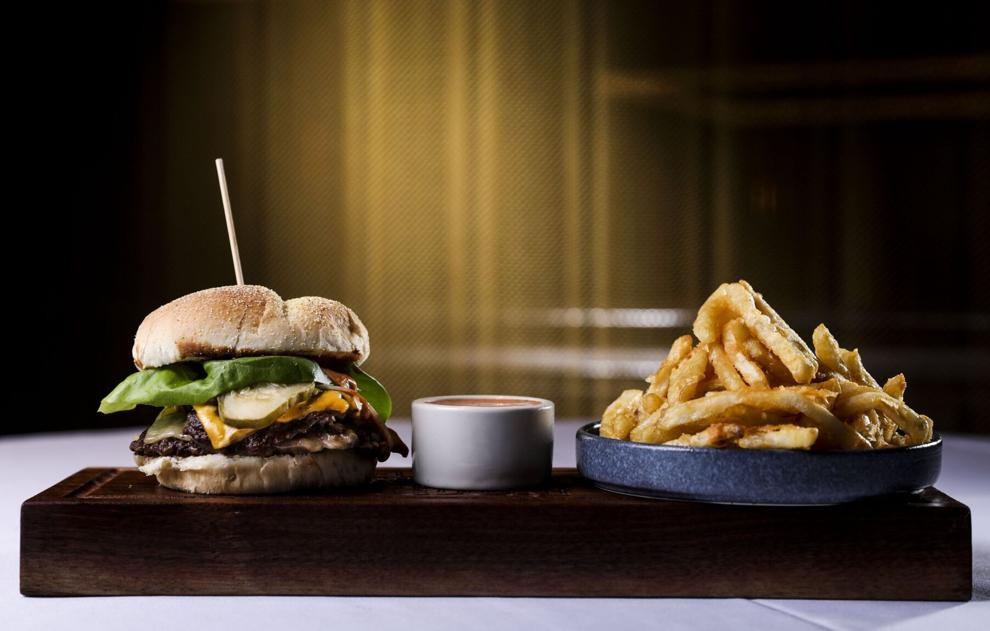 Brazell and the chef, Shelby Johnson, have tweaked the menu here and there. There is now a separate bar menu, which includes the excellent Dino Burger, two smashed patties with the tangy house sauce from Nomad, the restaurant at Brazell's Tamm Avenue Bar in Dogtown. The Tenderloin Room's seafood cart also nods to Nomad. Alongside the shrimp cocktail, calamari salad and (when available) pickled herring is smoked salmon with bright, tickling accents of black pepper and coriander inspired by Nomad chef and owner Tommy Andrew's exceptional pastrami.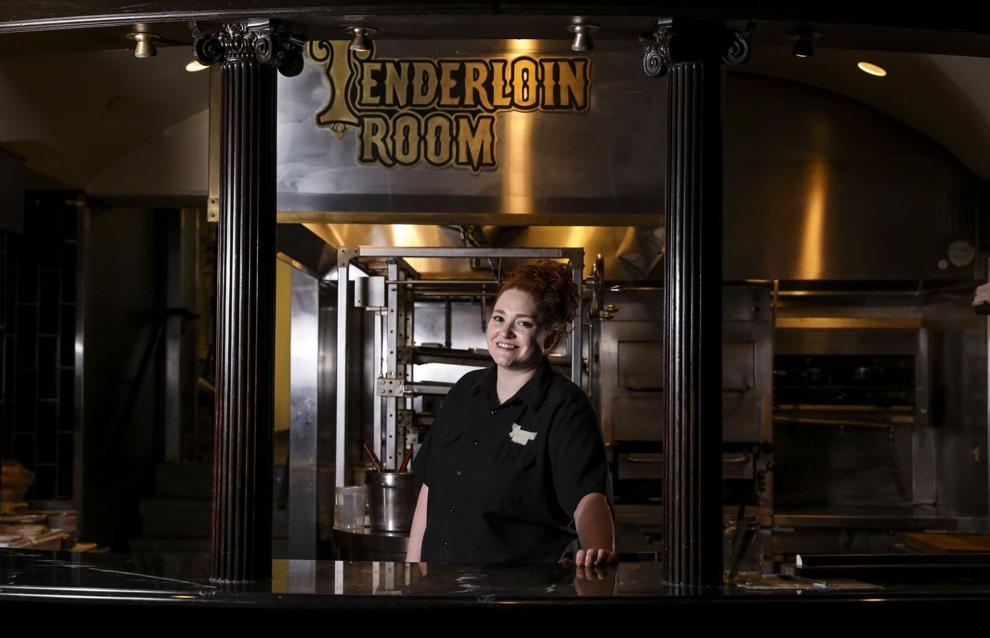 More integral to your dinner here than any one dish is the kitchen itself, which remains open to the dining rooms but now features a gas-fired grill. This imparts a deep cross-hatched char to your steak, but without the enveloping smokiness of charcoal or the comprehensive crust that develops in a high-temperature broiler.
The bone-in rib-eye, a whopping 16 ounces, nearly makes up the difference between grill marks and crust thanks to its large surface area. The tradeoff, though, was the cut's thickness, or lack thereof. It delivers an intense char and luscious rendered fat, but not as much of the steak's primal, bloody heart. The strip steak, 12 ounces but thicker, gives you that iron essence, but but with less grill char across the narrow surface.
The Pepperloin a la Tenderloin is now a 10-ounce cut marked on the grill, finished in the broiler and plated as two thick slices in the house sauce. The smack of black peppercorn is staggering at first, but even more than the strip steak, the tenderloin conveys a direct beefy richness that stands up to its spice.
Sides — slender, very crunchy fries and snappy green beans I can recommend; leaden twice-baked mashed potatoes I can't — are generously portioned, though not family-style. I would order one for every diner at the table. The house steak sauce is gratis, but you can also add a little container of an excellent classic Béarnaise or a bright chimichurri.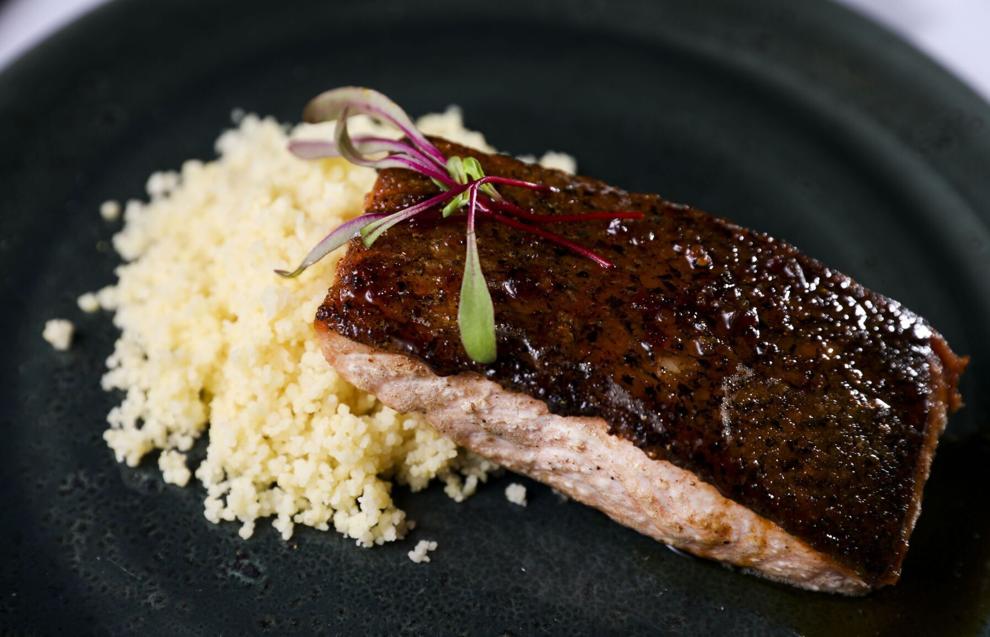 The steakhouse-standard a-la-carte approach further balloons your bill, of course. It's preferable, though, to the understated-to-a-fault plating of another main course: a perfectly fine piece of salmon in a honey-chile glaze, which the kitchen sets on a bed of couscous like something you might throw together for a weeknight meal.
The Tenderloin Room is inevitably — and proudly — a special-occasion restaurant. Brazell, Johnson and their team have let in a little fresh air and light that teases an experience that could be as invigorating as it already is luxurious.
Where The Tenderloin Room, Chase Park Plaza Royal Sonesta, 232 North Kingshighway • More info 314-361-0900; tenderloinroom.com • Menu Upscale steakhouse fare • Hours Dinner daily