At Jalea, the Peruvian restaurant that opened in late December in St. Charles, Andrew Cisneros builds a daily menu as sharp, direct and brilliant as the leche de tigre that transforms raw fish into his signature ceviche. Your dinner here will likely feature a selection of just four small plates and four large, with a few additional snacks — crisp purple-potato chips with tangy polleria crema for dipping or toasted kernels of cancha corn that crunch like bar nuts and squeak like popcorn — and a couple of desserts.
Most restaurants could benefit from an approach this focused. Here, though, the appeal isn't that Cisneros knows what he does well and sticks to it, or that a table of four can knock out his entire menu in one visit. In fact, he told me in an interview, that menu will change with the seasons and as he and his team experiment with new ideas. He also wants to reward the returning customers Jalea has begun to garner.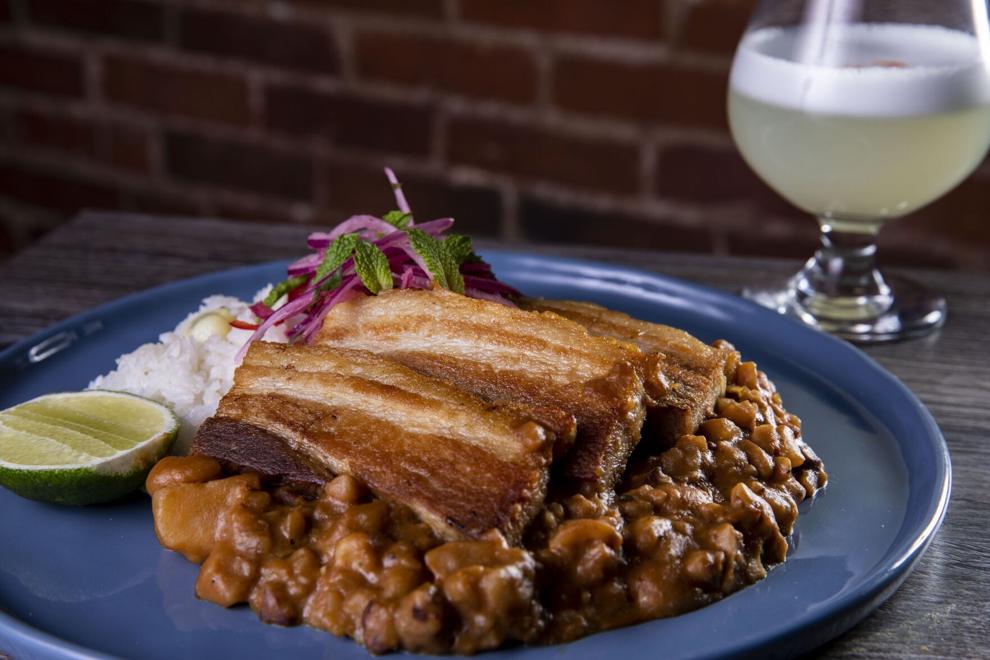 What Cisneros does serve at a given meal grabs and, crucially, sustains your attention. One bite of his ceviche — the most obvious example not least because variations of the dish can account for two or three of the available small plates — and you can't imagine having ordered anything else. A second bite from the same shallow bowl might cause you to wonder how many different dimensions this one ceviche can reveal.
For his Classic Ceviche, Cisneros "cooks" fish (flounder on my visits) in his version of the Peruvian marinade leche de tigre, or tiger's milk. This leads with the expected pyrotechnics of lime juice and chiles, but what lingers is the briny swagger of its clam-juice base and the jagged edge of its aromatics, a mix of garlic, ginger and celery that tickled my memories of Maryland crab feasts.
These flavors unfold in the still-firm flesh of the fish, and they develop further as you pair the ceviche with its various garnishes. Cubed sweet potato teases out the leche de tigre's oceanic sweetness, while plump kernels of choclo corn enhance its creaminess. If you order the Ceviche Mixto rather than the Classic version, the marinade's volume swivels from a murmur behind tender, meaty Spanish octopus to a Spinal Tap-esque 11 against delicate shrimp.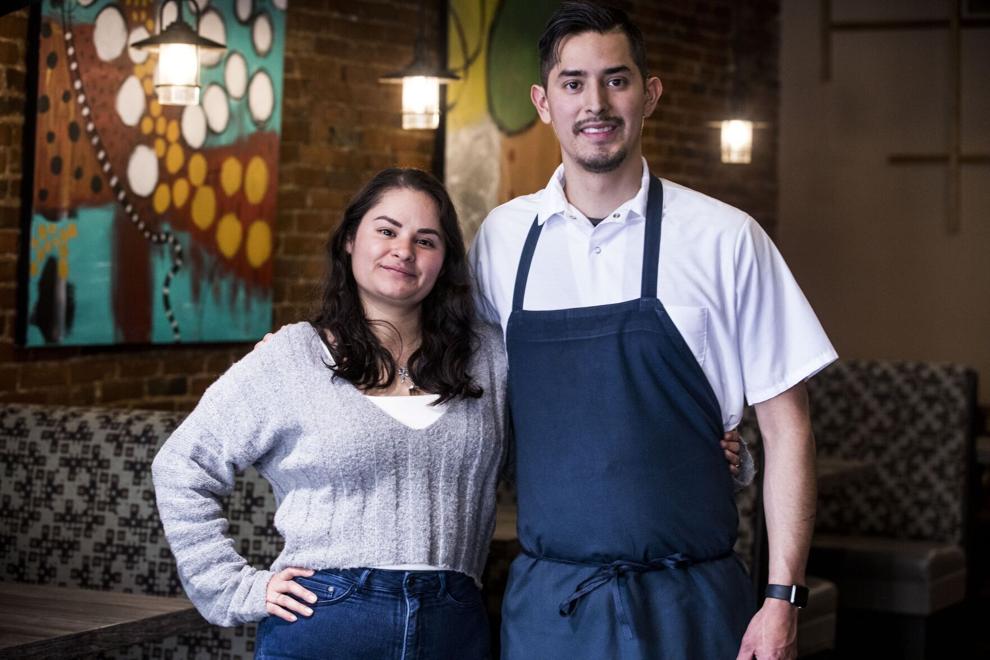 Cisneros boasts the sort of resume that tags a young chef as a rising star and his debut restaurant as a must-visit. Not only has he cooked for some of the most acclaimed St. Louis chefs of the past two decades, he has done so in their most ambitious kitchens: Privado, Mike Randolph's career-to-date capstone; Elaia, Ben Poremba's uncompromising fine-dining flagship; and Dia's Room, the tasting-menu restaurant within a restaurant at Gerard Craft's Cinder House.
Meanwhile, from the fall of 2020 into early 2021, Cisneros introduced his take on pollo a la brasa, Peruvian rotisserie chicken, at Randolph's Original J's Tex-Mex & Barbecue. Even if I weren't already aware of Cisneros' kitchen experience, those juicy birds redolent of fresh herbs and charcoal smoke would have whetted my appetite for Jalea.
The bad news: Pollo a la brasa isn't on the regular menu at Jalea. The good news: Under the Brasas name, Cisneros will soon offer his rotisserie chicken weekly at Jalea and at a series of pop-up events at Perennial Artisan Ales.
For Jalea, Cisneros has partnered with his sister Samantha "Mimi" Cisneros, who is new to the restaurant industry. The siblings grew up in the Overland area and then moved to St. Charles, where they have opened their restaurant on the north end of the city's historic Main Street. The space features a single dining room, with a bar counter at the back but no bar seating. Large, colorful paintings by local artist Carol Lara decorate one stretch of exposed-brick wall, Lara's photographs of Peruvian scenes the opposite length.
Cisneros pitches the menu as his take on his mother's and his grandmother's cooking and Peruvian cuisine more broadly. The large plates on my visits included carapulcra, a hearty stew with smoked-pork stock, sun-dried potato and peanuts (and many other ingredients) with succulent planks of braised pork belly. He serves this with garlic rice and a generous garnish of salsa criolla, a citrus-bright red onion relish that energizes the entire plate.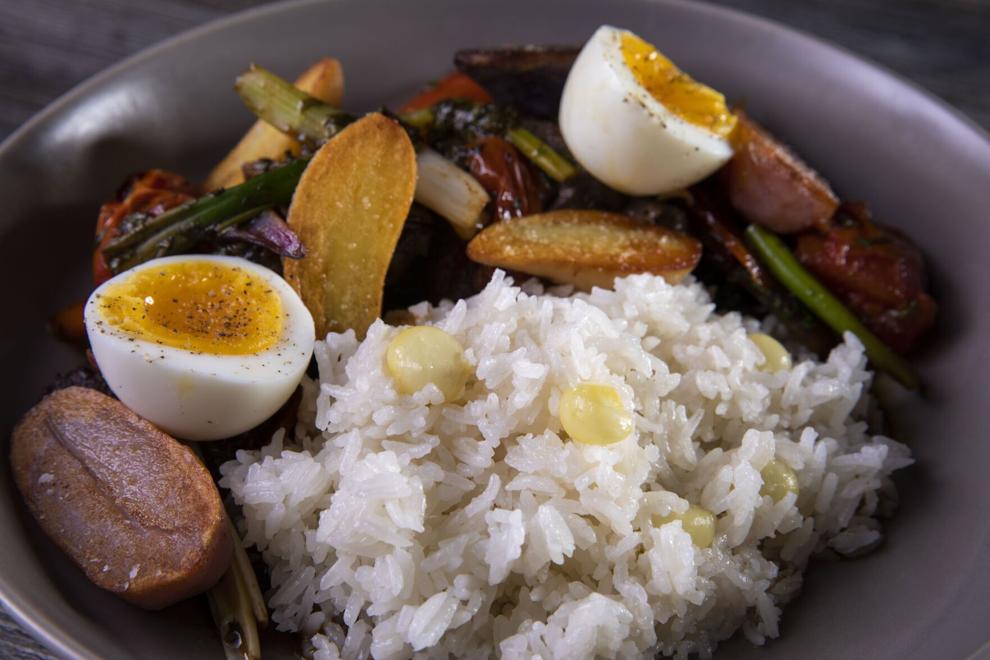 Cisneros' fine-dining experience is most evident in his lomo saltado. The steak he stir-fries is rib-eye, and he swaps out the dish's more familiar french fries for fingerling potatoes that he has cooked confit-style in beef fat and crisped on the kitchen's plancha. A veal-stock reduction is the base for the lomo saltado's sauce. Rather than being merely rich, this is deeply complex with the bracing umami notes of oyster and soy sauces and a pungent bite of garlic and especially vinegar.
Viewed from above, Jalea's eponymous dish looks like one of those "charcuterie" plates lately popular on Instagram, a tightly packed assortment of fried seafood with a tassel of that pink-to-purple salsa criolla, arrays of both fried plantains and yucca fries, a little scoop of choclo, a scattering of cancha and half a lime. You can mix and match these bites as you would the ceviche and its garnishes, and the jalea also comes with sides of both tartar sauce and a mayonnaise sharpened by aji amarillo, Peru's signature chile.
Notice, though, how the same breading — a dry-wet-dry method with an equal mix of flour and corn starch on either side of a dip in egg white with garlic and soy sauce — takes well to each seafood component. For plump shrimp, it conveys an almost tempura-like lightness. It crackles across the surface of the catch of the day (walleye on my visit) but yields to the flaky flesh. It crunches through calamari. It maybe crunches through calamari too easily; I didn't register the squid as vividly as I did the walleye or shrimp.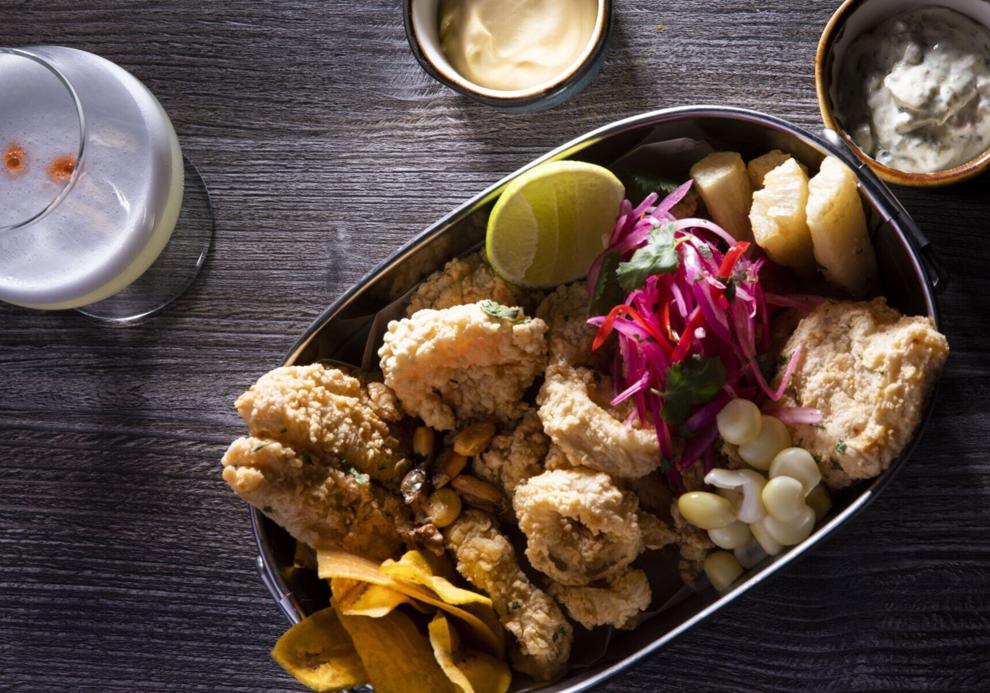 For dessert, Cisneros puts a Peruvian spin on creme brulee with lucuma, a fruit I haven't encountered in St. Louis or elsewhere. Unlike the kaleidoscopic flavors throughout the rest of Jalea's menu, this is a singular sensation, tasting something like maple and (maybe due to the brulee preparation) molasses.
Like everything else I ate at Jalea, it demands your notice and compels your return.
Where Jalea, 323 North Main Street, St. Charles • More info 314-303-1044; facebook.com/jalea.stl • Menu Peruvian cuisine • Hours Starting April 16, dinner Wednesday-Saturday, lunch Saturday (closed Sunday-Tuesday)