Without question, Sureste is the best restaurant in St. Louis that offers its customers a spork. You'll probably need one, especially if you order tacos guisados here. The goofy utensil, already partly redeemed by its star turn in "Toy Story 4" a few years back, proves ideal for scooping both cochinita pibil and some of the meat's citrusy juices from your bowl into the tortilla cradled in your other hand.
Those tortillas are very good, by the way: made in-house, a little toasty-sweet, with the just-right tensile strength to hold their form without becoming chewy. You'll dispatch the tortillas that come with your cochinita pibil as tacos guisados — three to a small order, six to a large — before you finish the bounty of succulent pork Alex Henry has roasted in banana leaves for 14 hours and garnished with a neon-pink blanket of macerated red onion and a nudge of habanero "dust" that has been fermented for a week and then dehydrated.
Henry is the chef and owner of Sureste, which debuted in October in the Food Hall at City Foundry in midtown. Whether my visits caught Henry on a quiet Monday or during a Friday rush, he swiveled between cooking and plating in the restaurant's open kitchen with a determined but calm efficiency. It won't surprise you to learn he made his bones working for some of St. Louis' top chefs, including the late, sustainability-minded Rob Uyemara at Yia Yia's Euro Bistro in Chesterfield and the forward-thinking Michael Gallina at Vicia.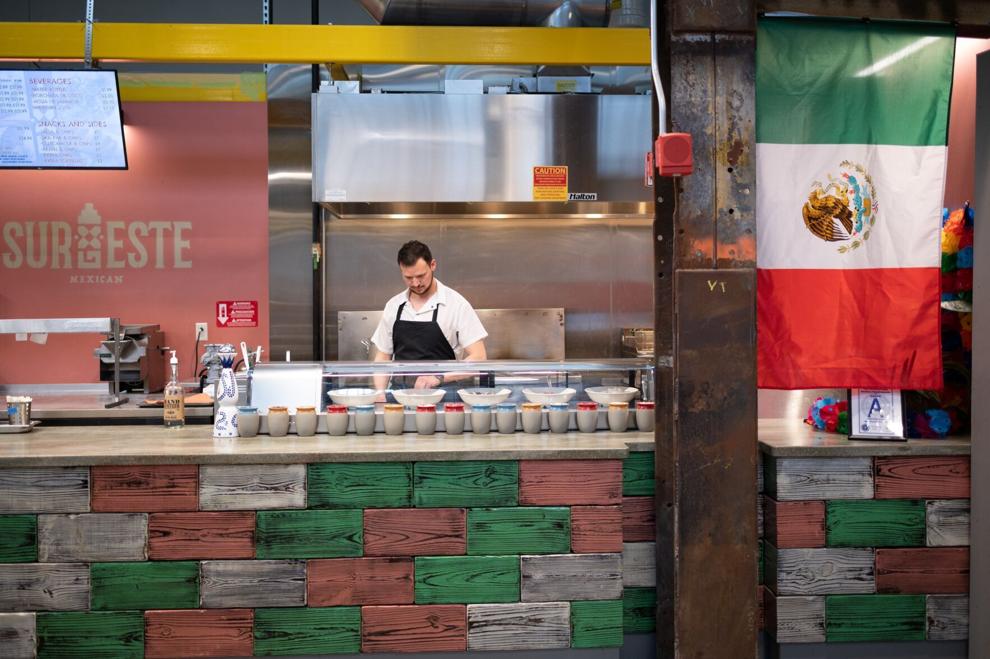 (Speaking of sustainability, Henry told me in a phone interview that he chose sporks as a utensil because this particular variety is corn starch-based.)
In late 2017, Henry succeeded Tello Carreon as the executive chef of Ben Poremba's acclaimed Mexican restaurant Nixta. A native of Mérida, the capital of the Mexican state of Yucatán, Henry brought the fare of that region to Nixta's menu and attracted national notice. The influential dining site Eater named him a semifinalist for its annual "Young Guns" honor in 2018. Later, as the executive chef of Cleveland-Heath in Edwardsville, he found a way to work a few Yucatecan touches into that restaurant's established upscale comfort-food menu, like a sandwich featuring his cochinita pibil.
At Sureste, Henry once again focuses on the cuisine of the Yucatán peninsula. His cochinita pibil is a familiar starting point, but he follows the region's foodways by featuring turkey. The bird can be the filling for both the relatively compact tamal vaporcito and the plumper tamal colado. The latter, made with masa mixed with stock that has been strained and then cooked with a bit of lard, steams inside banana leaves to a custard-like texture. You still have that spork handy, right?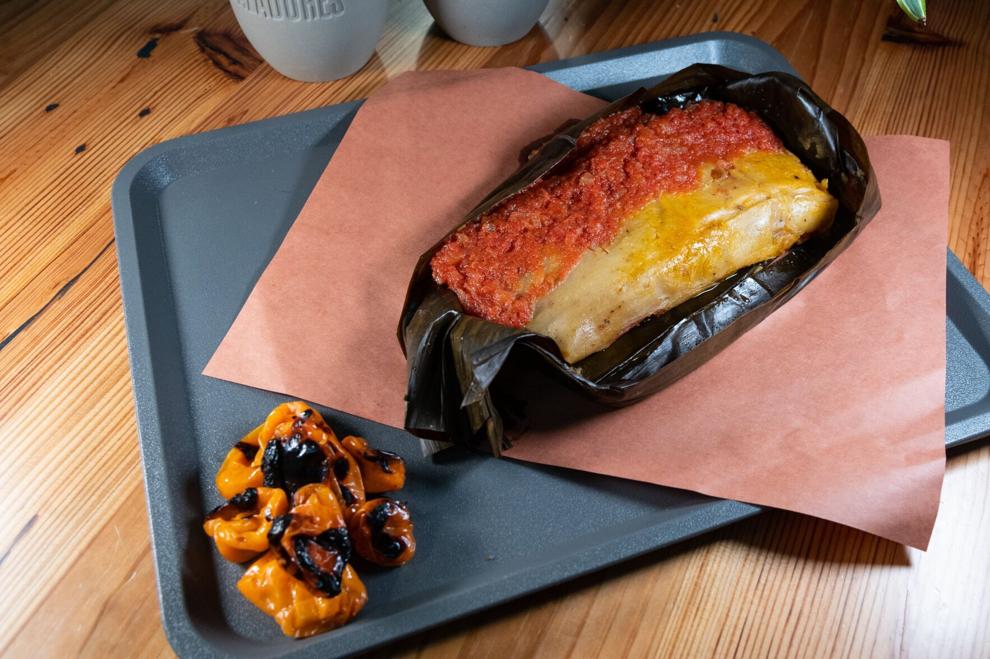 For what you might consider the central part of Sureste's menu, or at least the part that offers the most choices, Henry prepares two different turkey dishes. For pavo en chilmole, he stews turkey in a burnt-chile mole. The sauce is smoky, as you might expect, and peppery (though only moderately so), but with an earthiness and a mellow sweetness that gives it extraordinary depth.
For pavo en escabeche, which the menu alternately and accurately describes as "tangy citrus turkey," Henry begins by poaching turkey with citrus juice and spices. Before the meat is entirely done, he takes it out of the poaching liquid and fries it. He then returns the turkey to the poaching liquid to finish. The carnitas-like texture might rewire how you approach turkey. You'll at least think twice before just plain roasting a bird next Thanksgiving.
These two dishes and a few others are available as the aforementioned tacos guisados, in a bowl with tortillas alongside; as a pibihua, a Mayan fried roll; or as a panucho, atop a tortilla stuffed with refried black beans. You might find it difficult to resist building your own tacos with Sureste's tortillas, but the pibihua and the panucho each make a compelling case.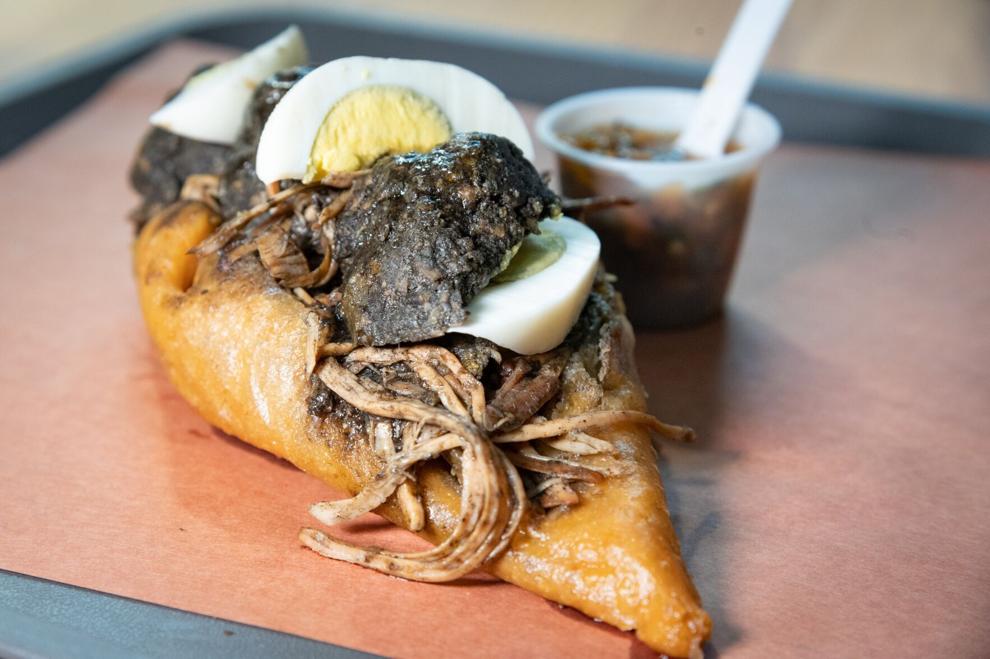 The pibihua is a crisp, corn-shaped masa fritter that Henry fills with both the dish of your choice and toksel, a Mayan dish of toasted lima beans, ground shell-on pepitas and Mexican garlic chives that acts a delicate counterpoint, buttery and nutty. For the panucho, the main attraction is the restaurant's frijoles colados. Henry cooks black beans with onion, epazote and habanero, pureed and strained until just the bean starch remains. This is combined with more onion, epazote and habanero cooked together in lard for an exceptionally creamy, flavorful version of refried beans.
Menu options can change daily, but besides the turkey dishes, you will likely find a vegetarian dish (chayote squash en chipotle on my visits) as well as pescado al tikin-xik, roasted fish. This fish is similar to cochinita pibil: marinated with achiote and citrus and then roasted (for a considerably shorter period) in banana leaves. For the tacos guisados version, Henry evokes both just-caught brightness and a beachfront barbecue with garnishes of roasted Anaheim chiles, a "dust" of smoked serrano chiles and xni-pec, a tangy and feisty habanero-tomato salsa. (Watch out for tiny bones in the fish, though.)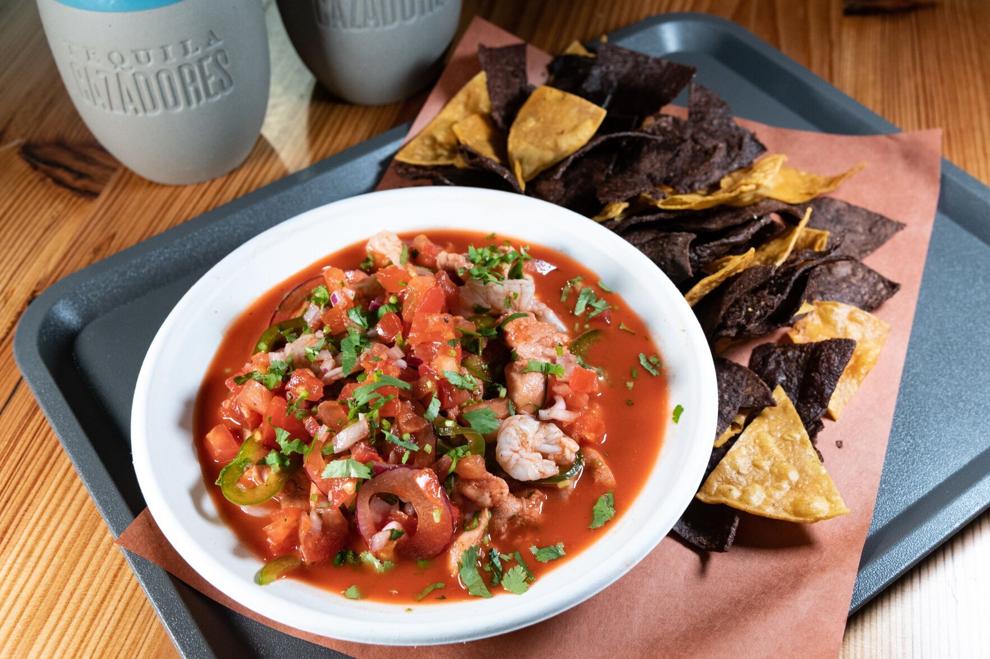 If Sureste's cooked fish tastes bright, its ceviches and aguachiles are incandescent or possibly beyond the visible spectrum. The ceviche rojo "cooks" the fish of the day — golden tilefish when I ordered it — in a blend of orange, lime and grapefruit juices with tomato water, achiote and habanero. The combination of citrus and chile is electric and eye-watering, even more so in the shrimp aguachile. Here Henry dresses raw shrimp in a green aguachile, tart with lime juice and very hot but with an appealingly crisp and cooling note of cucumber. Pieces of compressed cucumber tossed with the shrimp intensify the effect, while pieces of avocado tame the heat somewhat.
Sureste is both another winning restaurant in City Foundry's Food Hall and proof of its broader, democratic concept. Henry's cooking would draw the same accolades in some sleek, dark dining room attached to a gleaming modern kitchen as it does on a tray next to a spork. Here, though, it is accessible to those of us who have waited for Henry to open an excellent restaurant of his own, and to those who don't know him or Sureste but happen to be walking by and hungry.
Where Sureste, Food Hall at City Foundry, 3730 Foundry Way • More info cityfoundrystl.com/directory/sur-este • Menu Mexican cuisine with a focus on the Yucatán peninsula • Hours Lunch and dinner daily (closed Tuesday)