Noboru Kidera, the eponymous 74-year-old chef of Nobu's in the Delmar Loop, likely won't say much while you eat dinner at his sushi restaurant. He will greet you and now and then make some small talk. He will ask if you liked a certain dish and answer questions. Still, as he explained on one of my visits here, he isn't used to today's expectation that chefs and diners should interact.
Besides, Kidera is busy at dinner. Nobu's design doesn't place him not only at the sushi counter, but also at the head of the open kitchen, as a mere ornament. He cuts fish, of course. I'd spend the rest of this paragraph extolling his knife technique, but the counter seats sit below his station, not level with it; you can't observe his every action without rudely straining or standing. I could see him mold the rice for nigiri, however, a movement deft, efficient and featherweight.
Light as a sigh is the touch he applies to red snapper: shiso layered between the rice and the snapper's translucent, pink-white flesh and a dollop of sour plum sauce atop the fish. These herbaceous, tart grace notes provide the character to the snapper's freshness.
Great nigiri is a revelation in two bites, a connection from ingredient to chef to diner that few other dishes can achieve. This red snapper wasn't the first time Kidera had irrevocably transformed how I thought about a particular piece of fish. Sixteen years ago, give or take, at Nobu's previous address, with an accent no more remarkable than a sliver of onion, he showed me the brilliance of salmon, which I had thoughtlessly consigned to the fate of overwrought, Americanized sushi rolls.
The salmon is just as luscious at the new Nobu's, and no onion is necessary to draw your attention to its brilliance. By the time you reach the nigiri portion of your omakase dinner here, you understand you are in the hands of a master, and this is both his career valedictory and one of the best restaurants to open in St. Louis this decade.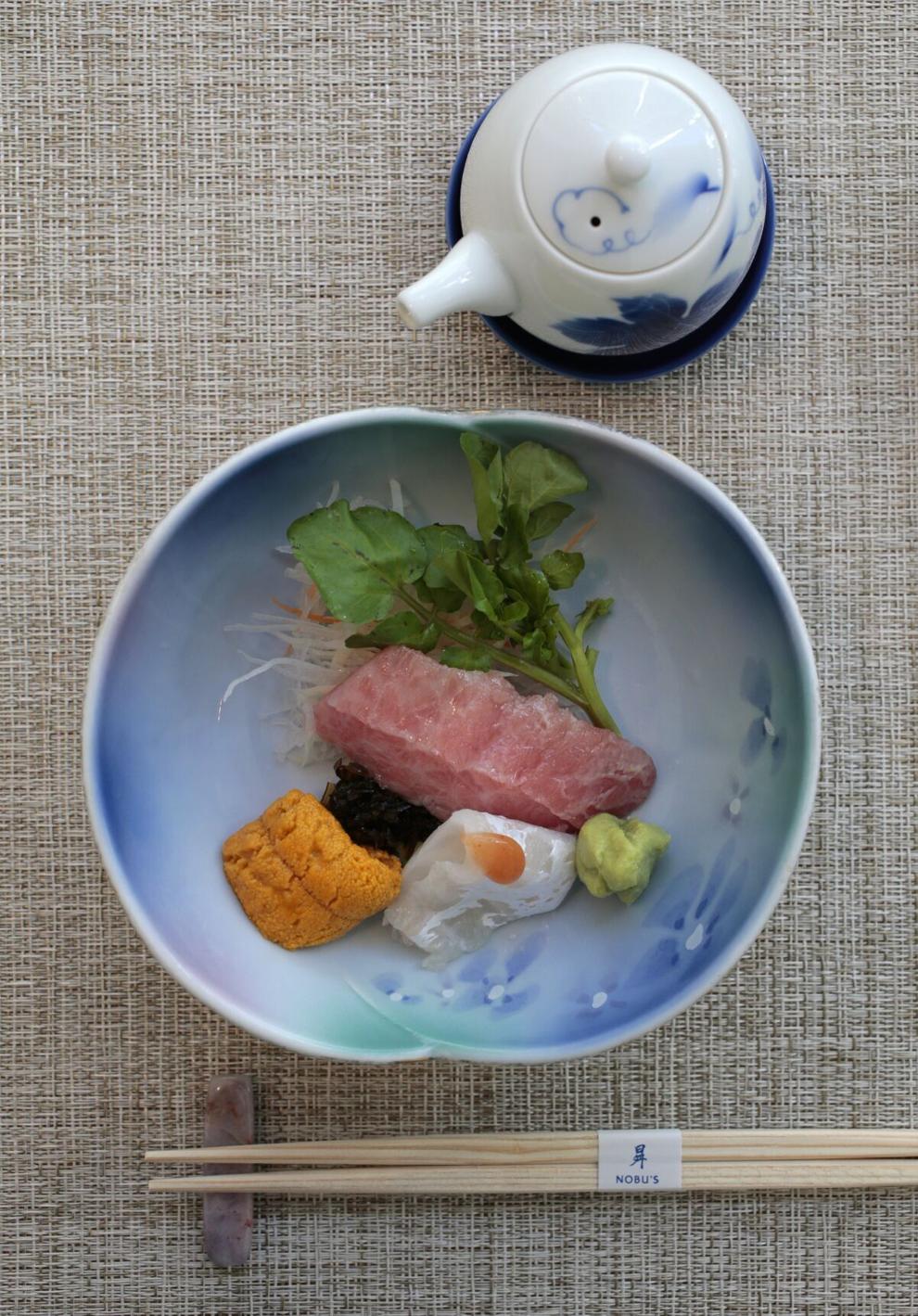 A native of Kobe, Japan, Kidera arrived in St. Louis in 1983 after a spell in Honolulu, and over the past 40 years he has been one of the area's most acclaimed and beloved sushi chefs. He and his wife, Taeko, opened the original Nobu's in 1987 on Delmar Boulevard in University City. Three years later, they relocated within U. City to a former IHOP on Olive Boulevard. The building might have still looked like a pancake house, but the Kideras made it synonymous with great sushi and other Japanese fare, a must-visit for every serious St. Louis diner.
That Nobu's closed in 2021, its building slated for demolition as part of the sprawling, Costco-anchored redevelopment of the Olive-Interstate 170 nexus. The Kideras — Noboru and Taeko with their adult son, George, and George's wife, Noi — moved within U. City again, this time to the Delmar Loop. Nobu's 3.0 opened in October on the ground floor of the Lofts at Washington University. The unassuming entrance, marked only by a small sign, is set back from the busy streetscape.
That sense of being in the neighborhood but removed from it intensifies inside. The small space, overseen by noted local designer Sasha Malinich, is an oasis of soft light, warm wood and clean, modern lines — Japan by way of Denmark. Noboru's workstation, with the six-seat, L-shaped sushi counter in front of him and the rest of the kitchen behind, occupies half of the room. There are up to 12 additional seats in the dining room, but the sushi counter is where you want to be. George is the de facto leader of your experience, explaining courses and offering guidance through the compact list of wine, beer, sake and Japanese whiskey.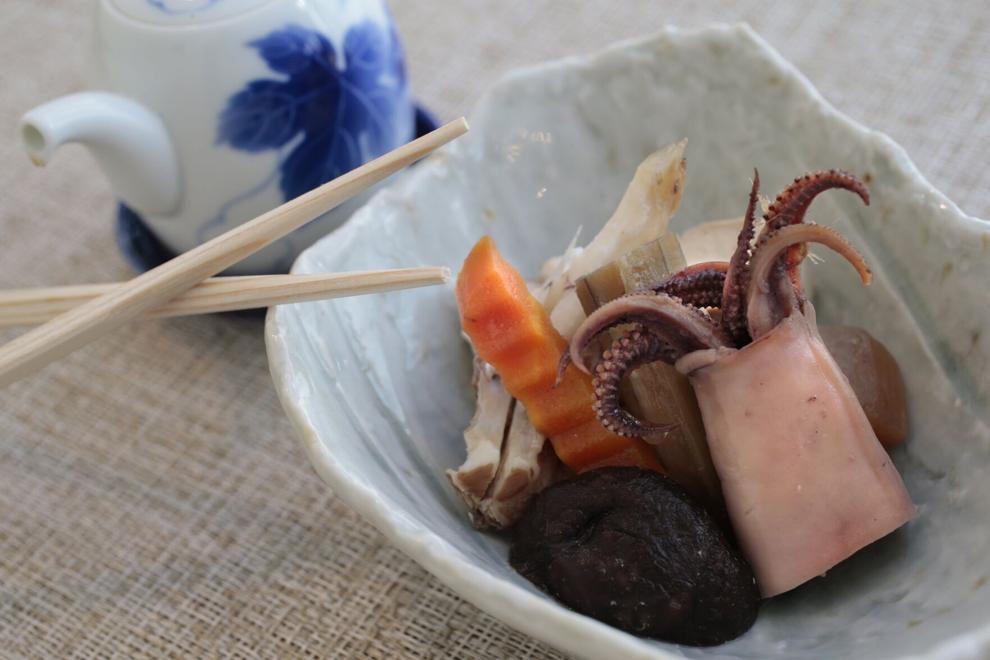 As you might have guessed from its limited seating, Nobu's currently requires reservations, with seatings at 5:30 and 7:30 p.m. (Reservations are available online using Tock with a deposit, which is applied toward your final bill at the restaurant.) The Kideras have also jettisoned the previous location's a-la-carte selection. Instead, you choose a three-, four- or, on Friday and Saturday, a six-course omakase (chef's choice) menu, though one "course" can encompass several pieces of nigiri.
You can make some choices within this omakase format. For the three-course dinner, rather than nigiri as the featured dish, you can opt for a single serving of chirashi, a generous array of Noboru's precisely sliced sashimi with vegetables atop rice. Within the four-course omakase, you can opt for either tempura or grilled fish for one course — maybe a buttery piece of black cod with a perfectly pitched balance of sweetness and umami.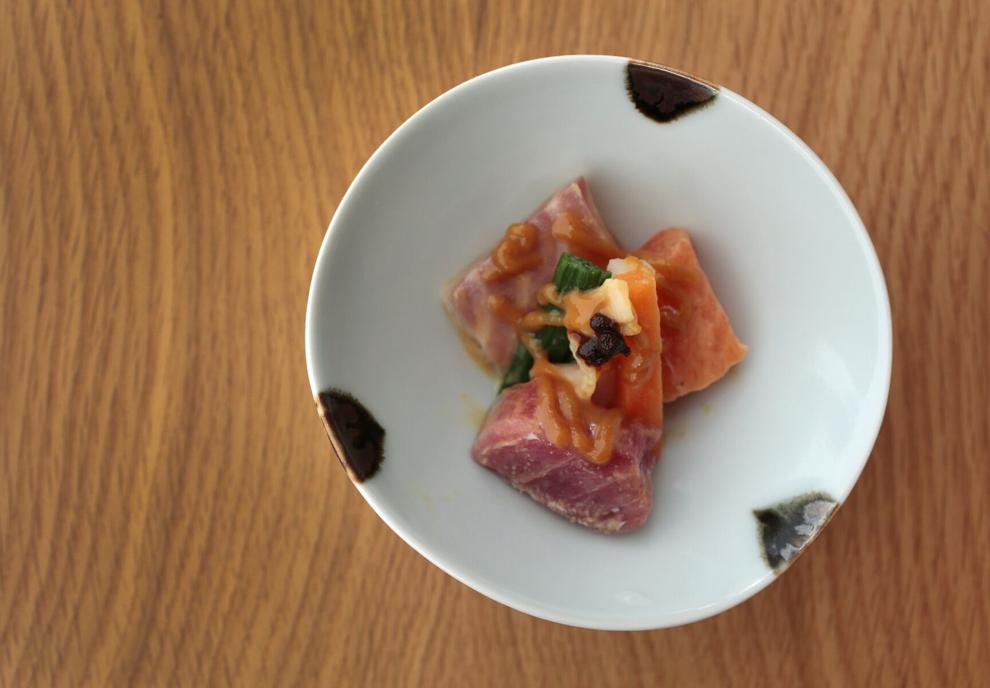 In the six-course omakase, especially, the dishes that lead up to the nigiri can be as thrilling as the main event, a parade of contrasting textures and temperatures calibrated to work both by themselves and with one another. At my dinner, a serving of crisp tempura vegetables (asparagus, lotus root and Japanese eggplant, each its own ideally yielding texture) was followed by a composed dish with raw salmon, tomato, radish sprouts and a yuzu-miso dressing. This brightened salmon's delicate flavor without overwhelming it and also cleansed my palate ahead of the black cod. After the cod, before the nigiri, a single, perfect tempura-fried shrimp.
Across my visits, I tried each of the omakase options, and while the six-course dinner began with a selection of small bites — a silky quail egg marinated for two days in white miso; whole, toasted sardines — all three meals featured an opening salvo of small pieces of tuna, salmon and yellowtail that had been rinsed with rice vinegar and marinated with miso and mustard. The texture of each fish was more supple than in nigiri or sashimi form, and their flavors were charged with just enough heat to energize me for the courses to come.
For the nigiri, Noboru favors an old-school approach. Few pieces receive more adornment than a dab of wasabi. Salmon roe and Santa Barbara uni and their beds of rice are served on spoons, minimizing the distance between their popping and custardy textures, their briny, sexy flavors. You might encounter chu toro, shrimp and surf clam and, of course, salmon.
My first dinner at Nobu's was the four-course omakase. This was thoroughly satisfying by itself, but I didn't hesitate to order dessert: green tea ice cream, made by Clementine's from matcha sourced from Japan by Big Heart Tea Co. The collaboration with two fellow St. Louis businesses was an unexpected twist to the new restaurant, the start of a new conversation about what other surprises Noboru and the rest of the Kidera family still have in store for us.
Where Nobu's, 6253 Delmar Boulevard, University City • More info 314-323-9147 • Menu Omakase-style sushi • Hours Dinner Tuesday-Saturday, reservations only