In 2019, a viral tweet by a former St. Louisan named Alek Krautmann introduced the rest of the country to a St. Louis "secret."
At St. Louis Bread Co. — Panera, if you must — you can get your bagels bread-sliced, cut into skinny vertical planks rather than two horizontal halves.
The tweet drew reactions both horrified and mocking. It confused more than a few locals who hadn't heard of bread-sliced bagels. It revealed St. Louis' deeper culinary shame. Our town can boast dozens upon dozens of fine options for barbecue, doughnuts and Italian food, but our bagel culture is lacking.
According to a survey last year by the bagel experts at Lawn Love, St. Louis ranks way, way down at No. 75 among the "Best Cities for Bagel Lovers."
The situation grew only more dire at the end of last year with the closure of the Bagel Factory in Creve Coeur, a stalwart of New York-style bagels.
This schmear campaign against St. Louis bagels, though, might soon end. The area is now the home of three new or about-to-open bagel shops: Bagel Union in Webster Groves, C&B Boiled Bagels in Wood River and Lefty's Bagels in Chesterfield.
At each, you will find artisans passionate about a roll that isn't simply bread with a hole in it, but a unique food with a tradition dating back to Poland circa the 1600s. And they just might turn around St. Louis' lackluster reputation for bagels.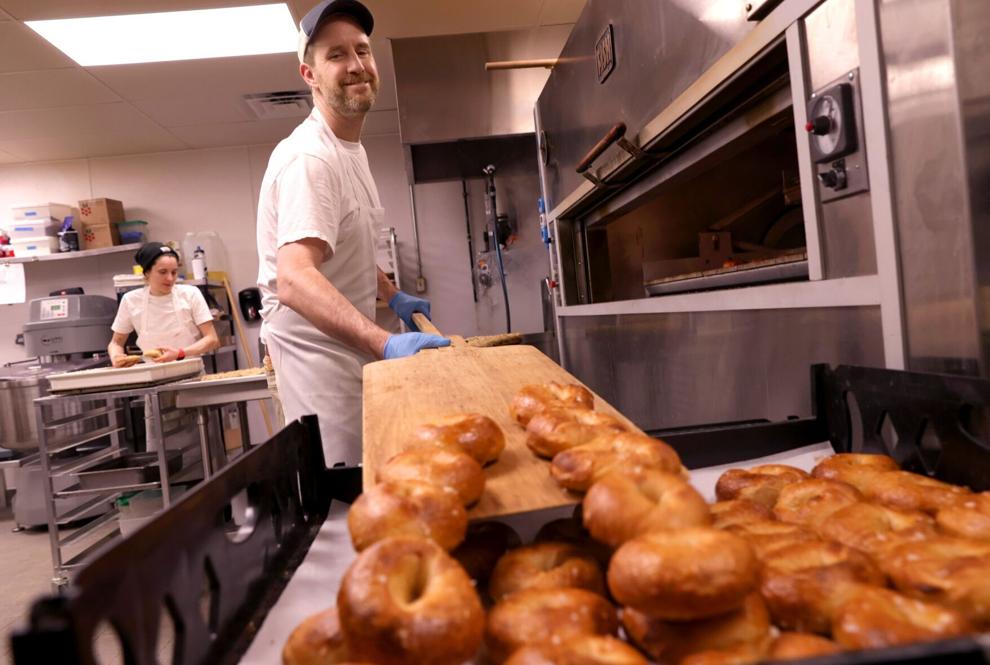 A more perfect union
If you need proof that St. Louis is hungry for bagels, join the crowds at Bagel Union, which opened in January where Big Bend Boulevard intersects South Elm Avenue.
Bagels would seem like a natural offering from owners Ted Wilson and Sean Netzer, who operate the acclaimed Botanical Heights bread bakery, sandwich shop and pizzeria Union Loafers. Wilson grew up with his uncle bringing bagels to his house nearly every weekend, and he has worked in New York City, the bagel epicenter of the United States.
Still, bagels have never been a regular offering at Union Loafers. The staff has made them for holidays and staff meals — and had fun and made a good product doing so, Wilson said — but the kitchen setup isn't conducive to New York-style bagels, which are boiled first, then baked in the oven.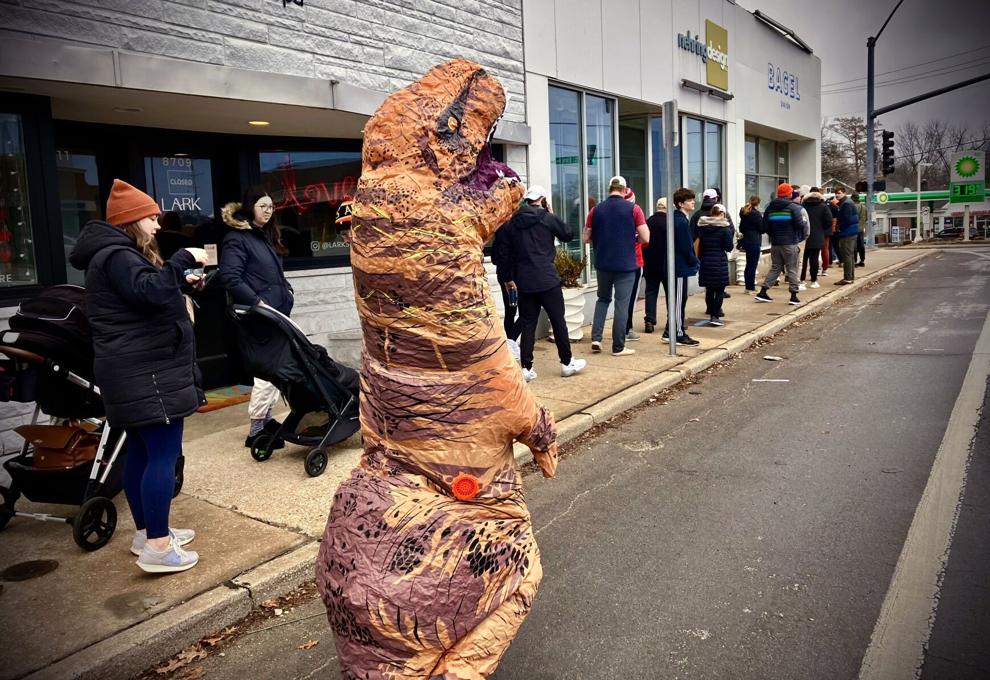 The inspiration for Bagel Union was the corner storefront at 8705 Big Bend itself, which Wilson and Netzer saw was available on their way to a meeting nearby.
"It was like, 'Hey, that'd be a cool bagel shop,'" Wilson said.
And unlike the three-in-one Union Loafers, Bagel Union is just a bagel shop. Take a number and wait to order from the compact menu of bagels, schmears of cream cheese or whipped butter, bagel sandwiches and deli-style salads (also available as bagel sandwiches).
The bagels have been drawing crowds since before Bagel Union officially opened. A bagel-sandwich pop-up event at the new shop on New Year's Day drew a line down the block.
The appeal of a proper bagel is obvious, Wilson said: "You can't deny a warm, yeasty, crunchy thing that is giving you several different textures — obviously, different temperature experiences (too), especially once you throw in cream cheese or butter — and, like, that is a very special thing."
Fresh from the oven
Brothers-in-law Scott "Lefty" Lefton and Doug Goldenberg had no restaurant experience when they launched Lefty's Bagels, which will open a storefront shortly after Easter and Passover at 13359 Olive Boulevard in Chesterfield.
A few years ago, Lefton found himself at a loss when his go-to Einstein's for a bagel with lox and cream cheese closed. A self-described "tinkerer guy at home," he decided to teach himself bagel-making, reading books and watching YouTube videos.
"I blew out two mixers at home," Lefton said. "And I got it to a point where my family was like, 'These are really good.'"
Early in the pandemic, Lefton talked Goldenberg into joining his efforts, and they went to the Bakers Hub, a shared-use space in Chesterfield. They asked themselves three questions. Could they make a decent bagel? Could they make and sell a dozen of those bagels. Could they get some repeat customers?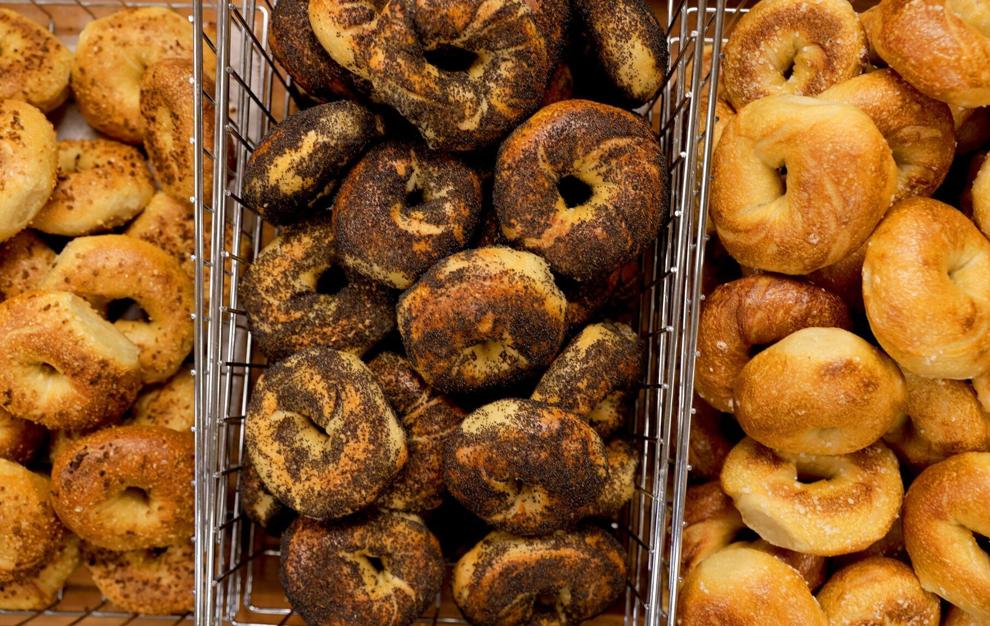 "And more or less in three weeks, we solved it," Goldenberg said.
The shared space wasn't ideal for sustainable bagel-making, though. It took Lefton and Goldenberg a combined 16 hours to produce 600 bagels. They have designed their new storefront to meet demand, both retail and some wholesale, while retaining their made-by-hand, New York-style ethos.
The bagel dough is proofed overnight, boiled in malt-sweetened water and baked in an oven atop a burlap-lined board — each bagel upside-down at first, then flipped right-side-up. The nuances matter, from the temperature of the dough to the temperature outside to the timing of the flip in the oven.
"All those things absolutely equate to the sort of perfect bagel, right?" Lefton said. "It's a fresh product. It's meant to be eaten fresh."
Even here, though, there is more nuance. Lefton and Goldenberg say the perfect window for eating a bagel is roughly four to six hours out of the oven.
Breaking bread
Jewish immigrants from Eastern Europe brought bagels to the United States, and the country's Jewish community has nurtured and grown the bagel tradition.
"Bagels are part of Jewish life," Lefton said.
Both Lefton and Goldenberg are Jewish, and they credit word-of-mouth in the local Jewish community for building their customer base.
"And (what's) really driven us to build the restaurant is we feel this isn't just a thing for us, building a business," Goldenberg said. "This is really something that we're bringing to the community. This is something that community has been longing for for a really long time."
The idea of community is also driving C&B Boiled Bagels, which Amy and Matt Herren will debut this month in Wood River. The couple hope their bagel shop will help revitalize Wood River's downtown.
In fact, C&B is the Herrens' second restaurant here. They opened 1929 Pizza and Wine in December. Waits for weekend tables there grew so long that Herrens started taking reservations.
Matt and Amy had each already made a culinary mark in Edwardsville. Matt founded both Goshen Coffee and 222 Artisan Bakery; Amy was the chef-owner of the upscale restaurant Fond. They sold everything they owned and traveled for 10 years. They took contract jobs and founded their own company that manufactured storage for green coffee in Australia.
During the pandemic, they moved the manufacturing operations to the United States.
"We took two years of, basically, being broke and living in our van," Matt said.
The couple eventually settled on a plot of land a few miles outside of Wood River. (They have traded the van life for a tiny house.) Matt started baking bagels. They saw an opportunity.
They surveyed the bagel scene in St. Louis and realized, Amy said, "it's a giant void."
The Herrens' research for C&B's New York-style bagels has included visits to New York, of course, but they have also taken inspiration from bagel shops from Phoenix, Arizona, to Providence, Rhode Island. They traveled to Spain to try a bagel shop in Madrid. (It was closed.) Their primary influence is a place called Los Bagels in Humboldt County in northern California.
C&B will feature both a retail storefront and an expansive wholesale operation at 62 East Ferguson Avenue. The retail component will be streamlined: breakfast and lunch, with bagels, schmears and bagel sandwiches.
"No tables, no bathroom, no Wi-Fi, no nothing," Amy said.
"A bagel bakery needs to be a bagel bakery," Matt said. "It's not an artisan cafe. It is not an espresso shop. It's none of that. You're there to make bagels."

Everything bagel
At Bagel Union, Wilson and Netzer want to re-create the experience, post-pandemic, of going into a shop and interacting efficiently, but personally, with one member of their team to place your order.
"We just wanted to invite people back in in a way that felt good to us (and) feels good to them," Netzer said.
And maybe our bagel reputation is already improving; the bagel experts Lawn Love have moved us up to ninth for 2023. Another sign things are looking up: A sign in the window at the Bagel Factory says it will be reopening soon under new ownership. 
And while Lefty's will happily toast your bagel, Lefton and Goldenberg are taking a firm stand against St. Louis' "secret" shame. 
"We did make a pact, however," Goldenberg said. "The bread-sliced bagel is forbidden."
Photos: Bagels abound at Bagel Union
Abound with bagels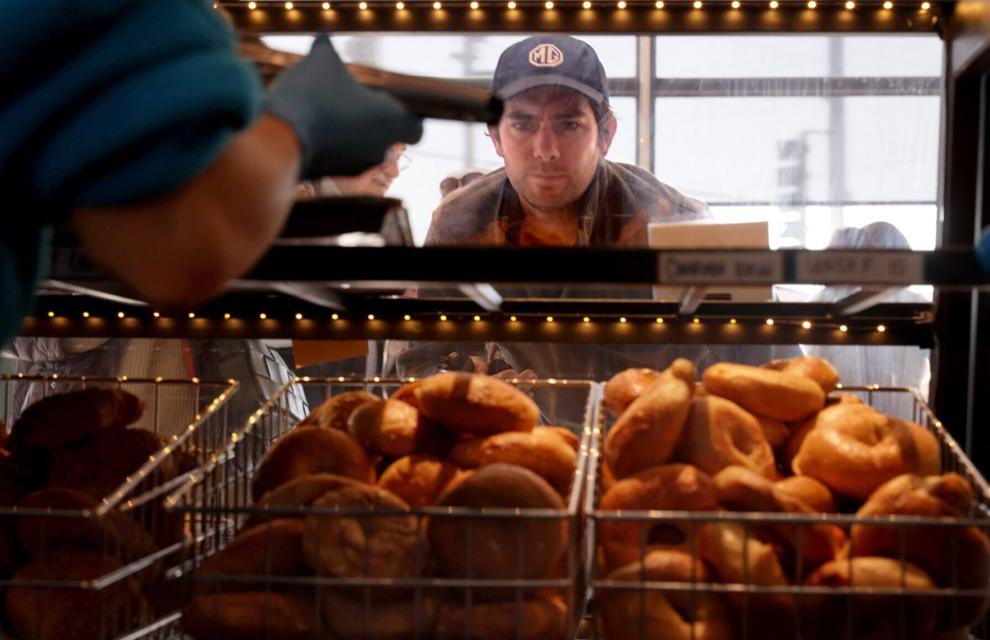 Abound with bagels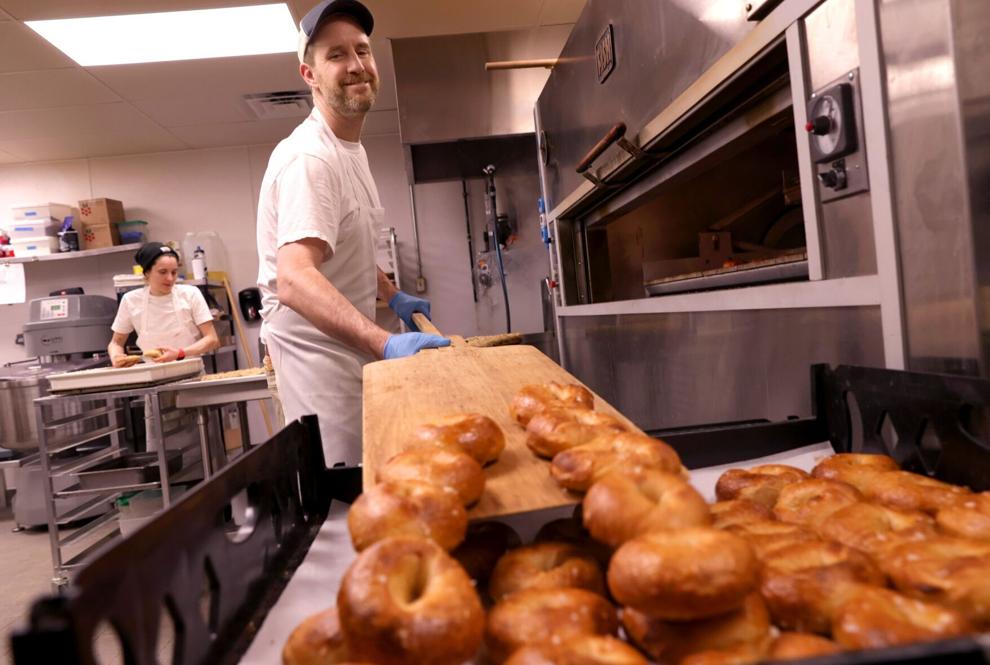 Abound with bagels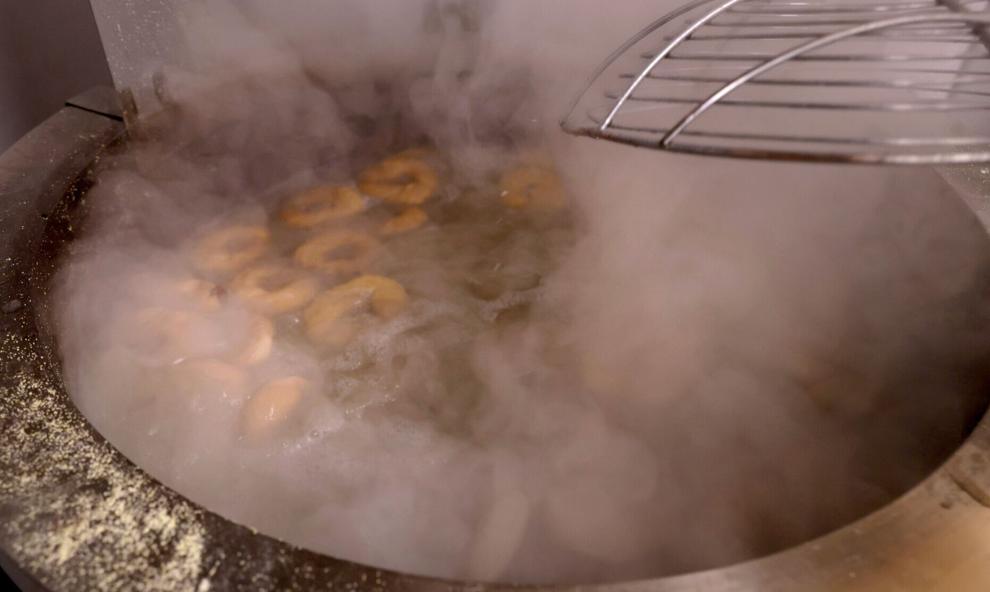 Abound with bagels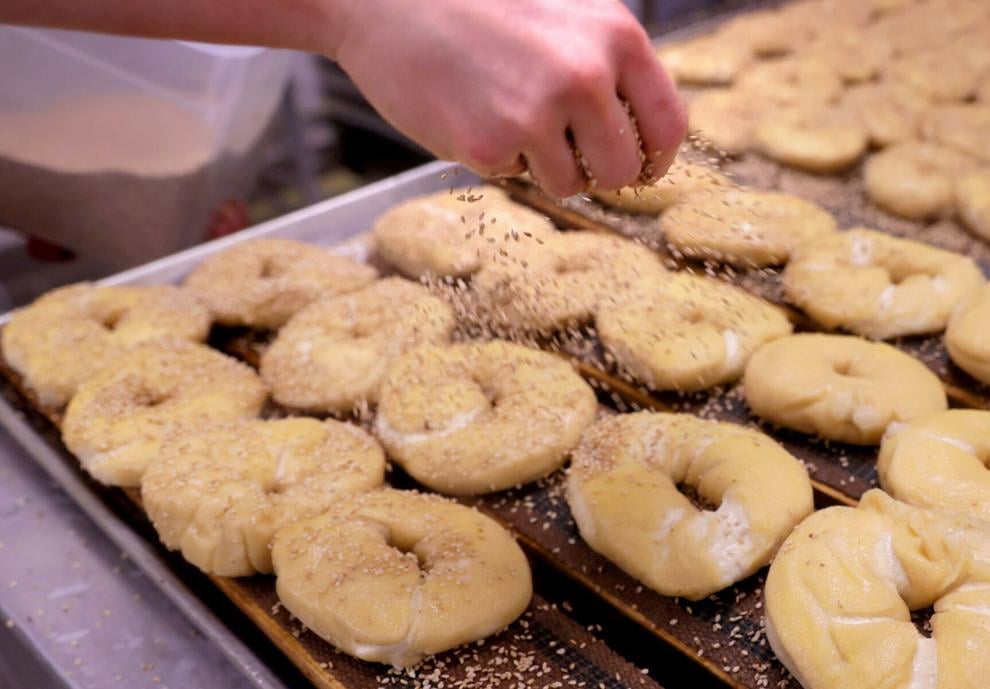 Abound with bagels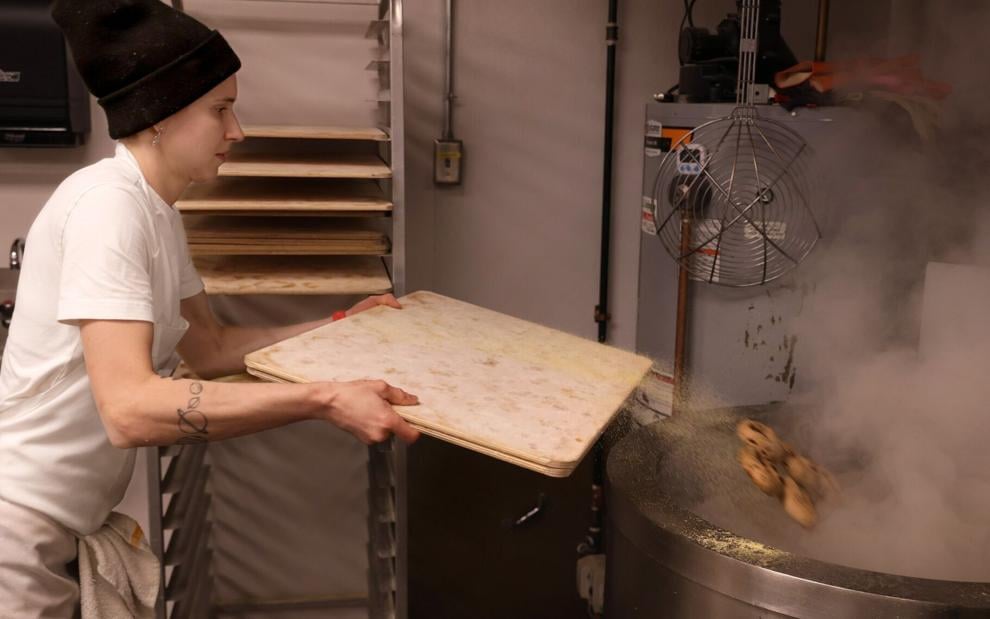 Abound with bagels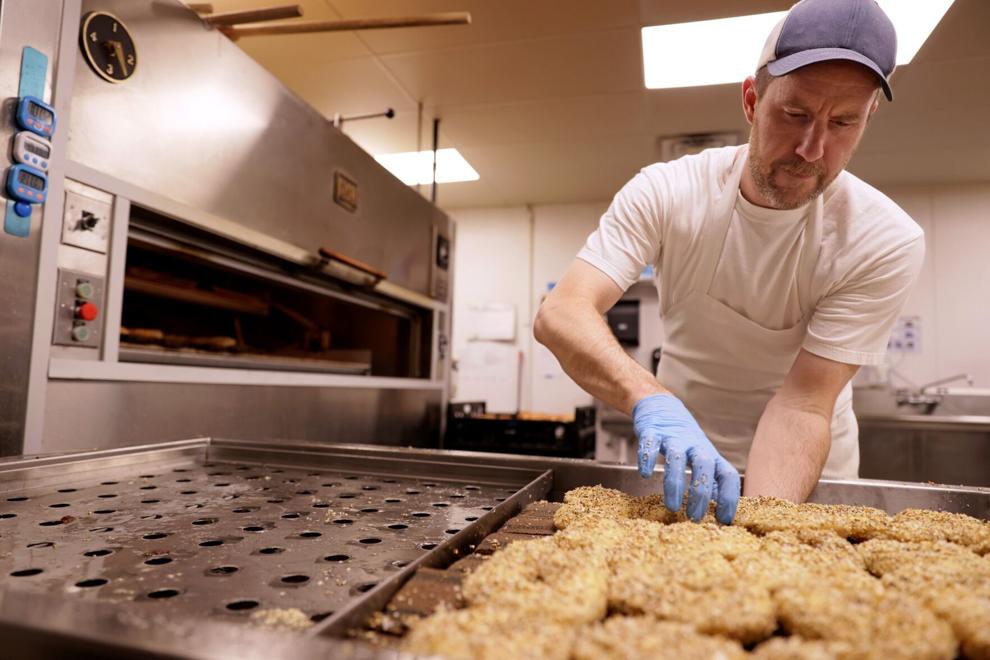 Abound with bagels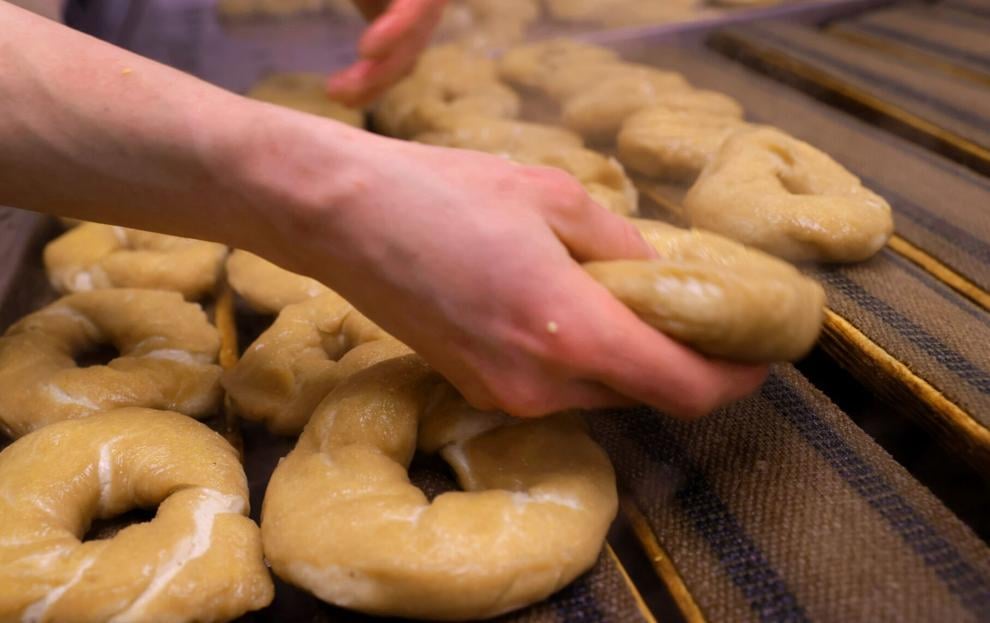 Abound with bagels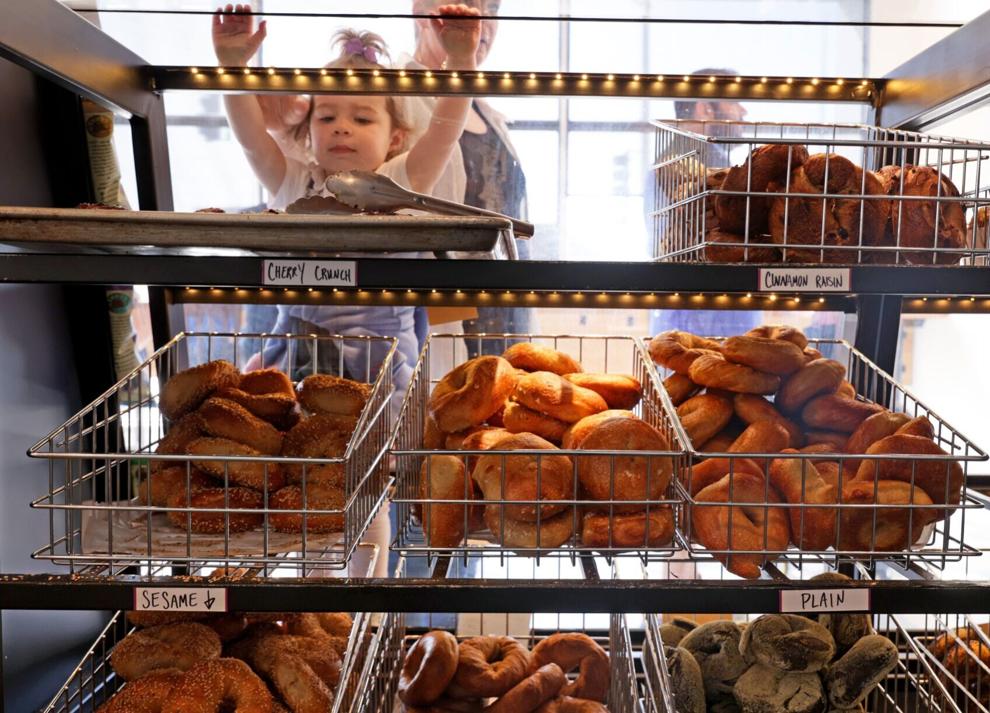 Abound with bagels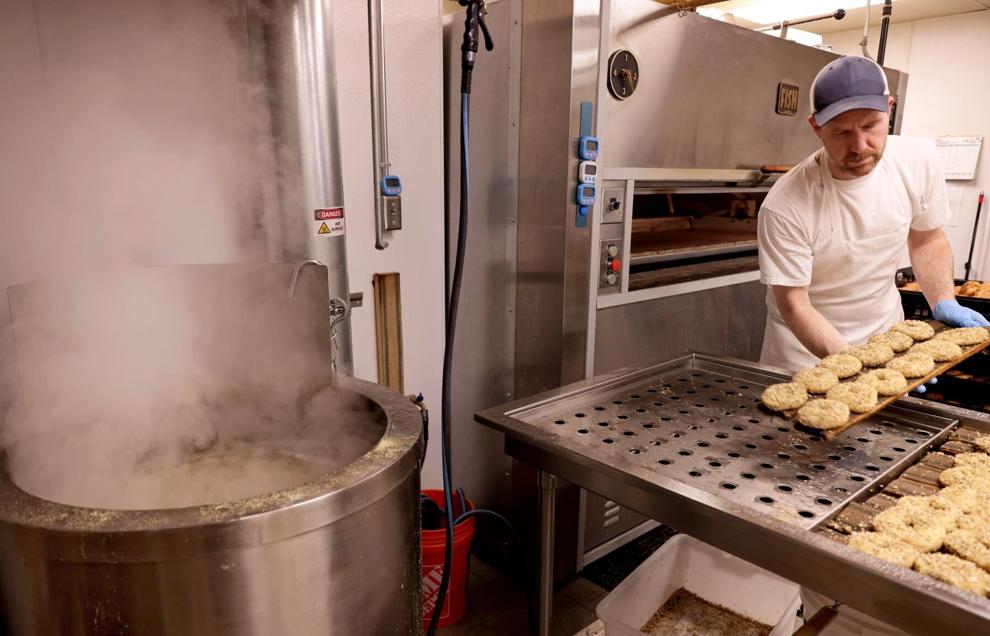 Abound with bagels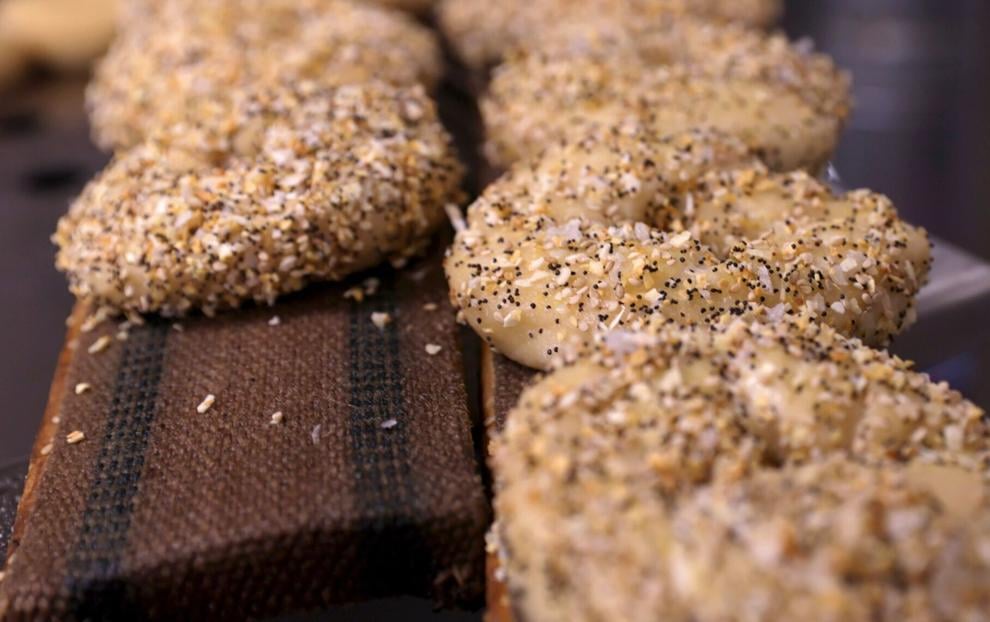 Abound with bagels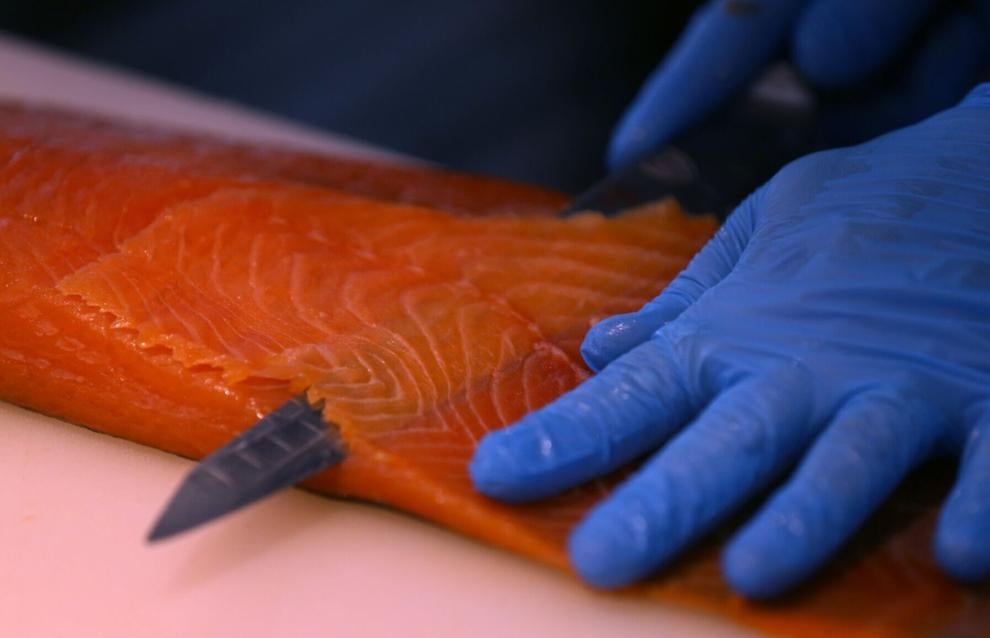 Abound with bagels
Abound with bagels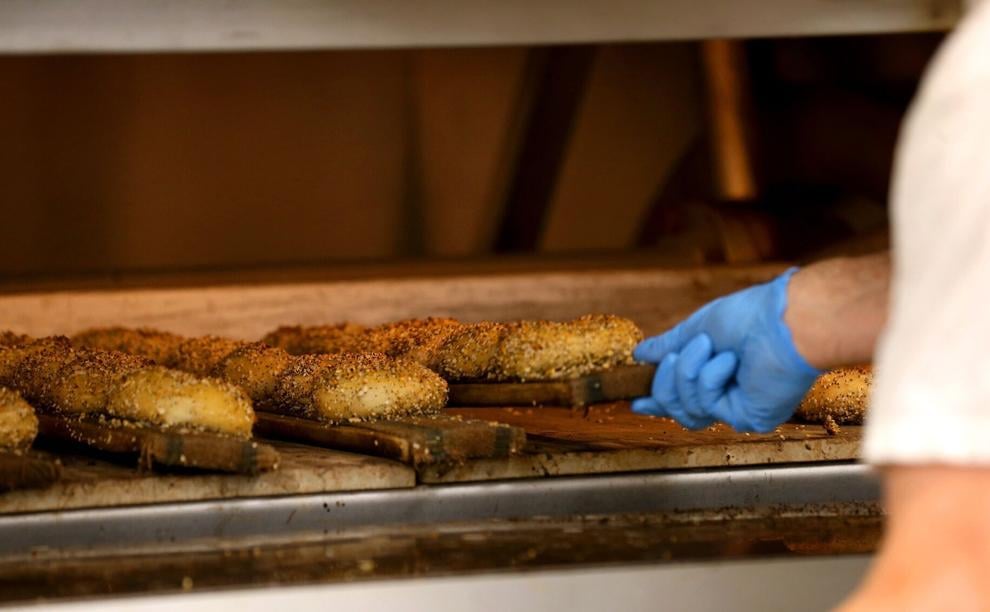 Abound with bagels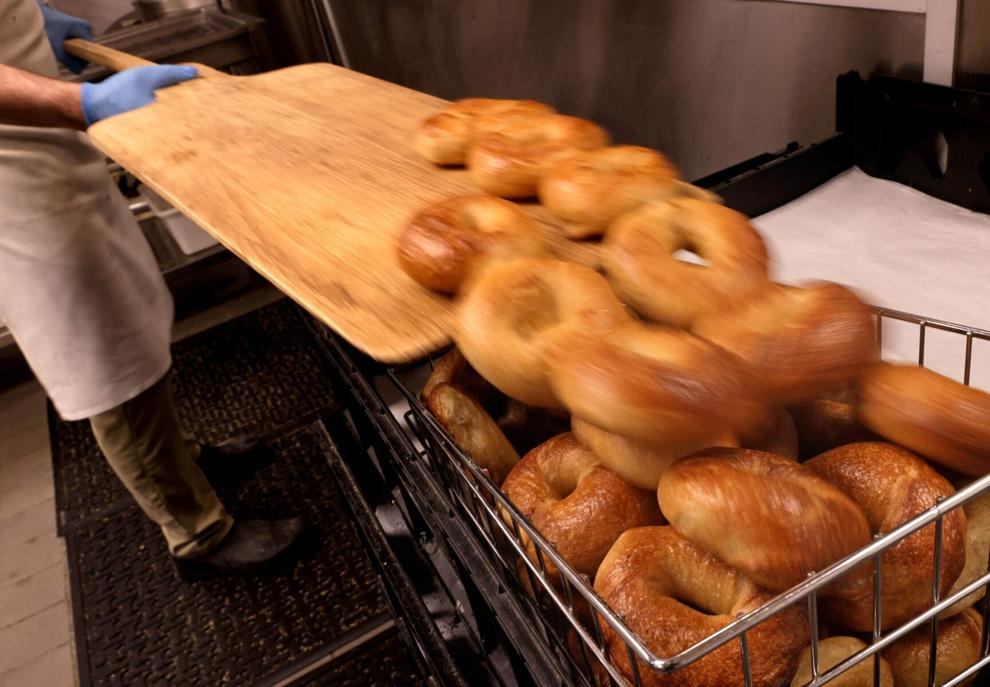 Abound with bagels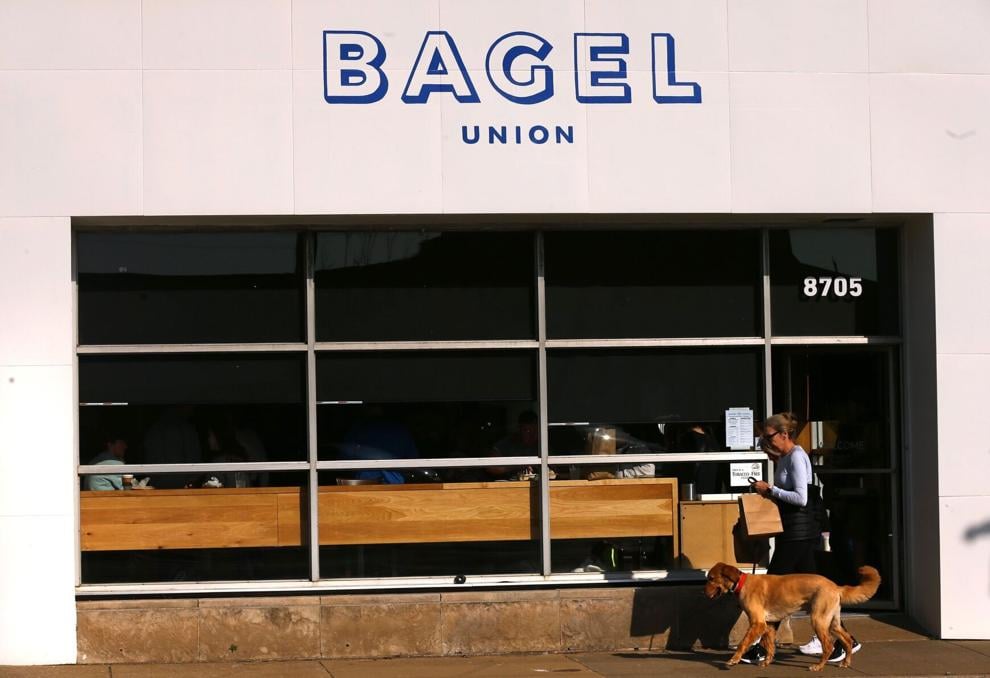 Abound with bagels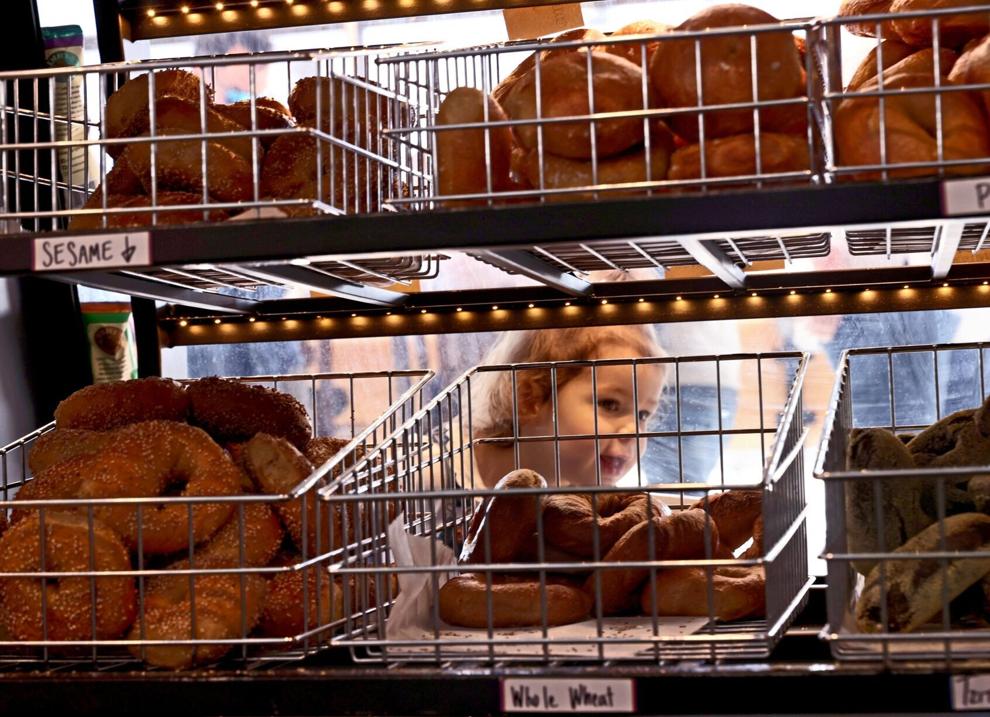 Abound with bagels