The signature dish at Jalisco Pizza shouldn't work. Late last year, a few months before Leonardo Ortiz opened his restaurant just off Highway 370 in St. Charles, he tried to re-create the birria from his home in Degollado, Mexico. By his own admission, he failed.
Ortiz has to hold himself to a higher standard. Degollado is a small town in the Mexican state of Jalisco, the birthplace of birria, the beef or goat stew that in recent years has become a sensation as a taco filling, often paired with melted cheese and served with a small cup of the broth in which the meat cooked for dipping. The craze has now spread to such other fusion dishes as birria ramen (try Taqueria Maya in Alton) and, at Ortiz's narrow storefront, birria pizza.
Not long after Ortiz missed the mark with his birria, he invited a friend over to his house to grill some pork he had marinated with dried chiles. The marinade didn't turn out as he had expected — but it did taste awfully close to the birria he wanted. He tweaked the recipe and tried again.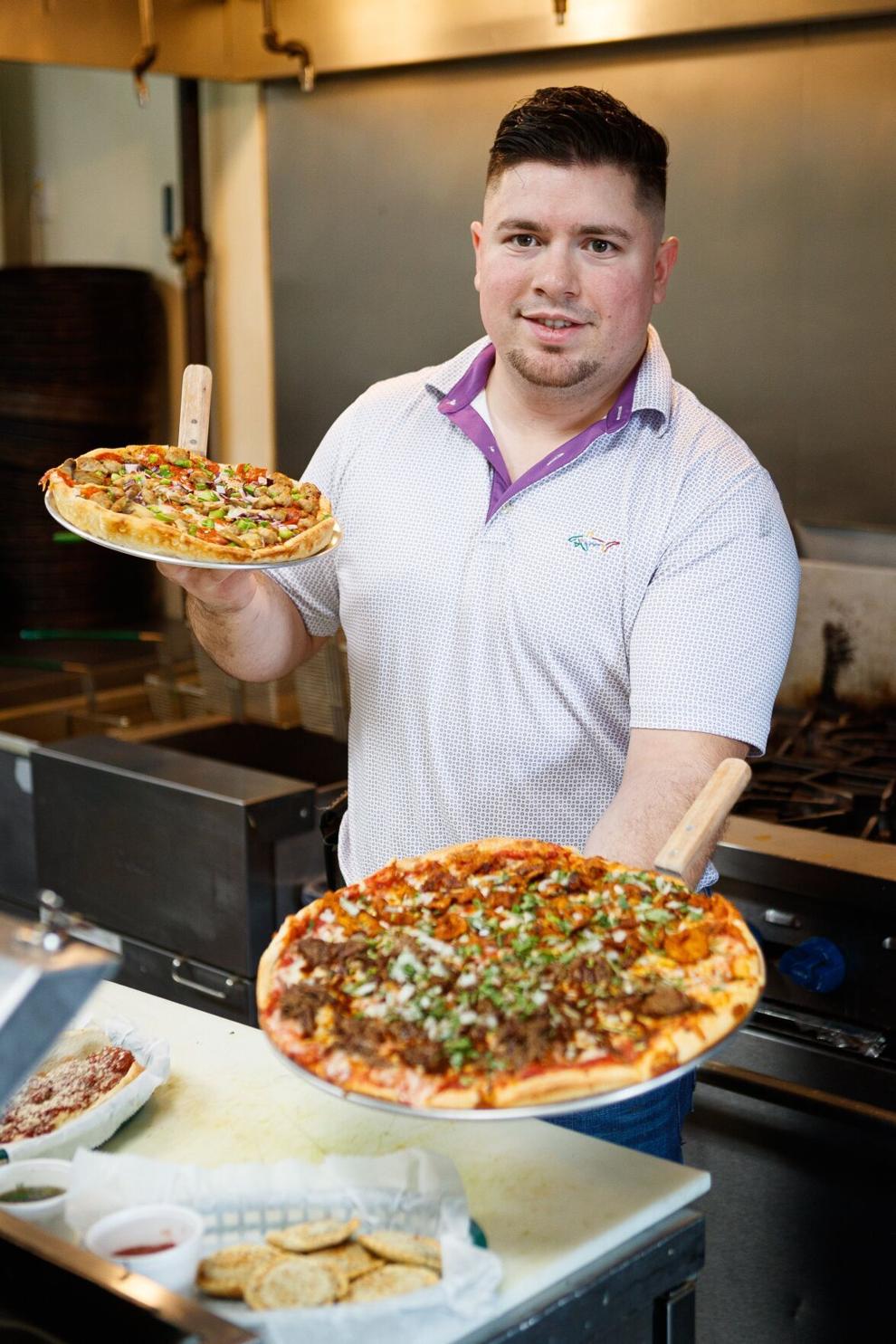 "I was like, 'Whoa! This is the sauce that I was looking for (for) my birria,'" Ortiz said.
The signature dish at Jalisco Pizza still shouldn't work. The whole restaurant shouldn't work, for that matter.
Ortiz, who came to the United States after graduating from high school in Mexico, has worked in the restaurant industry since he was 14. He thought the combination of Mexican fare and pizza made sense for a family-friendly restaurant, with the former appealing to parents, the latter to their kids. He also looked back on his own childhood. His father would pick up a pizza from one restaurant and then get taco meat from a taqueria to put on top of the pie.
But Ortiz had never operated a pizzeria before he debuted Jalisco Pizza in February in the former Stef's Pizza storefront. He learned the pizza business in just four days, he said. The mentor who taught him about pizza urged him to stick to the basics.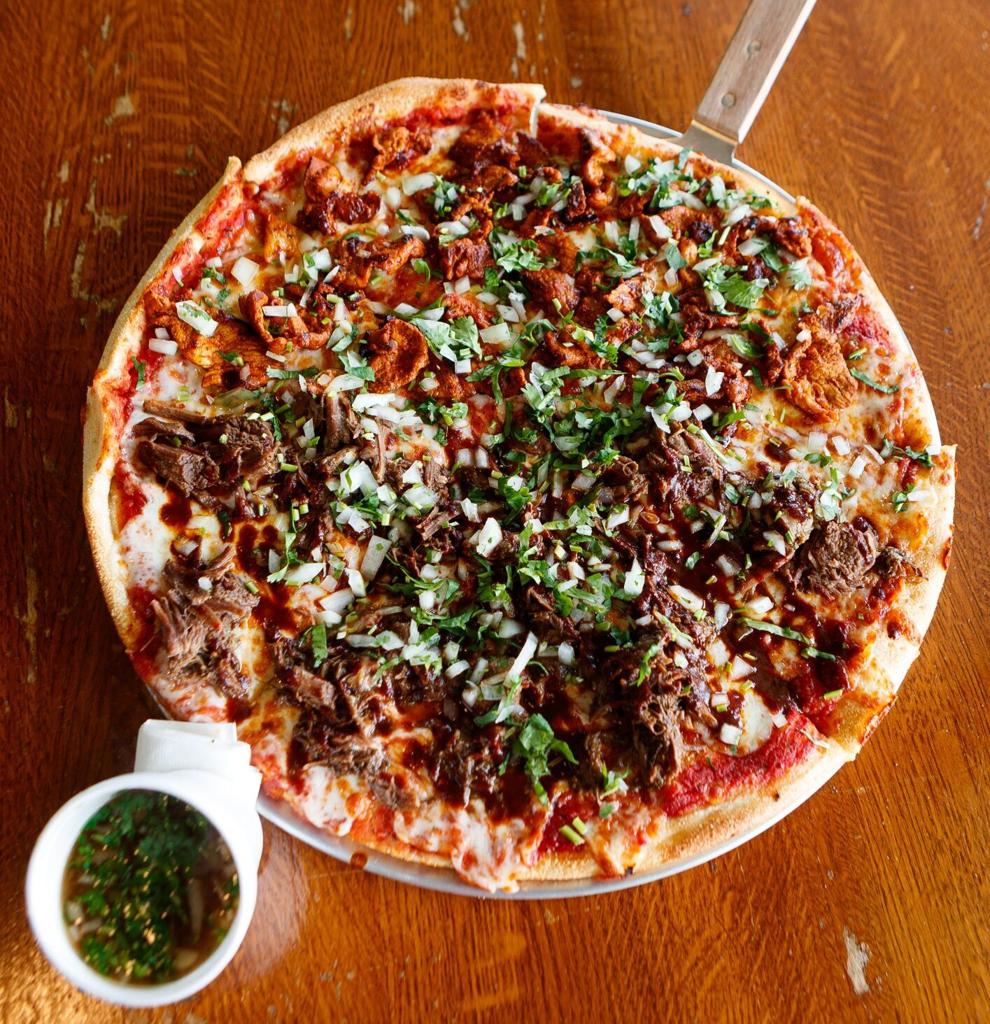 Ortiz invited his mentor to his home for a birria pizza. His mentor was surprised, Ortiz said. The pizza was good. The mentor couldn't guarantee Jalisco Pizza would work, but the pizza was good.
I can't guarantee Jalisco Pizza will succeed, either — the restaurant industry is too capricious — but it deserves to prosper. The pizza is very good, and Ortiz's restaurant works both as a straightforward pizzeria and as a destination for an appealing, unforced fusion of two of the most popular cuisines around.
It begins not with birria but with the dough, which itself is a fusion of the more conventional style Ortiz learned from his mentor and his own bread recipe. The crust is crisp and springy, its flavor bready, even a little sweet, but not too weighty on the palate. In its own unassuming way, this dough isn't quite like any other in the metro area. It supports a traditional arrangement of sauce, cheese and pepperoni or another "typical" topping (sausage, peppers, onions, et al.), as well as the signature street taco-inspired pies.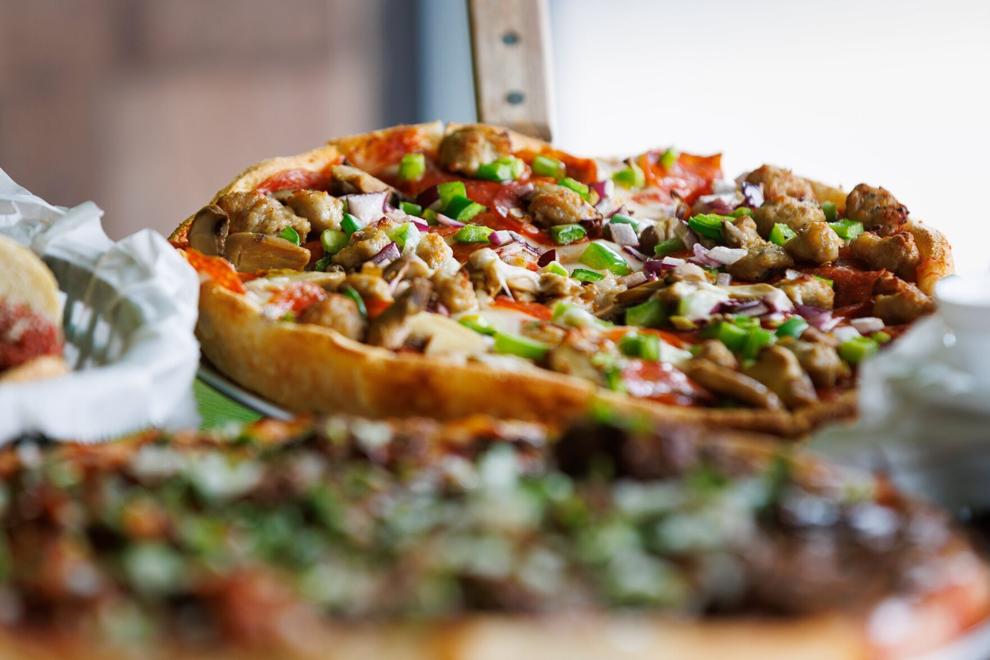 First and foremost, though, you should visit Jalisco Pizza for that latter group. The birria pizza — the Jalisco pizza on the menu — tops the crust, tomato sauce and cheese trio with luscious stewed beef, a generous taco-inspired garnish of chopped cilantro and onion, and a drizzle of a dark red "secret" sauce that intensifies the warm spices and subtle chile heat of the birria's broth. As with a birria or quesabirria taco, the Jalisco pizza includes a small cup of that broth as a dip. Another credit to the crust here: It retains its pleasant chew even after a dunk in the consommé.
Crucially, thanks to the quality of that crust and how Ortiz builds his pies, the street-tacos pizzas didn't make me wish I were simply eating a taco instead. The layer of tomato sauce is thin, and its mild sweetness helps soften the sharp edges of the raw onion and cilantro. The affinity of stretchy cheese for birria is obvious, but it gilds the other meats just as well: juicy, charry carne asada and tender, achiote-seasoned al pastor.
These pizzas are appealing enough as is, but Ortiz offers an additional step: four different sauces with which to dress your pizza. These range from a verdant but mild green sauce to the ferocious, mustard-based chimichurri, its color an orangish-yellow that will anger your palate even before you apply a tentative dab to the edge of your crust. Between these two poles are a moderately spicy red sauce and a creamy, smoky, slightly spicier chipotle salsa.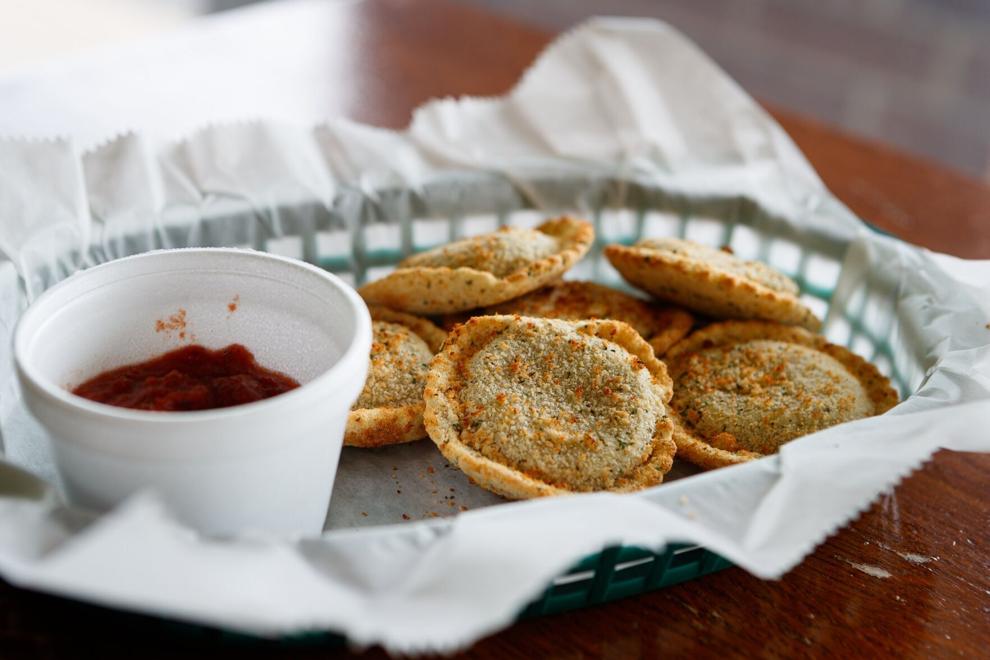 Beyond the three street-taco pies, much of Jalisco Pizza's menu hews close to the St. Louis pizzeria template, though with the occasional surprise. There are toasted ravioli, naturally, but these T-ravs are discs rather than square-edged, with a lighter breading. The wings are plump, crisp and meaty, though my order needed a more generous toss in the tangy Buffalo sauce. Meatballs aren't one of my go-to pizza toppings, but the tender, meaty specimens packed into the meatball sub here might prompt me to do so on my next visit — especially when I can accent them with that chimichurri.
Jalisco Pizza doesn't have a liquor license, and you might regret the lack of an icy beer when that chimichurri hits you full-force, but a bottle of Mexican Coke or a glass of hibiscus agua fresca will cool you down just as nicely.
Where Jalisco Pizza, 3831 Elm Street, St. Charles • More info 636-723-7800; jaliscopizza.com • Menu Pizza both traditional and Mexican-inspired • Hours Lunch and dinner daily