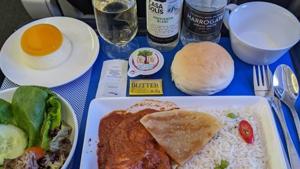 JT Genter – Forbes Advisor
Around the turn of the millennium, British Airways became the first airline to introduce lie-flat seats in business class. This created a drastic difference between economy and business class, leading to the birth of a new class of service at British Airways: premium economy. British Airways dubbed the new cabin "World Traveller Plus".These many years later, British Airways is still a leader in premium economy. A revamp of the product in 2019 introduced a new premium economy seat with 50% larger in-flight entertainment screens, new amenity kits, pillows and blankets.But is British Airways premium economy worth the cost? Let's dig into more details about the product and how much it costs to book to help you make just that decision.
People are also reading…
An Overview of British Airways Premium EconomyBritish Airways "World Traveller Plus" is the London-based airline's premium economy product. Situated between economy and business class—both in price and location on the aircraft—"World Traveller Plus" offers travelers a product that's more spacious than British Airways "World Traveller" economy but not the lie-flat seat and elevated service of "Club World" business class.The benefits of British Airways premium economy start at check-in. Baggage allowance can vary between routes. But you can count on getting two free checked bags—plus a cabin bag and personal item—on flights between the U.S. and Europe.When it comes time to board, British Airways premium economy passengers get "priority boarding"—although that means getting Group 3 out of nine boarding groups.What British Airways Premium Economy Is Like On-BoardSeats typically have around 38 inches of pitch, 18.5 inches of seat width and a solid amount of recline. Each seat offers both a legrest and a footrest.The first meal in British Airways premium economy is typically a hot meal served on real plates along with metal silverware. However, the second meal typically isn't as elegant. These cold meals are either served in paper bags or paper boxes.Each premium economy seat has a large in-flight entertainment screen built into the seat in front of it. Under that screen, passengers can store their passport, boarding pass, phone and other small items in a well-designed tray. On the armrest between each seat, you'll find a tray for drinks and two universal power outlets. Two water bottle holders are installed between the footrests.British Airways premium economy seats are typically stocked at boarding with a pillow, a blanket, noise-canceling headphones and an amenity kit. However, on some routes, the crew opts to hand out amenities as boarding is concluding—perhaps as a way to prevent them being swiped by other passengers.How Much British Airways Premium Economy CostsThe cost of British Airways premium economy is obviously a major factor in whether or not the experience is worth it. As with any airfare, the cash price cost is going to vary widely depending on the route, demand and how close to departure you're booking.For example, in April 2022, I flew British Airways premium economy from Los Angeles (LAX) to Bengaluru, India (BLR), via London, for just $949 round-trip. That same route costs over $2,100 round-trip on the cheapest dates as of June 2022.Generally speaking, you've found a good deal if you can find British Airways premium economy to Europe for under $1,000 round-trip. Typical prices are generally around $1,200 to $1,500 round-trip in the fall and around $2,000 round-trip for last-minute summer travels.How To Save on British Airways Premium EconomyTravelers have a couple of ways to save when booking British Airways premium economy paid fares: being a British Airways Visa Signature® Card* cardholder and being an AARP member.British Airways Visa Signature® Card* cardholders get a 10% discount on British Airways flights when booking through the website. And this isn't just a discount on the base fare. You'll get 10% off the total cost of the flight—including taxes, fees and carrier charges. Even better, you can use this code to book up to eight friends and family with you on the same flight.There's no limit to how many times you can use this discount. However, it's limited to round-trip flights departing the United States solely on British Airways flights. So you'll need to fly or drive to a different airport if your local airport isn't served by British Airways.The other major way to save money on your next airfare purchase is to have an AARP membership. AARP members of any age can save up to $200 per person off British Airways flight bookings:$65 per person for economy or premium economy fares—excluding basic economy.$200 per person for business and first class fares.Best of all, you can combine these two discounts. Say you want to book a British Airways premium economy fare costing $1,326 round-trip from New York City to Athens, Greece. By stacking the $65 AARP discount and 10% British Airways cardholder discount, you can book these same flights for just $1,135 round-trip.Cost To Upgrade From British Airways Economy to Premium EconomyTravelers booked in British Airways economy have the option to use Avios to upgrade to premium economy. However, there are a few limitations:British Airways requires premium economy award space to be available.The cheapest World Traveller fare classes (Q, O and G) cannot be upgraded.You can't use Avios to upgrade at the airport or onboard.The cost to upgrade with Avios is based on the price of award bookings in economy and premium economy on that route for that date. You'll also likely need to pay a cash co-pay for the difference in taxes and fees.Booking British Airways Premium Economy With Points and MilesHow many Avios does British Airways premium economy cost?British Airways utilizes a distance-based award chart with peak and off-peak dates. The catch? British Airways no longer publishes this award chart. Thankfully we've been able to piece one together from award flight searches.One-way award flights in British Airways premium economy currently cost:Most British Airways flights between the U.S. and London will cost between 26,000 and 50,000 Avios each way in premium economy. During off-peak dates, you can fly between the northeastern U.S. and London for just 52,000 Avios round-trip—plus a hefty amount of taxes and fees:Traveling beyond London? British Airways charges Avios for each award flight segment. So, you'll need to pay additional Avios to connect onward. Thankfully short-haul flights into Europe cost as little as 4,750 Avios each way in economy.As with all British Airways award flights, make sure to factor in the high taxes and fees that British Airways charges. You can partially offset these taxes and fees by paying with a British Airways Visa Signature® Card*. Cardholders get up to $600 in reward flight statement credits each year to offset just these types of fees. You'll get a $100 statement credit for economy or premium economy award bookings or $200 statement credit for business and first class flights.Booking Through Partner Award ProgramsAs British Airways is part of the Oneworld alliance, travelers can also book British Airways premium economy using miles from several partner airlines. However, each partner airline charges a different award rate for British Airways flights.American Airlines AAdvantage uses a region-based award chart for award flights on partners. That means the price of British Airways premium economy depends on which region you're traveling to:Europe: 40,000 AAdvantage miles each wayMiddle East: 62,500 AAdvantage miles each wayIndian Subcontinent: 62,500 AAdvantage miles each wayAfrica: 65,000 AAdvantage miles each wayIf you can generate Japan Airlines Mileage Bank miles, you can really save on British Airways premium economy flights. However, you'll need to fly round-trip to get the best deal. Like British Airways, Japan Airlines uses a mileage-based award chart.You'll only need to pay 59,000 JAL miles round-trip for British Airways premium economy for routes between 6,001 to 8,000 miles round-trip—such as between London and Boston, New York, Philadelphia and Chicago. Routes between 8,001 and 10,000 miles round-trip cost just 62,000 JAL miles. That is far enough to cover almost all other U.S. routes.The best part of JAL Mileage Bank is that the deal gets better the more miles you fly. For example, you can fly from Boston to Istanbul via London for just 62,000 JAL miles round-trip.Comparing British Airways Premium Economy and EconomyLet's face it: Most passengers debating if British Airways premium economy is worth the cost are comparing it with British Airways economy. So, let's compare the two products head-to-head across several factors.Bottom LineBritish Airways premium economy provides extra legroom, seat width, more recline, extra amenities, perks like priority boarding and extra mileage earnings compared to British Airways economy. Whether that's worth the price is ultimately going to be a personal choice.As a veteran of eight British Airways premium economy flights and 16 economy flights, I'm likely going to pay more to fly in British Airways premium economy the next time I have the choice. However, that's only if the price difference is reasonable—less than $200 or more each way.More from Forbes Advisor
Stay up to date on life and culture in St. Louis.