Each week, I publish the First Course, an email newsletter that dishes insight, news, tips and more from St. Louis' thriving dining scene. Exclusive to the newsletter is a weekly recommended dish from an area establishment.
Here is a sampling of the recommendations I've offered in recent weeks. If you want to read these as soon as I send them every Thursday morning, visit stltoday.com/newsletters and subscribe to the First Course.
Jerk chicken with passion-fruit boba at Cleveland-Heath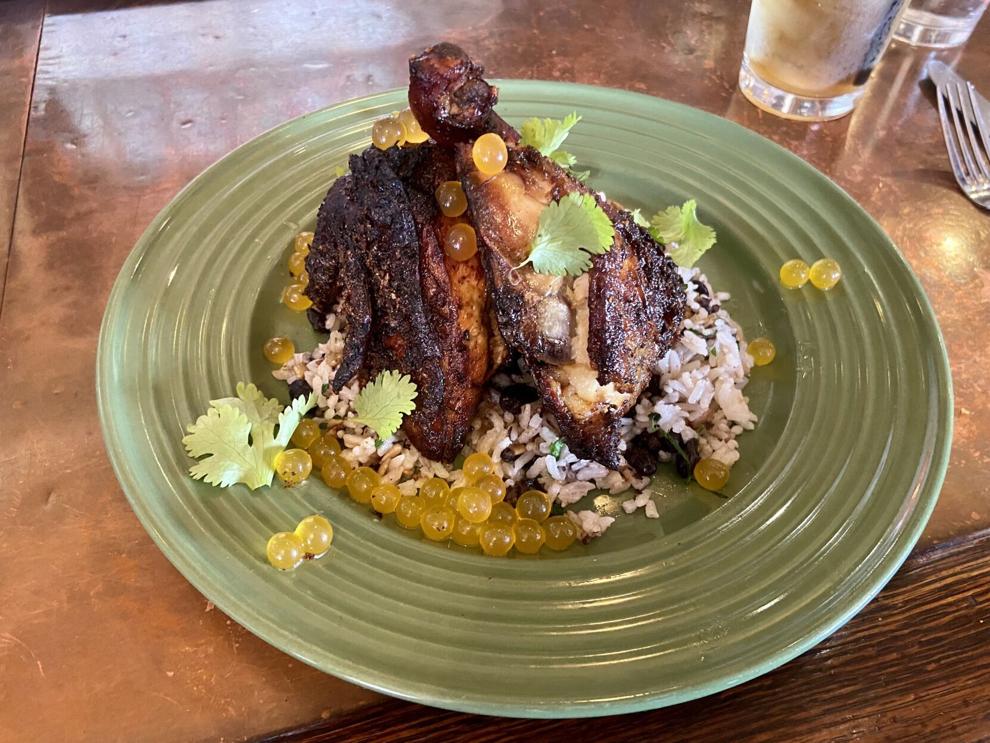 I don't have many opportunities to write this. At Cleveland-Heath in downtown Edwardsville, I encountered something I've never seen before: boba — as in boba from boba tea — as part of a savory dish.
The pearls of passion fruit boba garnish Cleveland-Heath's jerk chicken, which is served over a less surprising mound of coconut-cilantro rice and black beans. Evan Buchholz, the restaurant's chef and owner, had intended the boba for a dessert but thought it could add a tropical note to the chicken — and cut through the jerk seasoning's spice.
The passion fruit boba indeed does both. The sweet-tart pops enliven the chicken (and the rice and beans, for that matter) and contrast, if not dampen, the jerk seasoning's bite. This is a fun, delicious dish.
Buchholz and his wife, Gina, took ownership of Cleveland-Heath in late 2021. At the time, he was already serving his second stint as the acclaimed restaurant's executive chef, and he has proven himself the ideal fit for maintaining the Cleveland-Heath standard (I began my recent lunch with a cup of the restaurant's always comforting posole) and pushing it to new heights.
Where Cleveland-Heath, 106 North Main Street, Edwardsville • More info 618-307-4830; clevelandheath.com
Birria (as in the stew) at Tienda El Ranchito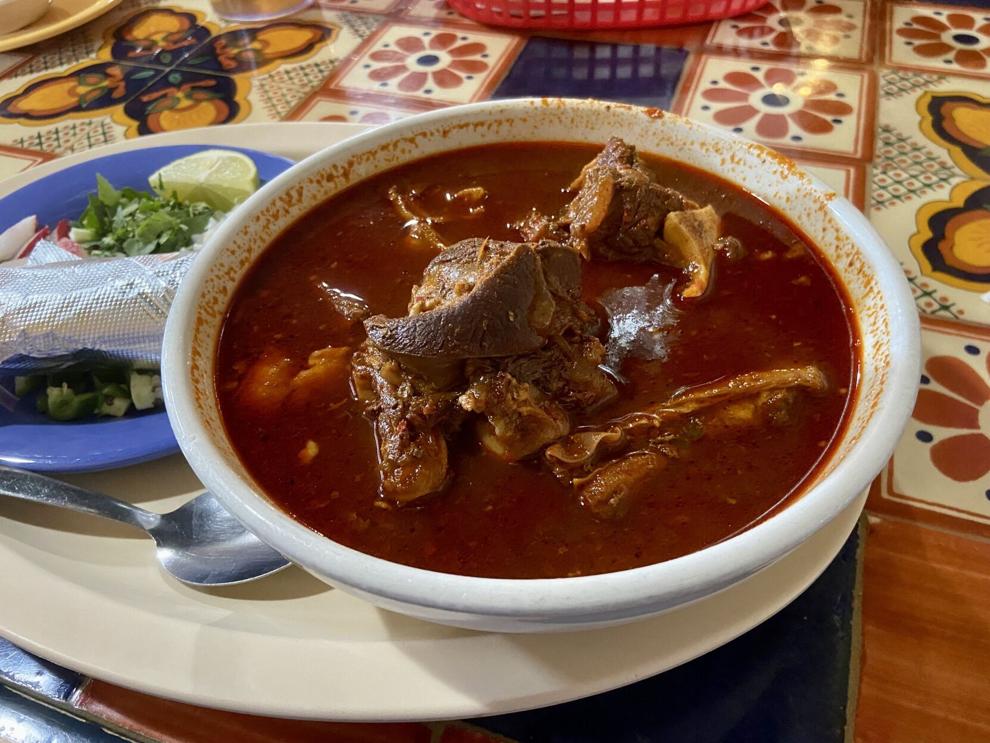 If you have enjoyed the boom in recent years of quesabirria and birria de res tacos, you owe it to yourself to try the dish that is the parent of both: birria, the stew of goat (or beef), from the Mexican state of Jalisco.
During my time in St. Louis, I have found only two places serving birria with goat. One, Pueblo Nuevo in Hazelwood, closed in 2020. The second is Fairmont City mainstay Tienda El Ranchito, one of several notable Mexican restaurants in the small Metro East community. (Right across Collinsville Road from Tienda El Ranchito's parking lot is another must-visit, Mi Tierra Bonita.)
Here an order of birria brings a tremendous bowl brimming with dusky red-orange consommé and hunks of bone-in goat. The meat isn't lean, but it adds even more body to the already lush broth. The consommé is certainly spiced but isn't so hot that the goat's distinct flavor can't assert itself.
The consommé will stain your favorite shirt. You won't mind.
The goat meat makes it difficult to compare this birria with the consommé accompanying the beef birria at other area restaurants. (For my money, the best of those beef borths is at Tacos La Jefa.) If you happen to know of another restaurant serving birria as a stew with goat, please let me know.
Where Tienda El Ranchito, 2565 North 32nd Street, Fairmont City • More info 618-875-1521; tiendaelranchito.com
Poke at Hello Poke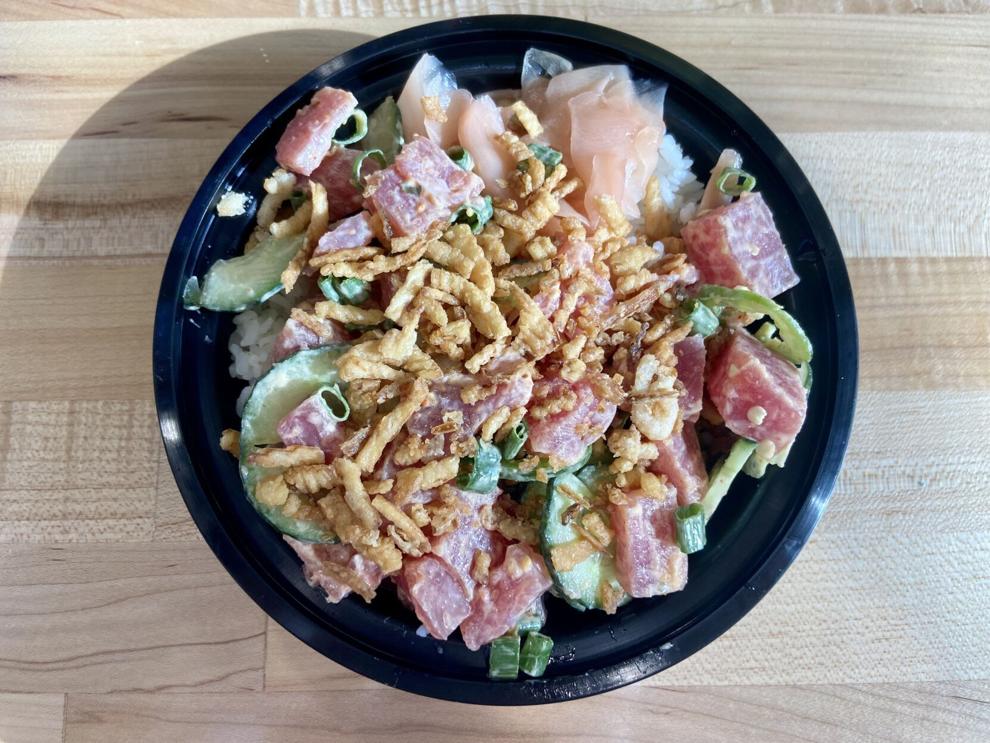 As I wrote in my recent review of Sando Shack, owners Amy Guo and Dan Jensen originally moved from Seattle to St. Louis to open Hello Poke at the Food Hall at City Foundry. With the delays to the debut of the Food Hall, the couple founded Sando Shack in the meantime.
Guo and Jensen didn't abandon Hello Poke, though. It was one of the inaugural restaurants when the Food Hall finally did open in August 2021. I have spent a fair amount of time at the Food Hall since then — see my reviews of Chez Ali, Chicken Scratch, Sureste and a three-for-one look at 4 Hens Creole Kitchen, Fordo's Killer Pizza and Intergalactic — but I hadn't visited Hello Poke until recently.
Poke restaurants, at least as they have appeared in St. Louis in recent years, are difficult to review in a traditional sense. Often, the whole point is to build your version of the Hawaiian dish from a menu of base, protein and topping options.
Such is the approach at Hello Poke. I went with a relatively straightforward bowl: ahi tuna, rice and spicy mayonnaise with cucumber, green onion, ginger and jalapeño. Here you choose a "crunch" to finish, and I opted for onion crisps (like the bits in green-bean casserole).
I couldn't ask for much more from a bowl of poke. The flavors were fresh, clean and bright, and each element had the proper texture, from the just-firm-enough rice to the very thin but still just-a-little-crisp cucumber. Hello Poke will make for a welcome change of pace whenever I can tear myself away from Sando Shack's fried chicken sandwiches.
Where Hello Poke at the Food Hall at City Foundry, 3730 Foundry Way • More info facebook.com/hellopokestl
Pork poutine at Eat Crow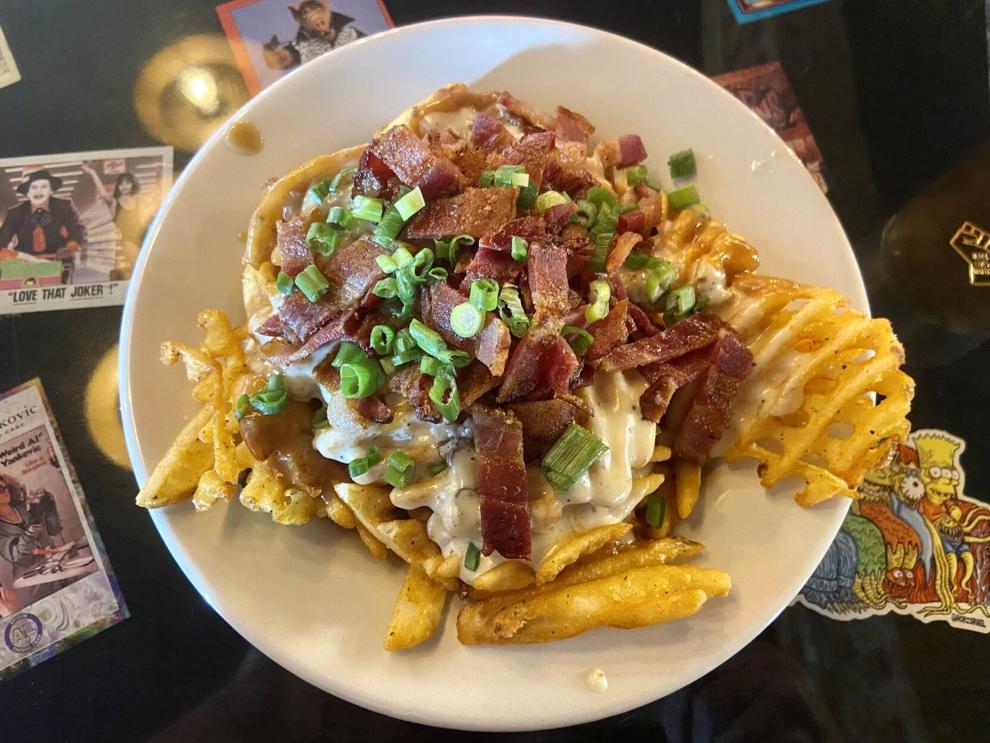 You'll have to give me the benefit of the doubt when I say my new year's resolution for you, dear reader, is to cut back on the burgers and fried chicken sandwiches in 2023.
I buckled but didn't break at Eat Crow, which opened in late July in Soulard. A spinoff of Maplewood mainstay the Crow's Nest — maybe best known for its weekend Metal Brunch menu — Eat Crow features a similar menu, including an appealing selection of burgers.
If you don't already know the Crow's Nest, the pork poutine ($13) makes a fitting introduction to its new sibling: waffle fries dressed with pork gravy and a gouda-jalapeño sauce, showered with bacon and garnished with green onion.
"Wait!" some north-of-the-border pedant might interrupt. "Those sound like cheese fries, not true poutine."
Sure, fine, whatever. Eat Crow's pork poutine is an excellent basket of cheese fries. The gouda-jalapeño sauce is exceptionally creamy, with the just-right piquancy to stand up against the twin oinks of all that bacon and the thin but still richly flavored pork gravy.
I ordered the pork poutine as my main course, but the dish is listed among Eat Crow's starters. You could order it as a prelude to a burger or the restaurant's fried chicken sandwich.
Not me. Not this week, at least.
Where Eat Crow, 1931 South 12th Street • More info 314-934-1400; eatcrowstl.com