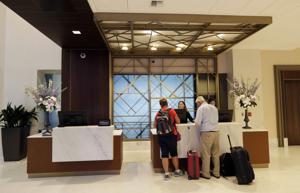 For some travelers, all-inclusive hotels conjure up images of flavorless food served under a heat lamp in lush and vibrant destinations where guests never actually leave the resort grounds. Lower-tier liquor flows freely (the good stuff will cost you more), as the few overindulgers put a damper on the trip.That image is changing, as hotel companies expand their offerings, while redefining what all-inclusive means.HOTELS ARE GROWING THEIR ALL-INCLUSIVE BRANDSMany hotel companies are rapidly adding all-inclusive resorts to their portfolio. Hyatt's acquisition of Apple Leisure Group in November 2021 made it one of the largest owners of luxury all-inclusive resorts in the world.That acquisition included the luxury-focused AMR Collection, which has beachfront properties in Mexico and Central America. That means there are now more than 100 new resorts for visitors (and where World of Hyatt members can use their points), up from about a dozen.
People are also reading…
Just weeks before Hyatt's news, Marriott had also expanded its all-inclusive footprint by adding 20 properties under a new brand dubbed "All-Inclusive by Marriott Bonvoy."LEANING TOWARD LUXURY — BOTH ON AND OFF-PROPERTYWith these new all-inclusive offerings, hotels are emphasizing luxury. At Hyatt's Zoetry Montego Bay Jamaica, all accommodations include an in-house concierge. Some have private swim-out pools."The Zoetry Wellness & Spa Resorts brand is all about exceptional amenities," says AMResorts senior vice president Miguel Oliveira. "There are no check-in or check-out times, unlimited top-shelf spirits and 24-hour concierge."Marriott CEO Anthony Capuano said in a March 2021 earnings call that luxury rooms account for more than 10% of Marriott's pipeline."Leisure demand has led the recovery, and we are well-positioned to continue growing our lead in resort destinations, including in the high growth all-inclusive space," he said. For example, among Marriott's recent additions is the Royalton Antigua, where visitors can stay in Antigua's only glass-floored, overwater bungalows.And while the rooms are luxurious, increasingly more all-inclusive resorts promote getting outside the resort area.Twin Farms in Vermont offers ski equipment and fat-tire bikes for use on its private slopes. A partnership with Volvo allows guests to explore Vermont's countryside by taking a drive in vehicles made available by the resort. Nightly rates sometimes run close to $6,000.Baja Expeditions offers a glamping experience at San Ignacio Lagoon in Mexico. Guests stay in windproof, heated tents with en suite bathrooms, and head out on whale-watching excursions during the day. The four-day experience costs about $5,000 for two guests and includes a charter flight to the lagoon.
FILE- In this Sept. 5, 2018, file photo guests stand at the front desk at the Embassy Suites by Hilton hotel in Seattle's Pioneer Square neighborhood in Seattle. Many major hotel chains are embracing all-inclusive offerings. For example, Hyatt recently announced an integration with AMR Collection brands, a group of about 100 all-inclusive resorts. Others, including Walt Disney World Resort, are workshopping the all-inclusive model, offering more specialized entertainment or outdoor access. These vacation packages are attractive to travelers in 2022, as paying for the bulk of travel expenses at once makes it easier to budget. For others, the opulence coupled with the minimal headache of planning every component of a trip is worth the higher price tag. (AP Photo/Ted S. Warren, File)
Ted S. Warren
REWRITING THE ALL-INCLUSIVE PLAYBOOKThis year has provided travelers with a different type of all-inclusive experience when Walt Disney World Resort opened Star Wars: Galactic Starcruiser. In its simplest form, it's Disney's "Star Wars" hotel, but it's a lot more than that."The Galactic Starcruiser experience is part dinner mystery theater, part high-production show, part escape room, part video role-playing game, part cruise, and part resort stay — all rolled into one," says Beci Mahnken, founder and CEO of travel agency MEI-Travel.The cost starts between $1,500 and $2,400 per person for two nights and valet parking. It includes activities such as lightsaber training, and tickets to the theme park. It also includes themed food like bantha dumplings, a beef-based dish supposedly made from "bantha," a fictional "Star Wars" mammalian beast.WHY IS ALL-INCLUSIVE TRAVEL BECOMING POPULAR?For travelers who care about costs, all-inclusives — while sometimes more expensive — can be worth it as they simplify planning and budgeting.When pricing an a la carte vacation, travelers have to account for hidden costs like mandatory gratuities and resort fees. Then, they factor in minor expenses like bottles of water and parking. With all-inclusives, these expenses tend to be — well — included.While the Star Wars: Galactic Starcruiser is far from a budget vacation, Mahnken says that when you compare individually priced theme park tickets, entertainment and meals with the cost of the all-inclusive experience, then $3,000 — while not exactly cheap — might sting less."Is it for everyone? No," she says. "However, when you look at each element of the experience and what you would pay for each experience separately, the price is a very good value."Even still, Mahnken advises understanding what's covered when booking. Especially among cruises, it's common to see similar rooms and itineraries at vastly different rates because some include gratuities, alcohol and fine dining, while others don't.For some more travelers, the opulence plus convenience can be worthwhile."The ability to pre-pay and not have any surprises or a bill waiting for you at the end removes many aggravating factors of travel," Mahnken says. "It's easier to budget."
Did you know TSA prohibits these innocent items from being in your carry-on bag?
1. English Christmas Crackers
Much to the dismay of British travelers, English Christmas crackers are prohibited by the TSA.The small, popular party favor is used to celebrate Christmas and other special occasions. When popped, it creates a "bang" sound with the help of a minuscule amount of gunpowder stored inside.
FIlckr https://flic.kr/p/7zdXAs
2. Ink and toner cartridges
According to the U.S. Transportation Administration, ink and toner cartridges that are more than 16-ounces in weight pose a risk to air travel security and are banned from both carry-on and checked baggage.
3. Most sports equipment
Sports equipment like baseball bats, hockey sticks and golf clubs can be used as bludgeons and are prohibited in the cabin of airplanes. If you wish to travel with these items, they must be stored and transported in checked baggage.
Pixabay
4. Aerosol insecticide
As long as they aren't labeled "hazardous material," aerosol insecticides can be transported in checked baggage. However, you could have your can of bug spray swiftly confiscated if you try to bring it through TSA.
Texas A&M
5. Bang Snaps
The highly entertaining (and rather annoying) childhood toys known as Bang Snaps, Bang Pops, or TNT Pop-Its are strictly prohibited in both checked and carry-on baggage. This is most likely due to the small amounts of explosive silver fulminate stored inside of each tiny pouch of fun.
Eagle novelties
6. Cooking spray
Although it's highly unlikely you would ever be traveling with a can of Pam, you should know that it is considered a restricted item according to TSA's standards. Cooking spray cannot be transported by air travel in checked or carry-on baggage.
Pixabay
7. Foam toy swords
If you're traveling to or from a certain fairytale-themed amusement park, be sure to explain to your young prince and princess that their foam swords must travel separately in a checked bag.
Dreamstime
8. Wrapped gifts
One way TSA could ruin your holiday mood is by unwrapping a gift you spent time packaging. Unless you want your gifts to be unwrapped and reconstructed with TSA tape, you may want to wait until arriving at your final destination before wrapping presents.
Pixabay
9. Samsung Galaxy Note 7
According to the U.S. Department of Transportation and the Federal Aviation Administration, all Samsung Galaxy Note 7 smartphone devices are banned from air travel in the United States.The ban was initiated in 2016 after a series of recalls on the device were ordered due to its tendency to spontaneously combust."Device owners have experienced documented incidents of dangerous evolution of heat with both recalled and replacement Samsung Galaxy Note7 devices," the Department of Transportation said in a statement. "Anyone violating the ban may be subject to criminal prosecution in addition to fines."
John Biehlr on Flickr https://flic.kr/p/LgLdek
Stay up to date on life and culture in St. Louis.