CREVE COEUR — St. Louis' last old-school kosher deli may soon face its last days.
Brother and sister Lenny and Rosemary Kohn have worked six days a week, at least 10 hours a day, for four decades at Kohn's Kosher Meat & Deli Restaurant, and they are ready to retire. But they haven't yet found someone to take over for them. Their children have long since left for other careers out of state. And attempts to sell the business quietly in recent years have gone nowhere.
Now they're going public, listing the store and its land in hopes of a different result. They hope to find someone interested — the deli is still growing and making money. But the Kohns aren't going to wait forever.
"I've set and missed a lot of deadlines on this," Lenny Kohn said. "But I'm not going to miss another one."
Customers are still coming to terms with the idea. As the lunch hour came and went on Tuesday, more than one person pulled Lenny or Rosemary aside and told them they couldn't leave. It's more than matzos, kugel and meat drained of blood, they said: It's a Jewish institution, a community gathering place. And honestly, where else are they going to get a killer pastrami sandwich for under $10 and count the cashier as a friend?
"You can't replace this," said Howard Danzig, who comes in from his office down the street.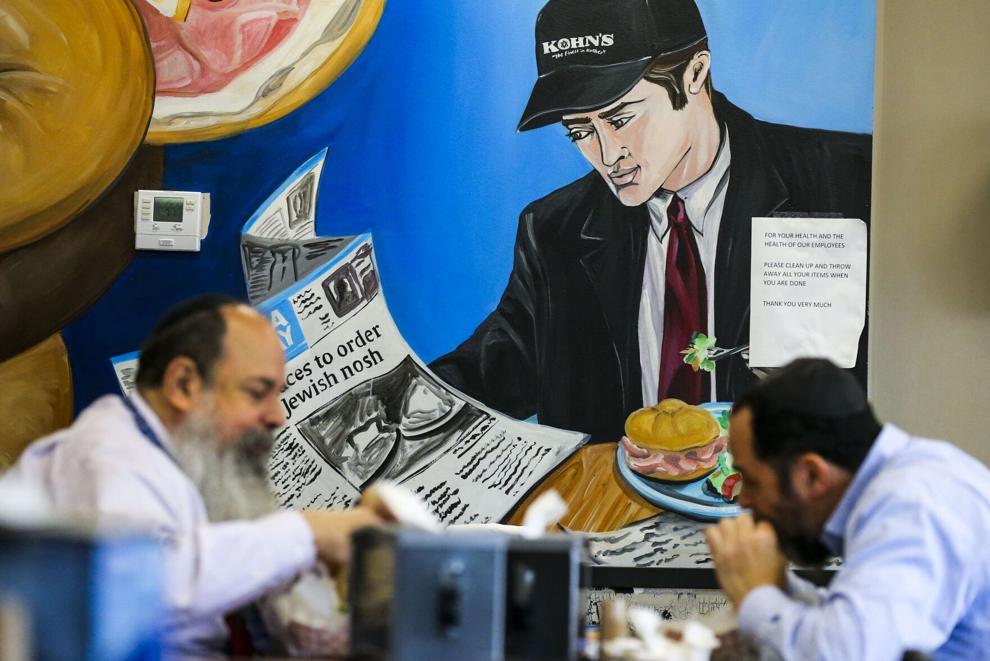 Growing the business
Simon Kohn and his wife, Bobbie, came to St. Louis in 1949 after surviving the Holocaust. Simon spent the next decade learning the kosher deli business, first as a delivery driver, then as a butcher.
He started his own place in University City in 1963. The Jewish population was growing, and the supermarkets had yet to take advantage.
It quickly became a bona fide family affair. Simon's name was on the door, but Bobbie made the blintzes, knishes and small kreplach dumplings. Rosemary started checking out customers and helping make deliveries at 13. When Lenny got out of school, the bus would drop him off at the shop, which moved to Creve Coeur in the 1970s.
And eventually those kids became the bosses. Rosemary took over the catering business from her mother. Then Lenny got put in charge of growing the mail-order business.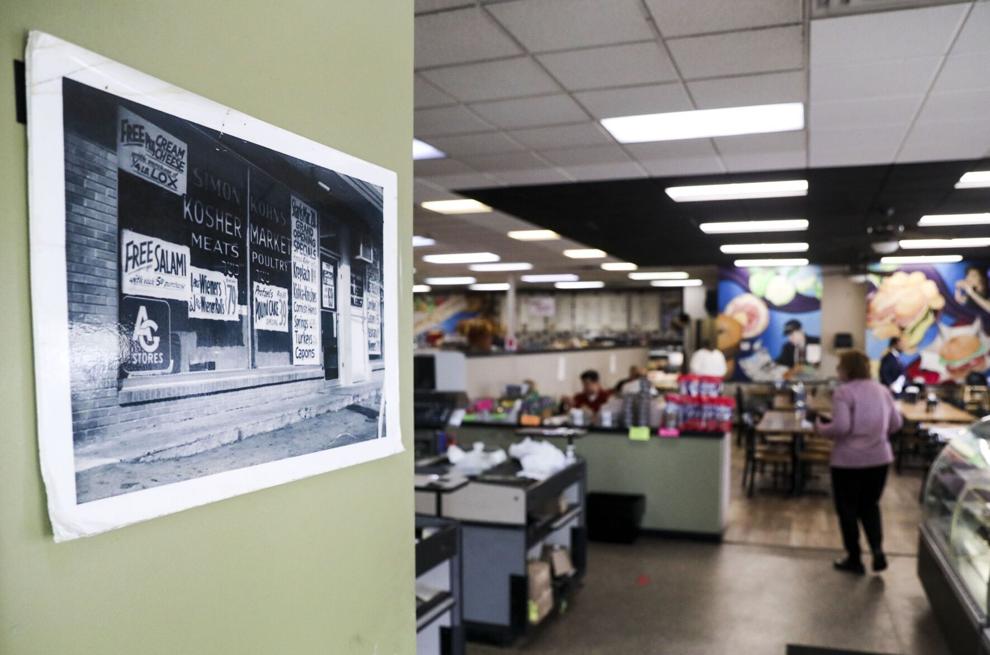 It wasn't always easy. Lenny and his dad would regularly clash over this or that detail or decision.
But they always agreed that the business had to keep growing. "If you're not looking for your next business, you'll lose the business you have," Lenny said Tuesday.
That would prove prophetic for others in the industry, as traditional grocers began to introduce their own kosher offerings.
But Kohn's kept one step ahead: In the 1990s, it added more ready-to-eat foods just like the supermarkets then. In the early 2000s, it got online. A decade ago, it added a bakery as competitors fell. Then it opened stands at Blues and Cardinals games to get its name out to more Gentiles.
And it's worked, Lenny said. "Every day I have 20 new people in here for lunch."
A successor in the wings?
Tuesday's lunch line appeared to prove the point. Men wearing yarmulkes bought lunch. Some in line spoke Hebrew.
But there was also Nicholas Confalone, 61, a Catholic who lives across the street and likes the pastrami. And Joe Saccaro, 68, who drives over from Staunton, Illinois, for the poppy seed-filled hamantaschen pastries. And Wayne Graham, 66, in for the salmon sandwich he can't believe is $8.99.
"The food is good," Graham said, "and the prices are really good."
Between calls to settle up Passover bills, turns at the cash registers and questions from a reporter, it seemed like Lenny greeted them all, sometimes with a little pastry, gratis. He doesn't look like he's ready to leave.
"This is my stage," he said. "I'm very comfortable here."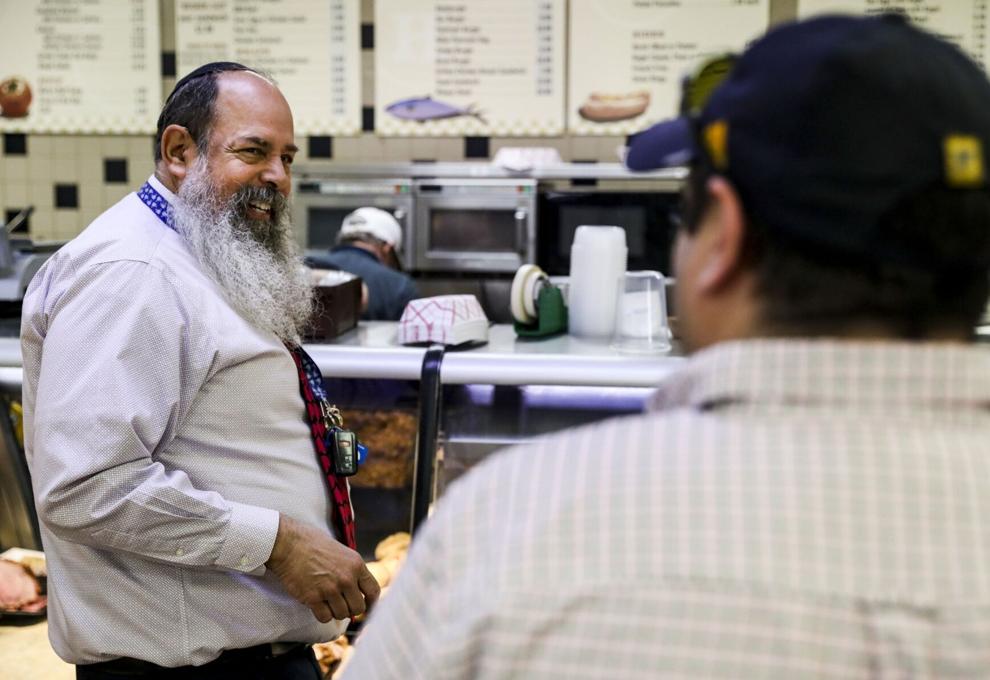 But at 64, he's a tired player. After four decades in the same spot, he's ready to do something else. He's not saying exactly what — "Don't want to piss anyone off," he said — but it'll probably have fewer days that begin at 6:30 a.m. and fewer weeks that run 60 hours.
Rosemary, eight years Lenny's senior, is ready to leave that behind. She wants to travel and volunteer her time to give back to the Jewish community that has supported her family for so long. And she wants her days back: coffee with girlfriends and going out to lunch. "There's a lot of other things I want to do," she said.
And while all of their kids took shifts at the deli at one time or another, they all moved on to different careers, and Lenny and Rosemary didn't stop them. "I wanted them to have it easier," Lenny said.
There may yet be a successor in the wings. David Wright of Lawyers Realty Co., who's marketing the property for Kohn's, said there's interest in buying out the Kohns and keeping the business going. And the Kohns have said they'll help with any transition.
But for now, the Kohn's faithful can only wait and hope.
"Don't leave," said Faye Cohen, a doctor at a nearby hospital, as she greeted Rosemary with a hug. "No one else knows how to do it like you."
Photos: Kohn's kosher deli, home of "Killer Pastrami"