This week at area farmers markets you will find tomatoes of all kinds, including heirlooms as well as onions, beets, cabbage, carrots, spring mix, head lettuce, zucchini, squash, microgreens and more. If you are looking for ways to use those beets, here is a recipe for 30-Minute Risotto-Style Beetroot Pasta from a previous Let's Eat section.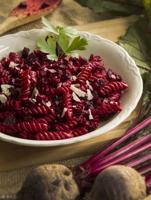 See our guide to local farmers markets at stltoday.com/farmersmarkets.
Information provided by Lake Saint Louis Farmers Market.