Sweet & Savory is sponsored by Closets By Design in St. Louis, Missouri.

Download to print the recipe
Today, we'll be making a dish from my restaurant and food truck, Clara B's Kitchen Table. It pays homage to the classic soup and sandwich combination while also offering some dynamic flavors — from the buttery spice of the sweet potato bisque to the creamy nuttiness of the ham and Gruyere sandwich.
To make everything a bit easier, I recommend measuring out and chopping all of your ingredients (besides the apples and sweet potatoes, as they tend to oxidize) before you begin. If you prepare the apples and sweet potatoes in advance, store them in water until they're ready to use. 
Spicy Sweet Potato Bisque
First, we'll place a large pot over medium-high heat on the stove. While the pot heats up, peel and chop the sweet potatoes into cubes.
Next add the olive oil, sweet potatoes and onion into the pot, stirring to coat everything in oil. While it simmers, peel and dice your apple. I would go with a sweeter, less tart apple.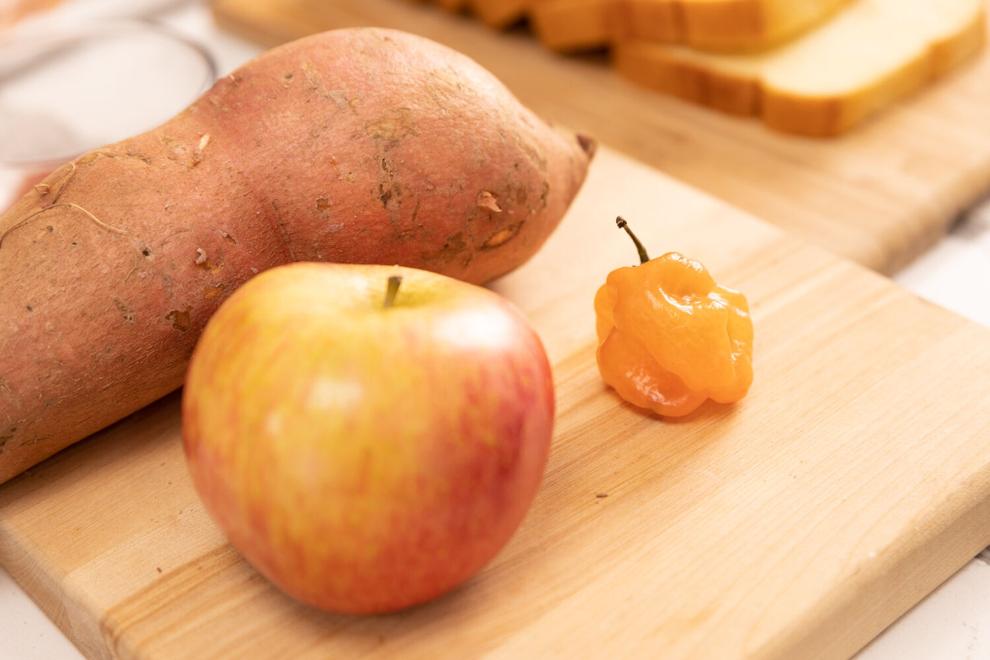 Next, add the garlic, habanero and stock. Habaneros are spicy, so wear gloves if you have them and be sure to remove the seeds and pith of the pepper, which hold the most heat. If you want to use a less spicy pepper, I recommend a Serrano.
Next, we'll add our spices: coriander, ginger and smoked paprika. Follow with maple syrup and heavy cream, and give the soup a good stir. For vegans and those with dairy intolerances, coconut milk works well here.
Let the soup simmer over medium heat for 25 minutes.
Toasted Ham and Gruyere Sandwiches
While the soup simmers, we'll move on to our sandwiches. I love brioche for sandwiches — it's eggy, rich and buttery. This sandwich balances melty, rich Gruyere and savory ham with the sweet, fruity edge of apricot jam — a jam we make in house, made with a bit of onion, bourbon and brown sugar. But feel free to use whichever jam you prefer.
Set your griddle (or pan) over medium heat. While that heats, we'll assemble our sandwiches. Butter the bread, layer on the Gruyere and ham, and lather one side with jam. Place the sandwich on the griddle, butter side out, and let it cook until both sides are golden brown, flipping halfway through.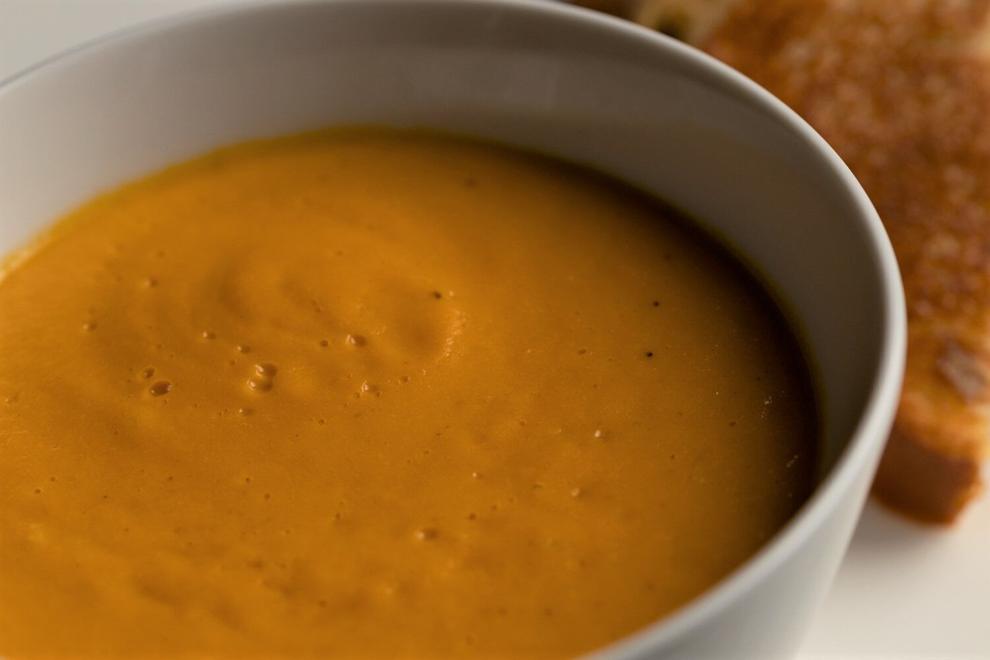 Finish off the soup
Now we'll return to the soup, which has been simmering to the side for 25 minutes. Add a touch of apple cider vinegar for brightness, and follow with fresh ground black pepper and salt to taste.
Fill the blender a little over halfway. Try not to fill it all the way to the top or hot soup will be forced out of the blender. Blend until smooth. The soup should be buttery, savory and sweet, with just the right amount of heat.
And there you have it — our Toasted Ham and Cheese with Spicy Sweet Potato Bisque. Enjoy!