A cat café is "all things good," as Mauhaus Cat Cafe's website puts it: It's a combination of adoptable cats and good coffee, all in a relaxing café environment. Although it feels cozier than a traditional animal shelter, all of the cats you'll hang out with are in need of permanent homes with loving families. The treats, snacks and drinks at all of these spots are fantastic, but the best part is that if you happen to make a new friend while there, you can take them home from the café that very day. Explore some of the cat cafés St. Louis has to offer, and maybe go ahead and make a reservation to relax among the cats. 
Mauhaus Cat Cafe stands out in the cat café world with its exceptional bakery program. Head baker Alyssa Bennett started at Mauhaus when it opened six years ago and makes baked treats that range from babkas to holiday-themed cupcakes to pies for all the cat lovers who walk through the door. The baked goods change daily, so you'll always find a nice surprise when you come in. Reservations are strongly recommended as walk-in space is limited. The reservations cost $12, which also includes a complimentary drink and discounts on those scrumptious baked goods. Mauhaus partners with Stray Haven Rescue to help adopt out cats in need. 
3101 Sutton Blvd., Maplewood, Missouri, 314-384-2287, mauhauscafe.com
The Cheshire Grin Cat Cafe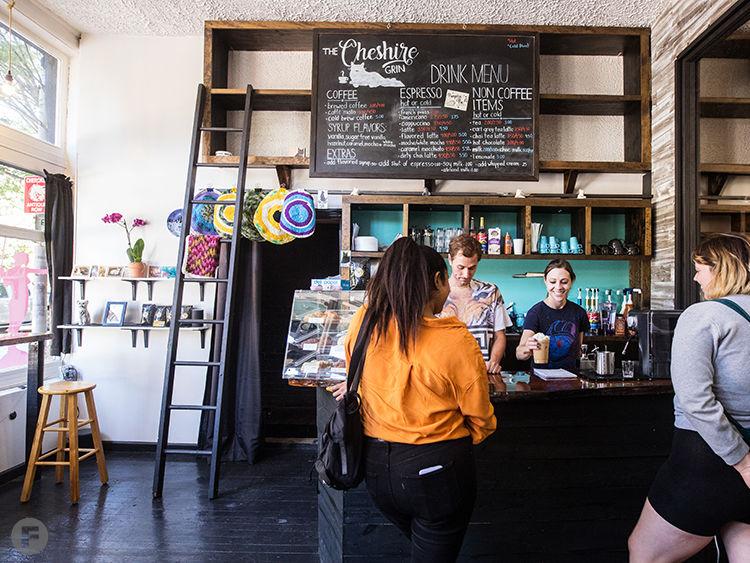 The Cheshire Grin Cat Cafe is its own rescue and nonprofit: It pulls from the euthanasia list at Animal Control to give cats a second chance at living a happy life and also works with area rescues. When you visit The Cheshire Grin, you'll find homemade baked goods, coffee, chai, matcha and tea, along with a spacious two-floor area where the cats roam free. Sit and partake in one of the café's board games or just play with one of the cats, who use the operating hours as valuable socialization time. Even if you don't take a new friend home, the time you spend there may help them get into another one. 
1926 Cherokee St., Benton Park, St. Louis, Missouri, 314-300-8119, thecheshiregrincatcafe.com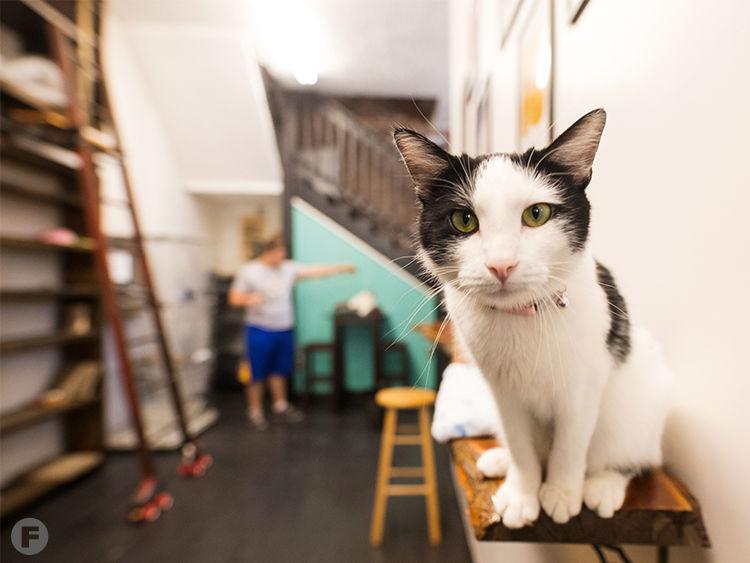 St. Charles' first and only cat café opened less than a year ago. Cat Zen Cafe and Lounge serves hot coffee drinks using beans from nearby Course Coffee Roasters, hot tea and an assortment of cold drinks and light snacks. It also offers locally baked goods. With free WiFi and an abundance of adoptable cats, Cat Zen might just become your new favorite work-from-home spot. And if you find a cat you know you can't leave without, you get a free coffee with your adoption. The café hosts monthly events like yoga, painting, movie nights and more. All of the cats you'll see at the café come from its rescue partners: APA Adoption Center and 7 More Cats Rescue. 
319 N. Main Street, Saint Charles, Missouri, catzenlounge.com